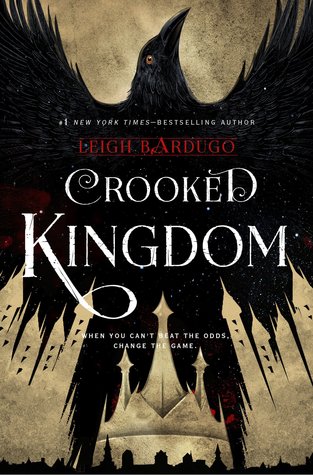 Welcome to the world of the Grisha.Kaz Brekker and his crew of deadly outcasts have just pulled off a heist so daring even they didn't think they'd survive. But instead of divvying up a fat reward, they're right back to fighting for their lives.Double-crossed and badly weakened, the crew is low on resources, allies, and hope. As powerful forces from around the world descend on Ketterdam to root out the secrets of the dangerous drug known as jurda...
---
Details Crooked Kingdom (Six of Crows, #2)
Title
Crooked Kingdom (Six of Crows, #2)
Author

Leigh Bardugo

Release Date
Sep 27th, 2016
Publisher

Orion Children's Books

Language

English

Genre

Fantasy

,

Young Adult

Rating
Reviews Crooked Kingdom (Six of Crows, #2)
Before I start my review, can we just take a minute to admire this beautiful piece of art featuring my favorites: Source"I will have you without armour, Kaz Brekker. Or I will not have you at all."This review contains *spoilers*.The wait for this grandiose sequel has been all-consuming, I've been thinking about the Dregs for months and months now, so getting back into their lives has been one of the most rewarding experiences.The book opens...

That's the problem with Ketterdam, Jesper thought as they stumbled uncertainly through the dark. Trusting the wrong person can get you killed. What's that down there on the ground, you say? Oh, it's just my heart after Bardugo callously ripped it out *sob*Seriously, this book was such a crazy ride. The jump in quality from the Grisha trilogy to Six of Crows and Crooked Kingdom is just astounding. These books have Bardugo's compelling style all ...

UGHHHHH I NEEEEDDD MORRRREEEEEE

Review/discussion: https://youtu.be/aFX-hrVHFusMy favourite part of reading this was that as I took review notes every time I wrote Kaz it autocorrected to Kazoo This freaking book oh my goodness. I LOVED IT, even more than the first one actually. I adore this characters and I must see them again. A Nina spin off perhaps? YES PLEASE.

"No mourners.No funerals." Let me tell you a story about a girl I know.For the first time in her life, she got a job, a great job, and she was happy about it. There was only one huge drawback: there was no time to read. Only stolen moments and a few pages a day, just to keep in touch with the essence of magic only words can offer. One cloudy morning, while she was in the bus to work, reading, a scene came. You know which one. There was a guns...

I know we frown upon picking favorite books here, but you know what? This is my favorite book of all time and y'all can leave. Maybe there were people who lived those lives. Maybe this girl was one of them. But what about the rest of us? What about the nobodies and the nothings, the invisible girls? We learn to hold our heads as if we wear crowns. We learn to wring magic from the ordinary. That was how you survived when you weren't chosen, when...

COMPLETELY SPOILER-FREE REVIEW:First thing first, meet Kaz Brekker's crew:5 REASONS WHY CROOKED KINGDOM IS THE BEST SEQUEL EVER#1 Storytelling at its bestThis book will literally keep you on the edge of your seat, your toes curling and your heart racing. There was not a single boring moment. On contrary! I flew through this book and wish it was even longer than 546 pages.#2 Parade of twistsLeigh Bardugo is a genius. I can't even count how many ti...

*heaves deep breath in*Where do I even begin? Leigh friggin' Bardugo. You really, truly outdid yourself with this one. Never in my life have I been more severely anxious over a novel than this right here— would it live up to the hype's madness? Could it surpass the sheer awesomeness that was Six of Crows? Will anything ever compare? Was I just digging my own grave of unfulfilled hopes and dreams like this?Yes, yes, yes and NO, thank the Saints ...

HOW DO I EVEN ACCURATELY REVIEW THIS MASTERPIECE??? I don't know. What are words. What is air. WHAT IS TYPING AFJDSKALFDAJSKDLJD. Okay okay, I will calm myself and wrote some (semi)coherent thoughts but basically all you need to know is this book is a magnificent villainous piece of genius that I love so so so so much. Hence the "WHAT IS AIR" question because fjakldfsad if I fangirl anymore I will lose my miiiiiiind.(Just kidding hhaha. I lost my...

LEIGH BARDUGO IS A RELENTLESS DEMJIN!!! This was my first thought when I finished to read "Crooked Kingdom" and after thinking about it, I decided to leave it at that! It's true! This amazing woman gave me all the feels and played me like a fiddle! There were so many twists and turns that my head actually started to spin and whenever I thought something would be alright, everything, literally everything changed once again! How did you do ...

What went wrong the first time:1) The plot was very different than what i had on mind. This just threw me off. For some reason, i expected CK to be about Grisha rising & the crows helping out Nina to win the war. I wanted it to be grander than just Kaz and his greed. I was waiting for Ravka to rebel. 2) The hype! Too much hype is a huge turn off for me. Always.3) Got spoiled about the ending & apparently i wasn't the only one. Some fangirl didn't...

congratulations! semifinalist in goodreads' best YA fantasy & science fiction category 2016! But wasn't that what every girl dreamed? That she'd wake and find herself a princess? Or blessed with magical powers and a grand destiny? Maybe there were people who lived those lives. Maybe this girl was one of them. But what about the rest of us? What about the nobodies and the nothings, the invisible girls? We learn to hold our heads as if we wear crow...

She's only gone and done it again! Fantastic

1.) Six of Crows ★★★★ "Maybe there were people who lived those lives. Maybe this girl was one of them. But what about the rest of us? What about the nobodies and the nothings, the invisible girls? We learn to hold our heads as if we wear crowns. We learn to wring magic from the ordinary." First and foremost, can we talk about the diversity and representation in this book?- Main characters are POC.- LGBTQ main characters.- Disabled m...

MY VIDEO REVIEW IS NOW LIVE: https://youtu.be/ehlUs9b3JZsThat was INCREDIBLE!I don't have the words to describe how absolutely perfect this is. Hands down the best book I've read this year and one of the best books I've EVER read.I loved the first book, but Crooked Kingdom took the bones of Six of Crows and gave them life. Not only is it the perfect sequel in terms of expanding the world and further developing the themes and characters, but it ca...

"Crows remember human faces. They remember the people who feed them, who are kind to them. And the people who wrong them too. They don't forget. They tell each other who to look after and who to watch out for."A nearly perfect conclusion to a mindblowing and breathtaking duology. I promise you, I've never read a better example for diversity and representation. This series features characters of multiple cultures, faiths, and sexualities, su...

Leigh Bardugo's stories are masterful. I'm such a slow reader with a mountainous TBR, so to have read ALL FIVE of her books is a huge sentiment in my life. I love the Grisha world so much and welcome any and all additions to it. Also, GIMME A TV SHOW WITH THESE CHARACTERS. This world is so epic.

One day later, I still can't believe that I didn't love this. I still can't believe that I've waited a year, seen all my friends adoring it, and ended disappointed and alone in my shameful corner. I still can't believe that I almost wish I didn't read it, because I can't forget that while I did like it, Crooked Kingdom : Yep, that's Kaz. Hear me out : it's no secret that I have a soft spot for cunning and ruthless thieves who may or may not be hi...

"Better terrible truths than kind lies."(ALL SPOILERS ARE HIDDEN)Well, that was emotional. I love these characters so much it's ridiculous. I mean, I thought they were incredible in Six of Crows, but that love just got taken to a whole new level. They became six of the strongest, most defined characters I've ever seen and I cannot choose a favorite. I pretty much ship everyone, too... so many adorable couples.Oh my goodness I just went 30 seconds...

My original review is below BUT OKAY OH BOY LET ME TALK ABOUT THIS BOOK (ramble ahead)fuck !!! i love everyone so much. this book means the world. I swear to god I just love every character and all their interactions so much. I don't understand how Leigh Bardugo made me love these characters so much. Like, they're fake but I swear to god they feel SO REAL. It's actually physically painful thinking about how it's over and I can't get more of them ...

Wah… Once again I'm at the end of the road with a bunch of pals I hate to see go. Honestly, I didn't have high expectations for Six of Crows before starting it; I've learned over the past few years that most books being overly hyped tend to let me down, so I adjusted my expectations and decided to read it just to say I had. I was wrong about this one. If I had read Bardugo's Grisha trilogy first, I probably would have gotten through it ...

'no mourners, no funerals.'did you mean: (view spoiler)[five mourners, one funeral. (hide spoiler)]hahaha....ha ha....h [slowly fades into nothingness]anyway it's 1 year later and here comes the memory I thought I had successfully suppressed!! I'm really excited to not severely hate myself every time I make the conscious decision to remember that ending but I swear the sour memory is still keeping me here in the salt pentagram Leigh Bardug...

I am not okay. I am in pain. I feel sick. My heart... I've shed way too many tears. And that last line? I need more! I feel deprived! But in spite of all that, this book was better than waffles! (Matthias, my babe!)I'm in awe, to be honest. I'm blown away by how good this book was. What Leigh Bardugo has crafted is nothing short of spectacular. This is definitely going on my all-time favourite list. (view spoiler)[ This duology is more than just ...

things i need in order to survive: air, food and water, this book. this book obviously being the most important item on that list. wow. i will tell you what, i must have been a saint in another life because i do not feel worthy of this book. i laughed, i cried, i yelled, i loved, i cheered, i swooned, i died. i felt every emotion humanly possible. i am so grateful to live in a world where this duology exists.

Updated *Full Review* only minor spoilers..Wowow. Spoiler free initial thoughts.. 1. Holy blazers this is the most in depth clever plot I've ever read. 2. Bless you, Leigh, bless you.3. If you haven't read Grisha.. i highly recommend it.. because it will make this book that much more awesome. Not only is Grisha one of my ALL TIME favorite trilogies, but I absolutely adored this and the two series weave together SO well. Why? (view spoiler)[ Becau...

My last read of 2017.🙆🏻♀ My last read of 2017.🙆🏻‍♀️

Fair warning…. This review is going to be a mess of spoilers and emotions. If you want something slightly more comprehensible check out my review of Six of Crows.Anyway, this book ripped my heart out, and I'm shocked I'm still standing after that damn roller coaster. I love this duology. The characters, the plot, the writing…. I can't find one flaw. Nothing compares to the satisfaction of Kaz and his criminals pulling off one of their s...