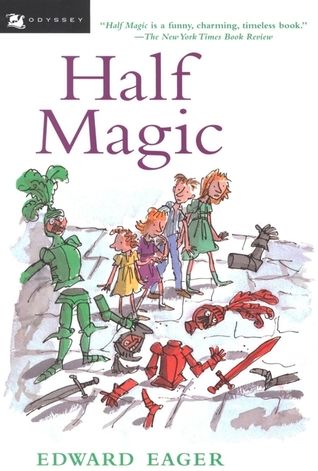 Four children wish on a Half Magic coin that gets their mother Alison half-way home, rescued by Mr Smith. Mark's wish zaps them to a desert without island, where half-talking cat Carrie gabbles to a camel. Romantic Katherine battles Launcelot. Eldest Jane rejects siblings for another family. Stubborn youngest, Martha, causes a riot downtown.
---
Details Half Magic (Tales of Magic, #1)
Title
Half Magic (Tales of Magic, #1)
ISBN

9780152020682

Author

Edward Eager

Release Date
Mar 31st, 1999
Publisher

Harcourt Odyssey

Language

English

Genre

Fantasy

,

Childrens

,

Fiction

,

Middle Grade

Rating
Reviews Half Magic (Tales of Magic, #1)
Would you believe I grew up in Toledo, Ohio and never noticed while reading and re-reading this that it was set in my hometown? It's true. I don't know if I just figured ALL books were set there, and that's why the street names were so familiar or if I was just extraordinarily clueless. I figured it out finally when I was reading this to my son. It seems worth talking about in view of how worried people sometimes get about kids getting the wrong ...

"It seems a shame," said Jane, "that no one's going to know about our adventures. They would make such a good book. If only we could write them down!""But how would we do that?" asked Mark. "We're just kids. Oh. Wait. You don't mean...""I certainly do!" said Jane. "We just have to wish for it, and the Charm will take care of the rest. But we need to wish very carefully. Now, what kind of book do we want it to be?""I want it to be like one of E. N...

Mostly, I love this book. I liked it as a kid (except for that caveat I'll get to in a minute). I like it now, as a grown-up. The story is interesting and engaging. The trouble the kids get themselves into is believable (well, for a fantasy novel...!), and I like their solutions. The problem of having to double all your wishes is interesting to me. The only thing is...The only thing is that a whole chapter is taken up with a trip to a desert, whe...

Edward Eager's Half Magic was 1 of my favorite comfort books as a kid and I can still quote from it.

Four children―Jane, Katherine, Mark, and Martha―come upon a magic charm. Only it makes just half of what you wish true. The children realise this soon enough and word their wishes so that they can get all of what they want, and start off on a set of exciting adventures which take them to different places and times. But while their wishes do come true, they find that the outcome may not be quite what they were looking for, and they are not alw...

Summertime belongs to childhood. The grown-up version, with BBQs and yard work, can't compare to the long, long days spent exploring and digging in the dirt.Now, I'm a winter girl, through and through, but when the lightning bugs start to rise up out of the grass, I start to ache for the summers from when I was little. Unfortunately, all the kids who used to comeoutandplay have moved on, and I've been trying to eat less dirt, so I was at a ...

I read the first 2 chapters a day or two ago and was intrigued. Today I picked it up again and read the third chapter. It had me laughing out loud. So, I finished it today.This is, apparently, a children's book. Back in the day, children were considerably more well-read. They would have had to be, otherwise they would miss the multitude of references to other works of literature. For example there is the part that goes something like this (not qu...

Originally posted here as part of the 30 Day Book Challenge.This one is easy. The Book That Made Me Fall In Love With Reading I don't even know what to say about this book. If you haven't read it, you should. If you have younger children, read it to them. Half Magic was written in the 50s about a family living in the 20s, so of course it's dated, but it's still as full of charm as ever. As an adult I catch little literary references that I misse...

oh, one of my all time favorites. i LOVE when they wish the cat could talk and since it is half-magic, the cat's every other word is "meow."i bought this (and the rest of the series) for my niece for christmas a couple of years ago, and i can't wait until my daughters are old enough to read it.

The novel is about four siblings finding a magic coin which can grant their wishes,but only half of it. However,having a magic in life isn't that easy and the wishes must be carefully uttered,otherwise the summer adventures will turn into more than just adventures. Gradually the siblings have to learn to control the magic in their lives while the magic will transform them too.The book has this "The Little Peppers" and "The Little Women" vibe in t...

Listened to this on CD on a trip and Logan loved it. This is the first of Eager's magic books. He was a great fan of E. Nesbit and his books pay homage to her. A group of siblings finds a coin that grants wishes, but they realize quickly that they only get half what they wish for. Of course, even when they figure that out, it's still true that that wishes often don't turn out quite the way you planned! Some sexism, as it was written in the 50's a...

Five children find a silver medallion, and discover that it grants wishes - but only half-way! Hilarity ensues. My favorite part is when they idly wish the cat could talk. And then, it sort of CAN talk, in kitty fashion. Hee!This is my favorite book by Eager, with lots of wit and humor. A classic of children's literature, but not in a stuffy way.

Over the weekend, I read a lovely feature in Rain Taxi on Edward Eager's Magic series, which inspired me to start rereading them in ebook from my local library system. I'm finding ebook to be an excellent format for these, because it means I'll actually look up definitions - and Eager wasn't afraid of flexing his vocabulary.

Reading this aloud to Beanie (7 yrs). She adores it, as did her sisters before her. Eager cracks me up: very wry humor and realistic characterizations—in a fantasy where unlikely events are occurring. It's a delicious combination.Written in the spirit of E. Nesbit's books, this is the tale of four siblings who find a magical charm that grants wishes—sort of. It only grants *half* a wish, which causes all sorts of confusion and misadventure.

One of those rare children's books that not only lives up to one's memories from childhood, but actually improves with age. There are a lot of literary allusions that I'm sure I didn't get as a child, and the period details are more intriguing than ever.This book was written in the 1950s but set in the 1920s, in Toledo, Ohio. Thus, the time depicted is nearly a century ago, in the days of streetcars, sleeping porches, silent movies and Flinch (a ...

I was excited to read Half Magic because I thought it was a pretty cool idea for a book-- that these children receive magical powers but the magic only half works. While the kids end up on some neat adventures and the book does have some funny moments, overall it didn't really live up to my hopes. Part of it was that I didn't think the way the half magic played out was all that cool -- like when Jane is so mad that she wishes there was a fire (we...

Loved this book in elementary school. This is my favorite book in the series and the one I remember best also. I love the "half magic" concept. Charming adventure story. Like the kids. Love the magic, especially the way it works in this book. Really imaginative.

Mnogo sam volela ovu knjigu kao klinka, a jednako se dopala i mom sinu. Brza, uzbudljiva, duhovita i nadasve podsticajna za samostalne maštarije čitalaca. Četvoro dece nalazi novčić koji ispunjava želje, ali samo polovično, uz pomoć te polučarolije dožive razne avanture i usput prihvate promenu u sopstvenoj porodici.

Edward Eager was my very first "favorite" author. I remember reading "Half Magic" and feeling a light turn on in my mind; my imagination was stimulated like never before. This is the first of a series of magical adventures involving two sets of children, who are intertwined biologically and magically (in Eager's later book "The Time Garden," the children of the characters in this book and "Magic By The Lake" would be saved by their own future chi...

This is about four siblings who find a magic charm that can fulfill wishes. There is a part about an Arab. He is supposed to be a not very nice guy. I felt I had to address this in my review. I did not like the way he was portrayed, yet at the same time we have to remember that this was written in the nineteen-fifties. It is unfortunate that this chapter is part of the book, but oh well.... Other than that I thought it was a cute book. I did like...

When I was a child I read a book from the library. I sat and read in my room from cover to cover and when I got to the end I distinctly remember feeling as if I had just woken up from a dream. I was so engrossed in the story I felt like I had been with the children on their adventures and I was so sad it was over.But it wasn't. It was only the beginning. I spent the rest of my life like a drug addict searching for that same great high and it has ...

Half Magic is a story about some kids who are having a very boring summer. That changes when they find a strange coin that gives you wishes you ask for. But soon they discover it gives them half only half what they ask for. So they have to ask for two x what they want. A great book to read any day!

A delightful old-fashioned adventure. Reminded me of an E. Nesbit book! Both the feel of family drama as well as magic, I'm shocked that I haven't read Edward Eager before now. As a kid I would have been all over this book! As an adult I'm excited to read more!

If you've ever had a moral pointed at you, you will know that it is not a completely pleasant feeling.

Fun book, my children loved it!

Delightful! It reminded me a bit of E Nesbit's Five Children and It but in an American setting. I loved the relationship between the siblings and the way their wishes go awry.

Author: Edward EagerIllustrator: N M BodeckerFirst Published: 1954Introduction: by Jack Gantos, April 2004I am continually surprised at how engaged my 7yo becomes with older books. Here I am thinking the style and vocabulary, the settings and character expectations will fail to embrace her, and yet these are the books we *both* want just one more chapter.Sure, there are some fabulous contemporary books we love.But it is her willingness to breathe...

I recommend this book if you are looking for something for your child to read that will captivate them and motivate them to read, or if you want something to read over the summer. This is a well written, consistent, attention grabber, I highly recommend it.