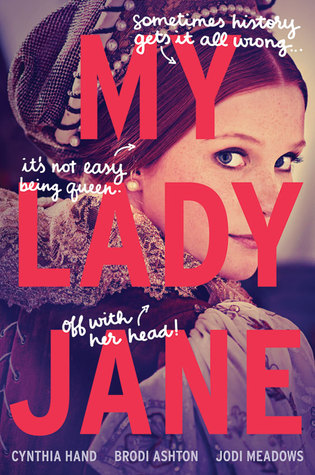 Edward (long live the king) is the King of England. He's also dying, which is inconvenient, as he's only sixteen and he'd much rather be planning for his first kiss than considering who will inherit his crown…Jane (reads too many books) is Edward's cousin, and far more interested in books than romance. Unfortunately for Jane, Edward has arranged to marry her off to secure the line of succession. And there's something a little odd abou...
---
Details My Lady Jane (The Lady Janies, #1)
Reviews My Lady Jane (The Lady Janies, #1)
"My lady," he said gallantly, "I'm willing to stop whenever you are. Perhaps you'd be better off sticking to more womanly pursuits, like embroidery or music or-"She bashed him in the ribs. 4 1/2 stars. This was so much fun. So much fun. Turns out that a good laugh at my country's expense is exactly what I needed right about now.Before you pick up this book, make sure of two things:1) You know what you're about to read. This is a silly...

It's not easy to write a review for a book when said book is tightly held against your chest.My Lady Jane is wonderful and so, so magical I want to keep it close to me for an indefinite amount of time.You might wonder: Three authors… three different point of views… three stories intertwined? How will that play out? Comically, apparently.This key to having a great time with this beautiful piece of fiction is to not take it too seriously.Some...

It was amusing. It was romantic. It was slightly based on medieval history. And it was a gem.I'm dancing like a happy ferret! "You may think you know the story. It goes like this: once upon a time, there was a sixteen-year old girl named Jane Grey, who was forced to marry a complete stranger (Lord Guildford or Gilford or Gifford-something-or-other), and shortly thereafter found herself ruler of a country. She was queen for nine days. Then she ...

4.5 stars This revisionist retelling of Lady Jane Grey's brief reign and romance shouldn't work--but it does! It's deliriously dotty and clever, with affectionate nods to great absurdist historical comedies like THE PRINCESS BRIDE, Monty Python, and even, I think, Black Adder and LADYHAWKE. The ridiculously punny humor had me giggling from beginning to end.It's also superbly well-crafted, especially considering the three POVs were written by thre...

I freaking loved this. I'm making everyone I know read it ASAP! P.S. Video review to come

Omg! This book was so damn good!!!!! I can't believe it took me this long to get to it. I'm excited for the next book!! Yay! Happy Reading! Mel 🖤🐾🐺

If you're looking for a fluffy YA historical fiction that also included fantasy… this is it! I ended up laughing out loud a few times and definitely recommend it. The way the authors decide to retell - and let's call it what it is - pretty much completely change history, was a lot of fun! I hope they'll come out with more!

I CANNOT EXPLAIN HOW MUCH I LOVE THIS BOOK. I was expecting semi-serious historical fiction, but it's more like the Monty Python version of the drama between Henry VIII's kids.I don't want to ruin any of the plot, so I'll just say this book is hilarious. Basically, the story starts out adding its own twist on history, but then ends up chucking history out the window and rewriting a happier ending for King Edward VI, Lady Jane Grey, and Lord Guild...

3.75⭐Without a doubt, the silliest book I've ever read and I loved every joyous moment of it. RTC~~~~~~~~~~~~~~~~~~~~~~~~~~~~~~~~DedicationFor everyone who knows there was enough room for Leonardo DiCaprio on that door.And for England. We're really sorry for what we're about to do to your history.Oh, I cannot wait for this. 3.75⭐️Without a doubt, the silliest book I've ever read and I loved every joyous moment of it. RTC~~~~~~~~~...

I finished this book last night. So I literally slept on it, and, up to when I finished this review, continued to have no idea what to rate it. (Okay, well, not NO idea. It was between one star and two.)https://emmareadstoomuch.wordpress.co...Here's the thing. I've never had so many problems with a book while not wanting, exactly, to give it one star. Usually I love slapping one star ratings on books when I feel they deserve them. It was hard...

Definitely not my normal cuppa, but still a cute book!I'm not a history buff (view spoiler)[I'm not actually all that smart-like, if I'm being honest (hide spoiler)] so I had no idea (or at least no recollection) of any Lady Jane, or her short-lived reign as Queen of England.Not that I'd let a thing like that stop me...So it turns out that this was a fictionalized (read: alternate universe) version of that story.But with the added bonus of shapes...

Oh my goodness, that was the best thing ever!Is it possible for a book to be sweet, funny, awesome, and led by a cast of amazing narrators? Indeed it is, because that book is My Lady Jane.When I first heard about it, I was skeptical. A comical retelling of Lady Jane Grey, written by three different authors? It sounded like a recipe for disaster. As it turned out, I've never read a better co-authored novel. The writing flowed so I couldn't tell th...

WrensReads Review:Honestly I-...no that's not a good start.IF YOU EVER READ THIS BOOK, DON'T. LISTEN TO THIS BOOK FIRST OMGSH PLEASE YES IT IS THE BEST EVER PRAISE GOES TO KATHERINE KELLGREN OMGSH YOU WERE MADE TO READ THIS BOOK TO ALL THE WORLD.I finished two point five incredible books on the same day, so my brain is a little fried from delight. Seriously I have to keep reminding myself to come write this review and stop dancing in the kitchen ...

"Dedication:For everyone who knows there was enough room for Leonardo DiCaprio on that door.And for England. We're really sorry for what we're about to do to your history." Since I read this as an audiobook, I'm at a bit of a loss at to how I'm going to review it. I don't normally listen to audiobooks - they're not really "my thing." (In fact, had I read a physical copy of this, I'd probably would have given it a full five stars.) So just...

This was so lovely and entertaining! I don't think it was quite at the level of loving and engrossing me, but I enjoyed it a lot!I especially loved the characters and the mixing in of actual history with a fictional book. It was quite well done!I guess this would be labeled a comedy, and it was funny, but I never laughed out loud. A lot of internal laughing happened, though.THE REFERENCES. SO MANY REFERENCES. My life is lived in references to boo...

If you told me I would read a story about a girl who marries a man who turns into a horse and then becomes the Queen of England (for nine whole days, may I add) and has to attempt to save all of England I probably would have laughed at you. But then again it's 2018 so I really shouldn't be surprised that YES, I read a story like this, and YES, I loved it. I'm still trying to figure out three things though:1) HOW IS THIS EVEN REAL?2) WHY DID I ENJ...

4.75 stars!!!Full mini reviewI'm willing to MARRY a horse if it goes by the name of Gifford Dudley. Now this book is about the Tudors which were quite known as England's most notorious dynasty. What I love about this book is its captivating writing style and the charming characters. It was a delightful, exciting, magical, and hilarious book. When I read this book, I became curious on what really happened to lady Jane Grey's reign for nine freakin...

okay but the title shoulda been my king Edward cause he was the highlight of this book for me. buddyread with chandler 👑 and veronique 🌹 so initially I said I wanted a wild ride, I wanted to laugh a ton & I wanted to understand what was going on. check, check & check !!but like... it was still kinda lacking. anyways, onward to the good! the bad! & my messy review! Edward : a teenage king suffering from the Affliction, with only a ye...

"DedicationFor everyone who knows there was enough room for Leonardo DiCaprio on that door.And for England. We're really sorry for what we're about to do to your history." ― Cynthia Hand, My Lady Jane

UPDATE 12-13-15The ARCs are here! Please ask the publicity department at HarperTeen, as we do not have very many ourselves to give away! So pretty!UPDATE 10-15-15And WE HAVE A COVER, people. And it is oh-so-beautiful.UPDATE 9-3-15Well, the book is through copy edits, it has a cover (check back for the reveal), a jacket copy, and it is well under way to becoming a real book!It turned out SO GREAT, you guys. It may be the best book, in some respect...

"For everyone who knows there was enough room for Leonardo DiCaprio on that door.And for England. We're really sorry for what we're about to do to your history." So I was sitting here for a while thinking how to describe My Lady Jane's plot with words so you could get the main idea without spoiling anything. I did not find the right solution. Well, I could've given you quite a good summery, or even the one that GR has is okay, but my ulti...

What a DELIGHT. This book was such a treat. I already want to read it all over again. Easiest 5 stars I've given all year. Also, pro tip: if you guys want to read this you should definitely consider the audiobook! One of the best I've ever listened to. Everything about this was just SO DAMN GOOD.

LOVED THIS BOOK! Review coming soon!

4.25 I enjoyed this book a lot more than I thought I would! It was so fun to read, and I remembered how much I used to like Tudor History, and this book brought back that interest! Also, it turns out that I quite like alternate histories haha I love Jane, she's just amazing, and her and Gifford are just my fave couple atmThe book flows so well, idk how 3 writers managed to write a book together that just flows as well as this one doesI've been he...

Instagram || Twitter || Facebook || Amazon || PinterestWhen I was in high school, I would sometimes walk over to my best friend's house and we would sit down and write, and then post, fanfiction. Completely off-the-wall AU fanfiction, of the variety that's often known derisively as "crackfics." It was terrible fanfiction and, yes, it's still up - or was, last time I checked. And no, I'm not going to tell you where it was posted or under what name...

And for England. We're really sorry for what we're about to do to your history. I am completely in love with this book, the characters, the setting and the humor. One of my top 10 favorites reads of all-time and certainly one of my favorites for 2016. IN LOVE!Can I first mention how beautiful this book is? I love the style on the front, the spine is lovely, it has that buttery texture and just to top-it-off, it has deckled pages. Am I the on...

Well this was an absolute delight.All the hype was true! I was a bit worried at first but even at the introduction, I got it. I have to be honest though- I think this is the type of book that will really only appeal to you if this is your type of humor (very much British humor with nods to "Monty Python and the Holy Grail" and even little references to "The Princess Bride" and "Tangled" - yep, the Disney movie.)Not to mention, the story was absol...