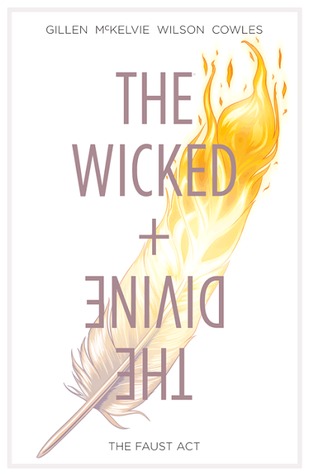 Every ninety years, twelve gods incarnate as humans. They are loved. They are hated. In two years, they are dead. The team behind critical tongue-attractors like Young Avengers and PHONOGRAM reunite to create a world where gods are the ultimate pop stars and pop stars are the ultimate gods. But remember: just because you're immortal, doesn't mean you're going to live forever. Collects THE WICKED + THE DIVINE #1-5
---
Details The Wicked + The Divine, Vol. 1
Reviews The Wicked + The Divine, Vol. 1
I enjoyed this, but I found it difficult to follow at times and it felt rather undeveloped. I definitely want to continue on with this series, but I can't deny that I wasn't very impressed with this first volume.

5 freaking stars for the artwork! Why? Because I can!As you can read from the blurb, these gods come back every 90 years to be on Earth for 2 years and then I guess they die or whatever. I don't understand all of those reasons or why they come back every 90 years but who cares. The story is so different and the artwork is amazeballs. This time they come back as pop stars. Bwhahahhaha, sorry, I just think that is hilarious! We have Laura who is a ...

This was great! I'm definitely going to pick up the next volume soon because DAMN. THAT ENDING.Also, A+++ for all of the diversity in this comic series.

2.5 starsThe Wicked and the Divine had this special something about it that kept me interested the entire time I was reading it.But once I finished, I was like...that's it?Even now, I'm not sure I read the same book that seems to have captured the hearts of most of my friends.So this one is about gods who show up every so often, live for a few years, and then die. I'm not sure if they kill themselves when their time is up, or if they just explode...

11/24/17 - ON SALE for $3.99: http://amzn.to/2hPpteQReviewed by: Rabid ReadsSO. Every ninety years a bunch of gods take over the bodies of a bunch of teenagers to live as pop stars for two years before they die.Riiiiight. B/c gods have nothing better to do than become Taylor Swift. Fame is everything. Worship. Adulation. Whatever, I'm bored. Know what else is boring? They don't use their god-like powers b/c it will scare the puny humans. Is it ju...

Oh my sweet goodness, this is one comic I feel I will get addicted to. I usually relatively like those, but this is incredibly beautiful and so well thought of. How can one resist the beauty that is uncovered in this first issue?I never read something quite like this. The plot is extremely powerfully emotion-filled and contains a wonderful main character that has qualities and weaknesses, but I just couldn't help but connect with her, since she...

Well, hello, gorgeous cover!The Wicked and the Divine has a very interesting concept. It's like a rough spin on something we're are all completely familiar with: Pop Stars. They're everywhere, they are addicting, they are our idols. In this beautifully illustrated graphic novel, the gods are the pop stars and the pop stars are the gods. Everyone would love to be them, they worship them but alas, they die within two years. They can have all their ...

3.5/5 starsLike most everyone else, I thought the art was beautiful and astounding and fantastic. However, the story was lacking. The general premise is really interesting, but I got confused as to what was actually happening most of the time. The book felt like it was more about introducing the gods than having an actual consistent storyline.BUT I MEAN that ending.

One word would be sufficient to describe this graphic novel, and that word would be absurd. Everything was all over the place, and the plot didn't do it justice. Most of the time I depend on the characters for enjoyment, but a bad plot is never forgivable. Not the worst I've read ever, but it was confusing as hell.This one had a wonderful premise, but the execution was questionable. I was honestly underwhelmed because the plot wasn't fully develo...

Interesting story, but more for millennials than old farts like perhaps. Some of the ideas are good, but the jumps in the story are abrupt and the names of the gods don't really make a lot of sense with respect to their stories (technically, Lucifer was an angel, not a god for one example). I'll give Vol 2 a shot but I remain skeptical.

The art. The art was amazing. The art was the only thing I liked about this. I'm strongly in the minority here, but I just did not like the story or the characters....

There is so much mixed reviews among my friends from The Wicked + The Divine, which usually means there is something special between the covers that divide a lot of people. Unfortunately, I am not one of those who did the crazy loving dance after finishing the first volume, but one of those who just doesn't get the appeal at all.Surely, the art is gorgeous, so colorful and full of beautiful details, but the story is thin and superficial. There is...

Wow! This is a really unique and bizarre tale about Gods walking amongst us (seems to be a common literary theme lately). Because it is so odd, I was only just finally getting the hang of it as I reached the end of volume 1 - a compilation of the first five issues. If you like:-Graphic novels-Stories with a thin line between the mortal realm and the great unknown-Beautiful people killing each other in gruesome fashion Check this one out!Note on t...

OH MY GOD. OH MY GOD. OH MY GOD. This graphic novel series is starting off just excellent. The art is polished and gorgeous— seriously, the character design alone deserves a medal. I've seen a lot of people saying the plot is confusing, and yes, it is at times. But you know what? The characters are fantastic enough and the art style gorgeous enough that it makes up for it.Also, three words: pansexual. girl. Lucifer.And all the characters!! Ho...

Friends, apparently this is just the week of me hating everyone's favs, because I honestly did hate this. This is maybe the worst graphic novel I have ever read. I'm sorry, I truly am so sorry. Trust me, I don't like hurting anyone's feelings AND I absolutely hate wasting my time. But I honestly only liked the diversity in this. That's it. But not even a pansexual lucifer was enough for me to like this. The full-page art openers of each...

Slick but shallow, self-congratulatory, sterile, ultimately pointless pop-stars-as-gods fantasy, as far as I can tell. I tried twice, but I just can't get into this one. 1.5 stars.

2.5 StarsHmm…let's see…ooh, this is a pretty intriguing high concept: every 90 years, 12 gods inhabit the bodies of mortals for a 2-year period, transforming those humans into gods so that they can live fast and go out in a blaze of glory. Oh, and it's Gillen and McKelvie…I've read their stuff before. It's good. And there's a pun in the title. "The Faust Act." Heh. That's funny. Like that salon "Shearlocks" near my house...

Me esperaba más teniendo una premisa tan interesante, pero la trama se va perdiendo fuerza según avanza. Los personajes están bien, sin más, con personalidades interesantes y descubriendo los detalles justos para mantener el misterio. Sin embargo, es un misterio perecedero. El dibujo es una maravilla, y aunque partes de la historia resulten un poco más aburridas, disfrutar de los colores y figuras es un placer. La recomiendo para pasar un ra...

This will be a review for both issue 1 and the edition comprising issues 1 to 5 (yeah I'm lazy I know).I hardly ever read comics. Not that I dislike them, it's just that I don't usually like the artwork very much. Then I discovered The Wicked + The Divine.The artwork is amazing. The colours are incredible. I'm not very familiar with the world of comics and graphic novels but I've never seen anything quite like this before. Beautiful. And hypnotiz...

It's a grab bag of different themes, as the Shallow Readers struggle to catch up.John Milton in Paradise Lost set the standard for many future Lucifer characters: rhetorically skilled ("Better to reign in Hell than serve in Heaven."), witty and dripping with charisma.Lucifer appears as Luci, a female member of a group of gods who appear on Earth once every 90 years, and gets the lion's share of the good lines and dwarfs the other gods by comparis...

Gorgeous art, cool concept, messy text

WICKED + DIVINE actually pissed me off the first time I read it, because it tries SO hard. Between the Shakespeare, reality TV, and teen fandom, it's almost too much. It's satire, I get it, but it lacks any subtlety and I don't find it all that funny. The thing about W+D is it's conceptually intriguing. Immortal gods who live for two years and reincarnate every ninety. I read American Gods, it was pretty cool. It was also subtle. But the concept ...

This comic was really cool. What I really liked about it was how different it was. It stands apart from every other comic I have ever read. I loved the Gods and the premise but I just wish that in future volumes there will be more world-building, character backstories and/or character development. In the future comics I would also love to see a story that is much more concise. At times I felt quite confused reading this and from reading a couple ...

Story = meh. Art = YEAAAAAH. Overall = 3 stars. I'll try the next volume when it comes out though.

This graphic novel was a special snowflake. I think reading the Wicked and the Divine is like befriending that one weird outcast on the playground. It could go amazingly well and you could be BFFs. Or it could go badly and you'd have to awkwardly avoid each other for the rest of time. For me it was more or less the former outcome. I barely registered how incredibly confusing the story was because I was so busy drooling over the STUNNING art. Abso...

▓ Here's the proof that I can LOVE evil characters. ▓✔ Loved the beautiful art✔Loved the characters, especially Lucy, aka Lucifer✔ Loved how mythology was handled and the storyline.✔ Loved the irreverent humorI fucking loved EVERYTHING. Full review to come.