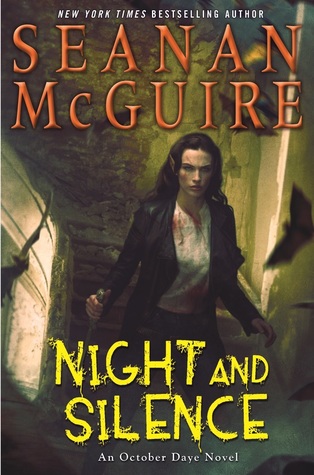 Now in hardcover, the twelfth installment of the Hugo-nominated, New York Times-bestselling Toby Daye urban fantasy series!Things are not okay.In the aftermath of Amandine's latest betrayal, October "Toby" Daye's fragile self-made family is on the verge of coming apart at the seams. Jazz can't sleep, Sylvester doesn't want to see her, and worst of all, Tybalt has withdrawn from her entirely, retreating into the Court of Cats as he tries to recove...
---
Details Night and Silence (October Daye #12)
Title
Night and Silence (October Daye #12)
Author

Seanan McGuire

Release Date
Sep 4th, 2018
Publisher

DAW Books

Language

English

Genre

Fantasy

,

Urban Fantasy

,

Fairies

,

Fae

Rating
Reviews Night and Silence (October Daye #12)
OMG!!! I loved it! Best book in the series since The Winter Long. To be honest I wasn't sure what to think going into this. The blurb didn't excite me. Gillian being kidnapped again and Tybalt taking off didn't sound appealing. The plot tied things together and brought issues to light in such a good way despite the sadness of it all. This book is a game changer. Things will be really different from here on out.Toby deeply loves her daughter...

After the ending of The Brightest Fell I wasn't sure were McGuire was going to go with October Daye but I'm happy to say at Night and Silence met every expectation and more...and I loved it. There is just something about McGuire's writing that captivates and keeps me clinging to the pages. I say "something", but what I really mean is Seanan McGuire's ability to master that illusive character connection that makes you become a part a written word'...

I received a free ARC of this book via NetGalley. I may have squeed a little about that, because who could resist a chance to learn what happens next to Toby and the gang as soon as possible? As we open this book, everyone is still dealing with the aftermath of Tybalt and Jazz's kidnapping in "The Brightest Fell." Mainly, Tybalt is dealing with it by avoiding everyone. Which is a problem, because October's now-mortal daughter, Gillian, has been k...

[Received from NetGalley for early review.]Toby is back, and just as reckless and near-deathy as ever. There's a lot about this 12th book in the Toby Daye series, though there are a few things I wasn't 100% pleased with.+ Toby being Toby, which is hilarious and action-adventurey and grand.+ Tybalt being Tybalt, the hero of a romance novel. (While I'm very sad to see his condition after Amandine's evil deeds, I'm pleased to see that McGuire is han...

Seanan McGuire continues to be one of the foremost authors of fae-centered urban fantasy.  Her novels are unique in that her portrayals of the many kinds of fae and changeling are deeply rooted in folklore and legend.  Her characters are simultaneously more real and more magical for their depth and complexity. Readers are not simply viewing a new world, they are being submerged in it.  Despite Night and Silence being the 12th novel in the Toby...

Electronic ARC provided by NetGalley.I love Seanan McGuire and I love this series. "Night and Silence" is a big book for Toby. She and her allies are still reeling from Amandine's actions in the previous book. Tybalt especially is having a difficult time dealing with what was done to him, and as a result he has been pulling away from Toby. This is the absolute worst time for a new crisis to emerge, but of course since this is Toby she can't exact...

I received an advance readers copy of this book from NetGalley in exchange for an honest review, and I'm going to keep it as spoiler-free as possible, while still making an effort to do the book some small amount of justice.First off, a note to would-be readers: Make time to read "Of Things Unknown," the short story at the end of The Brightest Fell, sometime before you pick this up. It isn't as if the whole plot of this book hinges on it or anyth...

Call it 3.5 starsI had Philosophical Differences with Toby and with the narrative— let's just say, I really hope Seanan is intentionally sidelining the humans because Miranda appears to be my bias and I feel like the POVs are giving her short shrift. Also sometimes the narrative's take on mommy issues made me break out in hives a bit.But it's a compelling story and I read it in about 24 hours, so I can't complain about the plot or the p...

I got a free ARC from netgalley. spoilers.I understand why McGuire used this particular plot device -- it's a good way to explore Toby's family tree and a way to rope Gillian into the world of the Fae. But I'm exhausted by 'kidnapped girl in peril' and I found it so tedious that it made me grind my teeth through the whole book. the Bird Janet thing was interesting, I guess? clearly this is a set up for the larger plot to restore faerie, but it fe...

A classic October Daye adventure, in that all such adventures have consequences. This little breath of fresh air shows our heroes still healing and struggling after the attack of Amandine, and sets the stage for conflicts yet to come. NIGHT AND SILENCE is particularly well set up to be a refresher for those who may have lost the threads of this series, or dare I say even new readers? I don't know why anyone would want to miss out on all the awe...

This is an excellent addition to an already wonderful series. While this has some repeat themes that are common from the author and the previous book in the series, Seanan tells this story anew with added depth and detail. Every character I have come to love makes their return to the page all the more vibrantly and I adore them even more. One common theme in this book is a recovery from previous trauma. None of the characters have come out of the...

October Daye is still hurting from the aftermath of her mother's latest betrayal; for one thing, her fiance, Tybalt, has been avoiding her because of the damage he took at Amandine's hands. But when Toby's daughter is kidnapped--again--she springs into action. False trails uncover long-forgotten secrets, including a stunning one about Toby's family. Twists and turns and an ending always in doubt. With a bonus novella dealing with the aftermath.A ...

Pub date: Sept 2018Another great October Daye book! I could read these all day long; Ms McGuire's characters and writing are just that well done and that enthralling. We get to see see more of Gillian and meet more of Toby's family. And after Toby gets into some serious trouble (as per usual), we see my favorite, The Luidaeg, more, so yay(?) Another reason to celebrate: a bonus novella told from Gillian's point of view.

Sometimes when a series goes on this long it starts to feel repetitive or formulaic. But the October Daye books never disappoint. I prefer the ones that are heavier on the court politics and not quite so "taking it personally", but I still couldn't put the book down. Excellent.Advance copy provided by the publisher through NetGalley.

OMG! I loved this book. This series just gets better and better. Definitely recommend you RUN to get this book when it comes out! :)

I received an ARC from Netgalley.I really enjoy this series. That characters are very well developed and the plot is entertaining. I look forward to reading the next book.

Review coming later.ARC received from the publisher.

Copy provided courtesy of NetGalley and DAW publishing. Review to come closer to the release day.

I received a free ARC of this book for a fair review. Review to come.

Fantastic new addition to the series that pulls some familiar faces back into the mix. ARC of this book provided from Netgalley.

Another wonderful addition to this series! Seanan McGuire has a wonderful world of characters and mystery with this series. Great story and of course who doesn't love Toby!#Edelweiss #NightandSilence #OctoberDaye12

Holy shit what a read! Review when it gets a lot closer to publication date.****The story starts with Toby not seeing anything of Tybalt and Jazz having problems sleeping from what Toby's mom did to them in the previous book. When Cliff shows up on her doorstep with his wife in tow looking for Toby's daughter with Cliff, Toby's world is cracked. Toby thought after making Gillian fully human and having no contact with her she would be safe a...