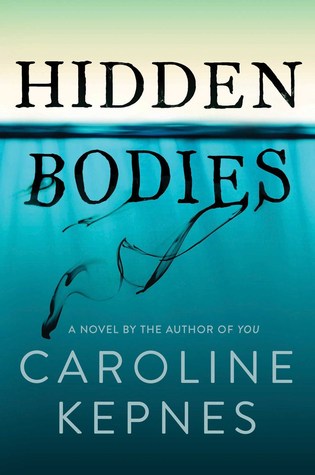 Joe Goldberg is no stranger to hiding bodies. In the past ten years, this thirty-something has buried four of them, collateral damage in his quest for love. Now he's heading west to Los Angeles, the city of second chances, determined to put his past behind him.In Hollywood, Joe blends in effortlessly with the other young upstarts. He eats guac, works in a bookstore, and flirts with a journalist neighbor. But while others seem fixated on their o...
---
Details Hidden Bodies (You, #2)
Title
Hidden Bodies (You, #2)
Author

Caroline Kepnes

Release Date
Feb 23rd, 2016
Publisher

Atria/Emily Bestler Books

Language

English

Genre

Fiction

,

Mystery

,

Thriller

,

Contemporary

Rating
Reviews Hidden Bodies (You, #2)
I buy violets for Amy. Not roses. Roses are for people who did something wrong. I have done everything right this time around. I'm a good boyfriend. I chose well. And so begins the sequel to Kepnes' beautiful little mindfuck - You. We are taken, once again, inside the mind of Joe Goldberg as he, yet again, pursues his "true love". This time, his adventures take him all the way to Los Angeles.Hidden Bodies is good, but honestly, Kepnes has lost ...

Caroline Kepnes, I don't know if you know this or not but you are building a legion of fangirls and boys. We will follow you.......... Joe is that character that you are not sure you should admit to liking. You sure as hell shouldn't publicly acclaim just how much you adore him. Joe falls for Amy, that chick from the end of the last book that gave him a fake credit card. She is so perfect for him. They get each other.Then the scamming heifer tak...

I loved 'You' and started 'Hidden Bodies' immediately after I finished it. Looking back, I think that maybe I should have taken a break from the endearingly crazy Joe. Two books full of his rants and rationalizations back to back was just too much. Joe's special brand of crazy is probably best served in small doses. I absolutely loved him, but soon grew irritated with his antics. You really can get too much of a good thing.After the way things en...

3 out of 5 stars to Hidden Bodies, the second book in a thriller and suspense series by Caroline Kepnes. Last month, my buddy Medhat suggested a read of You, the first novel in the series. It was such a fantastic book, probably in my top 2 of 2017 to date, that I had to continue reading the series. I've heard rumors there will be a third book, but I've yet to see it confirmed. I need to check on that! I am also completely excited as Lifetime is t...

Find all of my reviews at: http://52bookminimum.blogspot.com/BUMP FOR RELEASE DATE TODAAAAAAAAY 2/23/16. I rarely bump for release date, but Joe has held on to the title of my favorite character and Kepnes has held on to the title of best book I read two years running so Hidden Bodies deserves it. Please note if you are of the non-Joe-fangirl variety you probably should steer well clear of this space. My behavior makes his look pretty normal : )T...

I always worry when a second book in a series comes out- will it be a good as the first one? In this case...I would have to say a BIG YES! If you loved Joe as much as I did in- You...You will not mind having him weed out some of the pesky folk that have the unfortunate fate- to come up against him in the sequel- HIDDEN BODIES....and do I feel guilty for loving a serial killer that sees some of these idiots as mere inconveniences to be be brushed ...

Oh dear, Ms. Kepnes. You got me with You, but clearly you were out to get someone else with Hidden Bodies. What I found clever and enticing in You seems to have vanished, and in its place you took me on a crude meandering journey that felt too long -- way too long -- and pointless. In fact, it's almost like you knew exactly what to do to shake me off. Instead of the bookish New York setting in You, you set Hidden Bodies in Hollywood with no lit...

*** 5 + Stars.....Brilliant!! ***I've been desperate to get my hands on this and it certainly didn't disappoint.I read this in 24 hours,I could not put it down.The story picks up where book one ended.This probably could be read as a standalone as events from the first book are well explained but I STRONGLY advise reading You so you can truly understand Joe.So after Joe's involvement with Beck ended he is with Amy.Now Amy is nothing like Beck.She'...

4.5 StarsI don't think I've ever loved a murderer as much I as love Joe Goldberg. I'm not sure if I should admit to that, but I don't care, he is just so damn entertaining. Caroline Kepnes has created one of the most fascinating characters I've ever had the pleasure to read. I'm not trying to turn into a gushing fangirl, but in all honestly I find her storytelling, her characters, and her writing simply brilliant. Hidden Bodies is quirky and addi...

[I received this book from the publisher in exchange for an honest review.]Loooooooooved it! I'd say this series is Dexter meets House of Cards and I seriously love every second of it. I need a third book ASAP! I liked this book slightly less than the first one - the only reason being is there was a few too many references to random celebrities and modern things (e.g. Buzzfeed) and sometimes they felt overdone. I still absolutely loved it and wha...

DNF at page 84I wasn't kidding when I said this is the worst book I've ever read. This is seriously the worst book I've ever read. Every other book I actually finished and awarded one star and every other book I never finished because it sucked... all of those books are a million times better than this garbage that masquerades itself as a book. Caroline Kepnes has to be a pseudonym for a thirteen year old boy who just learned about sex from his f...

Nop. I think Joe deserves better than 3.75 stars (original rating). So I'm upping it to 4. Right so, after the awesomeness of YOU, to say I was giddy with excitement to read Hidden Bodies would be a gross understatement. And, well... what I expected to get and what I got were two different things.It's nearly half a year since the concluding events of YOU and Joe's got a new woman in his life, Amy Adam. He is completely smitten with her as...

Just got an email from Amazon that my hardcover has shipped! Can I get a "FUCK YEAH!" Also, I'm bumping this review to remind everyone that this comes out in two days, February 23. Buy it. Buy one to read and one to collect. Buy your friend a copy. Buy your pet chinchilla Bernie a copy! WINNER: BEST BOOK OF 2015!From the jump, we will get rid of my one and only complaint. I prefer the original title of this book. According to GoodReads, Hidden Bo...

UPDATE: I had originally given "Hidden Bodies" 2 stars when I read it in July. Now that I've had time to fully digest it, I think I was actually too generous with my 2 star rating, a 1 star rating is much more appropriate. What the hell did I just read?!?! I'll be honest, I felt like "You" was perfect the way it ended. "You" is one of my favorite novels I've read this year. It's unique, (second person narrative) sensual, intriguing, and beautiful...

You all will be happy to know that I have enjoyed Hidden Bodies significantly more that You! I'm still not sure why I had a hard time taking a liking to her first book. Maybe because I felt so much of the beginning was setting up the story, whereas in this book the story is full blown and we are thrown back in the middle of it. I actually liked Joe more in this book than the last one; I also felt the author's writing was stronger this go around. ...

"A book lets you choose how much of the blood you want to see. A book gives you the permission to see the story as you want, as your mind directs." ―Caroline Kepnes, Hidden Bodies 3.75/5Unfortunately, I didn't enjoy this one as much as "You", I felt like Joe was less exciting to read about, also the 2nd person style narration that I absolutely loved in the first book was gone and the whole journey felt too long.

MY BLOG: Melissa Martin's Reading ListI hate to say I didn't love this one like I did the first book. The first book blew me away. But, I still love Joe <---Yes, I know your not supposed to love killers but he was just so good at in the first book. He's not so bad at it in this book either, but everyone messes up right? We are introduced to a whole new set of characters when Joe follows Amy to LA, he doesn't want to go there, but you know Joe. He...

5++++ well earned starsJoe Goldberg, the ever loving psychopath you can't help but love is back, and oh how I've missed him!I first met Joe in You, the first book in this series. If you haven't met Joe yet, I highly recommend you start there. But until there, here's a glimpse of Joe's motto to life:'You don't go to a party empty handed and my reusable Pantry bag is stuffed with rope, my Rachel Ray knife, rubber gloves, plastic bags, duct tape, an...

Did this book really take me nine days to read?! That alone tells the whole story. I put this on the hold the second I heard about it. I expected it to be published in September of last year. Waiting until February was torturous, though not, as it turns out, as torturous as trying to get through this bizarre sequel. I understand that the author was poking fun at LA but this was too long, too over-the-top, and too unbelievable for me. Joe, what ha...

1.) You ★★★★★ARC provided by the publisher via Netgalley in exchange for an honest review. "I make her laugh so hard that she has slushie spilling out of the corners of her mouth. And then we drive away and find a quiet spot and I eat her out and when I finish I have her spilling out of the corner of my mouth." I really don't know how many stars I want to give this. Part of me wants to give it five, just because the story is so uniq...

"HIDDEN BODIES" by Caroline Kepnes, is the follow-up to her debut novel, "YOU", the continuation of an evil serial killer …Joe Goldberg.I have to say that I enjoyed this book so much better than book 1. I had a hard time reading YOU, book 1, a dark psychological thriller that is not a book for everyone. "You" is not the book for you if you are easily offended by coarse language or scenes of a sexual nature. In "YOU", we see Joe's involv...

Joe Goldberg. Psychopath, stalker, murderer, an all around nutter. I love this guy. He's horrible. Amy Adam walks into Mooney Rare and Used Books, smiles and allows as to how she is looking for a job. Ha! Joe Goldberg knows she is really looking for him. Once again, he is certain he has found "the one". They are so right for each other. (view spoiler)[Alas, she ends up betraying him, robbing him, playing him for a fool. She takes off for sunny Ca...

I received an arc of this book from Netgally in exchange for an honest review Recently it's been a series of disappointments when it comes to sequels. This second and last book in the Psychological-Thriller duology proved no different. I had high expectations because I enjoyed the first book very much, but sadly it didn't live up to my high expectations.There are various factors that could have affected my enjoyment of this novel. First is that I...

Enjoyed this audiobook so, so much. In my opinion, HIDDEN BODIES and YOU are literary fiction. Fast-paced thrillers, as well, but Ms. Kepnes knows how to dissect what it is to live in 21st century America while exposing the timeless truths about human nature--some good, mostly quite sad. One of my favorite reads of 2016.

All the stars in the universe and then some!This series is AMAZING! I want to trap my loved ones in a cage, force them to buddy read with me and then talk about how much we love LOVE Joe. You was so brilliant that I was reluctant and scared to start Hidden Bodies. I loved You so much that I thought there was no way Hidden Bodies could live up to it. Damn, was I wrong. From the first page of Hidden Bodies I was once again lured in by Joe's voice l...

WrensReads Review:First, I want to say that I think it is important to take a nice, 10-book at least break from You before you dive into Hidden Bodies. Even though it is the same Joe that we grew to love and understand, the story has a different vibe to it. I believe that is a big reason why some people don't feel they liked this book as much as the last book. It is in a completely different setting and Joe's personality is growing and his sanity...

Click here to read my review of You, the first instalment in this series.Sometimes I'm really glad that I still listen to my gut instinct and don't solely rely on reviews (though they are right most of the time). I almost didn't pick this book up because so many people who loved You said that they found the sequel disappointing. And I can definitely see why people think so: Whilst You is a psychological thriller with a heavy lean on contemp...

I went into this expecting it to be just as good as the first and I was not disappointed. Joe is still the clever, witty and humorous anti-hero that we all can't help but root for, despite the unsettling feeling that you get when you realize that you are rooting for a man who kills people (usually simply because they are annoying).I admit that I liked the first installment a teensy bit more, despite this new addition being less perverse than the ...

3.5/5 Generally I have a fairly clear picture concerning how I feel about a book and what exactly I will say in my video review. However with Hidden Bodies, whether I was 50 pages into this or finishing it, my feelings have been and still are decidedly mixed. I'll hopefully film a review of this on Thursday!