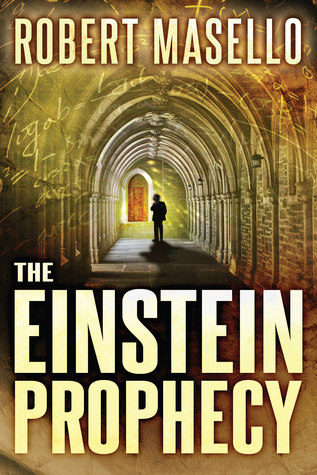 As war rages in 1944, young army lieutenant Lucas Athan recovers a sarcophagus excavated from an Egyptian tomb. Shipped to Princeton University for study, the box contains mysteries that only Lucas, aided by brilliant archaeologist Simone Rashid, can unlock.These mysteries may, in fact, defy—or fulfill—the dire prophecies of Albert Einstein himself.Struggling to decipher the sarcophagus's strange contents, Lucas and Simone unwittingly relea...
---
Details The Einstein Prophecy
Reviews The Einstein Prophecy
I picked this book as my Kindle First pick for July. And I kinda regret it..The Einstein Prophecy is a weird story. WW2, demons, romance, Einstein, and the race for the atomic bomb all come together in this strange tale of a group of researchers trying to uncover why a mysterious coffin was so important for the Third Reich to acquire. I think what threw me the most about this book was that it took a very realistic setting with well researched bac...

WWII Thriller A Pleasant Surprise!Great read, reminiscent of Indiana Jones, an action/adventure with something for everyone - archaeology, science, horror, even romance.I really like the protagonist, Lucas, love the WWII setting, and the inclusion of Einstein and Godel is a fun side-story.I think what surprised me most is how well this book will appeal to both men and women. So often, in the thriller genre, female characters are limited to carica...

Executive Summary: This book was alright, but nothing really special.Audiobook: Christopher Lane was quite a good narrator. He spoke clearly and with good inflections. He also did some decent accents for the characters of the book. If you're going to read this book (something I'm a bit iffy on), audio is a good option. Full Review The description of this book was a bit misleading to me. I saw "young army lieutenant Lucas Athan recovers a sarcopha...

One Big MistakeThe author makes a hugh error in Chapter 36 when he has an FBI agent screw a silencer on his revolver. Two problems with that; that type of device cannot work on a revolver, and the agent would have called it a suppressor. A common error that has ruined many a movie, TV show, and book. I base this criticism on the fact that I've 40 years experience as a gunsmith and law enforcement armored.Otherwise the story is pretty good.

On the positive side, the book is very grammatical. It has been professionally edited, the story flows smoothly and, apart from being overly descriptive at times, the author makes his points and moves forward in an expeditious manner. The problem is the story feels like it was written in the 1950's. Stylistically, this could have been a black and white film with Packards and boarding houses and Boris Karloff dressed as the Bog Man. It was a pleas...

July 22, 2015A Review by Anthony T. Riggio of "The Einstein Prophesy" by Robert MaselloI purchased this book in the Kindle format.This was a fun book to read. it was something in the fashion Angels and Demons, Raiders of the Lost Ark and the Museum Men. It is a short read and fun to let one's imagination go free and just enjoy the moment. It had suspense, demons, and intrigue around and all framed around Princeton University, where Albert Einstei...

3.5I give this a 3.5 rating. The story was great but some parts felt a little slow where other parts felt rushed. Overall, I really liked this book, along with this time period and particular war. Recommend!

I was able to read this book before it came out on August 1 and I did not know what I was in store for. I see that there are mixed reviews but I really do not understand why. At first I was a little weary about the book because it was set in World War II. But all doubts quickly disappeared when you met Lucas. He is on a mission to recover precious art that was stolen by the Third Reich. He finds this sarcophagus excavated from an Egyptian tomb. T...

This is a readable toilet/ plane/ travel book. It is not particularly good nor bad. The language is generic and plain. The author neither amazes nor bores with the adjectives, sentence structures, descriptions and narration. It is not really a mystery , it is more a thriller since one guesses- spoiler alert- that the fictional relation between Einstein and Oppenheimer on atomic bomb will be related to the mysterious ossuary that the main characte...

According to GoodReads, 2 stars = it was OK. That's all I can give this book. It didn't keep me awake reading past my bed time. It didn't even make me want to pick up my Kindle to read it. Took me forever to get through it.

'The Einstein Prophecy' is not as good as it initially seems, gentle reader, but this is not apparent until the end of the book. I felt that the ending sputtered to a confusing splay-footed stop. After that disappointment, I felt the novel had been a waste of my time. Plus, the title is 'switch-and-bait'. The character of Albert Einstein is actually unimportant and secondary, written into the story and title so that a reader will stop and check i...

I was disappointed. I really liked "The Jekyll Revelation" but in many ways this one really jumped the shark. I'm being generous giving this 3 stars. Masello was reaching for Dan Brown's audience in this but missed the mark by overdoing it. In Jekyll the supernatural element could be attributed to the character's perception after taking the equivalent of an hallucinogenic drug. In this one it was up front with all the flaws inherent. I like a goo...

Review of The Einstein Prophecy The Einstein Prophecy is a mystery book that never lags. Filled with prophecies of an apocalyptic world it takes place during one of the darkest times in history, World War II.Exploring early Patristic (theological) literature an Egyptian archeologist, Dr. Rashid, spends his life in pursuit of St. Anthony of Egypt's tomb. Legends abound about St. Anthony's fight to the death with a demon that threatened mankind...

Pretty decent, although the ending felt really drawn out and unnecessary. Would have liked a little more depth ... and the stakes honestly didn't seem that high (even though they were). Would give it a 3.5 if I could.

I'm glad I didn't pay for this book because wow...this book is not worth it. The only reason I finished this book was because I hate NOT finishing a book. I read The Einstein's Prophecy on my downtime at work. It was readable, yet barely entertaining. The only thing I enjoyed were Einstein's narratives. It was a ballsy move on the author's part to write from his perspective and not royally screw things up. Also, the writing style, while extremely...

This book just wasn't for me. I had hoped it would be like James Rollins or Steve Berry, but I was disappointed. This was the first book that I can ever remember not fully finishing--I just couldn't get through the last 25 pages.

Less than two hours left on the Audiobook. I can't be bothered.

"I do not know how the Third World War will be fought, but I can tell you what they will use in the Fourth - Rocks" ~ Einstein. When you start off with a quote like that you have high hopes. I would recommend this for people who like thrillers with a hint of supernatural. I do love when stories incorporate real people. Persons we all know existed. I hate when they make them totally unbelievable. This book didn't do that. There wasn't a point wher...

This was a Kindle First book for me. I really expected it to be one of those books that are so popular now that had a modern protagonist trying to solve a mystery in the past where the action switches between the two settings. Fortunately this was set entirely during WWII, a plus. Einstein plays a major role in the action, which seems to want to explain the evil of the nuclear bomb. I really liked Lucas, the main character. Did not find it at all...

It's always fun to mix a little history, a little military, in with your science fiction and/or horror. In this case, the story is of an art history professor who serves during World War II in Europe and is assigned with another soldier to recover precious art taken by the Nazis. The two of them are given directions to an iron mine outside Strasborg, Germany in 1944 where they discover a sarcophagus. A freak explosion ends their expedition. The n...

I like books which include real people from history. If, however, the writer does some atrocious thing like "Abe Lincoln: Vampire Killer" I will never read them again.In this thriller, Robert Masello passes the could-have-been test. Nothing I've read about Albert Einstein left me with an "oh, come on!" If that had happened, I would have stopped reading.This book is similar to DaVinci Code with the paranormal aspects, but done without the religiou...

Sort of reminded me of Indiana Jones, the one with the Ark of the Covenant. A GI on special assignment to find works of art and other items stolen by Germany during WWII. In particular he has been directed to search for a sarcophagus stolen from Egypt. It's located and shipped back to the US to Princeton where the GI, who is a professor at Princeton, is assigned to study it and open it. It is believed to contain the remains of St Anthony who batt...

Quite the fun and fast paced story, Masello weds together the beginnings of Quantum Theory and the legends of religiously based demonic evil, in this totally fictional but otherwise intriguing novel. He builds his story around Hitler's well known fascination with all things involving the Occult, specifically those items he felt might grant the one who possessed them supernatural powers, and the ability to wield them over others. While Masello adm...

A SIMPLE MAN'S REVIEW:You'd think this book would have some sort of prophecy concerning Einstein, right? I mean it's right in the title! But in actuality, Einstein is more of a side character with a tenuous connection to the plot near the end. So if you forget the Einstein angle, it is a pretty standard "ancient relic" novel: action, love, mystery, etc. Ironically, the one thing it was missing was the detailed backstory of the relic. There was a ...

Lieutenant Lucas Athan, an arts expert and ex-Princeton professor working with the Cultural Recovery Commission during WWII finds a Nazi loot of stolen art inside an Alsatian mine that includes an interesting, still sealed Egyptian sarcophagus. Later, at the Princeton U campus, he joins the beautiful Simone Rashid, PhD, the antiquities expert who originally found the ossuary in the Egyptian desert, to open it and discover its contents –bones, y...

While I enjoyed reading it more than the two stars would suggest, I can see where others may have resisted suspending disbelief on some points and just following to see where the story was trying to go. (You will enjoy it more if you don't question whether the military, law enforcement agency, etc., would really choose to do something in a certain way, just allow the plot device to move you forward.) It was well written and a quick read. Frequent...

Its a horror flick in book form, basically set during WW2. The writing was good enough to keep me reading it through to the very predictable end, but just barely. If I had known its a horror/suspense book I would have skipped it. Four stars based on the writing, not the story.

A good read on a rainy dayAn interesting yarn that captures the imagination with a good twist at the end. Try it, you'll like it. Really

Great bookThis book weaves a story about Einstein's work at Princeton and the bomb being dropped on Nagasaki and Hiroshima. The metaphors in this book are wonderful and the story is great in relation to what is going on in North Korea today.