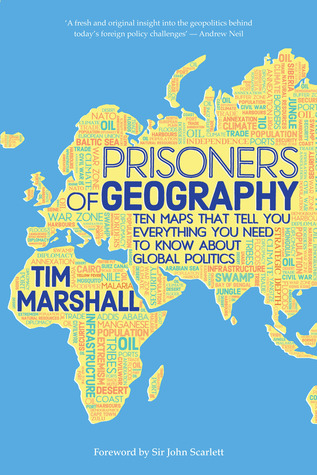 All leaders are constrained by geography. Their choices are limited by mountains, rivers, seas and concrete. Yes, to follow world events you need to understand people, ideas and movements – but if you don't know geography, you'll never have the full picture.If you've ever wondered why Putin is so obsessed with Crimea, why the USA was destined to become a global superpower, or why China's power base continues to expand ever outwards, the...
---
Details Prisoners of Geography
Reviews Prisoners of Geography
Once I read this true crime account of this serial killer and they didn't find the bodies, I think they got him on dna, and so they ask him what did you do with the bodies. They were wondering what genius plan of disposal the guy had come up with to make ten corpses disappear without trace. And he says I cut em up and put them out with the trash. If I couldn't get em in the bin I put em in black bags. They just took em away, every Thursday mo...

Outstanding!If one reads only one politico book this year, read this one. Wanting to compose a 20 paragraph reaction, at least that long upon each one of the 10 world "entities" that this book is divided into! (Not always a continent, but sometimes that nomenclature relates.) Well, I will not. Because Marshall's concise and succinctly factual is beyond my superlatives OR my summation of it, could ever be.But possibly I could make one comparison. ...

This is an amazing journey through the world, zooming out of particular localities and looking at the geographical shape of bigger areas that helped form the history, culture and population of the world we share. I read the first chapters on Russia, China, Europe, USA and Africa constantly nodding my head, realising that it was possible to explain many things I had thought about for long hours by analysing natural borders, rivers, mountains, vege...

The premise of this book is interesting - that much of international politics is about geography. Country A doesn't go to war with country B because there is a range of mountains between them. Country C enjoys a strong trading economy because it has access to the sea. And so it goes.Most people reading it will probably get one or two "aha" moments when the book gives them an insight they hadn't had before. It's a good point well made. About a qua...

Have you ever thought what a complex world it is we live in? Why do some countries look to have it all whilst others seem destined to always struggle? Each country has its own history of rivalries and ancient disputes with neighbouring nations – where do these stem from? And what about the frequent border changes – why have these occurred and surely they've created additional tensions, haven't they? I have an old Reader's Digest Great W...

Overall an interesting read, but little new information for anyone with more than just a passing interest in history or (geo-)politics. There is too much ''America is awesome'' and too little actual in depth information. Furthermore, the title is somewhat misleading. I had the impression that there would be ten actual maps, ones that you don't see or use very often to define your view of the world, but could be considered important nonetheless. R...

What a great read, this was such an interesting topic, well explained and clear . I highly recommend this book to any lover of geopolitical issues and whoever wants to get a glimpse on how the foreseeable future might play out . If you love maps and history this book is for you!

كتاب سجناء الجغرافيا: عشر خرائط تخبرك كل ما تحتاج معرفته عن السياسات العالمية. مؤلف الكتاب تيم مارشال. مراسل قناة سكاي نيوز البريطانية السابق والذي نقل أحداث كثير من الحروب والأخبار من دول العالم المختلفة. الطبعة الأولى 2015.يتألف الكتاب من إحدى عشر ...

Prisoners of Geography: Ten Maps that Explain Everything about the World, Tim Marshall, 2015, 263 pp.This is actually a rather shallow, cursory look at geopolitics from a standard pro–U.S.-military, neoliberal viewpoint. The ten maps are just ordinary maps of ten areas, Russia, China, U.S., W. Europe, Africa, Mideast, S. Asia, Korea/Japan, Latin America, Arctic.The author's claim, that natural corridors and natural barriers explain "everyth...

Prisoners of Geography: Ten Maps That Tell You Everything You Need To Know About The World by Tim Marshall attempts to explain the world by presenting ten maps of the planet. Tim Marshall is a leading authority on foreign affairs with more than 25 years of reporting experience. He was the diplomatic editor at Sky News, and before that was working for the BBC and LBC/IRN radio. He has reported from thirty countries and covered the conflicts in Cro...

Prisoners of Geography – A Much needed lessonAs someone whose family has been victims of the Geography of where they lived and who they were in an often much forgotten episode of the Second World War. People forget that when the Nazis invaded Poland in 1939 their allies Russia invaded Poland on the 17th September 1939. My great-Grandmother was 'exiled' to Siberia because her son was fighting for the enemy (the Polish Government) and her hus...

"Geography has always been a prison of sorts-one that defines what a nation is or can be, and one from which our world leaders have often struggled to break free"This book is a rather grand introduction to geopolitics. It contains ten respectably shirt chapters and there are illustrations showing us the geo strategic realities for the different countries.I particularly enjoyed the chapter on the Arctic. It was most interesting and there is such a...

"Prisoners of Geography" is brief (too brief in my opinion) but yet the book is a delightful and informative read. The intertwined story of human development, war and geography is coherently arranged and very interesting. It has a lot of maps - hooray!These pages reveal the occasional underlying rationality behind why governments sometimes behave the way they do, as well as maybe some reasons why some countries are so impoverished while other...

Marshall could have kept up the initial presentation and analysis throughout the book, but at some point the editors decided to shorten the pages and compress regions together. As a fellow reviewer says, "It is solid stuff, but after some time this geography thing gets a bit repetitive – plains, mountains, rivers, plainsmountainsrivers, portsportsports ..."

This is a good introduction to geopolitics. In ten short chapters it illustrates the geostrategic realities for countries and regions. It explains why the Ukraine is so important to Russia, the limits of chinese assertiveness in its backyard and why africa is so poor.My only criticism is that it is too short

Brisk, well written, continent by continent (excluding Australia) survey of how geography is destiny, beginning with Putin going down on his knees every night to ask God why He didn't put mountains in Ukraine. I really liked the way Marshall organized it, too. The first chapter is Russia and how so much of their actions are dictated by the eternal quest for a warm-water port, the second is China's equally eternal quest of finding water routes uno...

A very interesting overview of global geopolitics and the geography that informs it. By splitting the world into distinct regions Marshall allows for the isolation of particularly important geographical features, such as the North European Plain on Russian politics, and the lack of navigable rivers hampering internal development in Africa. The author is clearly authoritative and even includes a few personal anecdotes with foreign ministers when m...

Educativa pentru cei care doresc sa inteleaga contextul politic actual. As fi vrut doar sa explice mai in detaliu anumite aspecte istorice.

Subtitle: Ten Maps That Explain Everything About the World - or in U.K. editions: Ten Maps That Tell You Everything You Need to Know About Global PoliticsI've always been relatively good at geography, and yet I wouldn't say I'm particularly interested in or fascinated by the subject. Until now.This was a selection for my F2F book club and I'll admit I went into it with some reluctance. So, I was pleasantly surprised at how very readable a...

3 stars - It was good.Interesting and extremely relevant read – I particularly enjoyed the chapter on the Arctic. -------------------------------------------Favorite Quote: When we are reaching for the stars, the challenges ahead are such that we will perhaps have to come together to meet them: to travel the universe not as Russians, Americans, or Chinese but as representatives of humanity. But so far, although we have broken free from the shac...

All you need to do to enjoy this book is to ignore the title, the subtitle and the central tenet of the text.* Yep, as simple as that. Let me explain. Was Putin really forced to annex Crimea, as the book implies? Did China have no other choice than to occupy Tibet? Of course not. There are always options, even if there are geopolitical arguments for or against certain actions. The 'prisoners of geography' rhetoric comes dangerously close to absol...

As a youth I studied the Annales school of history - a structuralist method which deals with geography first as a motor of history, and human plans and actions very much last. I say 'studied' rather than 'read' because Annales history was notoriously dry and notoriously long. Tim Marshall's book takes a similar approach but is brief, crisp and only mildly arid.Prisoners of Geography is at its strongest when explaining why big global powers want w...

The book seems to me about geo-tactics, mostly about how geography defines possible military attacks and defences.It did not convince me of its thesis that we are prisoners of geography.The one that convinced me of exactly the opposite was Why Nations Fail: The Origins of Power, Prosperity, and PovertyPlus: the maps in the book are not great either :-(

A very interesting read that provides a potted history of the geopolitical realities. At times the tone was a little strange but I think this is largely the result of attempting to pitch highly complex ideas at ordinary readers. There are lots of fascinating detail here, and the book does give you a lot to think about.

Very good book for putting oneself in the collective shoes of various geopolitical powers and their fears and strategy. The book takes into account the geographic advantages and threats of various regions and explains why great powers make the moves they do and gives some insight into what is likely to be coming down the road. A good primer for gaining literacy in geopolitics.

A book about the complexity of geopolitics, written with the simplicity necessary for a neophyte to get it. Big plus for the author's sense of humour, which permeates from time to time in the middle of the most serious subjects, giving you a laughing jolt when you least expect it. Totally worth the read for anyone interested in the subject.

The chapter on the Arctic is chilling! There's a lot going on up north! He explains current events based on their geographical influences or causes. Very insightful book and highly recommended as an introduction for Geopolitical Issues.

Good to know the Mississippi River "has more miles of navigable river than the rest of the world put together" because having cruised the Nile, those cataract dives and rolls, especially at night, are terrifying. Lucky for me, I was traveling alone and the cruise company had smartly located the couples and families on the bottom level of the ship so that when we flipped over, the boat would land upright. Oh, and Russia has no year-round warm wate...

This was a title-buy. I don't think I've ever made a title-buy before (although I guess it's possible, seeing as how I have definitely bought the definition of too many books). Slightly more reasonable than buying a book based on its pretty cover, and less reasonable than buying a book based on its plot, being drawn to this title worked out okay this time. (Which I guess makes sense, since the subtitle is pretty explanatory.) Anyway. This "review...

Neskutočné, koľko vecí v súčasnom svete je ovplyvnených len tým, či niekadiaľ tečie rieka alebo či má krajina pohorie. Nikdy som nemal rád geografiu, lebo som jej nerozumel. Mať tak túto knihu keď som mal 15, možno by to bolo inak. Mindchanger roka 2017.