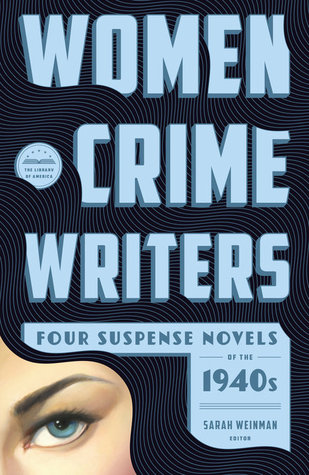 Women writers have always had a central place in American crime writing, although one wouldn't know it for all the attention focused on the men of the hardboiled school. This collection, the first of a two-volume omnibus, presents four classics of the 1940s overdue for fresh attention. Anticipating the "domestic suspense" novels of recent years, these four gripping tales explore the terrors of the mind and of family life, of split personali...
---
Details Women Crime Writers
Title
Women Crime Writers
ISBN

9781598534306

Author

Sarah Weinman

Release Date
Sep 1st, 2015
Publisher

Library of America

Language

English

Genre

Mystery

,

Fiction

,

Crime

,

Noir

,

Anthologies

,

Womens

,

Thriller

,

Mystery Thriller

,

Historical

,

Historical Fiction

,

Classics

Rating
Reviews Women Crime Writers
5 stars for 2 of the four novels: In a Lonely Place by Dorothy B. Hughes is a noir masterpiece --an extraordinary rendering of tension and suspense in L.A. , and Elisabeth's Sanxay Holding's The Blank Wall offers a continually surprising turn of events for a wartime housewife and mother.The other two are good reads as well but less plausible and less masterful in the use of tension and suspense, more social dramas.

The Library of America has published many volumes of American noir and crime writing. It has recently published a two-volume anthology, "Women Crime Writers", consisting of four suspense novels from the 1940s and four from the 1950s by eight different women authors. I am reviewing the first volume, which consists of the four 1940s novels here. Sarah Weinman, a scholar of crime fiction selected the contents and edited the volume. Weinman has edite...

Perhaps not quite as good as the companion volume of 1950s stories, but all in all a satisfying read. The Horizontal Man is, to my mind, the weakest of the four stories here and the reason I give this volume three stars instead of four.

I read the two-volume Women Crime Writers: Eight Suspense Novels of the 1940s & 50s: A Library of America Boxed Set set continuously over about two weeks, which means everyone around me probably got tired of hearing me explain the virtues of the set: that nearly all of the authors had fallen out of print over the years, that it was an important task for canon-formation to bring these books to everyone's attention once more, that Weinman had previ...

Given that most of the famous crime writers of the 1940s are men, it was fun to see what women crime writers were doing then. The American Library Association made that possible with the publication of four novellas. My favorite turned out to be the best known, "Laura," by Vera Caspary, which became a movie. All of the stories have something to offer, and the back gives a brief biography of each that shows how accomplished they were, if no well k...

Four fantastic novels that are groundbreaking in various ways and entertaining in all ways. The two that surprised me the most were by writers I'd never even heard of. The second novel, The Horizontal Man, by Helen Eustis manages to pre-date Robert Bloch's Psycho by something like 15 years and has nearly an identical resolution. It's so close a fit that if I were Eustis, I'd have felt an awful lot like I'd been ripped off. The novel is at turns a...

Laura **** (out of 5) Read 1/12-1/15/16The Horizontal Man ***1/2 (out of 5) Read 1/1-1/3/17In a Lonely Place *** (out of 5) Read 6/20-6/24/17The Blank Wall **** (out of 5) Read 1/20-1/21/18Four well-chosen, tautly-written suspense novels from the Library of America. My favorite was Holding's The Blank Wall, but they all have much to recommend them.Onto the 1950s!

Wonderful mysteries from undeservedly forgotten authors. "In a Lonely Place" and "The Blank Wall" are especially good.

Enjoyed Laura and In a Lonely Place; was indifferent to The Blank Wall; and actively disliked The Horizontal Man.

Laura: 1/5 starsThe Horizontal Man: 5/5 starsIn a Lonely Place: 2/5 starsThe Blank Wall: 3/5 stars

Laura - 4 starsThe Horizontal Man - 3.5 starsIn a Lonely Place - 4 starsThe Blank Wall - 3.5 stars

These were four thoroughly enjoyable mysteries from women authors of the 40s. What is interesting to me, is that they wrote in a sexist manner; like a man would! I suppose they wouldn't have been published if they didn't, but . . . For example, they all used the tiresome"the man" and "the girl," as if every woman character is a 12-year-old girl.

I picked up Women Crime Writers: Four Suspense Novels of the 1940s on a whim. The $35 price tag seemed a bit steep, but for four stand alone novels in one compilation, I could justify it. Also, happy holidays to me.The only story I was even familiar with was Laura by Vera Caspary, which is a famous movie with Gene Tierney. <--That was the sum total of my knowledge before reading the story. The other stories were The Horizontal Man by Helen Eustis...

Individual reviews of each book follow. I enjoyed the first three stories much more than the last one. LAURA by Vera CasparyA strange amalgamation of styles, but very well done. The story is written in chronological order, in five parts, from three different points of view, with the inclusion of a few police statements and reports. The different narrators are each written in first person, with distinctly different voices: the pompous and erudite ...

Caspary, LAURA: ****1/2. Fascinating depiction of the compromises & misalliances of professional women of the time. Read 9/15.Eustis, THE HORIZONTAL MAN: ***1/2. My least favorite of the collection, mostly for its sprawling focus and problematic solution, but it has moments of delicious camp and a swell near-protagonist in amateur sleuth & college gal Kate whose exploits I would gladly read additional stories about. Read 9/15.Hughes, IN A LONELY ...

This was an interesting collection of 4 crime novels written by women in the 1940's. I had only been familiar with one story, Laura by way of the 1945 film noir movie which starred Gene Tierney, Dana Andrews and Clifton Webb. The book was written by Vera Caspary, and tells the story of a beautiful and independent young woman who was loved by most every man she met, including the policeman investigating her murder. There is a surprise twist that c...

This review refers to "In a Lonely Place" by Dorthy B. Hughes. IMO, this crime noir novel is very worthy of all the accolades it has received since written. The author takes the reader into the mind of serial killer the structure of which is as twisted and convoluted as the canyon roads of west LA where the novel is set. Well done!

Laura ***** – What a wonderful novel full of lively characters and outrageous plot twists. Although I had heard of the movie, I knew nothing of the sudden changes in direction the novel would take. Once I started reading it, I couldn't stop. This is certainly one of the best noir novels (if you can classify it as that), up there with the Maltese Falcon and the Big Sleep. Waldo Lydecker is a wonderful creation – witty, verbose, egotistical a...

The subtitle of this collection is more accurate than its main title, because the stories are all much more about suspense than about crime (although there are crimes in them). I can't say much without spoiling the stories, all of which have their surprises, but I will say that they are all excellent -- "In a Lonely Place" is one of the creepiest things I have ever read, right up there with JCO's Where Are You Going, Where Have You Been?, and "Th...

I thought the selections were uneven. Laura was a 4; The Horizontal Man, which read like a precursor to Psycho, was a 3; In a Lonely Place was riveting and definitely rates a 5; The Blank Wall was just somewhat incomprehensible to me so it garners a weak 3.

I liked the first and third stories. They could have been written today. The second wasn't for me. It was too long winded. The fourth was just ok. I like the almost hilarious point of view it is written from bug it did leave me wishing the main character would raise good strong she was.

So glad that Library of America published these. At least one (In a Lonely Place) is a masterpiece. On to Volume 2, the 1950s, with pleasure.