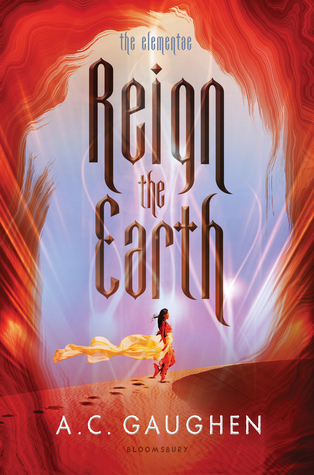 Shalia is a proud daughter of the desert, but after years of devastating war with the adjoining kingdom, her people are desperate for peace. Willing to trade her freedom to ensure the safety of her family, Shalia becomes Queen of the Bonelands.But she soon learns that her husband, Calix, is motivated only by his desire to exterminate the Elementae—mystical people who can control earth, wind, air, and fire. Even more unsettling are Shalia's fe...
---
Details Reign the Earth (The Elementae, #1)
Title
Reign the Earth (The Elementae, #1)
ISBN

9781681191119

Author

A.C. Gaughen

Release Date
Jan 30th, 2018
Publisher

Bloomsbury

Language

English

Genre

Fantasy

,

Young Adult

Rating
Reviews Reign the Earth (The Elementae, #1)
As a means of protection for my heart, soul, and sanity, I've been prepared to be disappointed by every book I read. But?? This book did NOT disappoint??? I'm actually shook about how much I ended up liking this???First of all: This book has very heavy themes. It's the reason I thought I wouldn't end up enjoying this as much as I did. For anyone who wants to read this book but isn't sure about the triggers, I'm putting a trigger warni...

so i absolutely ADORED the Scarlet series by A. C. Gaughen so wHEN I HEARD SHE HAD A NEW SERIES COMING OUT I WAS SCREAMING IT FROM THE ROOFTOPS (okay i wasn't actually but you get me) Pros - love me some strong fem characters- its a lot darker than you would anticipate for ya with hard topics like rape, abuse, torture, etc. - but its not like off putting, i thought they were handled and discussed well- i thought the book was well balanced between...

This had a LOT of fantastic stuff going down in it, but it somehow didn't quite light up my earth. But it had magic! And a really Soft Sweetheart™ of a narrator, who I thought was coming across kind of insipid at first but then?? There is such strength in being loving and kind and I loved how the book ended up capturing that!+ I have to admit: it feels adult.I personally feel like YA's heart is like teens discovering who they are and learning t...

Disclaimer: I did skim several parts of this book because it became way too heavy, dark, and depressing. Sometimes I leave ratings off if I feel like I might have missed something crucial during the skimming, but I'm pretty confident in my rating here. I've been dismissed before as "weak" or "sheltered" for not wanting to endure endless pain and suffering in stories. But that's my honest opinion aaaaand I read for fun/to escape. I'm not here to t...

4.5 starsHaving never heard or read anything by this author before, I had no idea what to expect going in. I feel really foolish for setting my bar low because this story was seriously awesome! I was intrigued when I first read the blurb but the cover left the impression that this would be some light hearted fantasy, and that certainly was not the case at all.Despite the misleading cover, this book is not for the faint of heart. It's raw, dark, g...

Well, that was a hell of a ride! I did not expect to love this as much as I did. Not that this book looked bad, but I absolutely loved Gaughen's book Scarlet, and have been hankering to read Lady Thief and Lionheart, so I wasn't sure I wanted to try something new by her just yet. And yes, I admit I was a little like, yes, yes, elemental magic, sure, sure. But as I noticed in another review: when was the last time EARTH magic took center stage? Wa...

I thought this was really good. The themes of spousal violence and abuse are front and centre in the story, not romanticized in the slightest, and dealt with extremely well. I loved Shalia's strength, her commitment to ideals of redemption (which is consistent with her belief that problems can be solved without resort to violence and that people can change for the better), but not at the cost of her own safety or sense of self-worth. She is a won...

🍪🍪🍪🍪4 Cookies "I will not be broken or diminished or belittled by the choices of men around me." Da blogSchool is over now its time to PARTYYYY!!! (Or read until 2 in the morning) Summary: Shalia becomes the Queen of the Bonelands because of an arranged marriage, to protect the desert where she once lived. Her new husband Calix turns out to hate Elementae (which is someone who has special abilities) and wants to kill them all. She...

I absolutely adored Gaughen's Scarlet series which is why I picked this up without any hesitation at all. Add in the cover and that description and I knew I would get something different, something fun, and something well written.And I did get those things but yet I can't help but feel somewhat..... disappointed. Don't get me wrong, this was a good story but it some how fell lacking from the greatness that was Scarlet. It was a bit slow and even ...

Dear book people: Please do not use this as an example of a diverse book. Despite the protagonist having brown skin, this is not a story about a person of color's life. We know she's brown because she mentions it a few times, it has no bearing on this story otherwise. That would be great if this were written by an author of color but it wasn't. Ellen Oh recently took time out of her busy life to explain this problem on Twitter. Please read what s...

Trigger warnings: emotional and physical abuse, marital rape, torture, relationship violence, childbirth/pregnancy concernsThis review was originally posted on Happy Indulgence Books. Check it out for more reviews! That was an emotional journey that caught me by surprise. I'm glad I persisted, because this is such an important story of overcoming relationship abuse. I spent a good 10 minutes crying towards the end of the story. It's definitely a ...

I think fans of solid settings and court intrigue with a dash of fantasy will enjoy this one! Shalia is a wonderful heroine, who's personality and strength is slowly revealed in a natural and beautiful way.Sadly, the set-up of the romance just wasn't for me. I couldn't connect and just plain didn't like it. That was 100 percent my personal preference though. Definitely a solid read overall.

OK I know how to process this now. I hate King Calix. I hated how he treated Shalia though this entire book. He smacked her and she leaves him for a little bit. I feel better that she did however she has to go back to save the peace. I loved that she does everything to stop him from experimenting Elementae. I hated that he agrees to have their child that he yelled at her that was the only thing she was valuable for. I mean he is a horrible human ...

4. 5★★★★StarsGenre: Fantasy/ MagicType: Book 1 of The Elementae SeriesPOV: First Person - FemaleThis book was incredible, I was hooked from the very first page. The magic plot and the twist was amazing. I feel in love with all the characters.Shalia at only seventeen years old made the decision to wedd the enemy in order to save her people. She didn't anticipate finding herself in the hands of the most dangerous man alive.I was absolutely ...

This book was provided by the publisher for free in exchange for an honest review. This does not affect my opinion of the book or the content of my review.If Reign the Earth is any indication of what's to come this year in YA fantasy, then everyone needs to start saving up because we're going to all be broke real soon. I started this book, made it 100 pages in and was forced to stop because I had to get some work done. . . well, I should have ...

4.5 Stars*Review contains mild spoilers (as it was difficult to talk about this book without touching on certain points).Reign the Earth is a story that had me gasping and praying at every turn. Featuring a strong heroine, a diverse world and an intense storyline this book packed an emotional punch.At over 400 pages Reign the Earth took its time introducing the characters and the world. Though the pacing was slow a lot happens. It's important to ...

I was lucky enough to pick up a copy of this at ALA this year and it took me until now to finally start it. The fact that I finished it in a day is a pretty good indicator of how solid of a start to a series it was. I enjoyed almost all of the main characters (and enjoyed hating the other one...) and there was some great world building and an interesting elemental-type magic scheme that seemed fresh and new.Actually for some reason certain aspect...

DNF @40%NOPE. I am bored out of my mind. Finally buddy reading this with this annoying lost child

20 HUGE STARS! 100 thumbs up! This is book is amazing from beginning to the end! Huge twist that I did not see coming at all!!!! Love it!!! Full review to come.

GO READ THIS BOOK!!!!!!!!!!Reign the Earth by A.C. GaughenFirst in The Elementae seriesALL THE STARS"Show them what the heart of the desert truly is."Shalia is a daughter of the desert. She has always felt at home under the vast skies and living a nomadic life with her brood of brothers, sister, and parents. She is also used to her best friend, Kata, an Elementae who can wield water coming in out of her life as she embarks on a mission to res...

DNF at 41%... Full thoughts on my blog: http://bubblybooksblog.blogspot.com/2... So when I first started reading this book I guess you could say I had medium level expectations (if thats even a thing) the book started off intriguing and I liked the idea of having elemental magic and Shalia was a good strong lead character and all-- I guess I just felt the whole book was.... lacking. I was instantly intrigued by the idea of an arranged marriage (...

This book was all kinds of fantastic. I had hopes that I would love it, but I never imagined that I would love it as much as I ended up doing. Oh, this book was so good. Also all kinds of heartbreaking and evil. Yet so perfect. I loved every moment of it. And I am now dying for the second one. Wait will be long. But worth it, I'm sure.Giving this book five stars. Because I could not stop reading this amazing book. Everything about it was thrillin...

This was nothing like I first made it out to be.Starting with the subject material. See that cover? How bright and cheerfully illustrated? I actually thought that REIGN THE EARTH would straddle the line between high MG and low YA with a cover like that. And the synopsis, too. Instead, I was surprised with how utterly dark and borderline depressing the storyline was. Themes of domestic/sexual abuse, arranged marriages, and even threats of miscarri...

This book was so dark and depressing but in the best possible way! The story was very rich and I felt very confused throughout the start but then I started to understand the world and the characters.