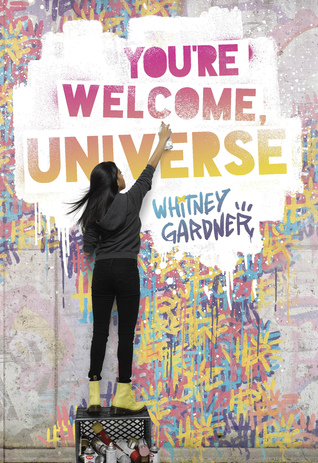 When Julia finds a slur about her best friend scrawled across the back of the Kingston School for the Deaf, she covers it up with a beautiful (albeit illegal) graffiti mural.Her supposed best friend snitches, the principal expels her, and her two mothers set Julia up with a one-way ticket to a "mainstream" school in the suburbs, where she's treated like an outcast as the only deaf student. The last thing she has left is her art, and not eve...
---
Details You're Welcome, Universe
Reviews You're Welcome, Universe
*4.5*I received an ARC for review from Chapters Indigo as I am an Indigo employee but this in no way affects or influences my opinion*This was such a beautiful story. I loved how thoughtfully it portrayed Deaf culture and really how overall diverse it was. A Deaf Indian MC with lesbian parents, like come on! And the two moms thing wasn't even a plot point, in fact it was hardly brought up it sort of just was which was even better! Also there was ...

I really struggled to finish this book. At less than 300-pages it should have been a breeze, but it took me so long to push through.One problem, perhaps, is that I chose the wrong kind of story for me. I like it when art is a subplot in a book - used for expressing oneself or for escapism - but I am often bored by books that focus almost entirely on art. I have no personal interest in different types of paint and the techniques required to turn t...

My little sister is deaf and we've been waiting forever for an accurate portrayal of a deaf main character who gets to do more with her story besides just... be deaf. This book was so incredibly well done! Julia is a Deaf Indian teen with two moms who are also deaf. She's really into graffiti/street art but gets kicked out of her deaf school for trying to cover up a rude comment someone wrote about her friend (who totally sold her out). Julia kee...

"Silence is the loudest sound."It's been a really long time since I've read a book that has, chapter after chapter, taught me so much about a world I knew so little about. Actually, make that two worlds.Julia is Deaf, and when her best friend rats her out for spraying graffiti in the school gym, she has to leave the Deaf school that she goes to and attend a Public school where no one knows how to communicate with her. What follows is a frustratin...

The last YA book I read with illustrations inside was gorgeous little Everything, Everything, and that was almost two years ago, so I was surprised to find plenty of drawings to admire when I opened this new book.Sadly though, I do believe they weren't exactly necessary. They don't add to the story, since the author uses space to describe them anyway. It wouldn't have been hard to picture them, had they not been included. Regardless, it's...

I really, really liked this! One of the best debuts I've read this year.Representation includes a main character who is Indian-American and Deaf, she has two mothers who are both also Deaf, and a side character who is fat. What I liked:-There was very minimal romance. The main character mentions a crush and there is one kissing scene, but romance was never really explored. This was nice and refreshing!-There was a large focus on friendship and ho...

3 stars This book started out strong and then midway through kind of fell off for me. It's about a deaf teenager named Julia who likes spray paint art. When there is a graffiti tag insulting her best friend she covers it up with her own art, and then gets expelled from her school for it. Now she's in a new school with no friends, one that isn't for deaf students so she needs an interpreter. Julia is having a hard time and doesn't fit in, and does...

Assigned reading for MLIS 7421: Multicultural Youth Literature.Ironically enough, I had removed this book from my TBR in a blog post just a couple of weeks before receiving my assigned reading list for my course, and lo and behold… there it was. I wasn't terribly excited about reading it, but Regina swooped in to offer to buddy read it with me, thus saving the day! ♥ Seriously, though, I would've struggled to finish this book without her ...

I loved YOU'RE WELCOME, UNIVERSE!Deaf culture. Graffiti artists. Words and artwork combining to tell the story. Intersectionality. All of these things made me so so so excited to read this book, and they did not disappoint. I wanted them to be awesome, and that's exactly what they were.What made the book even better than I hoped was the complexity of the characters. The main character, Julia, doesn't always make good decisions. She's not always n...

Loved it! This book has a complex and completely compelling central character, and I loved spending time in her world. The artwork offers another fascinating layer to the story, almost as good as the lovingly detailed descriptions of the passion and preparation Julia puts into her work. At its heart, a story about art and friendship that inspires.

~*This review first appeared on The Bent Bookworm!*~This book made me happy. Happy in the contented, yeeeeees this was good kind of way. I don't read that many contemporaries (usually find them trite and boring), so I don't think I'm easy to please – but this book. I pretty much clutched it to myself and gave it a hug when I finished. Also can I please have this quote on t-shirt:I'm not easy. Never have been.Julia is a tough cookie. A t...

I loved this book! It has great characters, phenomenal voice, and it gets MAJOR points from me for being so diverse and intersectional. Basically, I had an absolute blast stepping into Julia's gritty and paint-streaked world, and I'm sure other YA fans will feel the same way.Speaking of, Julia is an absolute firecracker of a character – she's bold, unapologetic and really likeable. She's so witty and blunt and yeah, I think she's so g...

"I'm not better than friends, I want better friends. I want friends who are all in, all the time. It can't just be all on your terms. You have to care, care about more than just yourself." Unique Things About This Book: •The main character Julia, is deaf. Also, she's a vandal.•There's this weird graffiti war going on.•You get to see the world in a deaf person's POV [which was pretty awesome]•The illustrations ARE SO FREAKING COOL....

This book has so many cool elements—the inclusion of the art (drawn by the author herself) is amazing. It not only gives the story a ton of personality, but also adds a lot to the tension. I found myself rushing forward as the main character described what she was painting, anxious to see it for myself on the next page. And Julia is such a great heroine—she's angry, and real, and has a killer voice. Perhaps my favorite element of all was th...

There is so much to love about Whitney Gardner's debut. It's heartfelt - full of anger and hurt, hope and beauty. Set against the backdrop of a graffiti war, YOU'RE WELCOME UNIVERSE challenges our assumptions about art, belonging, and friendship in new and interesting ways. The characters are compelling, the art work is captivating, and the twists and turns make this an impossible book to put down.

Another STELLAR 2017 release. Holding off on the review because of that 2017 release date, but REALLY CREATIVE. Entirely different from any other YA contemporary I've read. And Gardner did her own artwork. How dare she be this talented. *fist shake*Thanks to Random House/Knopf for the review copy!

Holy hell. What a terrific book this is. YOU'RE WELCOME, UNIVERSE knocked my socks off. Whitney has created so much more than a book here; she's created a book object. The story is wonderful in and of itself—Julia shimmers on the page; Mee's tenderness breaks my heart; YP's secret is delicious; I want to punch Donovan in the fucking face—but then the book also includes the author's own dazzling art, which bumps the whole thing up another ten ...

An intimate and stunning debut. There's so so so much I want to say, to rave, about this novel, but I won't. It should be discovered and it sure as heck will be. Put this on the top of your To Read list asap. It is SO GOOD.

This book was absolutely MAGICAL.Gardner did such an amazing job of immersing you in the many different, unique worlds Julia belongs to, especially those of graff artists and Deaf culture, two realms I'll admit I knew little to nothing about coming in.I now feel...initiated. That's how real Julia feels, how true and honest her perspective. The voice is so strong it's hard to believe she won't jump off the page and tag a sign on your street.And sh...

I really loved YOU'RE WELCOME, UNIVERSE! It's a story about art and friendship and the ways that they can inspire each other. I devoured it quickly because I just couldn't stop reading. The characters are complicated and compelling. Julia, the protagonist, is a Deaf graffiti artist with a killer voice. She doesn't always make good decisions and isn't always nice, but she's fierce and bold and unapologetic, and I loved her passion for and commitme...

Whitney Gardner is an insanely talented new writer, and I adored You're Welcome, Universe. This contemporary YA novel feels fresh and different, and much of that is courtesy of Julia--the vividly drawn main character, who has just been kicked out of her elite Deaf school for graffiti (in a good cause!) and exiled to a regular school in the suburbs, where she struggles to fit in. What I loved most about the book (aside from the spectacular artwork...

You're Welcome, Universe is Whitney Gardner debut novel and it is phenomenal, extremely phenomenal.You're Welcome, Universe is about a Deaf girl who was kicked out of her former school for drawing over something that hurt her friend and is then sent to another school where she finds herself in a graffiti war with someone that I did not see coming. Also I cannot get over the fact that art was featured in You're Welcome, Universe; every single piec...

This book was really fun! Learning about Deaf culture was very interesting, and our protagonist Julia was a complex and interesting person, not just Deaf. Add in all the information about street art and the fact that this story isn't a romance and it was a wonderful read! The writing was pretty simple, but it was an addictive and I devoured in a couple hours. I would definitely recommend this book as I think everyone can gain something from it.

I received an early copy of this novel, and was so lucky to discover it!Julia is an artist. She's smart, daring, and a fiercely loyal friend. But when she gets expelled from her deaf school for covering up a slur about her best friend with an amazing--but illegal--piece of graffiti, she is thrown into a mainstream school in the suburbs. Though Julia swears she doesn't need friends, she gets dragged into a graffiti war and has to decide just how f...

3.5 stars. You're Welcome, Universe is one of the better contemporary books I've read, focusing around a Deaf street artist who gets in an art war with a mystery person. WHAT MAKES THIS BOOK STAND OUT AMONG YA CONTEMPORARY—> Julia is an exciting, dynamic character who is far from perfect; she can be downright mean at times, although she's still good to her friends and family. She draws you in with her snappy, sarcastic narration. —> The book ...

I decided to start You're Welcome, Universe because author Laura Silverman was tweeting about it and she was actually reading it. It made me more excited, that's what I'm saying. I couldn't help but pick it up and read the first chapter, and boy, did it leave me wanting more.You're Welcome, Universe is the story of a girl and her art. It has this killer graphics and drawings in the book, Whitney is so talented in every way (I CAN'T BELIEVE IT'S H...

"Banksy is my god." Not to give too many spoilers, but this statement by You're Welcome Universe's main character Julia tells you a lot about her: she lives to tag. And it's gotten her into trouble. She's also deaf, and (again without too many spoilers) forced into a mainstream school. Mystery, tension and an exploration of friendship follow in this fast-paced and amazingly illustrated book!

3.75With this being a 2017 release, I'll be doing a video review on my channel so I'll keep it concise here.I loved living in Deaf culture and and learning more about Graffiti - I thought the environment of this book alone deserved five stars.There were plenty of elements that really brought the rating down for me though, the writing/ pacing was odd and left me rereading things at times, there were lots of stereotypes used that didn't go beyond t...

I really like a book that teaches me something new. I love a book that teaches me something without hitting me over the head with it. This debut novel immerses the reader in the Deaf community while exploring love, friendship and family. Oh, and graffiti art. I'm completely fascinated by this and now I'm looking at trains and walls in a new way. When Julia is expelled from her private school for vandalism/protecting a friend she is plunged into t...

This was a bit of a lit down for me. I LOVED that we get to see a Deaf main character who's a woman of color (Julia's Indian American). I loved the inclusion of street art culture and the artwork that's included in the novel. I loved seeing Julia's experiences as a Deaf person and her love for Dead culture. Unfortunately, I didn't like much else about Julia - I actually found her to be pretty unlikable and I didn't relate to her her throughout th...