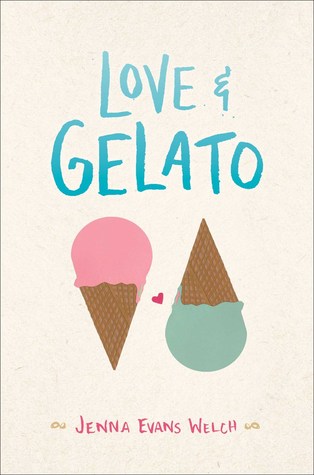 "I made the wrong choice."Lina is spending the summer in Tuscany, but she isn't in the mood for Italy's famous sunshine and fairy-tale landscape. She's only there because it was her mother's dying wish that she get to know her father. But what kind of father isn't around for sixteen years? All Lina wants to do is get back home.But then she is given a journal that her mom had kept when she lived in Italy. Suddenly Lina's uncovering...
---
Reviews Love & Gelato
This was super cute and really interesting!More thoughts and possibly a BiblioBabble to come!

''You know, people come to Italy for all sorts of reasons, but when they stay, it's for the same two things.''''What?''''Love and gelato.'' WARNING: Love & Gelato may trigger a dizzying yearning for gelato. I repeat, Love & Gelato may trigger a dizzying yearning for gelato. Beware, readers! 3.5 stars. It may also make you crave to find love in Italy…This contemporary novel is exactly what I needed after finishing a fr...

This might be the cutest book I've ever read. The entire thing was just so hopeful and HAPPY (even when the topic might not have been). The Italian scenery was gorgeous, the food was amazing, and all of the characters were so precious. I wish I could go back and read it all over again... or just go to Florence this summer myself. If you're looking for a good YA contemporary (or just a lovely book in general) I definitely recommend this one!!

BTAT 2017 book #2Possibly even a 4.5/5 starsTHIS. WAS. SO. CUTE.The plot? Adorable and intriguing. The characters? Pretty great. The setting? INCREDIBLE. So much good stuff in this BOOK!I loved the twists and the turns of the plot as well as the added element of Lina's mom's journal. And a book set in Italy just.....so good. So so good.If you enjoy contemporary romances you'll for sure enjoy this book.

hi can i give this book 10/5 stars because THIS BOOK IS FANTASTIC. I HIGHLY RECOMMEND. i LOVE THE CHARACTERS AND STORY AND THE COVER AND EVERYTHING. ok. also, love & gelato is an extremely easy and quick read that's addicting and amazing and i'm in love!!

DNF @ 10%I will be displaying my emotions through Ron Swanson gifs.Love and Gelato was a book I desperately wanted to love. I mean, the set up was perfect. Italy, love and gelato (which I've never actually had but it sounds good). Italy is a destination I have always wanted to travel, and how could you not with all the culture present in the cities. However, as I began to read this book I knew it wasn't going to be a finish for me. Why? Well, the...

Awww! This was a really cute summer read. I loved the whole Italian experience accompanied with lots of Italian history, gelato, and young love. Perfect! This story had it's ups and downs, I enjoyed the mystery part and I loved the character growth, I still feel giddy.4 stars!

5-I-NEED-AN-ITALIAN-DUDE-RIGHT-NOW-STARS!!!This book was successful in getting rid of my sucky reading slump. After a month of force reading various books, this book performed its magic and voila! Reading slump gone. I never thought that a super cute young-adult contemporary romance is what I really need. This was the first contemporary book I've read this year and I absolutely adored it. The plot, characters, and setting were captivating.The set...

3.5Really enjoyed this book!Mashup review featuring it coming soon!

4.5 StarsLove and Gelato is the perfect book to enjoy this summer. Set in Italy, this book is absolutely breathtaking. The fact that there are old journal entries in the story makes it so much more incredible. Trust me, after reading this book, you'll be craving some gelato!Love and Gelato has such an interesting concept! This book tells the story of Lina, a girl who moves to Italy after her mom dies. When she gets there, she is given an old jo...

This was pretty damn cute, you guys. All I want to do now is go to Italy and fall in love with some Nutella pastries. Insert gif of Emma Stone saying YUM here.

To be honest, I was more interested in the gelato part than the love part, but it was still pretty cute.

Find all of my reviews at: http://52bookminimum.blogspot.com/Or mediocre book pics at: https://www.instagram.com/kellyandthe... "You know, people come to Italy for all sorts of reasons, but when they stay, it's for the same two things.""What?""Love and gelato." When 16-year old Lina's mother passes away from pancreatic cancer, she is encouraged by her grandmother to spend the summer in Tuscany in order to get to know Howard – a father she nev...

4.5 starsI was shocked at how much I loved this. Being able to explore Italy with the characters had me wanting to hope on a plane and explore it myself, getting to know our MC's mom through her old journal had me hooked from the start to the end, and the true love story of this novel was what we learned in that journal. I finished this book days ago and I still miss it so much. It was simply amazing. The only reason it didn't get five stars is b...

This was a cute story about a girl finding a way to move on with life after losing her mother. Lina made a promise to her dying mother, finding herself in Italy with a father she had never met. Lina's experience tugged at all the right strings for me.What brought my overall enjoyment down, though, was the diary her mother left for her. Actually, that's not true. The diary itself didn't bother me, especially once the story came full circle. ...

*4.5 stars*After finishing this book, (well also during reading it) I had major cravings for some gelato. It was super cute and mysterious. I couldn't put it down! Because of this book, I want to go to Italy even more now.

[3.5] Now I'm craving some authentic, Italian gelato and cute, Italian guy with it.

Love & Gelato was a cute, quick, summer read and just what I needed for the plane journey, on which I read it from start to finish but unfortunately, despite this, I didn't fall in love with it.I didn't really warm tothe characters or feel any strong connection towards them(other than Howard who was a sweetheart) and overall I just couldn't get past the incredibly short time period this book was set over, considering the amount of events that occ...

Fans of the young-adult genre will definitely enjoy Jenna Evans Welch's debut novel: Love & Gelato. It incorporates grief, family issues, age-appropriate romance, and the Italian culture. Overall, I liked it. The cultural components were my favorite parts. I also could very much appreciate the lengths the heroine went to in order to learn about her paternity – I was in the same boat at a point in my adolescence and her curious desperation felt ...

Love & Gelato was the first contemporary novel I've read this year, and I absolutely enjoyed it. Although this book was marketed as a love story, I found the romance between Lina and Ren to be nearly insignificant next to the novel's overall premise: A girl desperately trying to cope with the sudden loss of her beloved (and frustratingly secretive) mother. In its totality, this book earned a spot in my favorites shelf because it entertainingly de...

Sonia met my eyes in the mirror. "You know, people come to Italy for all sorts of reasons, but when they stay, it's for the same two things." "What?" "Love and gelato." I know I say this a lot, but seriously-What a pleasant surprise!! Seriously. There are few books that manage to surprise me, and it's even rarer that I fall for a book set overseas. Don't ask why and I won't explain-Just know that there are really only two boo...

This was a really cute & fun contemporary read and I'm glad I decided to pick it up at the library! :)

"You know, people come to Italy for all sorts of reasons, but when they stay, it's for the same two things." "What?""Love and gelato." Oh I loved this so much!! So cute and mysterious and I couldn't put it down. A perfect summer read!

Esta reseña NO contiene spoilers.*pukes rainbows*Este es uno de esos libros ridículamente cursis que son el placer culposo de todo ser humano existente en el planeta tierra. Sí, es surrealista y más fantasioso que la propia fantasía pero OH GOD, QUE BIEN LA PASÉ LEYENDOLO.SINOPSISLove & Gelato nos cuenta la historia de Lina, una adolescente que debe viajar a Italia luego de que su madre muriera y dejara eso como su último deseo. Estando al...

"Maybe that was just part of the Italian experience. Come to Italy. Fall in love. Watch everything blow up in your face. You could probably read about it on travel websites." 3 1/2 stars. I feel like Love & Gelato is the kind of book most people would say about "oh, that looks cute" and then never bother picking up. I was of the same mindset and almost didn't give it a try. I'm glad I did, because although this book was quite cliché and full...

"You know, people come to Italy for all sorts of reasons, but when they sat, it's for the same two things.""What?""Love and gelato." ▬♥Remember A&FK? An American girl living a Paris dream?? *Insert Italy in place of France plus a lot more drama minus Ettiene's level of cuteness* Yep. You got it right! Its Love & Gelato. ▬♥L&G is story about a girl, Lina (even her name rhymes with Anna) who went to Italy because of her mother's deathbe...

This is not something I usually do. I don't write reviews. But I really have to get something out of my chest: I am SO TIRED of American authors writing books about Italy/Italian people without even bothering to double-check what the hell they are talking about.So the main character is Lina (really? Is it supposed to be a popular Italian name?). Her mother dies of cancer and she has to move to Italy to live with her estranged father. So she arriv...

3.75! this book was so sugary sweet and young. bonus points for it taking place in tuscany :')

4 stars!If this book were a food, it'd be cotton candy. So stinkin' cute & sweet!! I enjoyed our main character, Lina, and reading about her adventures in Italy with Howard and Ren so much! The parts that mentioned Lina's grief over her mother's recent death were well-written, and I found this sentence near the end of the book to be especially gut-wrenching in its relatability:"My mom was gone. And I missed her so much I sometimes wondered how I ...