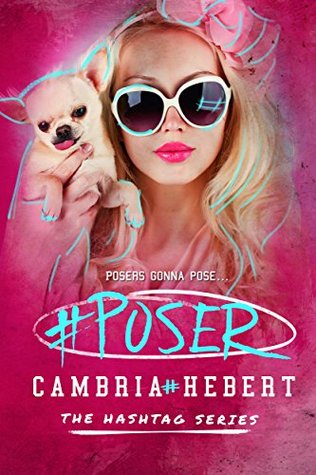 The Hashtag series is the winner of Best Contemporary Series of 2015 (UtopYAcon 2015)  Book Five in the Hashtag Series!  Posers gonna pose  I am a man who had nothing, but found everything.I'll never go back to nothing ever again.I vowed to protect her, and that's exactly what I'm gonna do.The pictures I stumbled upon haunt me still, the secret I shoulder is heavy.They say secrets put distance between two peopl...
---
Details #Poser (Hashtag, #5)
Reviews #Poser (Hashtag, #5)
#ZACH IS BACKon another note, I can't wait for another Braeden and Ivy book! I honestly love these two more than Rimmel and Romeo Update: Read on 19 August, 2015 Ratings: 3.5 - 3.75 / 5 stars I'm honestly conflicted on rating this book, because on one hand, I like it, but on another hand, there's a lot of things that occurred in this book that managed to leave me annoyed, pissed off, or utterly confused.This book was over the top, slightly al...

⋰⋱⋰⋱⋰⋱*Seriously bored*⋰⋱⋰⋱⋰⋱ The fifth book in the series, and we're back with Braeden 'B' James Walker (21) and sophomore Ivy Forrester. Braeden has a secret that might destroy his relationship and Ivy is struggling with what is real and not. Overall, I was completely bored and I skimmed to get the book over with. I only stopped skimming when Drew and Trent met, however, I was disappointed, I had expected more. Unfor...

4 StarsThis was the heaviest story in this series to date, especially in terms of some of the subject matter and the level of angst felt throughout. I'm certainly not complaining because I love some emotional oomph to my stories, and having spent so much time with these characters already, I feel I was ready for things to be taken to this next level.Some of the major reveals from book four (#Selfie) lead to the keeping of some potentially game ...

This entire series is so good! I looked so forward to Braeden and Ivy and they are so awesome together.I so hate Zach what a psychotic bastard! My feelings about Missy are so hard to explain, in away I understand her feelings. But in no way do I like her actions, they are not to be forgiven!Even though I adore this series it's becoming a long one. Probably because I have so many reads I'm so looking forward to.

Release Date: August 18, 2015 Genre: New Adult, College Romance Series: The #Hashtag Series #5 (must be read in order) :: 5 Pretty Little Stars :: #Poser is another exquisite installment in the #hashtag series. For those who follow my reviews and blog, you know how much I love Cambria Hebert's work. She writes to perfection, brings her characters to life within the pages, and writes beautiful love stories that feel completely real. So, knowing...

What can I say? I have a soft spot for this series and these characters. I absolutely love their incredible camaraderie and their banter, it's hilarious to read about. I enjoyed Drew's introduction in the story as well. And I have to admit everytime Romeo appeared I smiled like a proper fangirl lolSo... new book this fall? GIMMIE IT!PS: the only negative thing was THAT final scene with Zach. NOPE. I did NOT like that at all...I disagree completel...

Man oOh manI had this book on hold at 44% . Re-opened to finished 12/1/17 it was worth re-opening. These guys slay me. This is multiple POV(my favorite) but, you will read Zach's POV ..."the villian" beware it's a little weird ....but, now I no why. It was still a little cray cray to be inside of a psychos' head.

4 #Poser StarsI reviewed this book when I read the ebook. Now I am going to review it since I just finished the audiobook. I think I like Ivy better with a voice in my ears. Don't get me wrong her in my head she seemed more ditzy to me even though I know that isn't her. So with her having a voice it made her more real to me. Braeden goes through so much in this book, he makes a lot of hard choices. I can't wait to see what the next book is like. ...

These books are so drama filled, but I can't help but love them.

WOW! I'm fucking speechless. You would think that this is just another "I love you so much baby" kind of a series. Hell no. It's "I love you baby" plus everything else you can ask in a book with cherry on top. This series is so much more and even better than what you would assume. I'm still amazed that the fifth book I just finished is just as good as the rest of them, never falling behind, never failing. Cambria is my new crush, and I'm so gonna...

Review laters, but...CAN SOMEONE EXPLAIN ME WHY IT END LIKE THAT? There will be more books out! I fucking want them right now! I mean, this book left so many things inconclusive for me and obviously there was going to at least be one more book, but I did not knew when I started reading B&I story. I NEED THE NEXT BOOK ASAP.The laters is now. Full series review on my blog!

This was a hard one to rate because I liked most of it but there were two parts that I could have done without so I just rated down the middle. The first thing I could have done with out was Zach's POV chapters. Like no thank you? I don't want to see into his cray cray thoughts thank you very much. I'm just glad it was only a few and not through out the whole book.But then there is my biggest issue with the book which is what really ruined my enj...

4.5 stars! It's my fifth book in this series and I'm still in love. Ivy and Braeden are great - but I still love R&R more. I'm not getting this true, pure love feeling with them, that I got with R&R. Nevertheless they are great people and very likeable. ZACH is back. You know the creepy villain from the first two books. And he is even more creepier. At some point it gave me chills. There was much action at the end, but it felt right. In fact the ...

I'm really enjoying this series!! One more book to go! I've gone through these books pretty quickly back to back. They are fun and sweet.. but this one had some heartache and anger.. and something happened to Ivy that was horrible... I can imagine this is a difficult subject to write (view spoiler)[ date rape/ drugged (hide spoiler)] but Cambria handled it well. Looking forward to the next one... starting NOW

The continuation of Ivy and Braeden's story was good; it was a bit heavy at times but it still had all the charm and poise I've come to expect from Braeden and Ivy. Remember, the road to hell is paved with good intentions. I used a beautiful truth to conceal an ugly lie. Ivy had a lot to deal with in this book, her trauma was the focal point of the story. At first I was just waiting with baited breath for Braeden to tell her. I understood why ...

HO-LYFuuuuuuuuuuuuuudge Nugget!!!!!Did that just happen? Wow. I honestly had no idea that Cambria was capable of this. Phenomenal. I'm borderline speechless right now.For some reason I knew that Braeden and Ivy were going to be it for me. Not that I didn't love Rimmel and Romeo, but enemies to lovers is my jam. Braeden is now sitting in my top all time favourite hero's category. I absolutely adore him and his incredible transformation throughout ...

Damn what an adrenaline rush!I literally have just finished this one with tears in my eyes. My palms are sweaty, my stomach is queasy and I am soo far behind at work it's crazy! For two days now this series has consumed me and i don't feel an ounce but sorry for that fact I am gonna have to work my ass off to catch up this weekend.Braeden was one helluva guy. To see him so raw, so emotional, so damn alpha was just everything. How did I ever g...

*4.5 stars. Idk which couple I love more 😭😭 Braeden and Ivey are so damn cute and I felt there love for one another through every page! Ahhhh what an amazing book!

www.bookworm221.tumblr.comIn this continuation of #Selfie the characters have so much more depth to them, it seems like Ivy and Breaden just have so many things weighing them down, they have both so many things to resolve, to overcome and sometimes is difficult to do that with the other right there but they both know that the only way to get through them is by supporting each other.I truly loved this book, it was heavy and dark, it made me feel a...

1 - I hate, hate this cover. It's not Ivy and Prada AT all. I love this series and I just wish that the cover did it justice. 2 - I didn't really like the first half of this book. The undying love and the pledge to love forever's really started to get on my nerves and I wanted to throw up a little in my mouth. 3 - Zach's chapters was just weird, what a creep! Icky! Great to see the crew back together though, love the Rim and Rome parts of the sto...

I finally finished it last night! ME! The girl who has too much on her plate, neglects blog duties and stares off into space while at school...sometimes. I'm so proud of myself, okay? LOL!Enough about me. GUYS! GUYS! Ohmygosh this is #TheBest. I loved, loved, loved it. #Poser was a thrill ride. Suspense, comedy, drama, action, romance all rolled into one! I wasn't expecting it to turn out the way it did. There were some parts that really shocked ...

5 StarsI am so suprise with how much i have been enjoying the Hashtag series. Each book gets better and better. I cannot wait to read Hearts and Holiday.

I need a breather. Wow. Just, wow. This book got REALLLLL intense. That's all I got to say for this one. lol

This book was a bit like a patchwork with mismatched patterns strangely put together. On one side, you've got a huge part of the plot about(view spoiler)[ rape, PTSD and post traumatic amnesia (hide spoiler)] very grim issues that were treated quite seriously, and on the other hand you've got a focus on a villain so outrageously stereotypical that he would border on comical if he wasn't so despicable and pathetic. In the middle of all this, some ...

I seriously don't understand why or how Missy keeps getting off without anyone outing her and sending her sociopathic but to jail... or at the very least, kicked out of school.

3.25 passable stars.For some reason, this installment has lost its magic touch on me. Unlike the first 4 books which I enjoyed immensely and shelved as favorite contemporaries, #Poser was only a passable read. I did like it, but wasn't all that interested in everything it has in store. I guess it's maybe because the story is not exactly orginal, which bored me as to make me feel like I've exprienced it somewhere else plenty; maybe it's because of...

I'm so in love with this series, and maybe because I'm a serious sucker for dramatics in my romance books.I love B & Ivy as much as Romeo and Rimmel. As every book progressed, I wonder how will this author keep these books going? How will they not get boring? How will she keep it fresh and entertaining? Never fear because she did keep it fresh, entertaining, dramatic, lovey dovey and full of action.

3.5 StarsI'm not really sure how I felt about #Poser. While I love me some Braeden, this book just didn't do anything for me. I didn't feel the feels for B and Ivy that I did for Romeo and Rimmel. I didn't devour their story as quickly or as excitedly as I did the first three in this series.