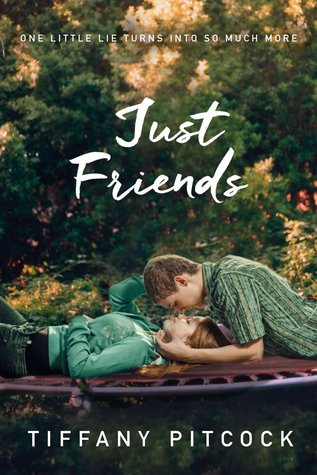 Librarian's Note: An alternate cover for this ISBN can be found hereJenny meets Chance for the very first time when she is assigned as his partner in their Junior Oral Communications class. But after they rescue a doomed assignment with one clever lie, the whole school is suddenly convinced that Little-Miss-Really-Likes-Having-A's and the most scandalous heartbreaker in school have been best friends forever. It's amazing how quickly a lie can...
---
Details Just Friends
Title
Just Friends
ISBN

9781250084057

Author

Tiffany Pitcock

Release Date
Aug 1st, 2017
Publisher

Swoon Reads

Language

English

Genre

Young Adult

,

Contemporary

,

Romance

Rating
Reviews Just Friends
DNF @pg 150*throws up**whispers:* the......cRINGE*dies*rant to come oh my god, I literally want to die more than I've ever wanted to die before.

This review is now published on my blog.Thank you, Macmillan, for sending me an ARC of this book in exchange for an honest review.Their past might be fake, but their future was real. It was theirs to build. It was real, unscripted, and unplanned.If you're also one of those readers whose TBRs vary per season, then you're probably reading lots of contemporary novels like me. Only God knows why love stories are perfect for summer. It must be the HEA...

You can read this review and others on my blog, arctic books.JUST FRIENDS had been on my radar for a while, and I thought I was going into a fluffy, fun, and cute contemporary. While there were some aspects of my expectations present within the novel, I found that many details in this book made me very wary.The plot revolves around Jenny, who, on the first day of school, suddenly becomes project partners with Chase, who suggests that they make up...

Noooooooooooot for me. I'm sure others will love it but this novel is one of the reasons why I typically don't do YA contemporary.***Review posted on The Eater of Books! blog***Just Friends by Tiffany PitcockPublisher: Swoon ReadsPublication Date: August 1, 2017Rating: 1 starSource: ARC sent by the publisherSummary (from Goodreads):A new spin on the classic smart-girl-and-bad-boy setup, this witty contemporary romance shows how easily a friendshi...

more like 3.5 My Thoughts:I hate to say that I'm not going to have much to say about this book.This story is about two completely opposite people. Jenny the stay-at-home book nerd who has built her reputation on getting A's and can't/won't settle for anything less. Jenny doesn't live, she goes through the emotions but never had any desire to do anything or try anything such as kiss a boy or date one.Then there is Chance who thrives on h...

Jenny and Chase are hilariously adorable. This is the perfect book about high school relationships.Jenny is the nice, quiet girl. She doesn't like opening up to people and would rather stay at home and read her book than socialize. When Chase is assigned as her partner, the two make up a lie that they have been friends for years, in order to get a good grade. As the school starts to believe their lie, Jenny and Chase continue being "fake" f...

I loved the synopsis of this one and was quite eager to get to it. I loved Jenny and Chance. They're so opposite that it works. Their banter and made up stories were perfect. Jenny's friend Kelsea was also fun. She was sarcastic and added a bit of levity. Plot wise it was perfectly high school: drama and parties and hot boy singers and break ups and rumors and one amazing bake sale and dictionary fight. There was a bit of push and pull, but it wo...

DNF AT 15%.I was really looking forward to this but just by reading the first few chapters I knew it wasn't gonna live up to my expectations. I simply didn't feel like suffering through bland and cringey writing.

3.5 StarsJust Friends is a cute and quick read about two teens who fake being friends since childhood after they are brought together because of a school assignment. The opposite personalities of the two main characters are interesting to read about, and both Jenny and Chance visibly transform as the story progresses. I still enjoyed this book, but I found it to be a bit too clichéd for my taste.This book is so adorable! It tells the story of Je...

"Their past might be fake, but their future was real. It was theirs to build. It was real, unscripted and unplanned." When Jenny and Chance are paired together for an assignment for Oral Communication, they end up winging the whole thing and making up lies about how they have basically been best friends forever. After the class is over, they just go with it, pretending to be best friends. As time goes on, they learn to trust and rely each oth...

Okay, I'm such a sucker for straightforward romances, and since there's a couple kissing on the cover, I was hooked even before I opened the cover and found chapter one. But then, look again at the title - it turns our they really are going to be Just Friends... yeah, right! And, oh my goodness, the agony of Jenny and Chance trying to be Just Friends is so tantalizingly painful, I barely breathed through most of the this book. With such clever pl...

I had to read a book that shares the same title as one of my books...LOLI enjoyed it. Cute YA romance.

DNF at 26%.YA Contemporaries have always been a favorite of mine. I've read some really great ones in the past and I thought that this book is promising. At least, the first few chapters. The beginning was unique and it got me hooked. I found it entertaining enough to keep me wanting to read more. Which is always a good thing for a story. But come the next chapters, the novel lost its charm. I was expecting it to be a partly fluffy read with all ...

the story was alright, the writing was terrible, and i can't believe i actually finished a book for once. #rose's quick reviews

I finished this last night and I thought it was super cute! RTC.

I really loved the idea of this because I always love a good fake dating trope, but this was just pretty flat to me. I liked them creating a history and deciding to actually become friends, but the entire situation was just a little too unbelievable, beyond my suspension of disbelief. I thought that Drake was an unnecessary hurdle in Jenny and Chance's relationship. And I also thought that Chance had the worst family ever. So much of the story ...

4 "Fake Best Friends" StarsARC provided by the authorThank you!!!Adorable. Abso-freaking-lutely adorable.I think I first heard of Just Friends last year, and ever since I saw the cover and read the premise, I've been dying to get my hands on this book. I'm more than happy to announce it was worth the wait.Other than enemies to lovers, best friends to lovers is my favorite romance trope ever. Be it in YA, NA or Adult, I'm always intrigue...

I love it so much! Jenny and Chance is really shippable. I can feel their chemistry and their banterAnd I really love smart girl as main chara ✨✨

Ya'll. It's going to take me a while to get over the end of this book. I wanted to live with these characters for (at least) 100 more pages, if not into a new book (here's looking at you, Tiffany! XD). Chance and Jenny have this incredible chemistry and the most hilarious banter that seriously made me laugh out loud. It takes a lot for me to lol mid-read. I know people keep making comments about it being "cliche goodness" but I swear to you that ...

Parts of this book were really charming and funny. Every time Chance and Jenny were making up their past history, I was tickled. So there was some good chemistry there. I probably shouldn't have picked it up - I wouldn't have if the beginning hadn't BEEN so charming. But...lord was this book all over the map. To start out, the premise of this book is fundamentally ludicrous. I get the impression this isn't that big a big town/school. (Also, rando...

I really enjoyed this one, which is why I should stop being lazy & write a full review for it. (It's worthy of one, for sure.) I don't know how Pitcock did it, but somehow she managed to take the MOST ANNOYING trope of all romances I've read (spending half the book with both MC's pining/thinking the other one doesn't want more) and make her book un-put-downable. If you like your romance with an extra helping of best friends slowly falling in love...

I absolutely loved reading this a few months ago. It was a great late night read to de-stress and I can't wait for it to be published so I can buy it and read it again!

I'm not sure why I love this book, to be honesty The story wasn't anything new but for some reason I just couldn't put it down. The characters were just too lovable and endearing I guess? It's a good, easy read! Go for it!

Tiffany and I share a publisher and a release date, which made me all the more excited to get my hands on an ARC of her forthcoming debut. Just Friends is everything I wanted it to be: cute, angsty, and fun. Main characters Chance and Jenny become friends thanks to the ultimate meet-cute, and they share adorable chemistry. This one's a romance so the conclusion is expected, but the path we get to travel toward Chance and Jenny's happily ever ...

2.5 STARSJust Friends was a mixed bag for me. At times it was sweet and funny and charming. At other times I couldn't look past the plot holes or the dialogue that felt as if it were straight out of the 1950's. I'm a sucker for a good YA contemporary but this one was too inconsistent to really work for me.Jenny and Chance's meet-cute while being paired up for a class assignment was cute but also not believable. In a school where it seemed that ev...

Chance and Jenny are thrown together in Oral Communications class the first day of Junior year. They bluff their way through the assignment saying they are long time best friends who spent the summer together. Chance and Jenny quickly become real friends, spending all their time together and opening up in a way the pair hasn't opened up to anyone else. What I loved about this was that I had never read a book about a fake friendship before. I thou...

Original Post: http://booknauthors.blogspot.com/2017...This cute YA contemporary revolves around a shy girl Jenny & the hot playboy of the school, Chance. When Jenny & Chance both end up lying about their childhood friendship for an assignment, Jenny's life changes. She becomes social but for Chance his ever collapsing problems are becoming more chaotic. Is this fake relationship just fake? Or something's really going on? Will Chance be able to s...

I voluntarily read and reviewed an ARC of the book provided by Xpresso Book Tours and the author. Thank you for the reviewing opportunity! High school romance cravings fixed!Yes, I'm a huge softy for pretty covers and friends-to-lovers stories, so what if I finished the book in one sitting? It was addictive! Before I dive into my reasons for loving the story, I just wanted to get the bad ones out because it's like an annoying fly looming over my ...