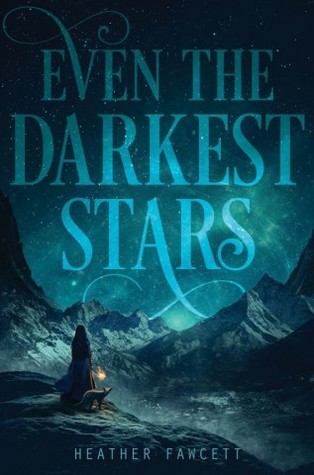 Kamzin has always dreamed of becoming one of the Emperor's royal explorers, the elite climbers tasked with mapping the wintry, mountainous Empire and spying on its enemies. She knows she could be the best in the world, if only someone would give her a chance.But everything changes when the mysterious and eccentric River Shara, the greatest explorer ever known, arrives in her village and demands to hire Kamzin—not her older sister Lusha, as ev...
---
Details Even the Darkest Stars (Even the Darkest Stars, #1)
Title
Even the Darkest Stars (Even the Darkest Stars, #1)
Author

Heather Fawcett

Release Date
Sep 5th, 2017
Publisher

HarperCollins/Balzer + Bray

Language

English

Genre

Fantasy

,

Young Adult

,

Young Adult Fantasy

Rating
Reviews Even the Darkest Stars (Even the Darkest Stars, #1)
"I never thought someone like you could exist." He watched me with a half smile on his face. "A girl from a tiny village many explorers have never even heard of, with greater skill than most of them will ever possess." Super special heroine... ✓Love triangle... ✓ Hot dude #1 is lifelong best friend... ✓Hot dude #2 is an obnoxious newcomer... ✓Virtually nothing happens for 75% of the book... ✓The only reason I am not giving this ...

This was kind of like my experience with Three Dark Crowns where I loved the setting but wasn't sure how I felt about the actual story until the last 15% where I was screaming internally and NEED THE SEQUEL NOW. So. good. Ok... I'm going to try to explain the awesomeness of this story without spoilers. Kamzin is training to be the shaman in a Himalayan village in a fictional kingdom, but she isn't as good at magic as her friend Tem. Kamzin would ...

Different and good!! Mel 🖤

This sounded so different from your standard YA fantasy novel with the mountainous Himalayan setting being the most standout aspect. I was excited for the Royal Explorer to come in and pit sister against sister. Unfortunately, other than the setting, everything else was entirely forgettable. If I hadn't read this as quickly as I did, if only to get past the slow pace, I would've forgotten details needed to go on. Now after sitting on the story fo...

That ending really saved this from being a THREE STAR.I mean hello BIG TWIST.I MEAN hellloooooooooooooI am going to need book two.. right NOW ahh! I can't wait

i'm kinda torn about how to rate this. on one hand, it was more of a 3.5 star, but on the other, it was almost a 4.5, so i think i'm just going to stick with 4 stars.i had absolutely no idea what this book was about when i picked it up, but i had heard that it had dragons in it so i was super excited. however, the dragons in this book are only used as floating lamps, basically. that was disappointing, but that was also mainly my fault for not...

I've never read anything quite like this.4.25 stars.YA fantasy is my most-read genre, but Even the Darkest Stars surprised me. It's not about saving the world or defeating an evil ruler or winning some magical competition. It's about climbing a mountain no one has ever climbed (and survived) before, and it's set in a fantasy empire inspired by the Himalayas.The setting felt magical, and it had a rich, detailed mythology. The people of Azmiri have...

Unexpectedly epic.Honestly the blurb for this book never interested me but hearing reviewer friends liked this made me curious and put the book on my TBR months ago... I'M SO HAPPY I GAVE THIS BOOK A CHANCE!!! The setting was AMAZING (I have a thing for harsh landscape/survival-ish stories), the romance was worth it, and honestly I've never really read anything like this -I so appreciate the author's research into mountaineering (I felt like I wa...

OMG...it's been awhile since I have enjoyed a book as much as I did this one! Even though I found myself frustrated with the heroine...she still tugged at my heartstrings!And River?? I don't know whether to love him or hate him.Only the next book in the series will help with this...and now I have to wait a WHOLE YEAR???UGH!

3.5 starsGosh, Even the Darkest Stars was absolutely beautiful. The setting especially - most of this book takes place in the mountains, because our characters are trying to find an ancient talisman at the top of Mount Raksha. Incidentally, this book could really do with a map, but the world-building itself was very nicely done. We're talking about an age-old feud between humankind and witches, pet dragons, familiars, pet dragons, shamanism, PET ...

Kamzin, second daughter of her village-Elder father, is apprenticed to the local shaman. But Kamzin stinks at magic. What she really wants is to follow in the footsteps of her mother, an explorer. When River Shara, the Emperor's official explorer, arrives in her village on his way to Raksha, the tallest mountain in the Aryas range, where a talisman that will protect the nation from witches is said to be hidden, Kamzin seizes her chance. But wor...

A solid 5 star read! I didn't really know what to expect when I picked this up but it definitely wasn't what was contained within. Even the Darkest Stars is a fabulous, dark and snow-filled read with some great characters (Kamzin, River, Tem and Ragtooth, of course) and leaves you wanting more. The atmosphere is tense and eerie and the descriptions of the mountains were superb! I followed Kamzin every step of the way and I even figured out one of...

They climb a mountain.The Story- I was really looking forward to this book. When I picked it up I said to myself, "Mountains, Gandalf! Mountains!" No joke, I like to quote LOTR aloud quite a bit. But you know what? That's all that there really was to this book. Sure there was actual story going on in the background, but in the foreground? Climbing, hiking, snowing, falling, climbing, mountain village, mountain peak, valleys, forest, snow sh...

I'm tempted to award a whole extra star for the sole fact that this isn't a trilogy and everything will be resolved in the next book. Buuuut.Okay, real talk. The setting in EVEN THE DARKEST STARS is so cool (see what I did there, ps it's about climbing a giant freezing cold snowy ass mountain, incase you didn't know..), I'm pretty sure it's based off the Himalayas, and it's so vivid and breathtaking. Which is the upside to a book set around a jou...

3.5 starsI know I carry on about the flow in stories a lot, but really it can make all the difference and pull a mediocre tale up at least a star and Heather Fawcett has a style that's so easy to read that I found it hard to put this one down (even during the slower parts). Add to that the small mountainside setting and an adventurous trek surrounded by mysteries. I loved those aspects. The pacing was a bit off through the middle (slow) and end (...

I really loved this book it was very exciting I loved all aspects of the story can't wait for the sequel. I really liked the characters especially Kamzin and River even with what happened at the end that just makes me want more. I loved the story it was so very well written I loved everything from the journey to the romance and the magic and all of the interesting things that happened. So overall I loved this book and I really need that sequel no...

Wow, this took me by surprise and swept me off my feet! I loved this story from start to finish and devoured it in almost one sitting. I loved all of the different characters in this, and the mountainous setting was so unique. That ending has left me dying for the second book!

Dieses Buch war in 2017 in einer Fairyloot Box und seitdem stand es bei mir ungelesen im Regal. Denn auch wenn das Cover wunderschön ist, hat mich der Klappentext eher weniger angesprochen und damit hatte ich größtenteils auch recht.Die meiste Zeit dreht sich dieses Buch nur um die Reise zum Ziel der Charaktere🙊. Sie wandern, klettern, wandern und klettern 😅. An sich habe ich damit kein Problem, aber nur wenn mich die Charaktere interess...

me: closes book. also me: gets up to go bury it underneath the snow that's piled in my yard. me talking to book: now, sit there and think about what you've just done. wow, what a terrifying and thrilling journey this was. i throughly enjoyed this wintery tale. it was scary and surprising. for whatever reason, i didn't think i would like this book. boy, i was so wrong. i will admit, though, that this story is very slow. but it also feeds y...

"Hearts of shadow, eyes of flame.None escape who witches claim."This is not a bad book, but I just... wasn't that into it, I guess?On one hand, I think this book's strongest point is the atmosphere. I don't even like mountains and all things related to it but the author made me want to buy a ticket to go ski. And I hate skiing (horrible childhood memories, ugh). And the familiars and little dragons were definitely a plus, they're so cute and cudd...

Even the Darkest Stars is a fantasy story set in a fictional version of the Himalayas where magic, witches and demons are real. As the youngest daughter of the village chief Kamzin has spent her life training to become the next Shaman but magic isn't something that comes easily to her and all she really wants to do is become an explorer like her late mother was. When one of the Emperor's elite royal explorers comes to the village to prepare for a...

A Himalaya-inspired setting. Two sisters pitched against each other. Magic. Dragons. What could possibly go wrong? Well, as it turns out, a lot. Even The Darkest Stars could have been amazing because the potential was definitely there. Unfortunately, the book suffers from three diseases which the author found no cure for: Special snowflake syndrome, lack-of-plot syndrome, and annoying-love-triangle syndrome.RTC.

21. Oktober 2017:Ich hätte niemals zu Even the Darkest Stars gegriffen, wäre es nicht in meiner FairyLoot von September enthalten gewesen. Ich hatte dieses Buch nicht einmal auf meinem "Radar", ehrlich gesagt – aber als ich erstmalig von der Prämisse las, war ich gleich Feuer und Flamme für Kamzins Abenteuer. Zumindest ich habe noch nie etwas in der Art gelesen, fand die Idee einfach unglaublich cool.Obwohl es sich bei Even the Darkest Star...

Check out more reviews @ Perspective of a Writer...When the greatest explorer ever known demands to hire Kamzin—not her older sister Lusha—for his next expedition everything changes. This is Kamzin's chance to prove herself—even though River's mission to retrieve a rare talisman for the emperor means climbing Raksha, the tallest and deadliest mountain in the Aryas. Then Lusha sets off on her own mission to Raksha with a rival explorer w...

I had the privilege of reading an advance copy of ETDS, and it's as incredible as it sounds - a breathless adventure in a truly unique setting. Though Fawcett doesn't hold back describing the brutalities of mountain climbing, I couldn't help but want to be there with the characters, taking in this landscape of sparkling, sharp-edged beauty layered with unforgettable monsters, high-altitude perils, and magic both gorgeous and terrifying. Abo...

Lots of adventure and tons of surprises. The pace was almost perfect - and I loved seeing all the challenges Kamzin, River and Tem face. My only wish was for more backstory of Kamzin's life and more details about the magic system.

***3.5 Stars***UPDATE: Full Review can also be found on Lair Of Bookshttps://lairofbooksblog.wordpress.com...PLOTI typically read the Goodreads Synopsis before writing my Plot summary & I'm a bit confused this time around. The order of events & how they happened aren't exactly correct in the synopsis & this is the first time I've seen this happen on GR. So, my Plot discussion will differ from what is listed in GR and for that reason I've ...

Even the Darkest Stars was a beautifully atmospheric read. The Himalayan-inspired fantasy world it was set in was, by far, my favourite aspect of the story. The world truly came to life under Fawcett's writing style. She truly has a knack for world-building with the way she was able to seamlessly blend Nepalese culture with her unique magic system. I adored that so many different magical races were present, especially how they tied in with the ...

*Source* Edelweiss*Genre* Young Adult Fiction / Fantasy / Epic *Rating* 3.5-4*MY Thoughts*Even the Darkest Stars is the first installment in debut author Heather Fawcett's Even the Darkest Stars duology, with the sequel scheduled to be released in the Fall of 2018. 17-year old Kamzin is the protagonist. She lives on Mount Azmiri, and is the youngest daughter of the village elder. Her sister Lusha is all about astrology and studying the stars to s...