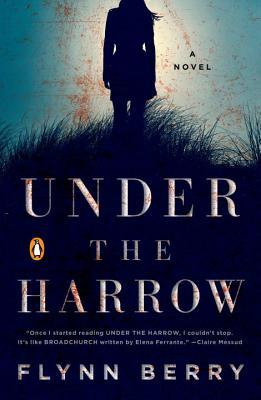 When Nora takes the train from London to visit her sister in the countryside, she expects to find her waiting at the station, or at home cooking dinner. But when she walks into Rachel's familiar house, what she finds is entirely different: her sister has been the victim of a brutal murder. Stunned and adrift, Nora finds she can't return to her former life. An unsolved assault in the past has shaken her faith in the police, and she can't tru...
---
Details Under the Harrow
Reviews Under the Harrow
I'd like to thank Penguin books for my copy in exchange for a fair and honest review.This one packed quite a punch for such a little book (my actual page count came in at 219). I found myself fluctuating between 3-4 stars but settled on rounding up as the ending went in a different route than I swore it would. I was a little nervous picking up yet another book with a quote stating its "the next Gone Girl", but this was totally different (in a gre...

DNF @ 20% because I cannot take this main character any longer. Her thoughts bounce around like a kangaroo on a pogo stick and I don't care enough to follow.

I received Under the Harrow through Goodreads Giveaways for an honest review. My thanks to Penguin Books and to Flynn Berry for the opportunity.Sisters.Family ties that certainly bind. And those bindings make for a gradient trek through the dark pathways that lead you to guarded secrets. Secrets that tumble out from the cupboards of one's life.Nora lives her life as an assistant to a landscape artist. Nothing remarkable in that or so it seems. He...

Nora, up from London, looking forward to a visit with her sister, Rachel, instead finds her bloody body. Determined that the police find her killer and not shove the case aside, she stays and investigates on her own.Not sure why this one didn't resonate with me more, it is very atmospheric, dark and bleak (and I usually love dark and bleak). The style of writing took a little getting used to, it is a choppy almost staccato type of prose. Very des...

I was really excited to read Under the Harrow because it has all of the elements that attract me to thrillers: a shocking murder, unreliable narrator, plot twists, etc. However, my reading experience didn't match my expectations. When Nora arrives at her sister Rachel's house for a visit, she is shocked to find Rachel's brutally murdered body. The police investigate, but don't have any clear ideas about who might have committed the crime....

I might be too slow for this book, or maybe it just wasn't good. Honestly it could be either. I couldn't keep anyone straight. I had no idea where the character was 80% of the time. I had no idea what she was talking about 75% of the time. I thought she was in one town, then it turned out she was in the other one. I couldn't figure out what house she was in or why or who she was following or how they related to the story. And the voice of the mai...

"No one ever told me that grief felt so like fear." ----C.S. LewisFlynn Berry, an American author, pens a gripping debut psychological thriller, Under the Harrow that unfolds the tale of a sister who finds her elder sister brutally murdered in her house, who then decides to investigate her sister's murder in order to give justice, but this sister is not a huge believer in police's modus operandi and therefore she must find the killer with or...

Nora's sister is dead. Through the fog of her grief, one thing is clear: Nora is going to find out who did it. And she's going to make him pay.The sky foams, like the spindrift of a huge unseen wave is bearing down on us. Who did this to you, I wonder..." pg 9.As she frantically tries to piece together the last days of Rachel, her sister's life, Nora discovers things she never knew about her secretive sibling. There are some secrets that should h...

I enjoyed this more than I expected.This is the story of Nora, who goes to visit her sister, Rachel, but finds her brutally murdered. She starts to look into the killing, and finds out a lot of things about her sister that she never knew.I thought Nora was quite a complex character. Not really likeable but believeable, and I found that I was rooting for her throughout. I did like the writing style, and the book kept me interested all the way thro...

Very nicely done debut thriller! It was hard to put down, and at the same time, hard NOT to put down because of the ratcheting tension level. I could only take so much - I'd have to lay it down for 1/2 hour or so and then I couldn't stand not knowing what was going to happen next, so I'd pick it back up. Up, down, up, down, up, down......The writing is great. Berry has crafted a very atmospheric, moody and suspenseful thriller with haunting narra...

I've been wracking my brain to come up with something to say about Flynn Berry's Beyond the Harrow But it's just as frustrating to review as it was to read. The premise is promising: Nora arrives at her sister's Oxfordshire home to find her brutally murdered. Like blood & guts, splatter-movie killed. What an opening. No hesitation, no pausing...just BANG. This book does. not. mess. around. Post-murder, we learn that Nora's sister, Rachel, was ...

I loved this one - probably for different reasons than I would normally enjoy a psychological thriller - Under the Harrow is more psychological melodrama with a main protagonist who is quite obviously an unreliable narrator and whose stream of consciousness prose makes for a lilting if occasionally odd feeling read.It keeps you off balance - when Nora arrives at her Sister's house to find her murdered, she obviously goes into shock but it is a sl...

An outstanding debut thriller, "Under the harrow" is a 'harrowing', disturbing, yet compelling read with a twist that is more like a hairpin curve.Nora Lawrence is a writer whose day job is working for a landscape designer. We first meet Nora, our protagonist/narrator, when she leaves London by train to visit her sister Rachel. Rachel , a nurse, lives in an old farmhouse outside of Oxford. Rachel's job seemed to be stressing her out more than usu...

Thanks to Penguin Books and Niemah Thomas I received this ARC for a truthful and unbiased review.During a routine trip Nora finds her sister Rachel brutally murdered in her Marlow country home. Having a vast distrust of the local authority Nora remains to seek the killer. As a debut novel this one was very well written. It is easy to become involved with our protagonist and be carried away page by page. There are subtle indicators very early in t...

3.5 starsSo okay. This was well written and the story was interesting. But it was too short and didn't give me enough.

Nora goes to visit her sister Rachel and finds her and her dog have been brutally murdered. Nora of course is distraught, and soon is obsessed with finding the killer she is certain will remain free otherwise. Rachel was attacked once by an unknown assailant so Nora believes whoever that was is the perp here as well.Told in present tense with Nora as the narrator, it quickly becomes a stream of consciousness flow of thoughts and feelings. That pl...

I didn't find anything interesting about the story. I have read Paula Hawkins and I didn't like that either, but at least it was interesting enough to hold my attention until the end. In Under the Harrow, we seem to find a ratio of one part story to two parts useless description of inane setting. Choppy sentences thrown in seemingly out of the blue. Paraphrasing an example; the inspector grabbed my hand to lead me past the dog. His tie was tucked...

At first I was a bit wary of this book because of the writing style but after about 20 pages, I was hooked. This book kept me guessing until the very end.Nora, the main character, is definitely an interesting person. Because she is telling the story, you never really know if she's reliable or not. The author is very good at showing her emotional decline after he sister's murder. Nora reminded me a lot of Libby Day from Gillian Flynn's Dark Places...

Maybe all the lukewarm reviews I'd seen actually worked in my favor for this one, because I was pleasantly surprised by Under the Harrow. In fact, this is probably my favorite thriller that I've read all year - though it's less a thriller than it is an examination of one woman's grief. Maybe those who were underwhelmed by it were expecting a bit more excitement, but I thought the unsettling atmosphere more than made up for it.Under the Harrow is ...

Nora arrives late for dinner at her sister's house. Too late. Rachel is dead, the victim of a brutal murder. In the weeks that follow, Nora grapples with grief over Rachel's death and searches for her killer.I'm not sure why I love this book. Something about the European setting ... villages, food, wine, trains, pubs, and the sea. Something about sisterhood. (I don't have a sister but wish I did.) Something about love and grief and the ...

The writing style took a little while to get used to, but then I was hooked. I kept telling myself one more chapter until I was at the end. Who needs sleep? I look forward to reading more from this author.

Dual review with Swedish first and then English! SWEDISH REVIEW Jag kände mig väldigt kluven under tiden jag läste boken. En del av mig ville verkligen få reda på sanningen om Rachels död, men samtidigt så hade jag svårt för själva berättarstilen. Första persons perspektiv kan vara lurigt. Ibland funkar det, ibland funkar det inte lika bra. Med Sargad måste jag erkänna att jag kämpade med det. Själva story funkar tack vare att man...

Pana la urma s-a asemanat mai mult cu Fata din tren. Flynn Berry are aceiasi scriitura minimalista a Paulei Hawkins, crezand ca suspansul poate fi realizat astfel. In ce mai bun caz este schitat, dar realizat... Sigur nu. Un roman mediocru. Ca al Paulei Hawkins.

3.5 starsWeighing in at just over the two-hundred-page mark, Under the Harrow is a memorable debut from American author Flynn Berry set in the rural Oxfordshire village that nurse practitioner Rachel Lawrence resides in. A weekend escape from London for Nora to spend time with her sister Rachel, cooking, dog walking and planning their Christmas break to Cornwall is ripped from within her grasp when she discovers that her sisters has been brutally...

This book did not hold my interest. It wasn't to bad though. It was about a young lady whowent to visit her sister in the country and when she got there her sister was murdered. She spent the rest of the book trying to figure out who her murderer was.Enjoy and Be BlessedSteven

"I turn off the lights and crawl under the blanket. I know what's happening is real, but I do keep expecting her to call." Synopsis: Psychological thrillers have never been more confusing in this book only a mother could love. Biblio-Babble Paging Mr. Plot, Mr. Where's the Fucking Plot: This book proclaims it to have a plot, but rest assured: this book has no fucking plot. One reviewer described this book (specifically the main characte...

Why I would pick up a book that claims to be the next "Gone Girl," which I read, but thought was just okay, is beyond me. Mind you, I didn't specifically choose "Under the Harrow" for that reason; it seemed like a nice break from some slightly heavier stuff I brought home from the library. It was only after I got the book home that I noticed the comparison.Indeed, it is lighter, not only in heft, but also in content. There is nothing inherently g...

"Before the funeral starts, I scan the church and kill each person in exchange for her." This is a wonderful book, one of the best I've read so far this year, super dark and atmospheric, and it gets a whole extra star for not going with some tedious unreliable narrator device, which was where I thought we were headed about half of the way through. What I really enjoyed was the moral conundrum presented by the ending - (view spoiler)[The book is a...

Intense, compelling reading- loved it. My View:Intense, compelling reading- I loved it.What a masterfully written novel- the reader will finds themselves drawn to the page, compelled to read on and on; thankfully this is a quick read, only 219 pages or else I would have been up all night finishing this. I love the unreliable narrator, this is one of my favourite dramatic devices guarantee to keep you guessing right until the end. I loved the imme...

Quick Review: Read it, it's SO good!!!Wow, this book was amazing. One of the best psychological thrillers I've read. Proper review will be up soon.