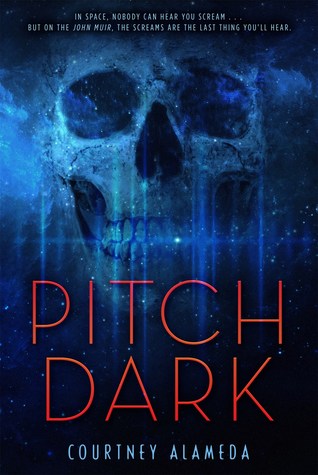 Lost to time, Tuck Morgan and his crew have slept in stasis aboard the USS John Muir for centuries. Their ship harbors a chunk of Earth, which unbeknownst to them, is the last hope for the failing human race.Laura Cruz is a shipraider searching the galaxy for the history that was scattered to the stars. Once her family locates the John Muir and its precious cargo, they are certain human civilization is saved.When Tuck's and Laura's worlds colli...
---
Details Pitch Dark
Title
Pitch Dark
ISBN

9781250085894

Author

Courtney Alameda

Release Date
Feb 20th, 2018
Publisher

Feiwel Friends

Language

English

Genre

Young Adult

,

Horror

,

Science Fiction

Rating
Reviews Pitch Dark
See this review and more like it on www.bookbastion.net_____________Back in the springtime of my youth, when I still had time for hobbies outside of reading like video games, I was a rather big gamer. I played them all, and still have a pretty sizable collection of games that my book collection has of course far surpassed. One of my favorite gaming series was Dead Space, which was a pulse-pounding, terrifying and atmospheric sci-fi horror game se...

I enjoyed Courtney's other book and I was all over that synopsis, so I was pretty excited to get to it. I liked Laura and Tuck well enough. They're both sassy and sarcastic and smart. They had some great banter and I wish they would have been together more in the story. There were some other interesting characters, but I didn't feel like we got to know much of them. Plot wise, I was lost for a good portion of the book. All of the ships and ...

Even the gods have abandoned us out here. If you follow my reviews, you know I'm a big horror fan, but what you might not already know is what a sucker I am for horror/sci-fi genre-blending and spooky stories set in outer space. Courtney Alameda is known for her horror writing, but she interlaces the terror aspects with the sci-fi, futuristic, technology side stunningly. We were supposed to wake up saved, or not wake up at all. That was the dea...

Leave it up to a movie junkie to keep wanting to call this book Pitch Black. And though they are both creature features set in space, they are decidedly NOT the same thing. I don't know how this one wasn't on my radar, as I really enjoyed Courtney Alameda's urban fantasy/horror mashup Shutter. But thankfully, my book buddy Crazy4Books came to my rescue and listed this one as a good buddy read candidate, thereby correcting my oversight. And ...

3.5 stars Overall I enjoyed this. The best thing for me was definitely the awesome Latina main character, Laura Cruz, who just brings it in so many ways. I also quite liked the male character, Tuck, particularly the way he obviously appreciated Laura's strength and never felt threatened by it.Where I felt the story was lacking and what I wanted more of was some greater worldbuilding, particularly at the outset. The story literally starts right aw...

When a terrorist organization crashes Laura Cruz's ship into the John Muir—a 400-year-old vessel designed to preserve natural resources from Earth during the crisis that drove humans from the planet—she finds herself having to face former-human monsters who kill by screaming, having to flee an unknown hacker who always knows where she is, and having to evade the wealthy family who use technology to try to control her. She happens to run int...

Trigger warnings: violence, gore, blood, death, death of a friend, death of a parent (in the past). So here's the thing: I read the blurb of this and was like "Space ships + monsters + pending doom? THIS IS GOING TO BE LIKE ILLUMINAE!!!". Also, I lost my mind over this cover - the stars, the skull (which is *very* Silence in the Library), the sound wave? It's glorious. And probably I built it up too much in my mind, buuuuut I did not love this. I...

This was one of my top anticipated books of 2018 and I'm sad to say it didn't really impress me. My two biggest issues was that the first half was boring as hell and it was too technical for my liking. Plus there wasn't enough creature scenes. For a scifi horror it was too much scifi. That's just me though. I smell a sequel in the future and I might just have to pass up on it.

Pitch DarkCourtney AlamedaRating: 3/5Note: Special thanks to Raincoast Books for providing a copy for review.What a wild ride. If I wanted to describe this book in one sentence, it would be that Pitch Dark is essentially the Dead Space franchise on crack.Packed full of action, horrifying monsters with interesting abilities and a POC female protagonist who is fully capable of handling herself, Courtney Alameda newest Science Fiction horror will ha...

Courtney Alameda's Pitch Dark takes the intricacies of science-fiction and combines it with all the thrills of a horror story in a novel that grabs readers from page one and doesn't let go. Alameda's two leads, Laura Cruz and Tuck Morgan, are both capable characters on their own, but they also make an excellent team and I loved the fact that they both had room to shine despite this fact. I was really impressed by the amount of detail that w...

Four stars: A thrilling and scary book, but there were a few too many plot holes.Tuck wakes with a start. His muscles feel like jelly, and everything is wrong. Tuck finds himself surrounded by bodies and gore. Something must have gone wrong if the crew of the Muir is being awoken from stasis. Even worse, Tuck finds that four hundred years have elapsed. Tuck and his shipmates soon find themselves in a dire situation. The Muir is dying, and they ar...

๏  Highlights ๏Adventure in Deep SpaceDiverse Cast of CharactersDystopian-ishHorror-if-icYA RomanceA Stand-AloneM๏  My Thoughts ๏ If only I could have listened to an audiobook of this...I believe I could have liked this a little more.  Of course, it would need to be the right narrator, especially for Laura's POV.  Someone who can pull off an authentic Spanish accent.  Plus, I prefer Science Fiction in Audio format. I mostly liked...

Edit: I've landed on giving this book a 4.5 out of 5. I don't fully understand why I want to give this book such a high rating but I honestly loved it inspite of all the things I disliked about it. Some of my issues with it were on a more personal level and I feel like I shouldn't let that effect my overall rating when I loved and enjoyed most of this book. I still cannot give this book a rating at this point in time but I'll settle on one eventu...

This is the first book I read from this author. This book was featured and displayed at the YA section at my local library. There was definitely not one dull moment. If you like sci-fi and lots of action this book is for you. Also the author's note is worth reading. This is the first book I️ read from this author. This book was featured and displayed at the YA section at my local library. There was definitely not one dull moment. If you li...

Frequent readers of Sci-Fi & Scary have heard mention of Pitch Dark again and again...and again. I loved the author's first book, Shutter, and when I found out that this one was coming out, I couldn't wait!...and then it got delayed a year. I had a serious case of the frustrated bookworm sads, but I sucked it up because there were lots of books I could read while I waited. Finally - FINALLY - it got released in Feb of 2018. However, I couldn't af...

*I won this in a Goodreads giveaway! Thanks so much for the publisher for sending me over a copy! I super appreciate it, but it did not change my thoughts on the book!*This book started out super promising, and then it kind of fell apart for me. I was totally drawn into this story by the fact that there was 1) aliens 2) horror 3)AlIeNs 4) a Latina MC (and the culture that is woven throughout the story) 5) ALIENS ALIENS ALIENS. While aliens aren't...

what a creepy and atmospheric story! there are so many different layers of complexity here and Alameda crafted a really great book. full review to come, thanks Destiny for recommending this book to me!

*Source* Library*Genre* Young Adult, Horror*Rating* 3-3.5*ThoughtsCourtney Alameda's Pitch Dark is a standalone, young adult, horror novel told in alternating narratives by Tuck Morgan and Laura Cruz. Pitch Dark tells the story of a lost spaceship (USS John Muir) that left Earth some 400 years ago thanks to a mass evacuation from Earth and other factors I'll not spoil for you. The Muir, loaded with all sorts of amazing stuff, drifted in space for...

It was a long wait for this book, and I'm happy to say it did not disappoint. Though I've found myself reading less and less YA since first I added this book to my shelves, I flew through this book (despite the fact that I was really enjoying it so I tried to make it last - I have terrible willpower).We're mainly following Tuck and Laura - that's pronounced as Laora in the Spanish style - two teens from very different backgrounds. Tuck is essenti...

I'm purely a horror person. Give me your erotic werewolf novels, toss over those vampire romances, but there has to be some horror in it to appeal to my tastes. I was willing to give Pitch Dark a go. The blue glowing skull on the cover was enough to catch my eye, but I'm not a sci-fi person so I was wary this time around. Sci-fi to me is a tricky genre. It can't be too generalized but tropes are frustrating, and aliens are a big no-no for me beca...

I was instantly drawn to Pitch Dark after reading the first few lines of the synopsis. Space, hardcore female lead, and zombie like creatures?... I'm IN! The action was non-stop from the first page to the last and I was hooked. Not only was the novel action packed, but it was paced evenly from the beginning to the very end. I always judge a book by how easy it is to put down, and let me tell you... I could not put this book down. There is nothing...

4.5 starsOriginally posted at For What It's Worth on 3/26/18: http://www.fwiwreviews.net/2018/03/mo...Source: arc provided by the publisher in exchange for an honest reviewPitch Dark dives right in and doesn't let go. That's both a pro and a con. For almost 1/3 of the book, I was completely lost when it came to some of the slang (for example, one of the characters says *wedge me* instead of swearing – like when BSG uses frak instead of fuck...

Tuck has been in stasis for 400 years after his ship, the John Muir, was jettisoned into deep space and stranded, unlikely to ever be found again. When he awakes, he finds his ship has been overrun by the mutated remains of other crew members whose screams alone can tear you apart. Laura is a young hacker onboard the Conquistador, a raiding ship looking for the key to the human race's survival. When the Conquistador and the John Muir collide, Lau...

In this book we follow Laura and Tuck who meet when Lauras family finds a 400 years old ship lost in space. When Tucks ship was sabotaged and stranded in space the crew went into stasis hoping someone would eventually find them only to wake up 400 years later to a ship overrun with grotesque monsters. After almost 2 years avoiding monsters and scavenging the ship for supplies Lauras crew finally finds Tucks ship, but the people who originaly sab...

Reviewed on https://smadasbooksmack.blogspot.com/Tuck woke up from stasis incredibly disoriented- and 400 years in the future. But something isn't right about his ship, something else has woken up too. Laura wants nothing more but to be free of the tech that was implanted against her will by the person who she thought loved her, and now she is just a pawn to be used against her family. When a terrorist group who wants humanity to end makes their ...