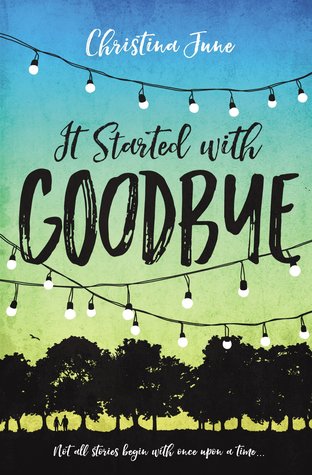 Winner of the 2018 Young Adult Virginia Book of the YearSixteen-year-old Tatum Elsea is bracing for the worst summer of her life. After being falsely accused of a crime, she's stuck under stepmother-imposed house arrest and her BFF's gone ghost. Tatum fills her newfound free time with community service by day and working at her covert graphic design business at night (which includes trading emails with a cute cello-playing client). When Tatum...
---
Details It Started With Goodbye
Reviews It Started With Goodbye
This one's going to be a mini-review as I can't seem to conjure up enough to write a fully fleshed wording of how I felt. I think this is mainly due to the fact that the story is fairly straight forward and I really don't want to take anything away from the future reader who may want to go in blind. I think most readers are aware this is a form of a Cinderella/Fairy Tale retelling that simultaneously felt new and familiar. While I wasn't blown aw...

My written interview with Christina June can be found here. Thank you, Blink, for sending me an ARC of this book (via NetGalley) in exchange for an honest review.Nothing this summer had gone the way I imagined. But maybe it was supposed to be that way so I could turn the page and move onto a new, clean chapter in my story. —TatumThis contemporary retelling of Cinderella is nothing short of literary perfection. I even liked it more than the orig...

I had a chance to read this one early, and what a terrific debut! Tatum is such a three-dimensional and *real* character. It's a great contemporary take on the Cinderella tale that explores the complexities of family and friendships, love and change.

SUCH a fantastic debut. There is so much to love about this book: an authentic, realistic plot, conflicts you'll relate to, and a main character you'll wish you were friends with in real life. Plus, there's lots of humor and heart, and I adore a book that can make me laugh and make me think. Tatum's voice is fantastic and so spot-on. Teen me wouldn't have been able to put this one down, and adult me couldn't either!

Another Swanky book! I had so much fun reading It Started with Goodbye. It's a modern spin on Cinderella, a story with weighty themes that's told in this spirited, heartfelt way that made diving into its world an absolute joy. Main character Tatum is awesome; she's constantly railing against her too-strict stepmother, but she never reads as bratty. Her voice is spot-on, full of humor and insight, and I'm pretty sure Teen Katy would've w...

DNF @ 25%Look, don't judge me. I just can't stand the main character and I'm not compelled to read any further. Tatum is whiny. She continually bemoans her circumstances, her stepmother (who didn't seem that bad to me?) and consistently reassures the readers that 'it wasn't her fault!'Yeah, it sucks. But damn girl. Calm down. You keep glossing over all the good things that happen in order to whine about the same three things. I know...

You guys...SO MANY HEARTS TO THIS STORY. Absolutely loved this fresh, charming debut, brimming with friendship, family, and love.And--hello--SK. SK. AHHHHHHH.... *dies* *swoons* *falls over dead*

In terms of life events, my getting arrested was either pretty horrible timing or pretty perfect, depending on who you were talking to Sixteen-year-old Tatum Elsea is in trouble for being in the wrong place at the wrong time. After being falsely arrested for shoplifting and paying a hefty fine, Tatum's dad grounds her indefinitely as punishment. Tatum's best friend Ashlyn (whose boyfriend had done the shoplifting) is shipped off to a private ...

IT STARTED WITH GOODBYE is a charming contemporary reimagining of Cinderella--if Cinderella had more gumption and a vision for her own life. Tatum Elsea is essentially under house arrest after a misunderstanding leaves her with a summer of community service and a fine to pay off. To earn money, she starts taking on a few design clients, including the enigmatic SK, who is on vacation with his family in Ireland but needs her help with a website for...

I can't wait for everyone to read Tatum's story! I love her attitude and her sweet romance.

16 year old Tatum Elsea has been falsely accused of a crime. She has been grounded by her father. She has to fill her days doing her community service and working on her covert graphic design business at night, where she trades emails with a cute cello-playing client.Then Tatum discovers she is not the only one in the house keeping secrets. She now has the chance to make amends with her family and friends.A story of a teenagers relationship betwe...

Thanks to NetGalley and the publisher for a free, electronic ARC of this novel, received in exchange for an honest review. "It Started with Goodbye" is the newest YA contemporary fiction novel from author, Christina June. In "Goodbye", Tatum Elsea is sixteen years old and confined to her house, under the supervision of her stepmother, after being charged for a crime she didn't commit. While she is adapting to what is sure to be her "s...

*2.6/5 stars*It Started With Goodbye is pretty great debut novel all things considered, I had some problems with it - the fact that I didn't like Tatum all that much for the most part and couldn't really connect to any of the relationships - but it was still really enjoyable and light book to read. I liked the little Cinderella references and one of the characters who stood out for me the most was Tatum's step grandmother, Blanche who was also re...

I found this book absolutely delightful. It is full of fun, well-developed characters, friendships, and a little romance. It is a perfect beach read (or a snowed-in-but-wish-it-was-summer read). By the end, you will be wishing for step-grandmother Blanche to come stay at your house!

Fun, Refreshing and Swoony! I loved the characters, the story and seeing how Christina June put her own modern spin on the classic tale of Cinderella. Tatum is a relateable character and watching her navigate her way through family, friendships and first love left me with a big, goofy smile on my face. Fairy-tale retellings can be hit or miss with me, but this one was a hit! I can't wait to see what Christina comes up with next. Fans of Kasie Wes...

Meh. Fluffy, kind of boring, and predictable. Also, all the deception was killing me inside. Not a fan, unfortunately. :(

I completely fell in l-o-v-e with this book. "I wished more than anything that I could teleport myself somewhere peaceful and quiet, where people smiled and laughed instead of keeping themselves buttoned so tight they choked themselves." If you're a fan of Cinderella then this book is for you! There is an adorable romance in this story, but the heart of this book revolves around family and friendships. I loved it. It felt so refreshing to read be...

It Started With Goodbye is so darn charming! This book is the absolute perfect summer romance with sweet characters and an abundance of cuteness. I read it in one sitting. I loved Tatum's spunky personality. Her voice is pitch-perfect, and she just felt so real. I was getting major Sarah Dessen vibes throughout the novel, so I would highly recommend for her fans, and also fans of contemporary romance with plenty of swoon-worthy moments!

16-year-old Tatum Elsea is not having the best start to her summer. Her bestie's skeezy boyfriend shoplifted $300+ worth of merchandise with the two ladies around, meaning all three of them were arrested. After offering her testimony in exchange for a less-harsh sentence, her BFF isn't talking to her and Tatum is under house arrest. When her traditional summer babysitting gig falls through, Tatum is prepared to do nothing but suffer community ser...

IT STARTED WITH GOODBYE is an adorable retelling of Cinderella, yet it manages to feel new. I loved how June added plenty of cute references to the fairytale while modernizing so many elements. Tatum and SK are darling and funny, but Tatum's friendships and relationship with her (step) abuela make the story. There are a handful of flat-out swoon worthy moments, and another handful where I teared up. If you want lots of feels in a sweet, clean, an...

Received from: BlinkReceived Via: NetGalley.com THE REVIEWWhy this book?it seemed cuteWhat I thoughtTatum is having a bad summer . She doesn't get along with her step Mother or sister. Her dad is always away for work and things aren't going well with her friend Ashlyn . This book had its moments sure, but it's not something i'll read again. The characters also didn't really stick out to me. I could read characters just like them in a hundreds of ...

Cringe. Cringe, cringe, cringe. That was basically this book, with about twelve cliches thrown in there as well. Things that I like- Really pretty cover. SERIOUSLY THOUGH, LOOK AT IT!!!- It required no brainpower. Actually, probably in the negative numbers...Thing that I did not like- Tatum 'It's really truly not my fault' Elsea. If you blame her for anything, rest assured, there will be several paragraphs of her whining assuring you that SHE IS ...

Tatum is 16 and arrested for being in the wrong place at the wrong time. Going to a store with her Best friend and her friends dropkick boyfriend ended up with her being arrested and charged.Sentenced to community service, her friends been shipped off to boarding school, and the bf is in jail her summers not looking to fun. Community services isn't her biggest punishment she has also lost the little trust she had with her step mum and all the tru...

"I cried for the girl constantly trying to force a connection, to find someone who took her at face value and didn't ask her to be something she wasn't. cried out for the doors that had closed and cried for the ones that might never open.." I didn't even know this was a retelling! Come to think of it, while I was reading the book I have this bubble of thought that says 'Gosh she's so much like Cinderella with what's happening to her lol' I love h...

This was the sweetest fairy tale retelling I've ever read. I loved it from start to finish. Tatum, the main character, is realistic. I thoroughly enjoyed her character arc, her interest in graphic design, and her interest in the adorable SK, who she develops a relationship with online. I'm a satisfied teacher/reader who will recommend this read to her students.

There is so much to love about this story that I can't get all my thoughts straight quite yet. In other words...full review to come. :)

"I cried for the girl whose voice remained unheard, who did her best to be good but didn't always get it right. I cried for the girl constantly trying to forge a connection, to find someone who took her at face value and didn't ask her to be something she wasn't. I cried for the doors that had closed and cried for the ones that might never open. I cried out of want, out of thirst for something nameless, my heart beating itself into a frenzy..." *...