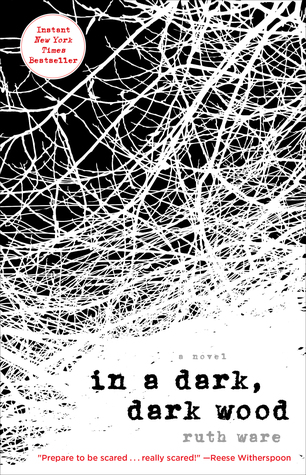 In a dark, dark woodNora hasn't seen Clare for ten years. Not since Nora walked out of school one day and never went back. There was a dark, dark houseUntil, out of the blue, an invitation to Clare's hen do arrives. Is this a chance for Nora to finally put her past behind her?And in the dark, dark house there was a dark, dark roomBut something goes wrong. Very wrong.And in the dark, dark room.... Some things can't stay secret for ever.
---
Details In a Dark, Dark Wood
Title
In a Dark, Dark Wood
ISBN

9781501112331

Author

Ruth Ware

Release Date
Apr 19th, 2016
Publisher

Gallery/Scout Press

Language

English

Genre

Mystery

,

Thriller

,

Fiction

,

Suspense

,

Mystery Thriller

,

Crime

,

Audiobook

,

Adult

,

Adult Fiction

,

Psychological Thriller

Rating
Reviews In a Dark, Dark Wood
I don't think I've disliked a protagonist as much as Nora, the main character in In a Dark, Dark Wood, in ages. Earlier this year, I found Rachel, the protagonist of The Girl on the Train, to be annoying and very unlikable, but I didn't hate her. To be fair, I didn't hate Nora so much as find myself repulsed by her. She is a 26-year-old woman who is still haunted by and distraught over a break-up that happened when she was 16. Yes, 16! What kind ...

this is a truly beautiful ARC, one of the nicest i've seen: it's all textured and graphically pleasing and nice to touch and hold: but the story didn't really meet my expectations. i'm giving it a three, but it is a low three. it is an incredibly fast read, and if you are looking for something in that vein - a fast-paced page-turner mystery thing, this may well satisfy you. but be forewarned it is not a creepy book, or even remotely spooky, as t...

Honestly one of the worst books I have read this year, and I definitely cannot recommend it as a tense crime novel!!!In a Dark, Dark Wood is the antithesis of what a thriller should be. It's hugely predictable, very slow paced, has big plot holes, and was downright boring.I found the writing style to be quite amateurish, and the characters very immature and one dimensional. These women are supposed to be adults, and in their mid to late twenties ...

3.5 stars It was growing dark, and somehow the shadows made it feel as if all the trees had taken a collective step towards the house, edging in to shut out the sky. Ten years ago, Leonora ("Lee" "Leo" "Nora") broke up with her boyfriend (James), ditched her best friends (Clare/Nina) and skipped town. She hasn't looked back since.Well, until now. She just got an invite to Clare's Hen Party (bacholorette weekend) and despite her misgivings, she de...

3/3.5?!?!!! This book left me in such anger. The beginning was so fast and I was so sucked in and then the middle left me feeling lethargic and as if I were reading as I was walking through mud. Then the end.... The end totally blew my mind. I couldn't believe it happened the way it did... Would I recommend? Yeah, probs. The assortment of characters are absolutely uncanny. Such a strange cast of characters but when written together it was absolut...

This was a mediocre story that had all the makings of something better than it was. I would describe it as a light mystery. It wasn't a thriller. It wasn't dark or scary. The voice of the narrator was lovely, the music at the beginning and end creepy but the story itself was slow and a bit clunky at times...filled with constant chatting done by characters who were each a bit odd and behaved in a way that was both catty and juvenile. It reminded m...

Writer Leonora (Nora) Shaw gets invited to old friend Clare's hen night (aka bachelorette party) by a girl named Flo. (It is being held in Flo's aunt's house.) Nora lost touch with Clare years ago, hasn't spoken to her in ten years, and doesn't know if she wants to go to this party. But after talking to another friend who is also invited (Nina) Nora reluctantly decides to go.Nora and Nina arrive at the house where the party is being held, which i...

2.5 stars. This was a quick and easy read. I feel that my lack of enthusiasm for this book was largely affected by my expectations being set too high. I really wanted to like this book more than I did. I really enjoyed this author, Ruth Ware's, second novel "The Woman in Cabin 10". I was expecting more of that heart-pounding, suspenseful writing that kept me on the edge of my seat, however, I couldn't help but feel underwhelmed upon finishing thi...

After a bachelorette (Hen) party, Lenora wakes up in a hospital bed badly bruised and confused with a bandaged head and memory loss; and when she overhears a devastating police conversation outside her door, she begins to piece together the nightmare of a weekend that brought her there.Based on the title, In The Dark Dark Wood and the great eerie book cover, I was hoping for creepiness and devilment in the snowy outdoors, but instead received a f...

There have been many reviews for the regular book version of IN A DARK, DARK WOOD by Ruth Ware, but my review is for the audio version. I have had the actual book for awhile now and for some reason, every time I picked it up I just could not stay with it due to my unfortunate yet seasonably short attention span. As happens so many times, a beautifully made audio version of the same book will quickly suck me in, even if I just read the same words ...

Warning !!!!! Review may contain spoilers!Damnnnnnnnnn WTF did i just read ! OMG this is so creppy and amazing :D and mindblowing wow i'm at loss of words ! This book is a crime novel: an absorbing, genious thriller in which, halfway through, a big twist upends everything. (Spoiler alert: I plan to discuss that twist below.)  The story is being told by Nora's POV she is an author , insecure woman haunted by her past , one day she recieved a...

This is a tough one. I had high expectations for "In A Dark, Dark Wood" by Ruth Ware, but I must be honest - I'm extremely disappointed with this clunky novel. I had 2 main problems. The first being, the writing. I will say I did enjoy the plot, even though the pay-off was mediocre at best. This is the story of a hen night (bachelorette party for us Americans) in the English countryside gone awry. The beginning was fast-paced and sucked me in, bu...

** I would like to thank Random House UK, Vintage Publishing for allowing me the copy to read and review **This makes for compulsive reading.Lee is a writer, she lives on her own.Likes to run.She gets invited out of the blue to an old friends hen do, from Flo the Matron of Honor. Something happened between her old friend and herself.They have not seen each other for around 10 years.She contacts another friend to find out if she has been invited...

In a Dark, Dark WoodWhat originally lured me to this novel was the synopsis: "what should be a cozy and fun-filled weekend deep in the English countryside takes a sinister turn", good enough. Sounded like a nice to way to immerse myself in some fluffy, brain-candy kind of story. Unfortunately my enthusiasm was short-lived.Perhaps I am on the wrong demographic for this novel, but I found this book tedious, repetitive and frankly not very original....

Seriously addictive and with such a gorgeous flow that you could easily read it in one sitting if you have a free afternoon, In a Dark Dark Wood is definitely up there with the best psychological thrillers I have read.It is beautifully character driven – to the point that even inanimate objects become characters in their own right – most especially the "dark dark house" mentioned in the blurb which takes on a life of its own and is so del...

Find all of my reviews at: http://52bookminimum.blogspot.com/3.5 StarsI haven't been able to break the "10 reviews behind" mark these last couple of months and since this one already has 10,000 it probably doesn't need whatever idiocy I can spew out about it to help sell more copies, so I'm going to barf out something real quick here in order to (hopefully) not spend the first half of 2018 trying to play catch up. In A Dark Dark Wood is...

I thought this book would be a thriller and dark. Instead it turned out to boring and the characters were chatty and got on my nerves. Instead of calling it a "Hen" party, it sound have been called a "Bitch" party. All of the ladies were bitchy and mean. The chapters are short but the book still felt like it was a long read. Nothing really happened until about mid way. Which by than I was so over the characters that I did not care what happened t...

Oh, my! In a dark, dark wood.... There is a dark, dark house....With a few odd, strange friends.... Invited to an odder, stranger Hen.... And something that warns M uuu rrr d eee rrr eee rrr Leonora Shore wakes to discover she's in hospital but has no memory of what happened. She's been told she's been in a car accident and has banged her head very hard at least once and she's got a bandage on her forehead. As she fades in and out of a morphine h...

My sincere thanks to Edelweiss and Scout Press, a division of Simon & Schuster for providing the e-galley of In a Dark, Dark Wood to be published August 4, 2015.Have you ever had a falling out with a friend that you were really tight with? That's what happened to Lenora Shaw. Clare Cavendish had been her best friend since they were kids and then in their teen years all went to pot. Imagine her surprise when out of the blue she gets an email fro...

I was expecting something a little more original when picking this up. But sadly it fell into the same rote, formulaic structure of most 'unreliable narrator' murder mysteries these days. The writing was decent but definitely nothing spectacular, and it couldn't redeem the book from being anything but ordinary. It's not a bad book by any means, but if you've read Gone Girl or The Girl on the Train you won't find anything particularly special here...

This book started off with a bang quick fast paced then in the middle i felt that it went into a lull then at the end it just went BANG HERE WE GO!!i must say i hated al the characters but i could not stop reading i was obsessed with what was happening & to who there was MURDER, jealousy secrets you name it this had it although i did pick the perp but that didn't bother me i did not think the characters jelled very well there was a lot of dysfunc...

I feel like the mystery wasn't shocking in any way, but Ware did a great job in building motive for every character so I was always wondering what the truth of things really was. A few elements felt kind of dropped, but upon reflection I can see they were included in order to justify the characters' actions and throw off the reader. I do think it was a well constructed mystery, just not that mindblowing.The plot turned out to be something totally...

A creepy hen-party, a few unlikely invitees. A secret agenda. A spooky glass house. An atmospheric forest. Entertaining: yesPsychological thriller: yesPredictable: yesProgrammatic: yesCover: magnificent!A middle-of-the-road novel. A good read, and for some, a surprising ending. But I saw the ending coming in the beginning. The drawn-out denouement was annoyingly contrived - to keep the suspense up was just too obvious. And the so-called secret wa...

In a Dark, Dark Wood is a mystery/thriller novel written by author Ruth Ware. I enjoyed this reading experience so much! From the first chapter, my mind was already trying to strategically figure out the who, what, when, and why of this slow-to-be-revealed mystery. There are two parallel time frames only a few days apart from each other, and in my opinion they both contribute a grave amount of suspense. Something has happened, and snippets are re...

I should write a proper review for this now that I have read three of her books. I have to say that I favor this one the most. It came at me from the opening sentence and had me and the narrator piecing things together as I went along. The author likes to switch point of view so you can see a bit of everyone - or is it just enough of some- to give you hints and ideas, but in this book she does it the very least out of all three. Out of all three ...

3.5 stars Really great for an airplane/beach type read. It unravels a bit towards the end (and pretty early on it seems clear what's happened--and definitely telegraphed by three-quarters through), so I felt a bit impatient for things to be resolved), but it's a fast-paced Agatha Christie-ish mystery that keeps your attention with an enjoyable narrative voice. Also well-plotted and written overall; it's hard to sustain suspense with first person ...

After reading and reviewing The Woman in Cabin 10, I was intrigued enough by Ruth Ware's writing to seek out her debut novel. Overall, it was an okayish read for my Saturday morning and I did gulp it down in one sitting, but I cannot say that I was scared in any way. I guess I don't really understand why a person( Nora) would accept the invitation( from Flo) to attend the hen party(bachelorette party) for a girl (Clare) that she hasn't seen or ta...

Tore through this one Sunday this past summer. Flo chilled me to my bones. I KNOW a Flo. Tight writing, moments of levity sprinkled through out. Great, delicious thriller to hunker down with on a cold, cold weekend ;-)

Leonora Shaw is a solitary woman. She writes crime novels for a living from her miniscule flat in London. She is a runner (another solitary pursuit). She wasn't always a private, solitary person. Back at school, she had a social life, a best friend, Clare AND a boyfriend, James. Officially her name is Leonora, but Clare calls her Lee, and James always calls her Leo. Leo, Clare, and James have a secret.Then James and Leo break up. It wasn't her ch...

Actual rating 3.75/5 stars. We're getting real particular here!I have recently been going through a phase of inhaling every thriller in sight, but not until I read this book did I find exactly what I was looking for, in all the others. The rural setting and the estranged friendship group, meeting again after a decade apart, is not a new concept. But what Ware did with these basic elements is make them feel entirely her own. This did not feel like...