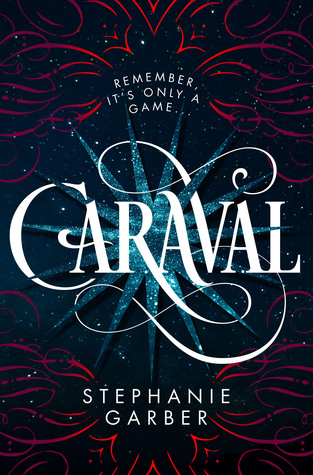 Remember, it's only a game…Scarlett Dragna has never left the tiny island where she and her sister, Tella, live with their powerful, and cruel, father. Now Scarlett's father has arranged a marriage for her, and Scarlett thinks her dreams of seeing Caraval—the faraway, once-a-year performance where the audience participates in the show—are over.But this year, Scarlett's long-dreamt-of invitation finally arrives. With the help of a myst...
---
Details Caraval (Caraval, #1)
Title
Caraval (Caraval, #1)
ISBN

9781250095251

Author

Stephanie Garber

Release Date
Jan 31st, 2017
Publisher

Flatiron Books

Language

English

Genre

Fantasy

,

Young Adult

,

Romance

Rating
Reviews Caraval (Caraval, #1)
*record scratch**freeze frame*Yup, that's me. Scarlett Dragna, main character of the YA hit Caraval. You're probably wondering how I ended up in this situation. If everysinglethingthathappenedinthiswholebook was anything to go by, it was through a combination of pointless lying, constant embarrassment, obsession with Some Guy, a big act of caring about a younger sister despite very little indication of that being true, unrelenting drama about...

I feel the same way about Caraval as I did about The Star-Touched Queen last year. In fact, many of my comments are the same, so if you enjoyed that book then it's probable you will like this one also.Caraval is a fantasy without world-building or significant character development. It relies on its dreamy descriptions, purple prose, and a heavy helping of romance to make it dazzle. To take a quote from my review of The Star-Touched Queen, "if you...

How can I write a review for this giant ball of awesome and do it justice? I was intrigued by the summary from the second I found this was coming out, but had no clue if it would live up to the hype. The back cover boasts of "The spell-casting fantasy destined to become a sensation" and Fox 2000 has already purchased the rights to turn this into a major motion film, which claims some pretty mind-blowing story is within the covers. This book w...

Before you enter the world of Caraval, you must remember that it's all a game . . .4.5 stars. I'm very impressed with this book. The most important thing you need to know is that, although it's marketed as such, it really isn't a competition per se. I mean, it's as much a competition as THE NIGHT CIRCUS is.Sure, it's a game indeed, a treacherous game that you can lose yourself in at any moment, but it's not a competition. I'm not ...

This freaking book HOLY CRAP. I have a feeling this book is going to be a huge hit when it comes out, and rightfully so. This is the kind of story that you just want to devour because you can't get enough. It's a beautiful story about sisterhood and adventure, full of amazing characters and a delightfully dark world. It's this grotesque Wonderland like world where the Mad Hatter is calling the shots. Honestly cannot wait for you guys to get your ...

Well that was disappointing.

❝Whatever you've heard about Caraval, it doesn't compare to the reality. It's more than just a game or a performance. It's the closest you'll ever find to magic in this world.❞ Thank you to Flatiron Books for sending me an advance reading copy of Caraval for review purposes.4.5 STARSThis book was just absolutely ENCHANTING! I didn't know how high or how low to set my expectations before going into Caraval but one thing is for sure by the tim...

*Full Review Update!!* (Spoiler free) I cannot rave enough guys... this book wins everything. This has made it in to my absolute all time favorites. I can't even function normally to describe it... I am absolutely floored. Zero complaints. I enjoyed every sentence.. every page.I couldn't get enough. It was whimsical, off the charts electric, romantic, mysterious, enchanting, enthralling... full of twists and turns. So many that I thought the endi...

Okay why didn't I read this sooner??! IT'S SO MAGICAL. I totally preordered it and then immediately decided to wait 9 months to read it. I don't know either, mate. This is the life of the Procrastination Queen. Also I saw a lot of disappointed reviews, so I was prepared for teeth gnashing and refurbishing it as a hat if I didn't like it. But I kind of accidentally loved it?? Except for the narrator. I would be like 500% okay if Scarlett fell into...

I'm not sure if I should call this one of my favorite books of 2016 or 2017, but it's definitely at the top of both lists! The setting kind of feels like The Night Circus meets the first Pirates of the Caribbean with a bit of The Imaginarium of Doctor Parnassus thrown in? The story is completely unique, though, and TOTALLY pulled me in.Every single element was so well done. The way the whole story unfolds as a sort of mystery + quest with a deadl...

Lowering my rating to 1 star. I am genuinely trying to find out who started advertising this book and why? It's been blowing up GR for quite a while now. People with ARC were selling it on eBay at ridiculously high prices. That's how it caught my attention in the first place. Was that a publicity stunt? If it was, it's not going to help much because the book is shitty. There is nothing new or exhilarating here. If anything, it's ideas stolen from...

This is my second time reading this as I was lucky enough to receive an ARC of the audiobook from Macmillan audio (thank you so much to them!) Honestly I loved it even more the second time. The audiobook was so atmospheric and beautiful and I just adore this story so much!!!

My February Owlcrate Box!HOLY CRAP ON A CRACKER! Loved it! ❤I guess I should put up the big ole spoiler label just in case I get spoilery! First off let me just get this off my chest. I wanted to smack Scarlett about 15 times during the book because she said this one thing about 50 billion times. I have to get back to get married. I have to get back to get married. I have to get back to get married. I have to get back to get married. I have to ...

This book was just so much fun! What an absolute magical and visual delight. It took so many twists and turns, it really kept me on my toes and made me want to devour the story. Absolutely loved it.

What a surprisingly captivating world Stephanie Garber has created in 'Caraval'! I listened to the Audible version of this book and I was mesmerized by the beautiful and vivid imagery that 'Caraval' contained. I was drawn in by the world that Ms. Garber created and it held my attention right to the very end.Every once in a while, I love a great paranormal romance. I love to leave reality behind and take off on a journey to a place where magic and...

2.5 stars. I unfortunately was not a big fan of Caraval, which is very disappointing to me considering I was really excited for it!Pretty much, everything about this book fell short for me. Every character was bland and annoying with no personality. The romance had absolutely no substance in my opinion, I never felt any chemistry or understood why they got together other than the fact that they were basically one of the only people available to t...

I had really high hopes for Caraval. The blurb, the cover, and the excellent reviews promised a magical whirlwind of a story. And this novel delivered that, but its relatively achieved grandeur was overshadowed bit by bit till the end. The last 50 pages or so of the book took its soul out, leaving me with a bittersweet aftertaste, a headache and lots of confusion. Since I cannot even reflect upon the messy thoughts inside my brain, I'll analyze p...

I've read 62 pages and I've had enough of this shitty cringefest. I dnfed this weeks ago and can't stand any of the one dimensional characters, especially the muscular, hot and swoon worthy dude who KIDNAPS the MAIN CHARACTER!!! *swoons* wow so hot!!! fuck this abomination of a book.br with my girl Alyssa who also dnfed lmao.

Our futures are only predictable because as creatures of this world we are predictable. I really did want to like this book. I really did want to dive into a magical and dark adventure with Scarlett and Tella.Sadly for me, I didn't enjoy it the way I thought I would, and this adventure turned out to be a little school trip to Boredom Land, with one heck of a frustrating main character. And don't even let me start on her sister. The premise is...

4.5/5 - This review can also be found on my blog, Dana and the BooksI had high expectations and low expectations stepping into Caraval. Everyone who's read it has been gushing over what a masterpiece it is. But then it was also endlessly compared to The Night Circus. Confession: I didn't like The Night Circus, so I was concerned that I just wouldn't be the target reader for Caraval.  Within the first few pages, it was clear that I was going t...

This story was so magical, so whimsical, and so perfect. I was skeptical, because I'm pretty much the only person on Goodreads that did not like The Night Circus, but this didn't remind me of The Night Circus at all. Well, at least the 15% I read before I couldn't force myself to read more. I mean, I can see where people would draw the parallels because of the plot, but the writing in this is much more reminiscent of The Raven Boys or Heartless. ...

It felt like stepping into a world made of dreams and nightmares, laced with the spicy essence of desire and the cloying smell of fear. ❝ Remember, it's only a game. ❞ Oh, Stephanie Garber appears to be an expert at playing games, a master of manipulation and misdirection. My mind is still clouded, drunk in cider, unable to grasp the boundaries between sweet fiction and reality; I was her puppet numerous times, suspicious, disappointed, frus...

one of the coolest things i have ever experienced was an interactive play. you walked around from room to room in this large house where actors portrayed characters, acted out scenes, but also involved you. this book was like that, but only 1000x more magical. i mean, not to be dramatic, but i would bargain my soul to every one of the fates to be able to live in a world where i could participate in a caraval game. i am OBSESSED.there is nothing q...

Hi all!!Thank you all so much for being interested in my book! For those of you who are curious, you can now get a sneak peek inside at the first two chapters on Entertainment Weekly! Happy reading! http://www.ew.com/article/2016/04/15/...

Did anyone else see this while they were reading?So how do you pronounce this, exactly?In my head, I was saying it like Carnival without the n sound. Well, actually, I ended up trying out a few different pronunciations in my head (see example above), and eventually settled on that one...ish. Because, and I don't know if I'm the only one who does this or what, I've noticed that I kind of mumble stuff that I'm not 100% sure how to say. Yes. In my h...

4.5/5 starsVIDEO REVIEW: https://www.youtube.com/watch?v=aPwq5...Wow. I have been seeing this book being praised for months now and finally, I understand where the hype is coming from. Magical and whimsical. This story just flies by and I loved getting deeper into it as the storyline progressed. I'm shocked at the fact Stephanie Garber is a debut author and this is only her first book because it was everything I wanted and more. I CANNOT wait for...

Scarlett has been writing letters to Legend for years, hoping to see Caraval, a show whose magic she can't even begin to imagine. Scarlett's grandmother told her stories about Legend coming to their island and the life changing show he put on, but Legend doesn't go anywhere twice, and after an accident at one of his shows he stops doing shows for the public. Scarlett and her sister Tella have never left their home island and so seeing Caraval is ...

Remember, it's only a game… I wish you had told me it's a boring one though, that is.If you were to tell me that I would end up reading Caraval after having it on my tbr for 2 years, I would not have believed you. I remember being suuuuuuper excited for this but never got around to reading it because I simply, truthfully, did not want to spend my money on it after seeing so many mixed reviews, so I waited until my library had it. Now, Lege...

TRIGGER WARNING: this one slipped my attention while reading, purely because I was bored, but I feel it is important to add that this book features parent x child abuse which isn't dealt with. WARNING: this review will be a rant, there may be unmarked spoilers. This is also a highly unpopular opinion so if you want to come at me telling me I'm wrong or didn't understand the book I will punch you in the nose from how mad this book made me. Also, t...

O M GI NEED BOOK TWO...Some parts where a bit whishy washy in the sense of to many descriptions and the pacing for me, in some places where a tad off. BUT the twists and turns have left me jarred. I LOVED THE ENDING..