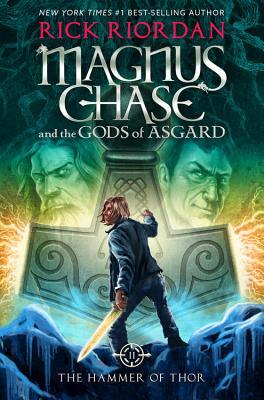 Thor's hammer is missing again. The thunder god has a disturbing habit of misplacing his weapon--the mightiest force in the Nine Worlds. But this time the hammer isn't just lost, it has fallen into enemy hands. If Magnus Chase and his friends can't retrieve the hammer quickly, the mortal worlds will be defenseless against an onslaught of giants. Ragnarok will begin. The Nine Worlds will burn. Unfortunately, the only person who can broker a deal f...
---
Details The Hammer of Thor (Magnus Chase and the Gods of Asgard, #2)
Title
The Hammer of Thor (Magnus Chase and the Gods of Asgard, #2)
ISBN

9781423160922

Author

Rick Riordan

Release Date
Oct 4th, 2016
Publisher

Disney-Hyperion

Language

English

Genre

Fantasy

,

Mythology

,

Young Adult

Rating
Reviews The Hammer of Thor (Magnus Chase and the Gods of Asgard, #2)
I finished it. I LOVED IT. OTIS IS MY FAV <3 Here's my full booktalk: https://www.youtube.com/watch?v=xy3Dd...

LOVED THIS SO MUCH. Rick Riordan just gets better and better with each series. This right here is proof that a book can be hilarious and fun and make the reader feel a whole range of emotions while also touching on some really important and relevant topics.I CAN'T BELIEVE THIS IS JUST A TRILOGY I NEVER WANT IT TO END BUT HOLY HELHEIM AM I EXCITED FOR THE NEXT BOOK.

"Otis," I said."Shhh," he said. "I'm incognito. Call me...Otis.""I'm not sure that's how incognito works, but okay." The Hammer of Thor is the second book of the series. The book starts off with the quest which is about Magnus finding Thor's hammer. He has to fight against the giants, his uncle and LOKI. BIG BAD LOKI. AWWWW ! It looks promising, right ? And Alex is kinda kickass in this book. I liked her character, but not that much. Heart and ...

I mean OBVIOUSLY I LOVED IT. It's a Riordan book! What other emotions is a reader to have except: 40% laughing, 40% fangirling, and 20% thinking about falafel??? (There is so much falafel appreciation here, by the way. It's truly inspirational.) ANYWAY. I definitely thought this was another exciting and captivating instalment (although, still, like the first book...I think it got a bit rambly) and I loved the newly introduced characters and I lov...

"At this point, most people would have thrown themselves down on the ground and given up hope. And by most people, I mean me."•I know that I have already raved plenty about how much I love this author and his characters, but Magnus Chase defies all standards of cutie-pie-ness and adorable-ness and funny-ness and whatnot. You just cannot not love the kid. And guess what (OBVIOUS FACT ALERT) (cit.)? I love him! •So now that we got the Obvious F...

YAAASSSSS!! Magnus Chase is going to meet Percy Jackson!! My two faves!!

"Otis and his brother, Marvin, pulled the god's chariot. They also provided Thor with a never-ending supply of goat meat. Each night, Thor killed and ate them for dinner. Each morning, Thor resurrected them. This is why you should go to college, kids—so when you grow up you do not have to take a job as a magical goat." Rick Riordan's books are always some of my favourite books to read so Magnus Chase and the Hammer of Thor is no exception. ...

Nice Natalie: I don't like that we're always here these days with Riordan's books.Cynical Natalie: Maybe if he wrote quality material, we wouldn't be here. Exhibit A: the plot. Hello, quest-with-sidekicks narrative 65.0.Nice Natalie: Oh, come on, you liked the plot! You laughed a bunch of times.Cynical Natalie: I laugh at Vines, but that doesn't mean they deserve an Oscar. What about Hearthstone's dad? (view spoiler)[They basically left him ther...

Thor's lost his dang hammer again.Loki is scheming and causing trouble, again.3.5 stars. Final review, first posted on Fantasy Literature:The god Thor has lost his hammer again, but this time it's even worse: the giant Thrym has gotten hold of it and has hidden it away where no one else can reach it. If the hammer isn't returned to Thor quickly, enemies of Asgard will take advantage of their weakness and attack, triggering Ragnarok, the battl...

This book took me so long to get through for absolutely no reason at all BUT IT WAS SO WORTH IT. 5 STARS. ALSO ALEX IS MY NEW FAVORITE CHARACTER IN THESE BOOKS! (If that wasn't obvious enough before)

I'll admit there were times when I thought this book was a little too silly (again, maybe I'm slightly outgrowing middle grade books finally). Regardless, I still really enjoyed the story! I'll definitely want to pick up book 3!

Yet again Rick make me stay up way to late!What I love most about Rick's work is that the action and suspense just keep getting better! It's not like with most trilogies where you feel the second book is just a bridge to the third book and doesn't really add any value to the story. The Hammer of Thor gives us dynamic character growth, new characters to cherish, epic adventures, suspense and of course a cliffhanger ending!In all honesty, I'm not g...

This book felt like a basket case of déjà vu. Literally speaking.Sword that turns into utility item: ✔Stupid gods: ✔16 year old 'heroes' do all the quests: ✔Snarky do-gooder protagonist: ✔What is surprising is, despite the fact that it is near indistinguishable from the Percy Jackson series, this novel managed to hook me. It was funny. "Valkyrie business. Possible code three-eight-one: heroic death in progress.""You're making that up....

Rick Riordan lo ha vuelto a hacer. De verdad, con cada libro de este señor que leo me enamoro aún más de su forma de escribir. Y sí, todos sus libros son iguales, pero es que me da igual.Como con todos los libros de este señor, ha sido un libro súper divertido y súper ágil de leer. Me lo he pasado genial reencontrándome con Sam, Magnus, Blitz y compañía; y me ha encantado saber un poquito más de Hearth, de su historia y de su mundo.Ta...

"Just like the good old days: marching together into the unknown, searching for missing magical weapons and risking painful death. I'd missed my buddies!" Every time I try to ignore one of Uncle Rick's releases, or act like there are too many of his books for me to possibly still love them, I end up preordering it anyway and binge reading it. At this point I might as well admit I'm hopeless, and will be reading at minimum Magnus Chase and Trial...

The Hammer of Thor can firmly be described as "alright." And by that I mean, it had very good parts and very bad parts, but through a mixture of entertainment value and respect for the author, it landed itself a solid three out of five stars. I may change that later (update: I did), but for now, this is what I'm going with. Essentially, the first half of The Hammer of Thor was pretty rough, but the second half was able to (mostly) make up for it....

"Mientras sus historias sobreviviesen, los dioses sobrevivirían. Y las historias eran casi imposibles de eliminar".El Martillo de Thor, el arma más poderosa del universo nórdico, se ha perdido y los planes de Loki de desencadenar el Ragnarok están más cerca que nunca. Por eso, Magnus Chase tendrá que embarcarse en una nueva misión que lo llevará a recorrer varios mundos nórdicos, seguir pistas de cabras, salvar a sus amigos de la muerte ...

You understand there's no such thing as a little death prophecy, right? I really wish I could give this five stars (this is Rick Riordan's book after all!) but if I sit down, take a deep breath, and think about how many of these chapters Riordan's reused from his Percy Jackson & the Olympians series, I can't. I loved the characters, and the hilarious adventures Riordan writes about, but it's getting to be too much. Sure, there were some amazing, ...

THE REVIEWWhy this book?I really liked the first bookWhat I thoughtRick Riordan did it again another amazing book! I just can't wait to get my hands on them and devour all the Rick Riordan goodness!!! Can I just say how much I love the bromance between Blitz and Hearthstone! I just love them!!! One thing I didn't like though Sam and Amir drama,I just don't care! Magnus is really growing on me though, I wasn't so sure about him in the first book. ...

"At this point, most people would have thrown themselves down on the ground and given up hope. And by most people, I mean me."Okay, I'm sold. I loved the first book but I was not as enthusiastic about it as Percy Jackson. This book though, was amazing and definitely turned me into a little fan of this series. A book that have characters from all origins, with different religions, gender representations and characters with disabilities. But ...

You Keep Using the Word Help. I Do Not Think It Means What You Think It Means.I didn't think it could be possible, but this book was even better than the first one. Shocking I know. Rick Riordan is THAT good. Obviously.Like for the first book, I don't want to talk about the plot because if I did, I wouldn't be doing you a favour.I actually don't have much to say in this review that I haven't previously said in my review of The Sword of ...

Ok, wow. What can i say about this book? Sheer perfection, brilliant, wonderful! Is this suppose to be middle grade? Because it did not seem like that at all; which that was the main factor for me to love it even more. I wish Rick would write an adult fantasy series. What makes this book stand out is the maturity and the development of the characters. It did not felt like his previous books whatsoever; Rick wanted to focus even MORE on the bond b...

Este se convirtió en uno de mis libros favoritos del autor (y eso es MUCHO decir porque tiene una competencia bastante ajustada). ES TAN ÉPICO ‹3

I knew it was only a matter of time.... yay!

I think that I've decided that Norse Mythology is maybe my least favorite of all the mythologies I've learned anything about. This isn't the first series I've read that when it delved into the Norse Mythology I didn't get excited about it I think it is a Norse thing with the world tree, different realms, rainbow bridge, gods, giants, ogres, Valhalla, Ragnarok and much much more. Sometime it just feels like too much maybe.Rick Riordan is...

I LOVED this.Magnus is such a precious little cinnamon roll. I love him so much.Alex is my new favorite character. It was so refreshing to see a gender fluid/transgender character. I think I may have a crush on Alex because she/he is just that awesome.Overall, I loved everything about this. It was funny. I loved the pop culture references. The story was good. I can't wait for the next book.