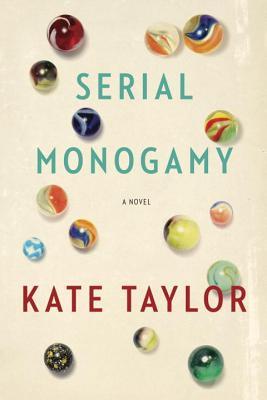 Award-winning author Kate Taylor returns with a scintillating, intricate novel about marriage and infidelity in two lushly distinct eras: Dickens' England and our own present day.When Sharon learns that her husband, Al, is having an affair with one of his students, her life is sent into turmoil, and the couple decides to split. But when Sharon is diagnosed with cancer, she and Al are brought together once again. Will they find a way to repair the...
---
Reviews Serial Monogamy
2.5 STARS - Victorian England. Modern day Toronto. Charles Dickens. Adultery. A cancer diagnosis. This isn't a huge book but there's a lot going on with several diverse characters, different eras and emotional issues that ultimately highlight that the complexities of relationships haven't change all that much over the centuries.The premise of this book was interesting but there were a few issues that lowered my rating. First, I don't think Taylor...

This book could be called Serial Adultery.The author writes about two marriages. The narrator's own marriage and that of Charles Dickens. The narrator and her husband are both Dickens scholars. Just after she lands a contract with a major newspaper to write a fictionalized serial story about Dickens, the narrator discovers that her husband is having an affair with a student, and soon after she is diagnosed with beast cancer. The book alternates c...

I picked this up because it jumped up at me from the library's shelves, considering the circumstances I found myself in back then. lol. It was quite different from my life, though! I thought it was a good read, though I wouldn't necessarily recommend it as a must-read. Especially if you're not into adultery. I thought all characters were particularly well-drawn. I wasn't sure at first of the many POV switches - the Dickens story bored me for the ...

Overall and engaging read!

Truthfully, the things that first made me pick up this book are not ones librarians admit to being tempted by. The first thing – the book jacket, with its large and small, colourful glass marbles and clean, capitalized aqua typeface – made me pause and reach for it. The second thing – my recognition of the author's name, Kate Taylor – also a favorite arts writer at The Globe and Mail – made me flip through it and then decide to read i...

There's a lot going on in this book, too much really. There are four narrative voices, which are all puportedly written by our protagonist, a writer named Sharon who is dying of cancer. The premise itself I quite liked but the execution left me less impressed; the pacing seems uneven and I never really got into the story emotionally. Sharon comes across as whiny, constantly obsessing about the grad student her husband has left her for and any tin...

I see there are wide ranging opinions on this novel by Canadian Kate Taylor. The biggest objection appears to be that there is too much going on. Sharon, a successful novelist in her own right, loses her husband to one of his research students. In the midst of grieving over the loss, she discovers she has cancer and must have surgery and chemo to combat the disease. Her husband decides to come home to help her face what's coming and to help care ...

Though you can't give half stars on Goodreads, I think this book is a three and a half stars to four stars. I thought the story was beautifully written, though some of the Victorian chapters were a bit slow. I liked how this story presented so many differing perspectives and gave a window into where different characters stand and their perspective on how they see the world. This book does not cast any villains, it is a story of empathy and sensit...

I admit there was alot going on in this book and I am not sure which story I enjoyed more, Dickens or Sharon's, I really love the Dickens time period. Kate Taylor did a wonderful job of tying these two stories in with each other and the twist close to the end was totally unexpected, whoa, I actually had to go back and read the chapter again to see if what I was reading was actually what was happening.I received this book through Goodreads First R...

This is not my type of book, but i am glad i read it. With the first chapters, i was really wondering where the story was going. Yes, there is a lot going on since each chapter is a new narrator, but i never felt lost. I was more intrigued. The end of the book is my favorite. I would recommand this book to a friend. Thank you good reads for letting me discover this canadian writer.

Won this book on Goodreads - otherwise I probably wouldn't have picked it up. That would have been too bad as I enjoyed this new (to me) Canadian author - in this novel Taylor shows the messy and never straight forward ramifications of infidelity and disease. I enjoyed the Dickens' side story and found the details engaging. http://www.bookcrossing.com/journal/1...

Two clever stories..modern day story of a marriage and an affair with a parallel view of Charles Dickens and his mistress. Thought provoking! I thoroughly enjoyed Kate Taylor's most recent book. She has a way with words that makes you feel you are in the room with the characters.

I really didn't like this book. I'm sorry to say but this was actually such a bad book omg I got so bored, I literally didn't want to finish it. It was so boring that I kept getting distracted and felt like reading something else, but I pushed myself through it because I hate starting books and not finishing it. Plus, I felt like this book deserved a chance. But it never got any better. The letter at the start that the mom wrote for her daughters...

I think this one is probably 3.5 stars, in fairness.I enjoyed the writing - Taylor moves easily between the formality and vernacular of Dickens' time to the looser, more casual speech of today. I also liked the shifting viewpoints, times, and locations. It was like reading through a kaleidoscope. At least, I enjoyed the idea of it. And I think I enjoyed it in practice. But there was something about the constant temporal/geographic/psychological h...

Sharon's life is thrown into chaos when her husband, Al, leaves her, and their twin daughters, for one of his young students. But when Sharon is diagnosed with cancer, Al returns and they struggle to repair their relationship. Meanwhile, to keep herself busy as a writer, Sharon begins to write a serialized story for a local Toronto paper about Nelly, Charles Dickens young and secret mistress. The two interwoven stories reflect on fidelity and mar...

Library Request. I like the back and forth from dickens to the authors family life, and having to deal with children, and a betrayal from her husband to mirror they very own story of how they came together through a betrayal of their own. To her devestating diagnosis of breast cancer and how the new stepmother came into their lives.I'm on the fence but I was intrigued to continue reading to the end.

Finally. This has been sitting here for a year waiting to be read. An interesting premise and an interesting take on long term relationships. I thoroughly enjoyed the historical bits - the focus on Dickens and Nelly Ternan. Less enamoured of the contemporary bits - would have liked to see more of the evolution of Sharon and Al post diagnosis.

This is a quick, light read. I was intrigued by the premise, but unfortunately, I was less taken with the execution. I think the author was trying to cover too many angles, and for me, it fell a bit flat. I was also a bit annoyed by how this jumped pages on my Kobo reader, and I never had a good idea of where I was in the book.

I won't lie, I did enjoy this book. It was an entertaining read, albeit, a little shallow. I wanted a little more depth from Taylor's prose - particularly the parts where our first person narrator is writing her newspaper serial novel about Nelly Ternan, and her relationship to Charles Dickens. I don't think this book makes any grand statements about anything - but it was a fun read.

This novel (an Evergreen Nominee for 2017, Ontario Library Association Forest of Reading program) switches back & forth between Sharon's story: mother, writer, betrayed by her husband, cancer patient & the writing of her novel which is an historical fiction piece about Dickens and his affair with Nelly. An enjoyable read.

Really enjoyed Kate Taylor's writing and surprised that I liked the back and forth with Nelly Ternan and Charles Dickens and then Sharon and her life. Reminder that relationships are complicated, but also that life can be well lived in health and sickness.

2 great stories, one really good read!I enjoy contemporary fiction especially themes facing women today and I like historical fiction; Serial Monogamy delivers both! Fascinating storytelling of Dickens' and Sharon's life-story really made me feel and think. Serial Monogamy really drew me in

What an interesting story concept mixing the present with the past and historical fiction to boot.

I just couldn't get into this book. I am not a fan of the Victorian era so found those chapters distracting. I didn't find Sharon or her husband particularly likable...both left me flat.

Multiple stories and time periods intertwined. It was lovely.

I started out really interested in this book but as I kept reading I found myself asking the question 'when is this going to end?' It wasn't a bad story just a little drawn out I found.

3.5 stars. If the first 3/4 of the book had been as lively as the last 1/4, this would have rated 4 stars--I nearly put it down partway through, but worth the read in the end.

Loved this book. I found it hard to put down.

Very interesting book. It was almost like three stories all wrapped up together.