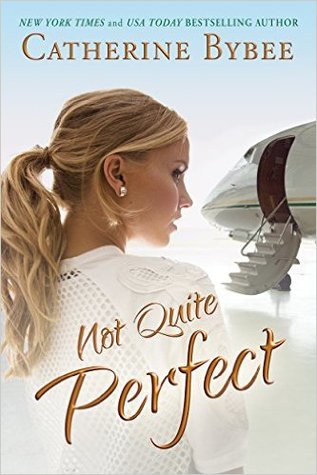 New York Times and Wall Street Journal bestselling author Catherine Bybee delivers the fifth heartwarming, flirty novel in the wildly popular Not Quite series. Mary Kildare knows how to read people. It's both why she makes a great therapist and why she refuses to trust the average bachelor. Staying fiercely independent has been her primary relationship strategy—until wealthy playboy pilot (and commitmentphobe) Glen Fairchild reappears in her ...
---
Details Not Quite Perfect (Not Quite Series, #5)
Reviews Not Quite Perfect (Not Quite Series, #5)
As cheesy as this may sound, this book was dreamy! This was such a pleasant surprise for me. I've never read Catherine Bybee and didn't know what to expect when I started this story. In fact, the beginning had me worried. Sometimes slow burn stories don't work for me. It's hard for me to see the couple truly into each other if it takes a while for them to get there. You learn right at the beginning that this couple met a year prior and while ther...

Therapist Mary Kildare has lived a solitary and independent life although over the past year Mary has been having a kind of tug-of-war friendship with rich, playboy pilot Glen Fairchild. When their friendly banter starts to turn into something more serious they find themselves in a bi-coastal relationship flying back and forth between states spending time with each other. But when Mary's safety is threatened by a mysterious stranger, Glen needs t...

4+ Romantic Stars!Loved it! So sweet and swooney with perfect contemporary romance. Glen is practically perfect in every way. Mary was a good female lead. Biggest problem was that the bad guy was very obvious and thus Mary had some stupid moments in her otherwise smart personality. Still, a very sweet and entertaining story. Great addition to the series. Can't wait for the next one. Happy reading!

4 starsI really enjoyed Not Quite Perfect.The storyline was entertaining, the characters were likable, engaging and my interest was captured from the the first page until the end.Another wonderful read by the talented Catherine Bybee and a great addition to the Not Quite Series.Thank you to Montlake Romance via Netgalley for the advance copy.

What a delightful and sweet beach read, in fact, I read it on the beach ;) I tend to crave an entertaining chick-lit book with engaging, fun characters and witty conversation. The added suspenseful element to the story made it even more enjoyable.Mary, left on the steps of a Catholic Church at age one and raised in an orphanage, is being wooed by, Glen, the jet setting pilot and CFO of a world wide charter company, and is a total player. This is ...

***ARC Provided by the Publisher and NetGalley***This book was not what I thought it was going to be....but in a good way.It surprised me. More than once. Just when I thought I had it figured out, that I knew what was going to happen, that I knew the pacing and had an idea of how it was going to play out, it switched. The plot changed. The pace changed, and it became something else.It is not easy for me to detail this without giving it away...so ...

Sorry to say this book just didn't work for me. It took forever for me to read and I just couldn't get myself to care about the characters. Oh well they can't all be 5 stars...

The story starts slow and sweet, but when the threat enters the picture, you're holding your breath waiting for him to make his move. Loved this one!

Copy received for an honest review Yes! A new Catherine Bybee book - it doesn't matter what I have read of hers, I just adore it.Not Quite Perfect is just that. Mary and Glen's relationship is not perfect - but it is perfect for them.From sexy flirtations, witty banter, snarky, biting comments. This is all extended foreplay for our lovelies.I love that Mary is independent. She takes no crap from anyone, and won't ask for help even when she really...

Not Quite Worth Reading.I found this book and the story incredibly slow and boring. The heroine, Mary, was a college educated therapist yet she only had one friend whom she met because she lived across the street. The hero, Glen,lives on the east coast and knows Mary casually. He decides they should date even though they live on different coasts. He owns a charter airline and can flyover whenever he needs to see her. After a lackluster love scene...

THESE BOOKS JUST KEPT GETTING BETTER AND BETTER.I love when a series does that. I also really like how none of these were boring or had a really annoying main character. I just loved all of them. I can't wait to see what else Catherine Bybee will come up with!Anyhoo, Not Quite Perfect was almost perfect (in my eyes). Mary was a brilliant female lead and I instantly fell in love her. Then there's Glen, who took his time to make me fall in love wit...

Having thoroughly enjoyed all seven books in Ms. Bybee's "Weekday Bride series", this NetGalley reviewer was thrilled to be gifted an ARC in exchange for an honest, unbiased opinion for Not Quite Perfect. Seriously, if you haven't read that series, I strongly encourage you to check into it. This book was not quite what I expected, my romance book loving-friends. Granted I haven't read any of the previous four books in this particular se...

All my reviews can be found on my blog at www.whatsbetterthanbooks.comSexy, sassy, and surprisingly suspenseful!This is a satisfying contemporary romance story that has the right amount of everything; great characters, witty dialogue, steamy chemistry, and a touch of danger.The writing is well done. The characters are charming, intelligent and likeable; complete with a charismatic playboy, and a reluctant therapist. And the plot has all the eleme...

Catherine Bybee is quite an artist as a writer. I have read all of the "Not Quite" series and this book is one of her finest. I loved catching up with the characters from the previous books. This book is Mary and Glen's story. It is fun watching their interactions and their sass toward each other. This book is fun and funny. Mary has someone out to get her and Glen tries to help her. I found I couldn't put this book down once I started it. I high...

This review is based on an eARC I received from NetGalley. It is an honest review and the advanced receipt of it in no way affected my review or rating. This is my first time reading a novel from Catherine Bybee and I am wondering what rock I have been living under?? I thoroughly enjoyed reading this book! The story is entertaining, light-hearted, and comical but it also held a dark twist to it that although predictable added just the right amoun...

This is the third book that I have read from the Not Quite Series and so far I think it's one of my favorites!  I don't know why...  maybe it's the "nun" factor.  Sister Mary Frances was such a fun character.  I do find Nuns in stories to be quite entertaining!  :)  So, we have the wealthy playboy pilot and then we have the therapist.  That doesn't really sound like a match made in heaven...  right??  Mary was left on the steps of a ...

I became a huge fan of Catherine Bybee's when I read her earlier books in the Not Quite series, which is fantastic. When I received an invitation from Ms. Bybee's publisher, via Net-Galley, to read this book in exchange for an honest review, I eagerly accepted. I thoroughly enjoyed Not Quite Perfect. This book is in the Kindle Unlimited program, and if you're a member you can read and listen for free!Mary Kildare is a reserved therapist and...

3.5 to 4 Stars'Not Quite Perfect' was such an enjoyable read. I loved going through this journey with Mary and Glen. Their story was full of sweetness and love, fun times and smiles, sexy times and adventures, and just enough (predictable) suspense to shake up the story.I truly liked Mary and Glen together. I'm not always a fan of "player" types, but Glen pleasantly surprised me. He was still super charismatic, but he treated Mary with complete r...

Mary is Dakota bff and neighbour which is how she met Glen Fairchild who's family owns Fairchild Charters flying company. I absolutely love this book sexual drama and Mary diagnosing everyone especially Glen but she realises their can be more then what it seems. This book flows so well I really enjoy reading CB it's a nice easy read but keeps you on your toes with slight tension and drama not just between Hh but also the dangerous situation Mary ...

I feel like there are a few unresolved things in this book. What happened to the nightmare couple?Is Mary going to be successful as she was?Was this guy actually an accountant in a law firm? If so HOW?What happened to the guy?However focused on the love in this story it was lovely. I sympathized with Mary and not having parents, I felt her pain and anguish on having no parents but being raised by nuns and feeling a deep connection to one particul...

Mary is a skilled therapist but has a hard time connecting to people. Who could really blame her though? She was abandoned as a baby and more or less raised by a nun named Sister Mary Francis. Her best friend Dakota, who lives across the street, wants nothing more than to see her get a little action. And why not? Mary is an attractive and intelligent woman. But it's definitely a lot harder to find a man you like when you're constantly analyzing t...

This is the first book I've read written by Catherine Bybee.Mary has pretty much done things on her own. Glen is a pilot, CFO, player, you name it he has done itWhen they get together and have a long distance relationship things seemingly go well until strange things start happening. Captivating, fun, story of who do it & being one step aheadCharming read with the realization everyone needs somebody

I have always loved Catherine Bybee's books, and this one was no exception. Perfectly paced and crafted, Not Quite Perfect takes you into the journey of Mary and Glen to their happy ever after. The couple already met previously, and they were already attracted to each other. However, Mary was more into the "forever" type, and Glen was exactly the opposite of it. He was a player through and through. Nevertheless, he proved the readers wrong,...

NOT QUITE PERFECT a brilliant addition to Catherine Bybee's Not Quite series. This fifth book brings back Mary Kildare, the best friend of romance author, Dakota who is now married to Walt and expecting their first child. We are also reintroduced to Glen Fairchild, Trent's older brother who is also a pilot for their family's chartering company.Mary and Glen couldn't be more opposite. Glen comes from a wealthy background, a loving, close-knit fami...

WOW- amazing! I so love Catherine Bybee's writing style and this series is awesome. I sometimes teeter on the edge of 4 or 5 star review and often look back thinking I give too may 5 star ratings, but seriously, I judge each individual book I read against itself and nothing else. If I were to read an author's work and constantly be comparing it to everything else I have read it just wouldn't be fair to the author I am reading.If a book like this ...

I have read the entire Not Quite Series and I love them all for different reasons. This is Mary and Glen's story. We met Mary and Glen in Not Quite Forever. They were attracted to each other but living across the country and Glen's playboy pilot lifestyle has kept them from moving past a few phone calls. Mary's severe independence has kept her from reaching out to Glen. Afraid of getting involved with such a player. But, when she actually needs h...

I came this series purely by accident one day but I am so glad I ended up reading it. Ms. Bybee writes dreamy romances with a little twist. Not Quite Perfect takes Glen, the playboy pilot and Mary who is a therapist to new heights. These two met a year ago and exchanged numbers but neither made the first move. When their mutual friend goes into labor it gives Glen the opening he has been looking for. Although dating will be a little on the rough ...

5.0 Star Review Not Quite Perfect (Not Quite Series #5) by Catherine Bybee This is book 5 in what has come to be one of my favourite series. I had the pleasure of meeting the author, Catherine Bybee in Sydney recently and I was absolutely thrilled; she is as awesome as her books.I have been looking forward to Mary Kildare's story almost from the first moment she was mentioned in the series. There is just something about her that really draws me...

I began my reading relationship with Catherine Bybee with the Not Quite Series, and was so excited when I heard there would be a new book. This book was full of love, laughs, and some suspense which delighted me to no end. The MCs in this book are Mary, a woman with a self reliance shaped by her personal history, and Glen, a playboy pilot who cannot be tamed. I loved that these two toyed with the idea of each other for so long. They met over a ye...

Actual Rating 4.5 StarsI swear the smile never left my face while I read this high flying romance from Catherine Bybee. She has yet again outdone herself, giving us readers a memorable couple that could banter with the best of them and who stood strong in the face of dangerous threats.I truly did love Mary and Glen together. Lordy, were they fun! They bickered like an old married couple but not in a mean-spirited way. Nope. It was almost like for...