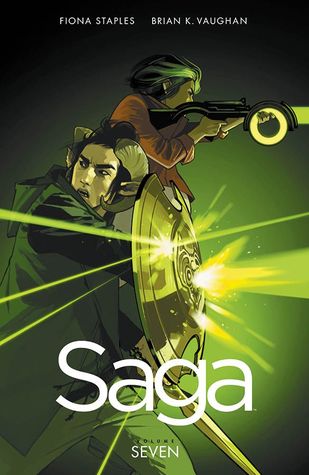 From the worldwide bestselling team of Fiona Staples and Brian K. Vaughan, "The War for Phang" is an epic, self-contained Saga event! Finally reunited with her ever-expanding family, Hazel travels to a war-torn comet that Wreath and Landfall have been battling over for ages. New friendships are forged and others are lost forever in this action-packed volume about families, combat and the refugee experience. Collecting: Saga 37-42
---
Details Saga, Vol. 7 (Saga, #7)
Reviews Saga, Vol. 7 (Saga, #7)
oooh, goodreads choice awards semifinalist for best graphic novel! what will happen? the sads shouldn't have hit me as hard as they did here, since i'd already read more than half of this volume in its single-issue installments, thanks to greg's generous indulgence of my impatience; presenting me with issues #37-40 back in november. i thought i was prepared for anything this book had to throw at me, but dammmit - issues #41 & #42 had their ...

This is going to be a short review as I don't do graphic novel reviews very well. First off, be prepared for page 4, you may number them differently in your head but you won't miss the BIG surprise that's right in your face on that page! Lol!I thought the book was awesome as usual and YES, there are sad parts in it. Isn't there always in one way shape or form? We have a lot of the same characters to read, along with some new ones. That's all, I r...

Well, jeez—that was rough. Hopeless resignation. Overwhelming odds. Tragic deaths (redeaths?). Veiny robot schlongs. This series continues to confound and confusticate, but the quality of the storytelling remains high. Fiona Staples seems to have become the lead storyteller, and her art drives things forward in this volume, but BKV's presence remains undeniably strong.I never know what to expect from this book, and I'm never disappointed (e...

Re-Read 5/16/18:Still a mind-rape for me. Can't write a review through the tears.Original Review:I'm nearly speechless. That ending. Breathtaking.You know when someone is telling the story right when I want to scream and rage and cry, no matter what the medium. The fact that this is a comic is even more astonishing.Seriously. This one blew my mind. I've said before that all comics should use this as a standard to create by, and it's no less true ...

Finally reunited with her ever-expanding family, Hazel travels to a war-torn comet that Wreath and Landfall have been battling over for ages. New friendships are forged and others are lost forever in this action-packed volume about families, combat and the refugee experience.I was worried going into this considering the fact that it's been a hot minute since I read the previous volume. But I needn't have worried, the world Vaughan has created in...

Well, I gotta admit...I'm relieved.Every single review I've read had the words heartbreaking or tragic in it, so I'd been preparing myself for Hazel to die and somehow this turn out to have been narrated by her ghost or something.But no. Hazel is fine. Whew!So yeah, not everyone is going to make it out of this one but it's still a cool ride. And I'm looking forward to finding out how both of her parents deal with the aftermath of everything that ...

No review. It's too close to home and it hurts too much. I'm still living in the ...and then...

I am very dialed into this storyline now. For the first few volumes, it was so bizarre that, while I enjoyed it, it didn't click with me. Now, it is just as wonderfully weird, but I now completely enthralled.I don't think this series will be for everyone and, in my opinion, the content tends to be very "adult". What that means exactly might differ from person to person. But, just remember that going in, and know that chances that things will shoc...

Re-read 1/23/18: My heart is broken all over again :(Original read 4/24/17: This volume was one of the most heart wrenching, most hopeless things I have ever read. I'm so sad :(

Once again, Vaughn and Staples have delivered an incredible new volume of Saga. Finally reunited, Hazel's family desperately needs fuel and has to make a hazardous stop on the comet Phang. Bounty hunters abound such as the splendid Gwendolyn and Sophie who now has the Lying Cat, The Will who has run into some tough luck, and some new ones like The Match. Not to mention The Prince freaking out while Marko deals with his pacifism in a situation whe...

"If a chain is only as strong as its weakest link, then a family is more like a rope. We're lots of fragile little strands, and we survive by becoming hopelessly intertwined with each other." –VaughnWow. Really moving sort of stand-alone volume that takes place on Phang. No spoilers, but I read this last night in one sitting, having heard it would be a powerful volume, and it was. It really was. Whew. Woke up with a bit of an emotional hang...

I read seventh volume of Saga as single issues, the extra material may vary from the full volume that collects the issues 37 to 42 . After the sixth volume I wondered will my journey with Saga come to an end sooner than I had expected due to lack of many things I had learned to appreciate in the previous volumes. To my great surprise, seventh volume continues the strong chemistry-wise storytelling that ties up wonderfully when combining multiple ...

Looks like EVERYBODY on my friends list (practically) has read and reviewed this already. My thoughts:- It was sad- I think I hate the ending- "We're coming to eat your taints" - LOL- Petrichor is awesome- I love Hazel- Sir Robot is such a perv- I want a Lying Cat so bad- Hazel and Kurti were so cute- Izabel (view spoiler)[that really sucks (hide spoiler)]Conflicted about that downer of a cliffhanger ending... but a solid volume. I enjoyed it.

When did they start selling pure heartbreak in trade paperback form?Depressing, but excellent.

It's been almost a year since I've read Saga 7 and I missed the characters. I do not have too much too say about this volume except that it is as good as the previous ones (if not better) and , unfortunately, pretty sad.

Reviewed by: Rabid Reads4.5 stars2016 was the year of the graphic novel for me--between Fables and Monstress , I was well and truly hooked, but it was Brian K. Vaughan's SAGA that blew my mind and showed me that, similar to (good) poetry, graphic novels could pack all the insights and feelings of a first person POV full-length novel into a third of the pages and an even smaller fraction of the words.So I've been looking forward to Volume 7 eve...

"The more you care about someone, the more likely it is that your eventual parting of ways will be as sudden as it is baffling."Saga is the one graphic novel series that I care more about than any others. Mind you, it's not like I'm a graphic novel expert. I have read Paper Girls, Vol. 1, Giant Days, Vol. 1 and Lumberjanes, but none of them fascinate me like Saga does. Maybe because it's so ruthless but simultaneously so full of hope. Now, wh...

... And I am back on Saga bandwagon...

That ending. That goddamn ending. Hit me worse than all the sucker punches of cliffhangers from before. *sniffles*But on a brighter note, I'm so so happy to be reunited with my favourite gang of craven deserters masquerading as peacemongers!And precious new ones too...(view spoiler)[...until that soul-ripping last page happened of course ;_; (hide spoiler)] As always, Saga continues to blow my expectations through the roof with its nonstop action...

WHAT JUST HAPPENED... :'( :'( :'( This was the saddest volume so far. I can't even talk about it because I'm just so speechless. It definitely picked up the pace, the story moved on quite a bit and the writing and drawings were good as usual. At one point, I actually shouted "NOOOO" and scared the crap out of my family so prepare yourself for this volume! I'm so excited for the next volume so I can find out what happens next!

Volume 7 is the best saga has been in long time but also the saddest one, almost breathtakingly so.

Overall, this is another solid installment within the Saga series. But compared to the others, I don't feel like it totally lived up to them. Of course, I'm not saying that because it was bad - it totally wasn't at all. I just felt like it was far less action packed. Should you read it? If you've read the others, I doubt that's even a question. Absolutely. Yes. Without question. And if you havent read the others, go read them too. This is a fanta...

A few entertaining moments, but not much really happened to advance the plot. The characters were pretty stagnant in their locations and actions considering the amount of time that passed. Some new characters were introduced only to have their part in the story end very quickly.We've reached the point in this review where Trina makes the same complaints about the nudity.Be aware that there's a giant d**k pic on page 3. The series sexualizes the f...

I AM GUTTED. WHY DID IT END LIKE THIS?!

There's really not much I can add to the boatload of reviews of this volume. So I'm just going to say that this was my favorite volume so far and that I'm heartbroken. HEARTBROKEN!As irreverent as PREACHER was, but with more humor, (and humor that appeals to a wider variety of people, in my opinion), SAGA may just turn out to be my favorite graphic novel series of all time. (SANDMAN will be hard to beat, but it's going to be damn close!)If you en...

"For the first time, I can see myself as I really am, with all my countless sins in highest definition."This story has been so much fun for me to follow over the last couple of years. I fully intend to keep up with the series for as long as it takes to become a completed work. I'm devoted to these characters, and my appreciation for Fiona Staples' illustrations & Brian K. Vaughn's unique storytelling runs so deep.All I can say is that if you have...

Why do we love Saga this much?This question can absolutely never be answered with shitty answers like "the art's damn beautiful" or "the story is great". Sure those are the attributes of this graphic literature by Brian Vaughan and Fiona Staples, but you cannot give justice and won't be able to fully describe how good Saga is with those one-line descriptions. That is how f*ckin great this series is. So if you haven't read it, my god, can you just...

I read this before I went to sleep. Then I was depressed for the rest of my sleep. Goddamn it this series can really hit you in the feels like no other. Hazel growing up on the run is both scary and entertaining. It's fun for us to visit all these worlds, meet all these characters, see amazing things but at the same time she's always being hunted. She's always in danger. And Marko and his wife barely have the means to protect her much longer. The...