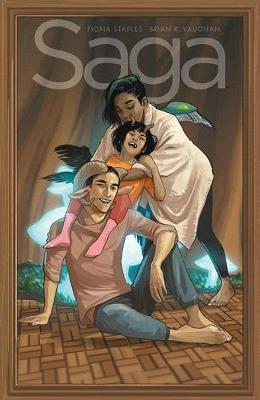 The multiple Eisner Award-winning series returns with a spacefaring adventure about fake news and genuine terror. Get ready for the most shocking, most impactful SAGA storyline yet.Collects SAGA #49-54
---
Details Saga, Vol. 9 (Saga, #9)
Reviews Saga, Vol. 9 (Saga, #9)
I can't believe... I have to wait for more now. I'm one of those assholes who wants instant gratification. My life is fucked. Guess all I've got left is anticipation and dread.

Read issue 49, 50, and 51Love them so much, can't wait for 52

Okay, I hate how the issue 54 ended. That was not fair at all 💔

Individual issue reviews: #49 | #50 | #51 | #52 | #53 | #54Current review score: 3.2

I've been reading this as the chapters came out...I am not sure how i feel about The Robot IV guy , but Marko?! 😭Why so sad all the time Saga? Why?!Now more waiting for the next one.... reading comics is tiering.

4.5 because all my faves are dying.My heart is broken. Goddamn you Brian and Fiona. Goddamn you.

50 თავის შემდეგ მივხვდი რომ საგა არ მომწონს :(

I cannot deal. My heart hurts.

Nutkum tutuldu. Let the mourning period begin.