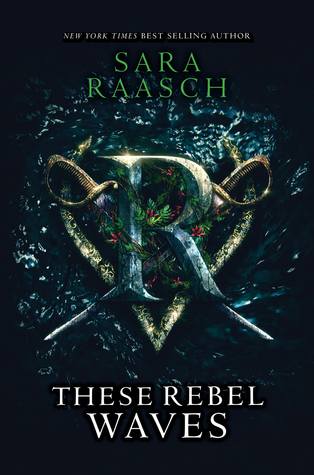 Adeluna is a soldier. Five years ago, she helped the magic-rich island of Grace Loray overthrow its oppressor, Argrid, a country ruled by religion. But adjusting to postwar life has not been easy. When an Argridian delegate vanishes during peace talks with Grace Loray's new Council, Argrid demands brutal justice—but Lu suspects something more dangerous is at work.Devereux is a pirate. As one of the outlaws called stream raiders who run rampan...
---
Details These Rebel Waves (Stream Raiders, #1)
Reviews These Rebel Waves (Stream Raiders, #1)
I think perhaps Sara Raasch is just not for me. Though her books always sound compelling, I once again find myself distanced from the story by the writing, unattached to the characters, and generally apathetic towards whatever was going on.Sorry to disappoint, but the rumours of gay pirates in These Rebel Waves are false. I guess this will continue to be where I get my gay pirate fix (CW: homophobia, mention of rape). It's not the author's fault;...

ARC provided by the publisher via Edelweiss in exchange for an honest review.Friends, this just was not the book for me. And you know I hate writing "negative" reviews, so I'm going to try to keep this on the shorter side. But this book and the writing was just equal parts boring and daunting for me. Plus, the magic system was not explained, the characters were hard to like or believe, and I never cared enough to root for any of them. But I...

Actual rating: 1.5 starsYou can find this review and other non-spoilery reviews @The Book Prescription🌟 Expectations is the keyword here, if you see the top reviews on GR, you will see that they are all readers excited for a "Gay Pirates" story, after seeing all those reviews I was pretty sure that was what we are getting. Obviously, apart from a minor focus on an LGBTQ character, this has nothing to do with the whole "Gay pirates" thi...

"'As much as I don't know you, raider, you don't know me. You have no idea what I am capable of.'Vex considered. 'You're right—I don't know you. But I know who you want to be, princesa, and that might be more dangerous to you.'" Snow Like Ashes left me high and dry, but I had high hopes for this one because one, gay pirates and two, gay pirates. Honestly a more wonderful combination of words could not have been invented other t...

Holy crap. That was so good. Vex is a babe and officially on my book boyfriend list. The world was complex but well explained and thought out. I enjoyed both the political side and the magic system. There was just enough balance to make it interesting.

ARC provided by Edelweiss in exchange for an honest reviewThis isn't a bad book. As in, it's not badly written or lazy or offensive. It doesn't deserve to be relegated to a low rating with books that are all of those things. It just really didn't do it for me. Part of the problem is that I allowed myself to be swayed by hype. I should have compared the hype to the blurb because I was not in the target audience for this book at all. This b...

**I voluntarily read and reviewed an advanced copy of this book. All thoughts and opinions are my own. Any quotes were taken from the advanced readers copy and as such may not be accurate or present in the final version**I buddy read this book with the super awesome Amy from A Magical World of Words. We had the best chats and I always enjoy a buddy read with a #squad member.I really adored this book. Having not read anything by Raasch before I wa...

Without a doubt on of my top reads for 2018. Holy plot twists Batman! I loved the characters in this book so much. Omg I need Book 2 right now because I am not ok!

I received an e-ARC from Edelweiss in exchange for an honest review.This is hard book NOT to spoil! There are amazing details, fascinating world-building, from the theocratic regime to a federation-like state with lots of secrets and amazing characters! The romance people was amazing! I loved the pirates, the banter, the angst and the descriptions!

Just awesome!!!(Περισσότερα αν τελικά κυκλοφορήσει...)

I have very mixed feelings about this book! On the one hand, I was interested enough to keep reading till the end because I thought the three main characters each had solid stories to tell. But on the other, the actual writing style, as well as the world itself, was not entirely my cup of tea.

I have been wanting to read this book since the minute I heard about it. I've been dying to get my hands on it, and thanks to an amazing friend I was able to read it and let me tell you... It was worth the wait! This book is just incredible! It has everything in it, adventure, mystery, a lit bit of romance, and some unexpected twists at the end! I loved all three of the leads, they were just so well written, I can't pick a favorite! The world bui...