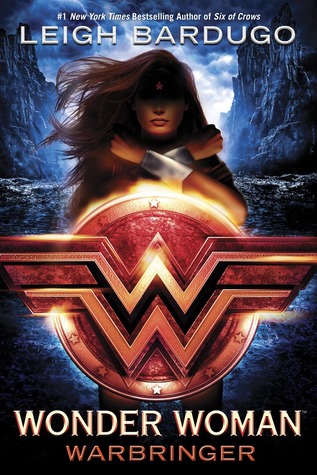 Daughter of immortals.Princess Diana longs to prove herself to her legendary warrior sisters. But when the opportunity finally comes, she throws away her chance at glory and breaks Amazon law—risking exile—to save a mortal. Diana will soon learn that she has rescued no ordinary girl, and that with this single brave act, she may have doomed the world.Daughter of death.Alia Keralis just wanted to escape her overprotective brother with a semeste...
---
Details Wonder Woman (DC Icons, #1)
Title
Wonder Woman (DC Icons, #1)
ISBN

9780399549731

Author

Leigh Bardugo

Release Date
Aug 28th, 2017
Publisher

Random House Children's Books

Language

English

Genre

Fantasy

,

Young Adult

,

Comics

,

Superheroes

Rating
Reviews Wonder Woman (DC Icons, #1)
"Sister in battle," murmured Diana, "I am shield and blade to you.""And friend.""And always your friend." Wonder Woman has gotten quite the makeover this year and I must confess: I really like it. From the movie with Gal Gadot, to this wicked little tale of female empowerment, one of my least favourite superheroes is rapidly becoming a new favourite. And apparently Catwoman, Superman and Batman are also being remade by popular YA ...

4.5*I love Leigh Bardugo SO much and she did such an amazing job with this story. I loved how it showed the power of strong female friendships and just girl power in general. My only complaint is that I felt there wasn't quite enough action for a superhero novel. Booktalk to come!! I will link it when it's up.*Thank you to Chapters Indigo for providing me with an ARC!*

I really thought that by now I would have already been adopted by the Amazons of Themyscira who, admittedly, hated the world of men but found a soft spot for idiotic yet well-intended me, carving a path for me towards self-acceptance after a sixty minute movie/montage of me facing my deepest fears and some nice scenic shots maybe...This book was a good and quite fulfilling substitute for the fantasy though! "The sun sets. An age of heroes begi...

One of the shortest reviews to what I thought would be a long review of one of my favorite comic book characters. Wonder Woman and the Hulk were my favorite characters of all time when I was growing up. I watched and own the shows. I just love them still. Superman followed shortly after and then several more as I got older. Soooooo, I was really disappointed that this book didn't blow me away. I thought it would have all of the stars. I love old ...

''Sister in battle, I am shield and blade to you. As I breathe, your enemies will know no sanctuary. While I live, your cause is mine.'' If you're expecting this to be anything like Leigh Bardugo's previous written works, expect no more. It would be a bad idea if you did, because this is a very different beast.Wonder Woman is a legend, but before she became one, she was just a princess, trying to prove to herself and her sisters that ...

"I imagine all wars look the same to those who die in them." First off, Leigh Bardugo is honestly the queen of writing and I'm not sure what any of us did to deserve her, but I am forever and always going to count her as a blessing. This story is so beautifully written, and I had to tab so many pages with powerful quotes. Leigh also always writes diverse casts that I fall instantly in love with. Like, when do I get a full book about Nim? B...

Okay so this was a definite pocketful of feministic glory. I confess I was worried! As much as I adore Leigh Bardugo, I actually hadn't (UNTIL NOW) read a superhero-adaption-novel that didn't make me feel like swallowing rusty sporks. But this reads fully like a decent superpowered exciting action adventure story and I thoroughly loved it! Even though I will confess it was rather slow. And who the heck knows what's going on with my paperback, but...

Wonder Woman can crush me between her thighs and I'd probably be all heart eyes while she does it. 🤷 \_(ツ)_/i don't think you guys understand how badly i want to live on the island of Themyscira!!! where everything is pure and magical with beautiful, bad ass ladies around every corner!!! anyways, this book is about Wonder Women aka Diana who was made of clay and bought to life by the gods themselves. on an island where every Amazon has prove...

An ok to good book. I would have liked to give it 3.5 stars. There are parts of the book that are really good but on the whole the book is very slow. I think part of what I had to overcome in this story, was forgetting everything I already knew about Wonder Woman. I think Leigh Bardugo did a great job of Diane, but not quite as great on Wonder Woman. However this is not a bad thing as in this story, Diane is quite a bit younger then previous inca...

Written by my favourite author - TICKAbout my favourite DC Hero - TICKIncredile Dialouge - TICKAction on point - TICKDiverse, relatable & fabulous characters - TICKThis is why LEIGH IS THE

There was once a time when I would write reviews that wee NOT lists but those times are over folks, I genuinely forgot how to write paragraphs in my attempts of being an edgy teenager so im back with another list-review, my fav Reasons why You Will Love this Book - Leigh the queen Bardugo wrote it- Wonder woman fictional tale??? Sign me the heck up- Sisterhood and some heartfelt stuff are featured - No girl hate, rejoice my friends- The character...

"I am done being careful. I am done being quiet. Let them see me angry. Let them hear me wail at the top of my lungs." I'm sitting here right now, trying to write a review for this book and I literally just can't think of a fitting first sentence because I'm still so overwhelmed by how amazing this book was. 'Wonder Woman: Warbringer' is one of the books you pretty much fly through, that absolutely absorbs you right from the beginni...

"You dance differently when you know you won't live forever."I have seen the film. And this book is better. Fight me.Full disclosure: I do not care for DC or Marvel. I mean, how many times can an apocalypse be prevented in the last nanosecond until it becomes unrealistic? Until it becomes a cliché? They tell the same story again and again and I am over it. I also do not care for the majority of actors and actresses the companies have hired. ...

"We can't help the way we're born. We can't help what we are, only what life we choose to make for ourselves." I've never been a Wonder Woman fan in my past (I was always more of a Batman type), so I wasn't sure what to expect going into this book, or whether or not I would enjoy it very much, but it came highly recommended by one of my best friends, and it's Leigh Bardugo, which meant, if nothing else, I knew I'd like the writi...

You weren't expecting a rating below 5 stars, were you? xDRead my full review of Wonder Woman: Warbringer!Holy crap on a cracker, this book was freaking amazing! I am utterly speechless, floored, stupefied, and every other possible synonymous adjective. But am I surprised to be feeling this way after finishing this book? Of course not! I'm talking about Leigh freaking Bardugo here. My idol, my inspiration, and in my humble (and totally unbiased) ...

"Sisters in battle, I am shield and blade to you. As I breathe, your enemies will know no sanctuary. While I live, your cause is mine." Maaaan, Leigh Bardugo just became my queen and I'll read anything she writes from now on. I absolutely adore her writing style, she surely knows how to write a gripping story about friendship and with perfect amount of jokes and action. *****21/08/2017MY COPY JUST ARRIVED!I AM SCREAMING!

DNF @ 280 REVIEW TO COME TOMORROW. THE REVIEW IS POSTED She would not fail. And she would not let fear choose her path. me : if this is a dream, please wake me up from the this nightmare that I did not finish the book I anticipated in 2017.me : *closes my eyes and pinches my arm*me : *opens my eyes*me : well, fuck. this isn't a dream.*sighs* I am so disappointed right now. The book that I anticipated and had high expecations failed me. I am n...

"Because the whole world loves to tell us what we can't do, that we aren't good enough. The people in your own house should be on your side. It's the people who never learn the word impossible who make history, because they're the ones who keep trying.I can't even with how much I loved this book. It's a different spin on the Wonder Woman story and it's honestly one of my favorites. Diana doesn't find a man on the beach and get all googly eyed ove...

that plot twist was the biggest power move ever, to say the absolute least- - - 07/24/2017august 26th: depressionaugust 27th: depressionaugust 28th: depressionaugust 29th: 'Alive - Sia (10 hour version)'august 30th: depressionanyway will the fucking release date please come here so i can stop being emo

I've always being a fan of wonder woman, the idea of a strong female not a damsel in distress appeals to my feminism. I've read comic books about wonder woman, watched animations and the movie and I love them all, when I found out about this book and that Leigh was going to write I just could not contain my excitement.This book is everything I thought it'll be and more. The world building is so explicit and the setting perfectly depicted, I h...

Before I start this review, I think you might want to know 2 things:1) I've only ever read Shadow and Bone by Leigh Bardugo. It was fun but nothing impressive.2) I'm not a DC fan. Not that I hate it, but rather that I don't know much about it to decide if I'm a fan or not. I haven't read any of the comics and I've only watched a movie or 2. So my knowledge about Wonder Woman is very limited. That's why, I won't compare this book t...

I probably look like a snotty frog right now and I'm honestly okay with it.THIS BOOK IS OUT OF THE WORLD.Here's the run through:•Diana is the strongest badass supermodel. Also, she's clueless about this whole human world which is btw THE SMARTEST WAY TO ADD HUMOUR. Pat on the back to you Bardugo haha I just love laughing at characters who are supposedly smart and great and strong immortal yet placed in another world, they instantly become...

Well this was just stupid. I couldn't take this seriously--at all. The stakes, the storyline, the characters--it was all so silly and unrealistic to me. *** Check out this review for a more comprehensive, succinct, fair, and well stated POV on this book, I really think it's worth the read (the reviewer did a much better job than me--I'm just a repetitive mess in this XD).***What basically happens is this girl named Alia washes ashore the Amazon's...

A hymn to feminism, girls supporting girls, friendship and bravery!Thank you Sankta Leigh Bardugo, for giving us such a precious sunbeam called Diana.*Well, now more than ever these kind of books are important, for what they stand, for their values. Go Leigh!

WrensReads Review:This book was marvelous. Bardugo took a legend and made an empowering, feminist book that will help women come into their own. Like I want to go stand on top of a building and look down at the world. Swing down and punch some misogynist in the face and show them how great women are. I might be channeling my inner Spiderman with that last comment... wrong comic company. Let's get back on track.*puts on the wonder woman costume ...

Oh. My. God. That was absolutely fantastic. All the stars in the world to this super fierce, action-packed and kickass masterpiece of a book. Kudos to the queen aka Leigh Bardugo <3I miss my babies already omg I loved all these characters so much?????? Theo is my precious cinnamon roll that needs to be protected at all costs! And the female friendships in this book were so beautiful, I'm tearing up <333 AND all the characters are POC (except Dian...