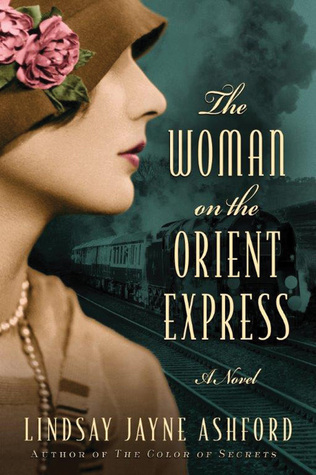 Hoping to make a clean break from a fractured marriage, Agatha Christie boards the Orient Express in disguise. But unlike her famous detective Hercule Poirot, she can't neatly unravel the mysteries she encounters on this fateful journey.Agatha isn't the only passenger on board with secrets. Her cabinmate Katharine Keeling's first marriage ended in tragedy, propelling her toward a second relationship mired in deceit. Nancy Nelson—newly mar...
---
Details The Woman on the Orient Express
Reviews The Woman on the Orient Express
Throughout my life I have always enjoyed reading mysteries as palette cleansers in between heavier reads. Whether its a contemporary series or historical stand alone, I am intrigued over the prospect of whodunit. Yet, my favorite mystery writer remains the Dame of British crime, Agatha Christie, especially cases featuring her Belgian detective Hercule Poirot. When I found out about a historical novel featuring Christie, I was equally intrigued. L...

Three women are on the Orient Express on their way to Baghdad. Each one has a secret. Circumstances throw them together, and strong bonds are forged between them. This fictionalised account of an actual train journey that Agatha Christie took imagines what might have happened on that trip. Fact is mixed with fiction, some characters were real people, others not. It happened in 1928 when Agatha was depressed due to her ex-husband remarrying. When ...

I approached this book not knowing beforehand about the fact that it was a fictional account of Agatha Christie's journey on the Orient express. I was amused by the premise when I began reading. But soon I was invested in the tale.Most of the journey from Calais to Istanbul made for an absorbing perusal. If you know where to look, there are references to Poirot's fictional journey in the same train. There is even a mystery in the story.Most of th...

This wonderful, historical novel, mixes fact and fiction and puts Agatha Christie at the centre of a story based loosely on real life. It is 1928 when Agatha has divorced her husband, Archie, after he told her that he was in love with another woman. She has endured endless press speculation about her life, especially after the incident where she went missing after the breakup of her marriage. Now, with Archie about to re-marry, she is feeling for...

I gave this 5 stars on "Audible" so I will do the same here. If I had just read the book it probably would have been a 4/4.5, but the narration by the very talented Justine Eyre was superb, thus the 5 stars. The writing was very good, and the concept of the story and the plot was great. Ashford created an excellent set of characters for her story, and if you're going to have Agatha Christie be one of them, you better have your A-game. She pulled ...

2.5★I read a lot of favourable reviews for this title & I did think about breaking my longstanding rule - only freebies for my Kindle. I loved the cover art & a fictionalised account of Agatha Christie's trip on the Orient Express & subsequent adventures in the Middle East sounded right up my alley. Very high rating on GR too.I'm so thankful I didn't pay for this book! The book had a reasonable start & I loved some of the descriptions of the th...

3.5 stars Audiobook narrated by Justine Eyre Brief description I have never read any books by Agatha Christie, but this book just sounded as if it was right up my alley. Although the fictionalized story only partially takes place on the Orient Express and it isn't a standard mystery, readers are introduced to three women all fleeing the past and heading to Baghdad. Distancing herself from the approaching second marriage of her ex-husband and the ...

I didn't have a clue what the book was about when I started to read this book. I thought this book would have some kind of mystery that that would inspire Agatha Christe to write one her mystery books. It wasn't until I had read perhaps half the book that I read the blurb and I'm glad that I did not read it before because I thought it gave away a little too much for my taste. I preferred to discover key events rather than knowing before I start a...

I thoroughly enjoyed this book. I am such a huge Agatha Christie fan, she's the #1 author for a reason. Her books are always something I look forward to reading. When I saw this book I was instantly intrigued. Even though this is a fictional account of Agatha's time after her divorce from Archie, there are quite a few facts interwoven throughout the story. As Agatha makes her way on to the famous Orient Express, she meets two other women travelin...

Of all the films made from Agatha Christie books, Murder on the Orient Express has always been my favorite. In the back of my mind ever since, I have wondered about the train, The Orient Express, as it seemed like an amazing way to see and experience life and history all at once.This book offered me the next best thing, plus a fictional account of a time Ms. Christie traveled on the train following her divorce in 1928. I just loved this book and ...

The train ride to Damascus is long. The stoppages and well met along the way both squalid and elegant. The women interesting and troubled. All for various reasons. The book is too long. The travelogue stops both smelly and breath-taking to visuals. The women (our prime three) both insular and chatty. And secretive. All for various reasons.At the 3/4th point of the book I would have given it a 3 star and noted it was a good emotive "he done me wro...

3.5 - just for fun stars.I think Agatha Christie would be delighted to find herself a fictional character involved in an oriental adventure in the company of two other women that she just happened to meet on a train. Ashford's imagination of what might have happened on Agatha's voyage on the Orient Express in 1928 felt true and possible, and what more can you ask?I needed a palate cleanser after two many hard, serious books, and this little gem w...

Femeia din Orient Express este cadoul ideal pentru fanii Agathei Christie. Glasul lui Hercule Poirot o însoțește pe autoare într-o călătorie exotică, sursă de inspirație pentru viitoare romane și personaje. Prietenia dintre ea, Nancy și Katherine pornește de la o rețea complicată de secrete, dezvăluite în celebrul Orient Express și pe un sit arheolgic, unde Agatha îndrăznește din nou să viseze, să spere și să se îndrăgos...

Shades of Agatha Christie indeed! Not only is Christie herself reinvented as a quasi-fictional character, but the author has Christie find ideas from her journeys that she will use as themes for the novels she will write. Several other real people appear as characters too - archaeologists Leonard Woolley and Max Mallowan, and Woolley's wife Katherine. As much of the emotional drama of the book revolves around failing marriages and awkward sex, I ...

The Woman on the Orient Express is a fictionalized account of Agatha Christie's journey to Baghdad in 1928, after her first marriage failed. Along the way she befriends two women. All three are keeping certain secrets, but they eventually bond and confide in each other. I liked this a lot more than I thought I would. It's not a mystery, just a gentle tale about friendship, a little romance, and making the most of second chances.

The Woman on the Orient Express is a good solid drama. A steady and interesting read that has a few surprises. The main character is Agatha Christie and many of the people in the book actually lived. The story starts out with a visit from a young acquaintance coming to visit an aged Agatha. The young man wanted information about some people Agatha had known a long time ago. So the story proceeds with Agatha recalling/retelling of her experience w...

"Ai încredere în tren. Căci trenul, ca viața, trebuie să meargă până ajunge la destinație. E posibil să nu-ți placă întotdeauna ce vezi pe fereastră, dar, dacă tragi perdeaua, vei pierde atât frumusețea, cât și urâțenia." Femeia din Orient Express m-a dus cu gândul la un citat foarte drag mie, care cred ca ilustrează în cel mai scurt și mai profund mod ideea principală a cărții: "Inima unei femei este un ocean adânc...

Recenzie video https://www.youtube.com/watch?v=Fp6PS...

This is one of the few books where I did not read the synopsis before reading the book. All I knew of the book was it was a mystery and probably involved Agatha Christie. There were mysterious elements about the lives of the women Christie befriended on the Orient Express but this book was really about the life of Agatha Christie with fictional accounts interweaved into the story. I found myself immersed in Christie's life and enjoyed learning ab...

I came upon this book while surfing GoodReads on a lazy day.The fact that it features Agatha Christie (though in a hugely fictional role) attracted me, and I started asap.Three strong ladies -Agatha Christie, who is travelling by the Orient Express to escape the sordid details of her divorce from Archie, her first husband, Nancy, a newly wed socialite running away from her cruel husband, and Kathleen, a self assured archeologist feature as the ki...

Mysteries beyond the Orient Express! Enthralling!Set in 1928, the story opens later years with Agatha Christie, now a grandmother, being visited by a young man. He has with him a photograph of Agatha and two other women. One is his mother. He wants to know more about them, and in doing so, find out more about himself. He is convinced there is a mystery surrounding them that affects him. Agatha shares their story.Meshing together fact and fiction ...

An enjoyable read, partly fact (I think not much fact) and a lot of fiction about Agatha Christie's trip on the Orient Express to Baghdad in 1928 following the divorce from her husband. Makes me want to read Death on the Nile, and Murder on the Orient Express. Loved the movies, never read the books.

Distraught over the break up of her marriage, Agatha Christie actually boarded the Orient Express, enroute to Istanbul and had adventures there.This author has woven facts about Christie's life into the setting which makes this novel seem real. It was a very interesting concept and the dialogue was quite similar to how chacters speak in an Agatha Christie novels. However, the plot seemed a little heavy handed. (I may have been spoiled, because I ...

I liked this book far more than I had expected to. I have not yet read any of Agatha Christie's works, and yet the rich story & character development of this book still made it at least a 4-star read that kept me very engaged! The narration was lovely as well. :)

This book had some interesting parts, but I felt that it wasn't very well written. The first half was pretty good, but it seemed to just peter out at the end. I liked the IDEA of the book better than the actual writing. Still, it kept me going to the end.

I was a huge Agathe Christie fan as a teenager and in my early teens, and although I have not read much by the author since devouring all her books in my youth, this amazing woman still intrigues me. Therefore I was quite excited when the audiobook version of The Woman on the Orient Express popped up in my recommendations from Amazon earlier this month, hoping to find out more about the mystery still surrounding the author's life. Focusing on e...

This was a WONDERFUL book! I loved the descriptions on the Orient Express, the travel to the Middle East, the characters, I was totally caught up in it all. Its a fantastic book and Im surprised it wasn't published by a well known publisher. They missed out. GREAT BOOK!

**I received a free copy of this book from Lake Union Publishing through NetGalleyThis book started out a little slow for me and, even with only three main characters, I had some trouble keeping the women and their respective men troubles in order. Really glad I stuck with it though because while I do still feel that the way the stories are broken up is confusing at times, each of the three perspectives are interesting and unique and the descript...

There's is a superb amount of historical context and research put into this book, but it is just dreadfully boring to read. I really think that the main issue with this book was that it just tried to cram TOO much into it.As a reader you start out with a weird as crap beginning of some dude popping up to Agatha Christie to talk about the past, but in a creeper/stalker/spy type of way; which even after reading it still didn't make a lot of sense t...

In 1926 Archibald Christie asked Agatha Christie for a divorce; Agatha Christie disappeared for 11 days, suffering from what was termed a mental fugue. In 1928 Archibald Christie married again. This fictional story depicts Agatha disappearing again on the eve of Archie's wedding, traveling incognito on the Orient Express to Baghdad. This was an interesting mystery, but not a murder mystery. While aboard the train Agatha befriends two other wome...