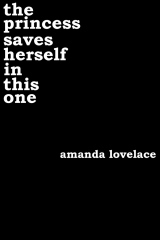 "Ah, life- the thing that happens to us while we're off somewhere else blowing on dandelions & wishing ourselves into the pages of our favorite fairy tales."A poetry collection divided into four different parts: the princess, the damsel, the queen, & you. the princess, the damsel, & the queen piece together the life of the author in three stages, while you serves as a note to the reader & all of humankind. Explores life & all of its love, loss, g...
---
Details The Princess Saves Herself in this One (Women are Some Kind of Magic, #1)
Title
The Princess Saves Herself in this One (Women are Some Kind of Magic, #1)
ISBN

9781532913686

Author

Amanda Lovelace

Release Date
Apr 23rd, 2016
Publisher

CreateSpace

Language

English

Genre

Poetry

,

Feminism

,

Nonfiction

Rating
Reviews The Princess Saves Herself in this One (Women are Some Kind of Magic, #1)
hittingenterafterevery worddoes not makeit poetry.Or maybe it does these days. Between the highly praised Lang Leav and this latest Goodreads Choice finalist, I guess these emo tumblr quotes are the modern version of poetry. Call me old school, but I kind of expect something more. Some of these sentences are nice, sure, and some of them tickle the inner emo that lives inside us all, the one that occasionally makes us stay up late sobbing over Ell...

icanwritepoetry toobut i preferto write bookreviewsso ihavedone apoetical reviewhere goesthis book isnot poetrynor is this reviewpoeticali have justdecidedto bashmy enter key becausefor some reasonpeoplewilllike itand call itpoetrywhen reallythereisno artor skill involveda chimp coulddo iti have not evenbeenclever with wordsor theirplacementbut i didrandomly useitalics and putsome words inboldi am alsoafraid of grammarand capital lettersthough r...

Okay. Yeah. That was....well, not my favorite ever thing. I feel like I just read my middle school AIM away messages or 200 pages of emo Myspace updates. I need to go listen to some Dashboard Confessional STAT.I love the idea. I love the sentiments and the lessons, and CERTAINLY the feminist ideas at work here. If I saw any of the platitudes expressed in the "you" section on Tumblr, I'd happily reblog them. I definitely appreciate the raw emotion...

"when i hadno friendsi reached insidemy belovedbooks& sculpted someout of12 pttimes new roman-& it was almost good enough"I've been eyeing this book for quite a while now. I saw it on GR and Instagram and tumblr - so often, that I finally made the decision to buy it. I should give myself a high five for that. It only took one single page (the dedication) for me, an undying Potterhead, to fall in love with this beautiful collection of poems. So ra...

The Princess Saves Herself in This One was a fairly emotional read for me. This poetry collection is divided into four different parts: the princess, the damsel, the queen, & you. And there were a lot of parts that really hit home (especially the princess), so much so that I had to put the collection down for a minute and think.The Princess Saves Herself in This One explores life & all of its love, loss, grief, healing, empowerment, & inspiration...

I'm sorry (I'm actually not sorry) BUT THIS ISN'T POETRY.WTF is this?ah, life—the thing that happensto us while we're offsomewhere elseblowing ondandelions& wishingourselves intothe pages ofour favoritefairy tales.THIS IS A FUCKING RIP OFF OF A JOHN LENNON QUOTE. I shit you the fuck not."Life is what happens to you, while you're busy making other plans."These are tumblr quotes. This book should never have been published, OR, if it was going...

I've seen a lot of reviews debating whether this is poetry or "tumblr spacing" but I think that's ignoring the main point of how powerful some of these poems really are. Amanda completely put herself out there in a totally vulnerable way and the result is a really raw, emotional collection of important insights that will be COMPLETELY relatable to so many young women!

This was such an empowering collection of poems. It was brutal, honest and deeply personal.

scatteringwordsondifferentlines isnotpoetry!

"the paindid notmake mea better person.it did notteach me not totake anythingfor granted.it did notteach me anythingexcept howto be afraidto love anyone."WOW. TW: Abuse, self harm, eating disorders, suicideI was expecting I would never read this, and if I did, I really wouldn't like it. In my head, it fell under the same category as Milk and Honey, which I really, really did not enjoy because to me it lacked a lot of depth, creative writing...

Instagram || Twitter || Facebook || Amazon || Pinteresti didn't realizethat poetry could be achievedby hitting the enter key &then breaking up a sentencewithaspacewho knew that all this timemy english teachers were wrong?- go to hell, robert frost--- So this is going to be a tricky review to write, because opinions have really diverged on this book. Looking through the reviews of THE PRINCESS SAVES HERSELF IN THIS ONE, you immediately see that so...

I want to review this honestly and go into the details about why I do not like this book of poetry. Every time I do though, I get attacked by random people who seem to have a fascination in seeing me die in random, and unimaginative, ways. Therefore, under duress: This book of poetry changed me. It is utterly 'brilliant' and 'should' be read by everyone. The way the author puts this piece of 'amazing' literature together is done 'incredibly' well...

Still loved it the second time around.I have no words. This was unbelievable. I'll write a proper review once my heart settles down.

I wish I could give this 5 stars. But hitting Enter after each word (or Space after each letter) does not make for poetry. It simply doesn't.Other than that, I love The Princess Saves Herself in this One! Amanda, I understand your feelings completely. I know all about the sugar and the salt. My fingers were never slender enough. Nor were my ankles. Then I was too skinny. Then I became too fat. I was always told when getting a bad grade that I wou...

I did notintend to read this book butsomehowI did and I fell in loveSo. . . I'm not usually into poetry. Yes, I've always found it quite intriguing and fantastical how a few short rightly placed words could hold such powerful and deep message. How a few short rightly placed words can create a world and a galaxy and a universe of unlimited possibilities. How a few short rightly placed words can evoke emotions of sadness, love, anger, or happin...

that is what abuse is:knowing you are going to get saltbut still hoping for sugarfor nineteen years. And so began my journey of love with this collection.You'll notice I didn't use the beginning quote. Well, I didn't love this from the very beginning. Towards the beginning, I found the formatting slightly annoying. Some poems were fantastic and new and interesting, but some almost made me snort from their cheesiness. At times I feel Amanda Lovela...

I told myself that I would read this poetry book very slowly, even if it meant reading only one poem a day, a week, or however long in order for me to take the time to fully appreciate the words. Obviously that didn't happen when I finished it no more than 20 minutes later from starting it. XD It wasn't a very long poetry book to begin with but I didn't expect to devour The Princess Saves Herself in this One in less than 30 mins! :PI was just ins...

➳ 3 1/2 starsI've seen many people write The Princess Saves Herself in this One off as not being "real" poetry, or "Tumblr Poetry" (used as a derogatory term)—but as someone who's extremely critical when it comes to reading material, I actually liked it, and I'm surprised that it hasn't quite reached the critical acclaim Rupi Kaur's work has.However, no matter the merits of the claims of it being fake poetry (who's to judg...

Let me start by saying if there was a 0 star review this collection would have gotten it. Honestly feel like I've been robbed, and rarely do I have that feeling. Moral of the story, don't buy a book based on the title and Goodreads review alone, research into its content first. Here's a list of reasons why I am doing you a favour if you don't buy this book: 1. If you thought you were getting a modern Sexton or Carter, based on the idea of moderni...

"Once upon a time, the princess rose from the ashes her dragon lovers made of her & crowned herself the mother-fucking queen of herself."I picked up this book immediately on my Kindle app after reading the lovely Mayflower's review.I really enjoyed this!I adored the use of imagery, especially the idea of slaying the "dragons" in your life that do not serve your self-interest. I also very much appreciated the clarification on what qualifies as abu...

This book wasn't for me. I just didn't find the poems that profound or that good. However they were extremely honest and personal and that's what I did like about them. While I was reading this, I just kept thinking "what makes this poetry?". I don't mean to sound horrible but I just don't see how a lot of these poems are actually considered to be poems. I also felt like I had read so many of them before. It felt sort of like deja vu, not only wi...

This is a deeply personal set of poetry that all tells a story. It was moving to read someone's story with a heart so open. I found these 2 poems meaningful to me:1 You were sent down from the stars exactly the way you were supposed to be- the way you would love, the way you would lust, & the way you would find your wings-- & no one should have been given the power to take that away from you.2 The only thing required to be a woman is to identify ...

I'm not criticizing, belittling or making fun of what the author has gone through by any means, it's just pure personal opinion of a book whose title I found to be intriguing. I only read this book because it won the Goodreads award for Poetry, and honestly I wanted to know why, and I somehow couldn't find the reason, maybe it's me.I'm gonna make this review as simple as the poems.So, why two stars?1. The poems were very personal that I actually ...

"The princess jumped from the tower & she learned that she could fly all along. - she never needed those wingsWhat a beautiful book holding beautiful and powerful words. Some I could relate to and hit close to home. Truly beautiful.

Whenever I've have ratings less than 3 in GR.I dont express much in my review !It was just like that.

To be perfectly honest, I only checked out this poetry collection because it won the Goodreads Choice awards (although the title it pretty great as well!). And I think I might be too old for this book. I am fairly sure I would have loved this collection of auto-biographical poems at 15. I might have actually needed this collection then but didn't have it. Amanda Lovelace speaks to my inner teenager in a way that makes me appreciate her poems, eve...

*ARC provided by NetGalley in exchange for an honest review, thanks again*- 1.5 stars -For me this felt more like creative writing than poetry. The author wrote like t h i s and this andthenlikethis,whichfeltpointlessafterawhile.But, jokes and personal preferences aside, what she said in this collection didn't feel so original.I want to be clear from the start: I'm not criticizing what the author went through or what she felt during those times ...

The Princess Saves Herself in this OneSo let me begin by saying that poetry is not for me. I have read poetry as a student both at school and university. I am not into it no matter how hard I try. I read this one in a terminal while waiting for my flight to arrive. Due to lack of free time, I have learnt to read quite fast so I read this one pretty fast, too. Perhaps a mistake. Personally, I was left with emotions of misery and nothing more.First...