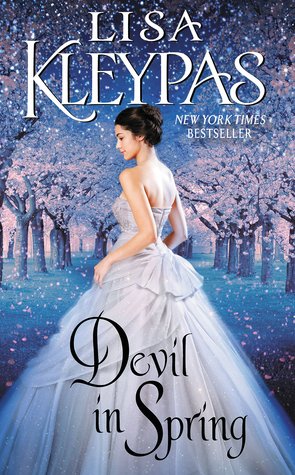 An eccentric wallflower…Most debutantes dream of finding a husband. Lady Pandora Ravenel has different plans. The ambitious young beauty would much rather stay at home and plot out her new board game business than take part in the London Season. But one night at a glittering society ball, she's ensnared in a scandal with a wickedly handsome stranger. A cynical rake…After years of evading marital traps with ease, Gabriel, Lord St. Vincent, h...
---
Details Devil in Spring (The Ravenels, #3)
Reviews Devil in Spring (The Ravenels, #3)
Gah!!! "I'm not your enemy," he managed to say. "You're not my fiancé, either." "Not yet." "Not ever." Gabriel wanted to pounce on her. He wanted to haul her into his arms and kiss her senseless. This book is everything a historical romance should be. From its unforgettable characters to its sparkling and witty dialogue, Devil in Spring not only met but exceeded my very high expectations. I loved this book and these character...

This one is hard to rate. For me, anyway.The first half of the book was easily 5 stars. EASILY! Pandora was adorable, plucky, and sure of what she wanted out of life. And Gabriel is charming, funny, considerate, and sexy. I just sat back and waited for the sparks to fly!The meet-cute was adorable! With just the right amount of humor, silliness, and historical must marry for appearances nuttiness that keeps me coming back for more of these sorts o...

2.75 starsMixed feelings over this one. A recurring theme for me in 2018. *sigh* Some parts I enjoyed and thought were cute. Other parts? Bored me silly. That's why it took me so long to finish this. 3 weeks to finish a Lisa Kleypas book is unheard of for me. But to be completely fair I've also had hectic life get in the way of reading. I've been tired, stressed, sick and moody as hell so it was hard to even pick up a book and read.Did I ha...

Devil in Spring takes the cake! Persevering and good intentions notwithstanding, I'm sorry to say that after having left Cold-Hearted Rake and Marrying Winterborne quite disappointed, this third book in the Ravenels series has surpassed them by a long shot and has managed to be both boring and irritating in a way I haven't encountered in a long time. If you put together a faux rake and a petulant childish woman, add an inconsistent plot awkwardly...

5 stars - Historical RomanceThis was a delightful read, and I especially loooved Gabriel! He was just too yummy, swoonalicious perfect to be true! I really enjoyed all the witty, charming exchanges between him and Pandora. Pandora frustrated me at times with her insistent reluctance, and I felt like it took a bit too long for her to appreciate Gabriel and return his affection. Still, this was a wonderful romance!

I know that I'll be in minority, but I had problems with this one...First, let me tell that Ms. Kleypas writes very well and that I love her style! And that's the ONLY reason I'm giving this 3 starts rating.When I read the prologue, I was rubbing my hands a avidly read on... At the beginning the story was so promising: fanny, whitty dialogue, headstrong and indipendent heroine, a charming hero... But from their marrige on the things went so fast ...

I love the Ravenels!Every last one of them. Just as much as I loved The Hathaways, The Wallflowers, and anything else Lisa Kleypas has ever written. I never realize how much I miss historicals until I pick up a Lisa Kleypas book--then I want to reread her whole darn catalogue over and over again!And omg, to match up clumsy, clever, ambitious, independent, free-spirited Pandora with irreverent, seductive, somewhat of a rake-about-town Gabriel, Lor...

This has to be one of the best books Ms Kleypas has written in years! There's just nothing to dislike in this book, seriously. I LOVE THE COVER!!!!!!!!!!!!! 24th June:

OMG, OMG, OMG!!! I have just died and gone to heaven!!!Watch this:Lisa Kleypas' videoAnd then read this:Sneak peek

"I'm not your enemy," he managed to say."You're not my fiancé, either.""Not yet.""Not ever."Gabriel wanted to pounce on her. He wanted to haul her into his arms and kiss her senseless. Unlike most debutantes Lady Pandora Ravenel has no plans to marry. She has dreams of making her board game business a success, of being free to do as she wants. She refuses to throw away her freedom on a man and marriage. Not even for the wick...

La reseña completa en el blog!!! http://www.virivillarreal.com/2017/10... «Son criaturas peligrosas las florero... Hay que aproximarse a ellas con la máxima cautela. Se quedan silenciosas en los rincones, pareciendo abandonadas y tristes, cuando en realidad son sirenas que hacen caer a los hombres. Ni siquiera te darás cuenta de en qué momento te arranca el corazón. Y una florero no te lo devuelve nunca.» ¡¡¡Gracias Lisa por volver!!!...

4.5/5If you asked me which one book was my most desired book of the year, I would answer, without any hesitations, Devil in Spring. I mean I cried when I heard who the book would be about, so that speaks volumes. Honestly, a book need only have Lisa Kleypas' name on it for me to want it. But this book, I wanted because I fell in love with Pandora Ravenel in the previous book. And secondly, it features the son of Lisa Kleypas' most iconic coup...

3.5 stars.If, like me, you have read and adored Devil in Winter, you probably have been eagerly anticipating this book featuring the grown son of Sebastian and Evie, now the Duke and Duchess of Kingston. And if, like me, you read the prologue on Lisa Kleypas's website last year, where Sebastian seduces a nursery maid, playfully pretending not to know that she is actually his wife, your anticipation grew even more. And you may be asking whether th...

When We First Meet Pandora (Our Heroine) In Cold-Hearted RakeYou Can't Help But Fall For Her Quirky, Wild WaysThen The Excerpt Was Released In Marrying Winterborne And I Lost My MindSebastian And Evie's Son As The Hero Be Still My HeartPandora The Heroine Is Me And I Am Pandora Here Are The Facts...................Pandora Is A Klutz - I Am A Klutz"Pandora decided to take another tack. "You do not want to marry me, my lord. I would be the wors...

I'm being generous with my stars because one of my favorite book-boyfriends in HR, Sebastian Saint Vincent, is the father of our hero, Gabriel Saint Vincent. He's such a DILF!!!So, Gabriel is a rake and as gorgeous as his daddy. He gets caught in a compromising position with our heroine, Pandora. Even though it was completely innocent, she is ruined unless he marries her. He is willing, but she isn't. This perplexes our rake because, hey, who wou...

Everything I hoped for.Quickie review...I loved it.I was an emotional/hormonal goose reading Devil in Spring. At times I was so overwhelmed that I had a lump in my throat because of the feelings it brought out in me. It wasn't because I was sad, it was more about seeing someone who is a wee bit different, finally finding acceptance. We are all different in our own special way. Some of us accept our differences and/or quirky ways and own it. Other...

Gah!!! "I'm not your enemy," he managed to say. "You're not my fiancé, either." "Not yet." "Not ever." Gabriel wanted to pounce on her. He wanted to haul her into his arms and kiss her senseless. This book was everything a historical romance should be. From its unforgettable characters to its sparkling and witty dialogue, Devil in Spring not only met but exceeded my expectations. I loved this book, these characters so much. L...

He disfrutado con esta novela como con pocas este año. Bueno, para cualquiera que vea mis reseñas no es un misterio que Lisa Kleypas es por lejos mi escritora favorita en romántica y siempre sé que, al menos para mí, es una carta segura.La historia de esta entrega gira en torno a Pandora Ravenel y esto no es menor, ya que si bien tenemos un buen protagonista masculino (hijo de Evie y Sebastian St. Vincent, ni más ni menos), es ella la que s...

The heroine is smart, adorable, energetic - I LOVED HER.The hero is swoony and warm and kind and the way he courts the heroine is ADORABLEJust pure romance. I loved this book.

To say that I didn't care for this book would probably be a massive understatement. I think part of it was because it was a new Kleypas in general, but also because it was Sebastian and Evie's son And...well. Yeah, I could've done without it.(Unmarked spoilers, of course.)For starters, one of the things I dislike greatly is not only books featuring virgins with manwhores, but especially those that feel the need to recount the experiences of said ...

This review was originally posted on Addicted To Romance Summary Lady Pandora Ravenel isn't like all the other debutantes, she isn't preoccupied with looking for a suitable match, or talking non sessically about the weather, she is always looking for new designs for her board games and the best ways to implement them. While doing a favor for a friend, she gets caught in a delicate position and before she knows it she is compromised by none o...

3.5reseña completa: http://masromance.blogspot.com.es/201...Creo que con esta novela se demuestra el saber hacer de Lisa Kleypas. Nos atrapa con un prólogo en el que aparecen en escena dos de sus personajes más aplaudidos. No sé si esto viene motivado por el cariño especial que ella misma les pueda tener o por una elección más de negocios.El caso es que la novela ha empezado muy bien, unos personajes que, pese a que no me ha gustado mucho ...

I've had mixed feeling about this book ever since Lisa Kleypas revealed its connection to her classic Devil in Winter. On the one hand, I thought it'd be lovely to see Evie and Sebastian again, but on the other hand I'm always weary whenever an author feels she has to revisit an earlier – and much more popular – book than her recent works. Now that I have finished Devil in Spring, I must say that it was delightful to see some of her wel...

Re-listen April 2018. Not much time to read, lots of time to listen, though!!Downgrading this.I still don't find Pandora as annoying as most of my GR friends. Okay, there's this one thing where I must have completely blacked out the first time round: when she renames the footman. What the heck? Sorry, there's no excuse for that.But let me rephrase my first statement. On re-listen,I still didn't find Pandora as annoying as Gabriel. Pandora's antic...

Lisa kleypas devil in spring is the third book in her ravenel's series and its a awesome passionate love story between Pandora ravenel and the handsome as sin lord Gabriel st. Vincent. Pandora has no plans on getting married,and Gabriel's not ready to settle yet,but when these two are caught in a scandalous moment their lives will change.I love Lisa's historical romances their full of passion,sensual love making and the happy ending too. Her char...

Mama said men were like a box of chocolates."Fact #99 Men are like chocolate bonbons. The ones with the most attractive outsides have the worst fillings." Series: Oh yes, one more and I will be caught up!Sexy times: But of course. Tame except for a little journey into tying one's lover up in her corset ties.Plan on reading more by the author: But of course.Synopsis Pandora, Pandora, Pandora. Oh dear. She gets herself into a compromising position ...

No soy muy fan de la Kleypas, es más, hasta hacía unos meses me resistía a leer cualquier novela suya. Sin embargo, esta serie me ha atrapado; mucho el primer libro, poco el segundo y éste, claramente, es un sí pero no. Es decir, la actitud de ella a veces me ha parecido más el de una cría mimada que otra cosa; y la parte en que él decide echarse la culpa de lo que pasó... Bueno, aunque dicho así suene a mucha queja, no lo es, y como ev...