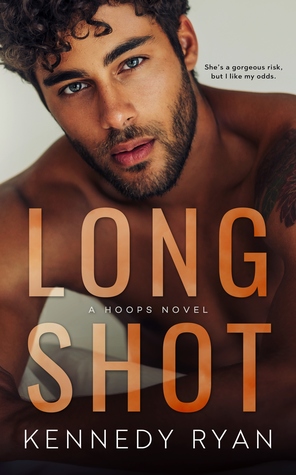 A Standalone FORBIDDEN LOVE SET IN THE EXPLOSIVE WORLD OF THE NBA...Think you know what it's like being a baller's girl?You don't.My fairy tale is upside down.A happily never after.I kissed the prince and he turned into a fraud.I was a fool, and his love - fool's gold.Now there's a new player in the game, August West. One of the NBA's brightest stars.Fine. Forbidden. He wants me. I want him.But my past, my fraudulent prince, just won't let me go....
---
Details Long Shot (Hoops, #1)
Reviews Long Shot (Hoops, #1)
Long Shot by Author Kennedy Ryan is a sports romance, forbidden love novel. It is a standalone. "If you were mine, Iris, there would be no doubt what position you'd hold in my life. You'd be center. I'd play you at the five."I usually try to give a brief, non-spoiler idea of what a novel holds...kind of like my own blurb for the book. I can't do that for this novel, because it will not do it justice. Long Shot is a must-read. A gut-wr...

#loveandbasketball #sighswoonswoosh #taketheshotKennedy Ryan doesn't just write stories, she provides a reading experience with a rich, beautiful narrative and has once again blown me away with the sheer power of her writing. This author is not one to shy away from exploring the full depths of her characters and the world they find themselves in, and never has this been more apparent than in, 'Long Shot.' It's raw, thought provoking, and edgy...

⭐⭐⭐⭐1/2! Long Shot (stand-alone). A bad decision, years of regrets, a love that could never be, but for the dream that kept them alive! "If you were mine, Iris there would be no doubt what position you'd hold in my life. You'd be center. I'd play you at the five." Books in Hoops series are stand-alones:Book 1: Long ShotBook 2: Block ShotBook 3: Hook ShotLong Shot (stand-alone) is the against-all-odds love story, spanning yea...

5+ stars!!! "Even when you think you're defeated, dig deeper. Go harder. Press, because there is something worth it on the other side." Long Shot is a book that left me speechless once I finished reading. That doesn't happen to me very often, but the story was so profound, it took me a while to find my words. This book is unlike any story I've read before. It's one of those books that will stay with me. If I had one word to describ...

5 STARS Such powerful and beautiful story, my heart *sigh* I'm still thinking about it!Long Shot is one of these stories you'll never forget, it's one of these stories you will read again and again and it will stay with you!I have so many feelings while I was reading it, my heart was aching for Iris and August!Long Shot was a heartbreaking,intense and sweet story. From the moment August met Iris it is obvious that there is attraction between them...

"Please tell me you feel this, too. Tell me I'm not fooling myself that we'll be good together." Well, fuck. This was nothing like I expected it to be and almost everything I wished it was. I think so many people need to read this and give it a chance because Long Shot is a whole new ball game. (wink wink ;)There are some heavy themes that are dealt with, with such elegance and suspense that I really enjoyed this as a read and I was also ...

**Long Shot generously provided in exchange for an honest review.**5+ "Take the Shot" StarsThe distinct, prominent, and important voice of author Kennedy Ryan speaks volumes in Long Shot. This book hails as an emotional experience in reading as Kennedy Ryan daringly takes a risk to stand up, tall and proud, and use her voice to enlighten, to prove love eventually conquers all, and to pay tribute to the strength and resolve all good men and women ...

5 Stars "If you were mine, Iris, there would be no doubt what position you'd hold in my life. You'd be center. I'd play you at the five." Holy Moly this was one powerful read! Kennedy Ryan's writing grabbed hold of me from the beginning with a connection between Iris and August that spans years. Centered around two NBA ball players and a beautiful young women fresh out of college. Iris is driven by her own career dreams and aspirations....

"The heart speaks in whispers, but sometimes by the time we listen, it's too late." It's been days since I finished reading this book and I still have NO IDEA how to put coherent words down. I'll tell you this. I went into LONG SHOT by Kennedy Ryan completely BLIND! I didn't read ANY of the early reviews and I barely read the synopsis, because once you see this author's name next to the title, there really is no point. You're gonn...

"The Heart speaks in whispers"Corinne Bailey Rae This book is long 514 pages to be exact, but somehow did not feel that long, but it is a heart-breaking novel that touches your soul from the word go, I read this book in small steps as it broke my heart on some pagesI am not really one for sport novels, I do not like any ball game to be honest, that being said this book was different and hooked me, it is written over a few years, how August an...

I've commented a few times as I've read this book that it is nothing like I expected. Nothing like I expected in a good way. It showed me a completely different style of Kennedy Ryan's writing. And it was stunning, beautiful, and tragic At times Long Shot was difficult to read because of the emotions it stirred in me. I raged a bit then steeled myself to face some more. And it was so worth it.Iris is one of those book characters who will st...

I think that the saying never judge a book by its cover apply so well there. I genuinely do not think that I can find the right words to describe how this book made me feel. I should have known better… I should have known that as far as Kennedy Ryan is concerned, she never writes easy stories that make you dream. She writes stories that make you feel and think about your existence, about the meaning of life and love. I got drunk on her words an...

First and foremost, I really want to emphasize that this is a book about abuse and what it is like to be in a very dangerous and abusive relationship. MAJOR trigger and content warnings for a lot of graphic rape, stalking, being trapped, and a lot of very graphic physical, emotional, and mental abuse. This read is not easy or light, but it very importantly talks about taking back your own body after someone has been forcefully taking it for so lo...

5 stars!Review at Of Pens and Pages. It's only in the contrast of night, when things are darkest, that the stars shine." It's 5 stars. No question. If I can give all the stars, I will. This left me completely speechless. You guys, you need to read this! This book completely wrecked me, then slowly built me up again. It's a story of heartache and healing, and ultimately of love. Plus, I've never read a basketball romance before, so I was so happ...

4.5When I read Grip by Kennedy Ryan last year, I used the word "important" to describe it. If I had to use one word to describe Long Shot, I would use the same one. This book helps give a voice to millions of people that suffer and are judged by others that have never gone through the horror they've experienced or still experience every single day.  "She is singular, obliterating every kiss that came before her, eliminating the possibility of a...

I've read every book from Kennedy Ryan and what characterizes her work is that she always goes big. Epic. In every sense of the word. It's the same with Long Shot. She has a clear point of view with this story. She doesn't hold back and goes with her characters where it hurts. Long Shot is brutal, raw and heartbreaking but it has to be cause it's the truth given the topics this book centers around. Nothing is sugarcoated and the actions a...

5 "BestOf2018Read" StarsThis book.......took me on a journey. A very raw, emotional, stripping of my soul journey. One that made me feel as if I was in the story experiencing all the highs and lows, the joys and sorrows, the hopes and fears, and the strength and determination of characters that engrained themselves into my soul. With the visual clarity of the author's vivid, heartfelt, and passionate words, this story felt real, raw and pai...

Update: Pls don't forget to read Bonus Epilogue! And for more info pls check Ms.Ryan's IG post...☺https://www.instagram.com/p/Bhryn6Dh5wv/Btw bonus epilogue was so beautiful! ❤❤❤------------------- Ours is a love that reimagines—that peels back the sky at high noon searching for the stars, collecting them like shells in a bucket. We bathe in stardust, drink from the Milky Way, and dance on the moon. We pierce the firmament, peer into in...

I L♥VE sports romance and Kennedy Ryan so this is a MUST READ!!#MarchMadnessYep, what I said above the graphic, prior to reading the book, rings true! The combo of a favorite author and sports romance made for one stellar read. The bravery demonstrated in this story is the heart and soul of this book. It's always easy to judge someone else's situation and have a solution for their situation but without walking in their shoes no one can kno...

4.5 Stars ❝ Ours is a love that reimagines—that peels back the sky at high noon searching for the stars, collecting them like shells in a bucket. We bathe in stardust, drink from the Milky Way, and dance on the moon. We pierce the firmament, peer into infinity, and tread on time and space. There is no before. There is no after. Now gives birth to forever. This moment may die, but this love never will. Time is not a line. It's a circle, and...

I'm not gonna spend a lot of time trying to come up with words to describe this book nor look for a way to express how good this book is. It's really simple. This book owned me. Tore me up. Sank my heart. Then I swooned, I fell hard for a NBA basketball star, a really good one that healed my heart, named August West. So in easy words, if you can handle a story about abuse, many lies, and about finding someone that will love and protect you wi...

What an absolutely wonderful, moving story by Kennedy Ryan! I got a quality story with plenty of plot, lots of drama, and more romance than smut. Exactly the kind of book I love. Exactly the kind of story that keeps me coming back for more. August and Iris take you on a roller coaster of emotions throughout the book. I loved their story and I really loved how August stood up for her. The physical chemistry between them is good, but what really so...

All the Stars in the World!This book was so much more than just an amazing read. This was an experience. An experience that at times made my heart ache. So many times, I had to put my kindle down and catch my breath. It felt too much sometimes. Too real, too raw. But this story needed to be told and Kennedy Ryan did a phenomenal job. "Sometimes the heart speaks in whispers, and by the time we hear, by the time we listen, it's too late and we don'...

2.5 StarsOverall Opinion: Yet again I feel like a broken record here. Why oh why can't we get some good closure?! We have such troublesome times that we experience with these characters...is it so much to ask for some more of the good stuff thrown in to balance it all out?! The drama seemed a little too OTT as well. At the time of reading it I let it go thinking that we would get those happy times to even it all out, but sadly I don't feel like I...

LONG SHOT March Madness Party - Monday, April 2The prizes have already started! All my author friends will offer prizes Monday! And the grand prize is a Kindle Fire and signed LONG SHOT Paperback! →Join the LONG SHOT March Madness Party: http://bit.ly/LongShotPartyIT'S LIVE & FREE in KU!Enter the $100 Gift Card Giveaway: http://bit.ly/2IGiUrt→Join the LONG SHOT March Madness Party:http://bit.ly/LongShotPartyChapter Reveal & Giveaway (Signed L...

I just knew going into this one, that there was gonna be angst...lots and lots of angst. But I am a though chick, so I figured I could hack it Of course I overestimated my thoughness   That's oke though... No worries ;)This book contains the EPIC love story of August and Iris, which spans over multiple years.  These two meet up one night in a bar, and share an instant connection. While Agust would love to explore this connection further....th...

5 "Play You at the Five" Stars!It's official! I will read ANYTHING Kennedy Ryan writes! ANYTHING! This book was "nothing but net!" And it deserves all the stars!This was a tough book to swallow. But I expect nothing less from the likes of Kennedy Ryan. This author is just phenomenal. She doesn't just write. Her pages are filled with not only romance, but hope, soul, compassion, forgiveness, you know all those hard topics we tend to shy away from....

*4.5 stars* What a great book! This was such a beautiful, heartbreaking story. When Iris and August first meet their timing is off but they never stopped thinking about each other. So many things happened before they could finally be together, but that made their love story that much more powerful. I have so much respect for Iris. She literally went through hell, but she survived and came out stronger. August is so amazing! I love his tenderness ...

"The heart speaks in whispers"-Corinne Bailey Rae Wow! Long Shot actually, literally and irrevocably blew me away. I was desperate to get my hands on this story after reading the very intriguing synopsis which whet my appetite with forbidden love. I'm a massive sucker of forbidden love stories and to be honest, it's probably my favorite trope. I love the whole premise of falling in love with someone you're not meant to; being whole hea...

5 #IdPlayYouAtTheFive 🌟🌟🌟🌟🌟 If I had to describe KR' writing, then I'd start with consistent, her writing consistently surprises me, she has a way with words that has you coming back for more. She always, ALWAYS does her homework, her research is thorough, and it shows. Long Shot was no exception. Yes it tackles a tough subject, and yes it was hard to read at times, but it will be one of my favourite reads from Kennedy so far, and...