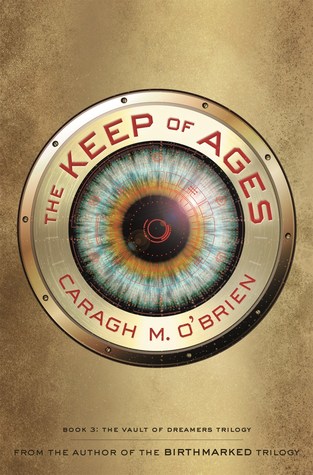 The Grisly Valley horror-themed amusement park has been deserted since the nearby nuclear meltdown made it a contamination zone. But Rosie Sinclair is headed to Grisly anyway, following an elusive trail to rescue her kidnapped family. As she crosses the country, she dreads that Dean Berg is holding her family hostage and once again manipulating her every move to increase her fear, priming her for a final, lethal dream-mining procedure.As she stru...
---
Details The Keep of Ages (The Vault of Dreamers, #3)
Title
The Keep of Ages (The Vault of Dreamers, #3)
ISBN

9781596439429

Author

Caragh M. O'Brien

Release Date
Aug 29th, 2017
Publisher

Roaring Brook Press

Language

English

Genre

Young Adult

,

Science Fiction

,

Dystopia

Rating
Reviews The Keep of Ages (The Vault of Dreamers, #3)
well, i guess i feel accomplished? this was an easy read in the sense that i was able to finish it in nearly one sitting, but the book itself was a little disjointed. there was just so much faffing about going on. honestly, everything necessary could have been condensed down to 10 pages. not a very solid ending to a series, in my opinion, but im glad i saw it through. 3 stars

***Review posted on The Eater of Books! blog***The Keep of Ages by Caragh O'BrienBook Three of The Vault of Dreamers seriesPublisher: Roaring Brook PressPublication Date: August 29, 2017Rating: 4 starsSource: ARC sent by the publisherSummary (from Goodreads):In the fast-paced, high-stakes conclusion to Caragh M. O'Brien's Vault of Dreamers trilogy, Rosie travels to a derelict theme park to shut down dream mining once and for all.Driven by fear wh...

I had a love, hate relationship with this series from the start. I love the plot and premise but I find Rosie to be annoying. She is a bit unlikeable and also whiny. However, the plot and premise of the trilogy really helps the reader to continue on past her. This is the final book of the trilogy based on dream mining and adds a couple really intriguing characters that end up playing a good size role in get the finale underway. However, I found t...

The Keep of Ages is the third, and final, installment of The Vault of Dreamers series by Caragh M. O'Brien and if you haven't read any books in this series, you may want to check out my earlier reviews and then of course, go dive into book one so you can see why I enjoyed this series so much. With that said, I will try to avoid spoilers for this third book but can't promise for books one and two so now you are warned.As this book picks up, ...

*Source* Publisher*Genre* Young Adult, Science Fiction*Rating* 3.5*My Thoughts*The Keep of Ages is the third and final installment in author Carah M. O'Brien's The Vault of Dreamers trilogy. As the story picks up, Rosie Sinclair returns home for the first time in 6 months to find her family missing. Rosie knows that her fight against Dean Berg won't truly end until she can find a way to stop him once and for all. Even if that means traveling to ...

MY FEELS!! Oh my feels! This was one roller coaster of a ride and I admit that I'm sorry Rosie's story is over. This was an amazing finish to a wonderful trilogy. I cannot wait to read what Caragh writes out next!Full review can be found here: https://agingerlyreview.wordpress.com...I have been waiting on pins and needles for the third and final installment in The Vault of Dreamers trilogy. It was a heck of a wait and I was not patient about it. ...

You can find the full review and all the fancy and/or randomness that accompanies it at It Starts at Midnight 3.5*I liked  The Vault of Dreamers , loved  The Rule of Mirrors , and quite enjoyed  The Keep of Ages . In all, it was a strong series that I'm glad to have read. I still feel like the second book was the strongest in the series, but I liked the way this one wrapped up the series.The tone for this book was quite dark, both atmosph...

Rating: 4.3 starsWow. I have to say, plot-wise, this trilogy was amazing. I've never read anything quite like it and had a lot of fun reading it. But, it could've been a whole lot better with a more mature MC and no romance. Then I might have considered rating it a lot higher.

The book caused me more stress than I was expecting. I'm not sure I've ever been that stressed... or scared.I LOVE Rosie so much! She's one of my favorite characters ever. I feel like every time I had a thought about something she would say it.There's still unanswered questions so I wish the series wouldn't have ended. I hope she writes something more in this universe even if it isn't exactly about Rosie.Well, I've got to go start reading the ser...

Full review to come on Lisa Loves Literature soon.

The Keep of Ages is the third book in this series, and it was just as engrossing as the first two. Rosie is determined to bring down Sandy Berg, but she's thwarted by him at every turn. As we learned in the second book, he is able to spy on her seemingly everywhere. Now her parents and sister are missing, presumed by Rosie to have been taken by Berg, but where? How will Rosie find her parents and Dubbs, and stop Berg, short of murder?This book is...

******CONTAINS SPOILERS******DO NOT READ The keep of ages is truly amazing. I've read the entire trilogy as it came out. This is the last installment sadly but it was so good all together. I was scared that Thea was good to die when she went into a coma. And the new characters like Areself and Leviana( I can't spell so dont judge) are very important to the end of the book. The chemistry between Linus and Rosie was good but I wanted a little bit m...

Caragh M. O'Brien brings an exciting conclusion to The Vault of Dreamers trilogy with The Keep of Ages! Things in this one were pretty intense with danger looming around every corner! It was a pretty fast paced read that I was eager to see through to its end!Rosie is off to find her family before Berg can get to them, but she's quick to learn that Ian is also on her trail. Though she soon learns that Berg is, once again, one step ahead of her...

I gave all three of these books a score of three stars. I'm waffling about that, because there was so much wrong with them that I could have rated them lower...but I'll stick with it because of the inventiveness. No matter what problems this author may have, she has an amazing imagination, that's for sure.One other thing for which this arc of three books gets a dubious award: The protagonist, Rosie, is without a doubt the stupidest, most gullible...

This book was an interesting adventure. This scifi world is a unique one. Not only is it futuristic with crazy futuristic medical developments, but the settings she crafts within the futuristic world are out of the ordinary in their own right. The town of boxcars, the theme park, and the underground vault are all intriguing settings. The plot was exciting. I missed Thea's perspective, but from the way everything played out, I can see how it wasn'...

This review was originally posted on Blame It On The Books Oh my goodness, I can't believe this series is finished! I feel like I have been waiting for book three for so long. I am so happy to know how the story ends, but I am so sad that I won't get to spend any more time with these beloved characters. If you weren't already aware, I am a huge fan of Caragh M. O'Brien. You can check out my review of The Rule of Mirrors or my interview with Carag...

Un troisième tome en-dessous des 2 premiers :* Une seule narration : on suit uniquement Rosie alors que j'avais adoré suivre en alternance Rosie et Théa dans le tome 2* Des longueurs, des passages qui auraient pu être raccourcis... De fait, je me suis ennuyée à certains moments, même quand il y avait de l'action.* Je suis très déçue de la fin de cette trilogie qui m'a semblé complètement pas crédible et qui ne tient pas la route. Sin...

This book brings the Vault of Dreamers trilogy to its conclusion. Rosie takes center stage once again while Thea, the girl who shares her consciousness, plays a secondary role. Rosie is determined to stop Dean Berg from mining memories and implanting them in others. She is also driven to save her family from Berg's clutches. He uses Rosie's parents and younger sister as weapons to make Rosie follow his orders. Berg is obsessed with her, convi...

Fans of this dystopian series will enjoy the twists and turns of this satisfying end to the trilogy.Rosie has finally made it back home but her sister, mother and step-father are not there as Dean Berg has once again gained the upper hand and kidnapped them.Rosie is still committed to exposing to the world how Berg is using the vault of dreamers as she she knows he will never stop his pursuit of her so he can once again access her vivid dreams as...

I was given this book by the publisher for an honest review. Let me say first, I do not generally like 1st person stories. The seem clunky to me and often I can't finish them. This book is in 1st Person but not nearly as annoying as many I have read.The heroine is Rosie Sinclair and she is in the process of escaping from the evil Dean Berg. Her previous encounters with Berg have nearly ended in her death and she is not anxious to have him capture...

A solid conclusion to the series, but there were certain things that bothered me. (view spoiler)[ WHY DIDN'T THEY EVER CALL THE POLICE???? I understand when it was just Rosie since Berg was her guardian and they wouldn't believe her, but once he kidnapped her family, and other people heard him and she could have easily recorded him and taken that to the police with other people backing her up, why do this alone? It made no sense. There was never ...

This entire series was well written with just the right amount of suspense. Caragh O'Brien also sent many subtle red herrings throughout each novel, which was impressive. There were a very few 4 letter words, mostly shi*, and the romance was basically clean as well. This was refreshing in light of current mainstream YA literature. The main character is a bit stupid when you consider all of the times she allows herself to get in helpless situati...

I have waited with anticipation for this final book in the trilogy, but I was disappointed on several pieces. I felt like I was transported to the apt in Cali and to Grisly lark. Those details were great. I loved Dubbs and felt her character was well developed along with Mrs. McClellan. I kept thinking the story would've been more believable if Rosie hadn't charged right into the vault to get captured. That just seemed dumb! I liked the build up ...

I love this series, I've read the books since they came out. I've waited for every book eagerly, and I have been very happy with it. When I got this book I was so excited to read it, and when I did I loved it, but the end seemed a little rushed. Linus and Rosie's relationship wasn't something that was part of this book much which made me sad. I loved their relationship and I would have liked to have known what went on between the two after this e...

Finally found a way to finish this book (I'd started it in a Barnes & Noble and then couldn't find it anywhere!)Unfortunately, this last installment didn't do it for me. The premise behind this series intrigues me, and like I've seen from other reviewers on here, O'Brien gets points for creativity, but I found myself more determined to finish so I could finish rather than because I wanted to know the ending. Maybe it's because I took so long to r...

I agree with other reviewers. I liked the Vault of Dreamers...although it was a little slow in the beginning and I kept on asking myself, should I continue. Then I started into the second half and was hooked. I quickly grabbed the second book - The Rule of Mirrors and was hooked immediately. I just finished the final book - The Keep of Ages and I liked it but not as much as book 2. What I do like is that each book continues the story line within ...

This trilogy is one that definitely made it hard to put down. I feel like this book did a great job keeping up the fast pace that the second one had and made me want to just get the the end to find out what happens. The imagery was one of my favorite things because I really felt like I was right there along with Rosie as she experienced everything at Grisly. Overall, I would recommend reading this trilogy and the only reason I gave the last one f...