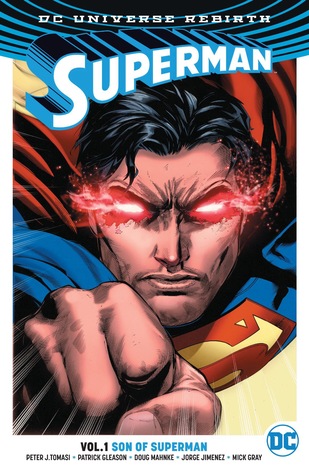 After the stunning events of DC Universe: Rebirth, the world is left without Superman! Luckily, there is another Man of Steel to fill his shoes: the pre-Flashpoint Kal-El! However, can this new Superman protect the world while raising a super-son with his wife, Lois Lane? And should they help their boy use his new and rapidly increasing abilities, or hide them from the world?Along with all-star illustrators Doug Mahnke (Final Crisis) and Patrick ...
---
Details Superman, Volume 1
Reviews Superman, Volume 1
4.5 starsOh my god, they finally got Lois Lane right!Yes! I love this version of her. She's not an angsty whiner who's constant spilling secrets or idiotically trying to get the story at all costs - she's smart, kind, tough, & funny.And if you come after her kid, she's gonna fly to the moon, put on a Bat-bot costume, and kick your ass!You'll probably have to read this for that to make sense...So, yes, I'm 100% digging this Superdad thing!For a lo...

Peter J. Tomasi and Patrick Gleason, the creative team best known for their New 52 Batman and Robin run, try and recapture that title's magic by applying a similar formula to Superman Rebirth, giving Superman a young son sidekick - and unfortunately the result is not nearly as good. Superman has a son now? you might ask, and, yeah, apparently he does! The New 52 Superman is dead and a flashback to the famous Death of Superman storyline where Su...

Originally reviewed at Bookwraiths.Since I pretty much hated the New 52 Lois and Clark, it didn't take much to improve things in my eyes, but I have to say WOW! I really loved this book. The art was great. The story was fast-paced, exciting, and explosive. But, mainly, I loved it because of the characters: Lois, Clark, and their son Jon.The core theme of Son of Superman is family. This pre-Flashpoint Clark Kent dealing with guilt and worry over...

"It's not about our powers, or strength, or heat vision. It's about character." This is why I read Superman. Tomasi and Gleason are at it again, writing a compelling story with mind blowing illustrations. Only complaint I have is I don't exactly know why we're here, who the Whites are, or why there are two Superman. That's my fault for having not kept up on DC's "easy to follow" continuity in Rebirth. Following the awkward mashup of Final Days of...

You know the Batman trade is in trouble when i like the Superman trade more, but this was super adorable. It focuses on Clark, Lois and Jon keeping a low profile back on the farm and it doesn't sound like the greatest adventure ever, nor the most exciting plot but it's actually a really sweet read. It does move past the whole 'other Superman' thing quickly which is good because that story line just needs to end. Instead you get to know more about...

I hated everything about this comic. From the fact that it was supposed to be a fresh start for new readers but was ultimately a continuation of some previous story arc, to its dumb and nonsensical Terminator rip-off plot, to complete lack of subtlety in storytelling and character development, to the ugly-ass artwork. But there is one particular aspect of this book that absolutely drove me mad.So Supes has a son called Superkid, or something. He'...

This is by far my favorite Rebirth title. Peter J. Tomasi knows how to write family dynamic. If you have a family, this book hits even better. If not, well it's still really well written. Superman is trying to find his place. Trying to be the replacement the world needs now that their Superman has passed away. The single shot issue helps establish a conflicted Clark but once the main story hits, when you see the reason he's worried, is because of...

Having read a couple of DC's Rebirth titles, it did seem like a light was shining on the publisher following The New 52, which, for many readers thought was considered a disappointment. As for Superman who really is DC's shining example of what a superhero should be, we are always wishing the best for him even if he has featured in many bad comics, as well as having witnessed a poor cinematic portrayal nearly a year ago with Batman v Superman...

I wanted to like this better than I did. Although the art is outstanding and the story is good, too, I'm having trouble feeling the love for Clark Smith. My heart still yearns for Clark Kent.

Finally a Superman writer I can get behind. This was a brilliant story. I know Tomasi from his great run on X-O Manowar and I'm glad he's gone on to write some good stuff I just hope he does some independent stuff soon. This volume is about the Eradicator and lost souls of krypton. But this is the Superman from another dimension taking up the mantle. All in all, great action, artwork, writing and also heartfelt, just how I like it.

I received this from Edelweiss and DC Comics in exchange for an honest review. It seems that the Superman books are the cream of the crop with DC's Rebirth. This one, like the Action Comics volume, reintroduces the Superman family, and paves the way for a promising future. I really like how the Eradicator was handled in this one, too.

Good! This is definitely one of the better Rebirth titles; Peter J. Tomasi I feel is a writer, who never blows my socks off with his stories, but he gets the job done, and never writes a bad story from what I've read! This one is no exception, and its a solid title; compared to Action Comics, its clear its superior in the story department, and unlike Action, it gets the family element right, mainly because Lois and Jon, don't stand around and cry...

Rebirth has been one the best things that could have happened to Superman Tomasi and Gleason make the perfect duo. I loved Batman and Robin (Series that you should read because they would be bringing elements from that series to this one), and I'm sure that I will love this too. Enjoyable from beggining to end. This issue brings back all the things that we like and adds some new things to bring Superman to a new era.

Great story!!! Good action and plotting. The family dynamic seems to be new angle to the Superman story. The artwork is amazing. Great start to the series.

I read this as single issue comics; collection contains issues #1-6 and the SUPERMAN: REBIRTH one-shot.I've really been enjoying the Rebirth relaunch of the DC line; and the Superman books have been particularly interesting to me as it has brought back into play the previous continuities Superman.This first volume pits Superman, Lois, and their son Jonathan against the Eradicator. A strange machine bent on protecting the purity of the Kryptonian ...

[Read as single issues]Fresh off a hugely successful run on Batman & Robin, Peter Tomasi and Patrick Gleason grab hold of the next most popular father/son duo as the Pre-Flashpoint Superman returns to the DC Universe with his wife Lois and 10 year old son Jon Kent. As they try to find their place in the world, they also have to deal with our universe's Eradicator, who wants to murder Jon. Supes ain't havin' none o' that.You can tell Tomasi and Gl...

Closer to a 4.5, if I'm honest. A really heartfelt debut for the returning, pre-Flashpoint Supes. It's clear Tomasi and Gleason still have father-son relationships on the brain, after their sterling run on Batman and Robin.The middle drags a bit, and Eradicator isn't a very interesting villain. But, just like a Marvel film, you're not here to see the baddie; you're better off focusing on the wonderful family unit of Clark, Lois and Jon, or the no...

Superman kicks off the Rebirth era in strong fashion with Son of Superman.Following the death of the young Superman, an older version from the now-defunct post-Crisis reality begins to emerge from the shadows. This Superman's been hiding out on the DC Earth for years, with his wife, Lois Lane, and their young son, Jonathan. The other heroes begin to become aware of him, though they don't exactly trust him. Jonathan's emerging powers inadver...

Is this title going to be focusing on Superman as husband and father? It seems that way from the first volume. I'm not complaining about that. For me, the scenes that feature Clark acting as a mentor to his young son are the strongest in the book. It's where this version of Superman differentiates himself from virtually every other version out there. Because let's face it, sometimes Supes can be a little too powerful and morally upstanding for hi...

This wasn't bad but there are a few things I didn't know (and still don't know all the details about): Between Nu52 and Rebirth something major happens with Superman(s). This story picks up with a Superman who is married to Lois and they have a son. The main theme of the book is how do you raise a son in these circumstances and how do you help him learn to use these powers for good, etc.?There's a villain of course, which helps to force some of t...

One of the major themes in this graphic novel is that of father and son. While the 52 Superman has been protecting the planet, the original has been living a quiet mid-western life with his wife Lois and son Jonathan. Now he comes out of retirement to put the cape on once again.Superman is the father of the Prodigal Son (Luke 15) waiting for Jonathan to come to him confessing his struggle with his developing powers. Especially after the unfortuna...

I know something was done just right that there were at least two instances in which John Williams' iconic theme could've appropriately blared forth from the colorful pages. What was also nice about this collection was the family affair angle - Lois (a.k.a. 'Mama Bear') and Jon accompany and ably assist our title character throughout the adventure without falling victim to an Idiot Plot. Truth, justice, and the Americana feeling (including but no...

Welcome back Superman. This is a Superman I can cheer for. He comes out of hiding and becomes a source of hope for the world. I particularly like the focus on his family. Both Lois and Jon do their part to defeat the villain. I don't want to spoil anything, but Lois is definitely not the damsel in distress of old. Overall, this is a big improvement over the new 52 Superman.

Strong story and strong art.

After five years of the love-it-or-hate-it New 52 where DC's pantheon of superheroes where altering into younger, edgier, and less experienced versions of themselves, DC is has ushered in a new era known as Rebirth. DC's Rebirth is not about another reboot, but more about honoring and accepting the companies entire 75+ years in comics. This means many of the most loved aspects about these characters has returned in their more approved status....

This was a blast! I'm a fan of Tomasi's writing and this feels like a version of his Batman and Robin run, but with the fun dialed way up.As a '90s kid, I like the villain who shows up. Lois is great. Supes is pitch perfect. And Jon is not annoying (I'm looking at you, Damian)!Overall, a very good start for the Rebirth title and a strong Superman book.

AND HIS HEAR TO STAYThis comic did something for me: This made me care about Superman, they made me care about Lois Lane and especially they made me care about Superboy(Jon). Superman is one of those characters through the years I think is boring, maybe because the concept of all powerful goody-two-shoes that can beat anyone is boring for my taste but this book changes it.In DC: Rebirth we say goodbye to the younger/old Superman of the NEW 52 and...

This is without a doubt the best of the DC Rebirth books. Peter Tomasi along with artist Patrick Gleason and Doug Mahnke have brought back the since of wonder, excitement and fun to the Superman comic books. What I love the most about this book is how Tomasi mixes the best of what has come before but with the addition of Jon the son of Superman he takes the mythos into a bold new direction. Reading this book is like watching your best friend grow...

I saw last time I was at the comic store that DC was going to resurrect the whole "Super Sons" thing with Damian Wayne and Jon Kent. I rolled my eyes and scoffed, having read some reallyyyyy dated comic from decades ago where the two team up, speak in some horrible slang, fight crime together, and if I remember correctly, they eventually die?!! But this is so far the absolute best that I've read so far of the whole Rebirth thing. It seemed to inv...

Despite the brightly energetic and fun art, this fresh take on the Man of Steel doesn't fly so high...Here we are, years and years and years (and years, and years, and years...) after we were first introduced to Superman, and so much has changed. *upcoming sort of spoilers that shouldn't really be spoilers if you have basic knowledge of the story but still has major spoilers for the New 52*Clark Kent is dead. Yup, he's dead (not sure how long tha...