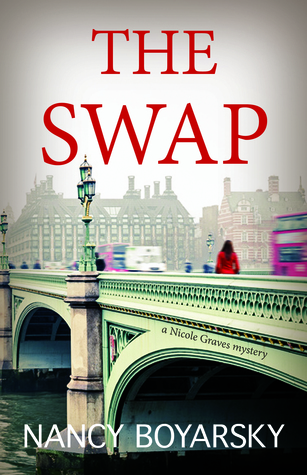 The Swap begins when Nicole Lewis, young woman living in Los Angeles, arranges a summer-long swap of her condo for a London couple's house. She thinks it's the perfect arrangement. She's always dreamed of seeing the real London, not just the tourist spots. She'll be able to accompany her husband, Brad, on his out-of-town work as a trouble-shooter for his company. It will also give her a chance to keep an eye on Brenda, Brad's assistant,...
---
Details The Swap (Nicole Graves Mysteries, #1)
Title
The Swap (Nicole Graves Mysteries, #1)
ISBN

9781611531886

Author

Nancy Boyarsky

Release Date
Feb 7th, 2017
Publisher

Light Messages Publishing

Language

English

Genre

Mystery

,

Thriller

,

Crime

,

Fiction

,

Adult Fiction

Rating
Reviews The Swap (Nicole Graves Mysteries, #1)
Nicole and her husband Brad have arranged a house swap for the summer while Brad is working in London. Except the London couple never arrive at Nicole and Brad's house in LA and not long after they arrive in London strange things start happening to Nicole. First someone breaks into the house and then she is followed by a couple of thugs and threatened. The police aren't very helpful and neither is Brad who seems distracted by work so Nicole is le...

It all sounded good in theory: when Nicole's husband Brad is offered a short working stint in England with an IT company over summer, Nicole thinks that it would be the perfect opportunity to break routine and rekindle their marriage. The plan is to swap homes with Frederick and Muriel Lowry, a couple Brad has had contact with through his work. However, soon after their arrival in London, Nicole is having serious doubts as to whether this was a...

The Swap: A Mystery by Nancy Boyarsky is a fun mystery book. It is not quite a cozy mystery but it is also not a suspense or mystery thriller (just a very good mystery). Nicole and Brad Lewis are flying to London for the summer. Brad's office has sent him across the pond to handle an acquisition. Nicole insisted on going with Brad because she felt that they need the time together, not apart, to work on their marriage. They arranged to swap hous...

If you are looking for a good book to read you have found it here with this book! It has everything you ever wanted in a good mystery. The story starts out like a vacation any bad vacation, one of Nicole's suitcase turns up missing at the airport, then she and her husband get to the place where they are staying and it looks like a dump from the outside, but it gets better as they get inside the house and start to look around, it's not so bad if y...

The Swap was a quick read because it was a hard to put down book! What started as a house swap summer vacation in London turned into an intriguing mystery. Danger was not what Nicole expected from her trip, but she found plenty.It was well written with lots of suspense and a mystery I couldn't figure out. The author did a great job with lots of twists and turns to make me as paranoid as the main character! It was a fast paced story that had you q...

Nicole Lewis finds herself in a predicament. After Nicole and Brad Lewis from Los Angeles swap houses with Fredrick and Muriel Lowry in London, their world unravels. Brad is a little shady, to say the least. He is a computer executive who his own business in electronic funding on the side. Oh yes, and before I forget, he is also cheating on Nicole.From the start, Nicole meets Inspector Richard H. Reinhardt, who is searching for Fredrick Lowry. Th...

2.5 Stars Read all my reviews on http://urlphantomhive.booklikes.com All the reviews I found on this book were super positive, but I was less charmed.Mostly because I couldn't see how this book was any different from at least a dozen or more books I read before. Nicole swaps her house in California for one in London for the summer to be able to see the real London and accompany her husband, who's working in London. Almost as soon as she arrives, ...

Nicole, is an American who will be staying for 3 weeks in a big house in London, not for holidays but to try to save her marriage with Brad. When some frightening things start to happen around her, she only wants to return home and divorce Brad.Visiting London is one of my favourite pleasures, and staying there for 3 weeks would be my dream. I made a few swap houses in my life, some are better than others of course, but I was never so unlucky lik...

In this story, The Swap. Nicole Lewis arranges a swap of her and her husband Brad house in California for a place in London, where Brad will be working for the summer. Brad's sectary comes also and that was not what she wanted, she wanted time at least a little time with her husband. After settling in the next day she finds out the Lowry's did not make it to their home in California and also there was a problem with the car she left at the ho...

The Swap is the kind of mystery thriller that really kept me guessing. Nicole has gone to London with her husband, doing a swap where they stay in a London couple's home while they stay in her condo in the US. But soon after she arrives in London, strange things begin to happen; a strange man confronts her outside the house, she feels like she is being watched, and then someone breaks in while she is home. Unfortunately, the police don't list...

I won this book in a giveaway, and i got for free through Goodreads First ReadsIt's a nice, fast-paced mystery which i enjoyed greatly!It's a bout two families who arrange for a house swap, When Nicole arrives to London problems start to show up, and as the family which is supposed to get to her house in LA doesn't show up she suspected that it's really bigger than she imagined it to be! As her husband and the police don't really believe her theo...

Gratefully received an ARC copy of this excellent book, and thoroughly enjoyed it. It took me on a trip back to the UK which added to my enjoyment, enabling me to easily visualize the surroundings described. The mystery itself kept me intrigued and unable to put the book down! A few years ago I would have thought the evolving situation was somewhat far-fetched, but not today, as the risk of terrorism has indeed changed innocence of life and the s...

This is a very interesting first book from Ms Boyarsky. Another reviewer likened it to a Hitchcock mystery, and I tend to agree. The plot is fun - what can go wrong when you swap houses for the summer? Well apparently quite a bit. Nonstop action, with not much chance to catch your breath. For me, it was almost too much. I would have liked a little more character development, especially with the mystery man. I also felt the ending was rather abrup...

Kind of a fun read at times but tedious at times. Could have done without all the kidnappings that Nicole seemed to walk straight into every day. Brad was a nasty liar and in the end, Nicole, who was thrilled with her new relationship with Reinhardt, lied to him as well. You'd think she would have learned that lying is not a good basis for a relationship. Won't read another of this series.

This was an interesting read overall. Initially, it took me a couple chapters to get into the story. Nicole seemed a bit bland yet neurotic. I became more interested and involved when the action began. I don't want to spoil the story, but I was rooting for her and most decisions she made. Her escape attempts were partially thought out but realistic given her limited knowledge and increasing desperation. I also wanted to scream at her towards the ...

The Swap is the perfect book for a rainy day. The pace reminds me of Hitchcock. A series of events propel Nicole through London as she attempts to regain normalcy in both her marriage and her life, but she's unable to extricate herself from the maelstrom the Lowrys' disappearance causes. The author's quick pace leaves room for her senses of humor and irony, and her writing style pulled me into the immediacy of each scene. I forgot I was reading a...

Just when you thought it was safe to go on that business trip with your husband, it wasn't. I thought I was so smart when I figured the husband had to be lying, although I do have to admit I thought her husband had a lot more to do with the events that enveloped her than he actually did. Still, this was a fun book and I found myself cheering for her and being surprised at her gumption and willingness to throw herself wholeheartedly into the que...

I am actually disappointed with this book. Although the premise sounded interesting, the story became entirely predictable except for the many loose ends. One red herring is okay. Looking back at the book it seems like it was an entire red herring. The characters were not fleshed out and the plot was sloppy. I don't like sloppy writing when reading a mystery. This book could have been written by a high schooler in creative writing class. A good s...

This book is the kind of mystery I love, a real page turner with a lot of plot twists, continuous action and a narration that reflects a droll sense of humor. I thought the characters were both likeable and believable. I was pulling for Nicole to escape through this harrowing (yet somehow amusing) tale of an innocent abroad who accidentally picks up (or loses) the wrong suitcase, and attracts the attention of some very dangerous people.

I liked it! This was a nice, sit in front of the fire on a rainy day, read. Simply written with some twists and turns that were unexpected. The setting in England was nice with the politeness of the Brits and the underhandedness of the bad guys kept me guessing clear to the end. The adventure of it all was so enjoyable! I would recommend this book to teenagers and upI received a free copy of the book in exchange for an honest review.

The Swap is just the kind of mystery I like, written with intelligence and wit. The story moves along at a lively pace, and the plot kept me guessing until the end. It's vivid descriptions of place made me feel I was along for the wild ride. I was sad when it ended. I hope Nancy Boyarsky publishes more mysteries soon.

Must read from a new author. Engaging, felt like the author really knew London, and intriguing plot. Fresh reading in a very full genre, lots of it really repetitive or boring - this isn't! Do try it.

I bought The Swap because I like thrillers with female protagonists and was intrigued a mystery involving an international house swap - since I've been thinking about doing a house swap myself. Once i started it, I literally could not put it down. Great, fun read!

I really enjoyed this book, a easy read. A mystery set in London & surrounding areas. Will make you think twice before swapping homes with total strangers in another country.

While this is a good story and kept me reading, it does require a suspension of belief. Some things seemed unlikely. Also our protagonist did not always make wise decisions.

Full Book Review: https://awellreadwomanblog.wordpress....It took me forever (a year and a half) to get to this novel on my to-be-reviewed list which is such a shame! And of course when I did get to it, the story had me so wrapped up in its events, that I devoured it nearly immediately. I spent nearly my entire afternoon yesterday in my sunroom reading this novel – the strong breezes whipping my curtains around, and me all cozy on my couch with...

Read my full review Mystereity ReviewsWhen Brad Graves is transferred to London temporarily, wife Nicole comes along in an attempt to save her failing marriage. After arranging a house swap with the Lowrys, Nicole and Brad settle in at their temporary home. Soon after, strange things happen and Nicole begins to feel like her life is in danger. After reporting several terrifying incidents to the police, who are are sympathetic but disbelieving, an...

Loved the first third but then it just started to go on and on and on. Too much happened to ever be believable, and I got bored.

I'm surprised that this is Boyarsky's first novel, it reads as though it were written by a more experienced author.It's exciting, with plenty of mystery and twists. You never know who to trust! You really feel for the main character and what she's going through, although you can see that she brings plenty of it on herself. She doesn't help her own predicament much! Still, internally shouting at characters for being so stupid is all part...

I received Nancy Boyarsky's THE SWAP: A MYSTERY via a Goodreads giveaway. A house swap (London vs. LA) for the summer kicks off a fairly well written mystery. For the most part, the main character, Nicole Lewis, is credible and interesting as she stumbles into a mystery and has to find her way out. The "bad guys" in the novel follow the typical formula for bad guys, but the plot, while predictable, still held my interest until the end. A nice vac...