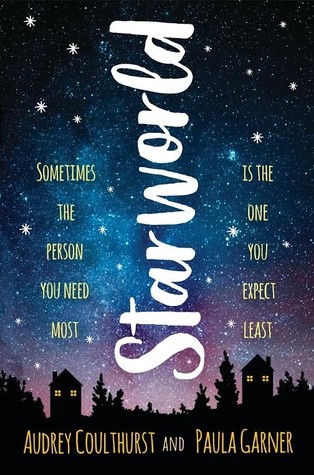 Sam Jones and Zoe Miller have one thing in common: they both want an escape from reality. Loner Sam flies under the radar at school and walks on eggshells at home to manage her mom's obsessive-compulsive disorder, wondering how she can ever leave to pursue her dream of studying aerospace engineering. Popular, people-pleasing Zoe puts up walls so no one can see her true self: the girl who was abandoned as an infant, whose adoptive mother has can...
---
Details Starworld
Title
Starworld
Author

Audrey Coulthurst

Release Date
Apr 16th, 2019
Publisher

Candlewick Press

Language

English

Genre

LGBT

,

Contemporary

,

Young Adult

Rating
Reviews Starworld
I read this book from start to finish in just over 3 hours because I got so sucked into the story. I feel like I have whiplash 😳 review to come later when I've had more time to actually process what I read!

4.5/5 StarsThis story is hopeful, bittersweet, hard-hitting, and affirming all at once. The friendship betweeen Zoe and Sam leaves my heart soaring ❤Also, this book contains:▪ queer rep (note: this is not an f/f romance)▪ mental health rep (OCD & anxiety)▪ adoption rep▪ developmental disability rep(And it was all handled extremely carefully, IMO, which I appreciate.) 4.5/5 StarsThis story is hopeful, bittersweet, hard-hitting, and aff...

* I was sent an ARC copy from the publisher in exchange for an honest review *The ending fell flat because what was being worked up to flopped and didn't happen.

Despite running in very different circles in school, Sam Jones and Zoe Miller have more in common than they think: they both want to escape the difficulty that is their home lives. Sam is a quiet loner, content to spend Sundays with her best friend, Will. She loves the stars, but isn't sure she'll ever be able to study them, thanks to her mom, whose life is ruled by obsessive compulsive disorder. Ever since her Dad moved overseas, the burden of c...

*Thank you to both NetGalley and LibraryThing for a free copy in exchange for an honest review!*Actual Rating: 2.5Hm. I've got mixed feelings about this book. On the one hand, I absolutely LOVE the premise and the idea of all the characters. On the other hand, actually reading the book was a lot less enjoyable for a number of reasons.First though, a blurb. Starworld is written in two main perspectives. There's Sam Jones, who lives an invisibl...

You can find the full review and all the fancy and/or randomness that accompanies it at It Starts at Midnight .Starworld is a sweet book, told from the points of view of Sam and Zoe. (And incidentally, written by two authors whose work I rather enjoy.) There were definitely wins for me, with a few reservations, so I am just going to break it down as such!The Wins: •Holy emphasis on family! This is beautiful, frankly. The times I felt the most...

This book wasn't bad, but it didn't really live up to my expectations.I was so ready for this to be all about a girl obsessed with outer space!! And like, it was, but also it was really more just a standard contemporary but with less romance and not much outer space in it at all. The concept was really good though, and quite unique which I enjoyed.The characters were okay, but neither of them felt super unique? Which I was especially surprised by...

I have received this ARC from NetGalley in exchange for an honest review.Starworld was really cute dammit. Yet, it somehow made me feel disappointed in how it ended? Not quite sure what the whole plan was here but damn, it just fell completely flat. I was underwhelmed and I'm not okay with this.In this book, you will meet Sam and Zoe. I honestly really enjoyed their characters and was amazed with how two writers made everything flow nicely throug...

*loves this book so much* :D :D :D

Talk about being completely blown away by a book that you expected to be a nostalgic whimsy read! Y'all, this book was EPIC and I LOVED it. I loved the synopsis and have a particular weakness for a dual POV book with two authors that each write one of the characters, so this was one I was really looking forward to and it did not disappoint. The basic story is that two girls from opposite ends of the social spectrum end up involved in each other's...

*is wondering why she thought this was going to be a lesbian romance**is thinking about Zoe possibly being asexual*Zoe doesn't think about sex or how attractive she finds somebody while talking about how much she loves romance. That's what allosexual people do, right? I might be reading into it though.*is wondering why she didn't see the thing coming**is thinking about Zoe being adopted and her feelings about it*My dad was adopted and never wante...

What an adorable story. Starworld is the first novel I've read by either author, and I must say I am pleasantly surprised. I enjoyed it much more than I though I would. The fantastical elements of 'Starworld' as designed by Sam and Zoe were outstanding. And the care and sensitivity with which each of their family's issues were covered was masterful. The authors were clearly well-researched and informed. The relationship between Zoe and Sa...

Well, looks like 2019 will be the year I don't waste time on books I'm not enjoying. I DNF'd this one at page 102. Although, I did skip to the end and read most of the last 50ish pages so get the idea of where everything went. And yknow what, I'm totally fine that I gave up on this one. This is one I requested because I loved another book I read by Audrey Coulthurst, and I saw that this one looked sapphic... and well, It didn't pull through the w...

4.5I got this book as an arc and did not know what to expectwowieI got really into this book until it depressed me like a truck to the face.I enjoyed the characters and Sam and Zoe were so amazing but the ending just killed me. A lot of it killed methe premise over all was so cute and sweet and friendshipy that I fell in love but it also broke my heart at the end. I know this is a stand alone but it left me with a want for more of the starworld c...

Sapphicathon: Read a book with a cover you love & Read a book where the romance isn't the focusstorytime: i was robbed of the 2 days it took me to read this

*hopes you enjoy this book as much as I did*Full review to come at kaitgoodwin.com/books! 😊

Starworld by Audrey Coulthurst, Paula GarnerI received a copy from Candlewick Press through NetGalley in exchange for an honest review.Sam Jones is a loner intent on staying invisible and hiding her feelings. Referring to herself as a robot, she's content with flying under the radar until she graduates and escapes her home life. Everything changes when she's noticed by one of the popular girls at her school, Zoe Miller. On the surface, Zoe is...

From the cover to the characters to the hidden secrets buried behind two characters' facades, this upcoming novel explores the depths of emotion and mental illness. OCD, anxiety, adoption, and mental disease are some of the main focal points of this diverse read. I thought it was so beautiful and geeky, but the ending kind of dented my heart in terms of how unexpected it was. I would definitely have hoped for a way different ending, but I guess...

If you read the description of this book and get all excited by the potential lady loving lady vibe, do not pick up this book. I feel like I've been queer-baited into reading this, and it made me super angry.(view spoiler)[Yes, one of the girls does fall for the other, but it is not reciprocated and she has her heart broken. Poor little lesbian with her misplaced affections. I felt like there was so much build up to this as a storyline, but the a...

First, thank you to the publisher and Jean Book Nerd for the copy of Starworld. Second, there was no compensation in the making of this review and everything that follows is my opinion and mine alone.Oh. My. God. Hardly ever is there a YA contemporary that pulls me in every direction, where I can relate to almost all of the characters. I believe the one last year was Eliza And Her Monsters. This year though has to be Starworld.Starworld is a book...

There is a term for these kinds of books that I learned recently, and it's Quiet YA. I think it can be used to refer to books that readers considered underappreciated, but here I'm using it to mean a book that is: heavily based on character development, with stakes that are very personal and not grand and world-changing. Many of these books seem to be on the slower side, though, so if you are always looking for that action it may be a hit and mis...

TW: cancer, adoption, OCD, anxiety, developmental disability.I received an eARC from NetGalley.. Sam Jones lives under the radar and Zoe Miller puts up walls to maintain her people-pleasing status. Both girls are struggling with elements of their home lives. When their paths cross, Sam and Zoe find comfort in each other and in the new world they create - Starworld. But when Sam begins to have feelings beyond friendship for Zoe, their new world ma...

*4.5 Stars*I was provided an ARC via NetGalley in exchange for an honest review.Since her dad left to live in England, Sam considers herself a robot, no emotion, no attachment, the only exception being her best friend, Will. She barely interacts with anyone other than him and her mother and it's not like she can have people over anyway...Zoe's life is perfect. At least, that's what she wants everyone to believe. Her boyfriend is great, her parent...

*I received a digital ARC of this book via NetGalley in exchange for an honest review.*STARWORLD sounded like such a fun idea. Two girls exchange numbers for what is, essentially, a school assignment. But then they start texting each other as an escape from their problems, and together they create Starworld - an adventure through text that grows and progresses with each exchange.However fun the idea seemed, though, I just did not find STARWORLD t...

When Zoe approaches Sam to get her to help the school play, they have no idea of what's to come.Sam's best friend Will is also shocked as he used to fancy Zoe and she never noticed them before now.Zoe however has a lot to deal with, her mum has breast cancer and has to contend with the realities of that.Yet both girls have a lot to learn about friendship and love as well as their family dynamics being solved at last if they can.A pain filled emot...

So. Many. Emotions. I laughed and got teary eyed (which is a big deal for me, this book may have leveled up my Emotions). This book is about friendship, finding out who you are, seeing yourself as others see you, realizing others don't have the perfect lives we think they do, looking deeper than the surface, and so much more.I love Zoe and Sam's self image journeys. They both feel something is wrong with them and they have different techniques fo...

This was good - I think if I was in the target demographic it might've been a 5, but the "Starworld" aspects, while very real to my high school awkward chatting online phase, wasn't fun for me to read. The rest of the story, though, was compelling and the girls' varying difficult family lives kept me reading to see how they'd deal. My heart was broken in parts, because I get what it is to be awkward on top of teen angst on top of hard...