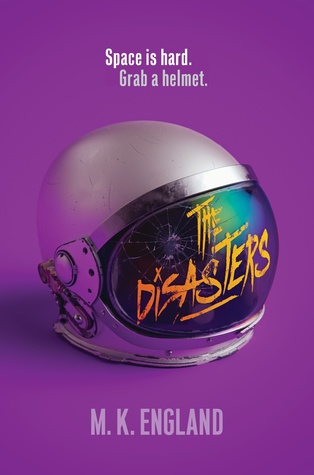 Hotshot pilot Nax Hall has a history of making poor life choices. So it's not exactly a surprise when he's kicked out of the elite Ellis Station Academy in less than twenty-four hours.But Nax's one-way trip back to Earth is cut short when a terrorist group attacks the Academy. Nax and three other washouts escape—barely—but they're also the sole witnesses to the biggest crime in the history of space colonization. And the perfect scapeg...
---
Details The Disasters
Title
The Disasters
ISBN

9780062657671

Author

M.K. England

Release Date
Dec 18th, 2018
Publisher

HarperCollins

Language

English

Genre

Science Fiction

,

Young Adult

,

Lgbt

Rating
Reviews The Disasters
[1.5/5 stars] I feel a little mislead by this book."Space is hard. Grab a helmet." <-I don't know about you, but to me this tagline suggests the Disasters is going to contain a lot of off-planet action scenes. This was very much not the case…In fact, other than the first chapter, at least 80% of the book takes place on an urban colony practically indistinguishable from a city on earth. There was a lot of running from the authorities and g...

Loved loved loved the worldbuilding, the humor, and the way this cast of characters came together for Justice (and money) to save the day. England cleverly negotiated a number of space opera questions (such as: would people who leave Earth for another planet ever be allowed to return, or would we quarantine them off world for fear of contamination?) that I've always wondered about in the Star Trek universe. It was just fast, pure fun from start t...

This book has all the fun things in it: quirky characters, diversity that doesn't make a big deal out of diversity, great witty banter, adventure galore, great world building, and it feels like Firefly meets Guardians of the Galaxy. Really hard to put down. The main character, Nax, has an incredibly original voice, and is extremely relatable. When he and the other rejects of the Space Academy are in a transport back to Earth, they witness a hug...

I have such a weird relationship with this book. Because I enjoyed its charm???? It was BUBBLY. Like little kid Mr. Bubble. I tasted a bubble once and it was not my most promising day. But sadly the charm wasn't enough to sustain my needy self. I enjoyed the story but at the same time I was ready for it to end. Constantly. It was like having a date with Captain Kirk!!!!!!!!!!? There was so much adventuring and not nearly enough substance, which...

This is a super fun read. Readers get a great look at the anxiety and fear of a young pilot coming into their own. They're surrounded by others in similar states, but with vastly different externalizations of similar fears and needs fears.Plus romance... and some cursing.There are tons of easter eggs to be found in the richly written worlds (yeah, that's plural). If you're anything like me, there will be plenty of points where you smile and nod a...

This book was so much fun! Action-packed, with great characters and an engaging plot. Loved it!

I read an early version of this book but it is just so much fun! Definitely check it out when it comes out!!

These people have their shit surprisingly together when faced with imminent doom. How the hell did they end up as washouts?THE DISASTERS was far from a disaster. Good, got it out of my system, and now we can all move on from that joke."Anyone have any better ideas? Useful diversion tactics?""I've been told I'm a hell of a dancer. You find me a table, I'll create a diversion you won't forget."England's YA sci-fi adventure debut speeds forth at the...