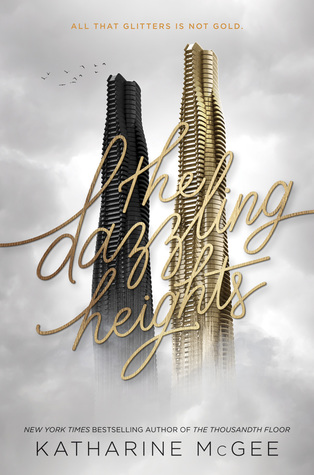 All that glitters is not gold.New York City, 2118. Manhattan is home to a thousand-story supertower, a breathtaking marvel that touches the sky. But amid high-tech luxury and futuristic glamour, five teenagers are keeping dangerous secrets…Leda is haunted by memories of what happened on the worst night of her life. She'll do anything to make sure the truth stays hidden—even if it means trusting her enemy.Watt just wants to put everything be...
---
Details The Dazzling Heights (The Thousandth Floor, #2)
Title
The Dazzling Heights (The Thousandth Floor, #2)
ISBN

9780062418623

Author

Katharine McGee

Release Date
Aug 29th, 2017
Publisher

HarperCollins

Language

English

Genre

Young Adult

,

Science Fiction

,

Romance

Rating
Reviews The Dazzling Heights (The Thousandth Floor, #2)
About: The Dazzling Heights is a young adult thriller written by Katharine McGee. It will be published on 8/29/17 by HarperCollins, 432 pages. The genres are mystery, young adult thriller, fiction, and dystopian. This book is intended for readers ages 13 and up, grades 8 and up.My Experience: I started reading The Dazzling Heights on 8/21/17 and finished it on 8/27/17. This book is a fantastic read! I love that there weren't any characters purp...

no one goes to a party expecting to die. What is fun about this series is each book (so far) begins with a character who dies and it doesn't tell us who. So throughout the entire book, you're trying to find out who will die at the end and who killed them (if it was in fact someone). There are several POVs and the book does a good job at making you care about each of them in one way or another. I either loved the character or truly loved to hate t...

This exactly what I needed after reading an 800 page Adult Fantasy. This was an entertaining read filled with lies and betrayals.The futuristic technology was amazing. Forever puppies, tunnel in the sky, YES please! I also liked Watts sarcastic artificial intelligence. Despite all the technology, the writing wasnt difficult to understand. Now that Ive read this book, the cover and the title totally make sense. Both books start and end with a ba...

Las segundas partes no suelen ser buenas, pero este libro entra en el pequeño rango donde es la excepción, supero a su antecesor, creo que Katharine McGee se tomo el tiempo para leer la mayoría de las reseñas de "El piso Mil" porque tomo en cuenta todos esos detalles que no nos gustaron en ese libro, pulió detalles, lo cual hizo que se hiciera una mezcla perfecta con su escritura detallista y linda. Su narración es tan delicada que nos aden...

The Dazzling Heights is the second book in the thousandth floor series. Now, I can tell that I really really liked the Thousandth Floor. This series is absolutely perfect for fans of Gossip Girl, the It Girl, Pretty Little Liars etc. With the insane amount of drama and absurd lives of the rich teens that live in the futuristic tower with thousandth floors these books simply become addictive. In the Dazzling Heights we start off almost immediately...

(I received an advance copy of this book for free. Thanks to HarperCollins and Edelweiss.) "Even if nothing happens between you and Atlas, you aren't really going to let that girl get away with trying to seduce him and steal from him, are you?" This was a YA futuristic story, which followed on from the first book in the series.Avery continued trying to make things work with Atlas in this book, even though he was her adopted sibling, and e...

This is Gossip Girl meets Pretty Little Liars, and I am 100% here for it!Following on for the traumatic events that the first instalment, The Thousandth Floor, closed with, this begun in an altogether more sombre mood. Every character has their own secrets to hide, but that doesn't stop them attempting to out each other. Relationships and friendships seem forever severed and the charmed life of this elite cast is transformed into hell set in a th...

This series is honestly so addicting. I cannot manage to put it down. The characters are so trashy and bitchy but I LIVE for this level of drama. I love every single character so much. I was a bit uncertain on Leda but she was such a star in this book. I love the new addition of Calliope too. THERE ARE SO MANY TWISTS AND TURNS AND UNEXPECTED DEVELOPMENTS. I need book 3 right now. I've said it before and I'll say it again, if you enjoy Gossip ...

2.75 (this is the first time I've had to use quarter stars lol)This was a very enticing and quick read, but I had several problems with this sequel, some of which I failed to recognize in the first novel. Full review to come.

An eye for an eye, a tooth for a tooth. The phrase kept echoing in her mind like cymbals.A fall for a fall, a voice inside her added. I entered this book wanting to kill Leda and finished this book wanting to kill Leda some more.I was afraid of starting the sequel because I forgot 98% of what happened in The Thousandth Floor. I vaguely remember bits and pieces, but not enough to confidently start The Dazzling Heights without the fear of being los...

Reseña completa en: http://elcaosliterario.blogspot.com.e...Katharine McGee escribe genial y es muy detallista, algo imprescindible en una novela futurista de este tipo que requiere situarnos a la perfección en este gran edificio con tecnología tan moderna. Sus descripciones son una maravilla y utiliza un lenguaje muy bonito cuando describe los lugares.Los personajes, al igual que en "El piso mil", son bastantes aunque es cierto que en est...

ugh such a trashy series but soooo addicting

Puntuación: 4.5Me ha encantado, yo esperaba que este me gustara menos que el primero pero he estado mucho más enganchada desde el principio. Todas las historias me interesaban y me tenían en vilo, y los personajes increíbles. Necesito el tercero, pero ahora toca esperar mucho.

Seriously, this book was better than the first. It kept me on edge all through the story. Can't wait for book 3!

7in7Readathon July 23, 2018 - July 29, 2018Challenge #3 - Come up with a food/drink inspired by the book you're reading.

Más bien un 4'5. ¡Ha estado a la altura de su primera parte! Me ha gustado muchísimo cómo fueron evolucionando los personajes y también las historias de cada uno de ellos. Y ese aire Gossip Girl, ¡me encanta! Necesito el tercero libro y pronto.

Oh, man, I completely forgot about the bordering-on-incest relationship between step siblings...ugh. What did this book do that the first book didn't already do? After finishing it, I'm struggling to see how the plot moved forward, besides the first and final chapters. Everything in between felt like things I already knew or plot points that weren't entirely relevant to the story's momentum.I still really enjoyed the reading experience of this on...

I can hardly wait to read it myself.

Original Review 23/05/17Holy shit I cant wait for this to come out - The Thousandth Floor was my first read for 2017 and I just loved it.. so excited that this is being released this year!!!!New review 31/10/17OKAY so I finally got my hot little hands on this number. First all I want to say that this had a release date of the 29/08/17 and QBD didn't not have any...... like cmon. So I randomly found it by chance at Big W.. You could imagine the ex...

Please be Leda in the prologue. Please be Leda in the prolog. Please make Leda deada."So she told him everything."—Page 71THANK GOD! Make Cord happy!!Oh, c'mon Cord! You love Rylin."Rylin whirled around, only to see her worst nightmare standing there. Leda Cole."—Page 73Ledaaaaaa."Then again, Rylin was pretty, if you could look past her disrespectful attitude."—Page 78Leda, sweetie, YOU ARE THREATENING HER. Get off your moral ...

*DISCLAIMER* LOTS AND LOTS OF SPOILERS!!!!!!!PHEW WHAT A RIDE THIS BOOK WAS!!! I just....*sigh*.....this book was too good, 4.5 stars.Okay so lets kick it off with how much I HATED Leda in the beginning. Like every single time i had to read her chapters i would try my best to hold back from punching the wall. Yeah, i really did hate her. But seriously i ship Watt and her like so much. They are so cute together and just gotta be my next favorite s...

Woah. What was that? Seriously, what was that?The Dazzling Heights is the sequel of the series The Thousand Floor. I have to admit that I had a lot of expectations because the first book was really good. I am so happy that The Dazzling Heights was not a let down. It was much darker than the first one. Well, it went from Gossip Girl to Pretty Little Liars.Avery was pretty much the same throughout most of the book. I loved it when is become darker ...

Puedo decir que el primer libro me gustó más, pero no puedo negar que este también tiene lo suyo.Una de las grandes virtudes que le veo a esta autora es que sabe atraparte desde la primera oración del libro, me parece una estupenda idea que los libros comiencen con la muerte de un personaje misterioso que tendrás que descubrir más adelante. Leda me gusto un poco más en este libro, al igual que Watt. Avery fue uno de mis personajes favorito...

No one goes to a party expecting to die* * *3 / 5The Dazzling Heights manages an impressive cast of different characters with a really complicated web of relationships and it's very cool and impressive. But it also feels like a rehash of the first book just with a less gasp-worthy ending."Did you fall in love with me because it was complicated and forbidden - because I was the only thing in the entire world that you were ever denied?"We pick up w...

The Dazzling Heights is the second book in the YA The Thousandth Floor trilogy. You must read the first book before reading The Dazzling Heights as it is a continuing story.The story is set in New York City in 2118.The narrators of this book are Leda, Watt, Rylin, Avery and Calliope. The story is told in 3rd person POVs.I really liked The Thousandth Floor so I was very excited to read this new book. The Dazzling Heights has a very similar feel to...