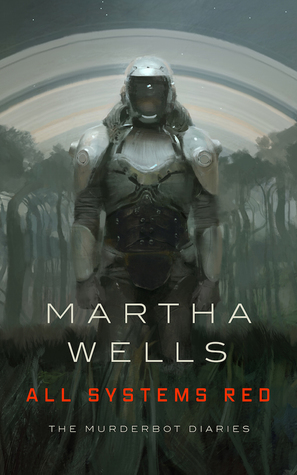 In a corporate-dominated spacefaring future, planetary missions must be approved and supplied by the Company. Exploratory teams are accompanied by Company-supplied security androids, for their own safety.But in a society where contracts are awarded to the lowest bidder, safety isn't a primary concern.On a distant planet, a team of scientists are conducting surface tests, shadowed by their Company-supplied 'droid — a self-aware SecUnit that ...
---
Details All Systems Red (The Murderbot Diaries, #1)
Title
All Systems Red (The Murderbot Diaries, #1)
ISBN

9780765397522

Author

Martha Wells

Release Date
May 2nd, 2017
Publisher

Tor.com

Language

English

Genre

Science Fiction

,

Fiction

,

Novella

Rating
Reviews All Systems Red (The Murderbot Diaries, #1)
"Confession time: I don't actually know where we are.... I hadn't looked at the maps yet and I'd barely looked at the survey package. In my defense, we'd been here twenty-two planetary days and I hadn't had to do anything but stand around watching humans make scans or take samples of dirt, rocks, water, and leaves. The sense of urgency just wasn't there. Also, you may have noticed, I don't care."I can relate to Murderbot, the misanthropic constru...

(4.25) I related to Murderbot a bit too much…Murderbot is a half robot, half human construct who's job is to be a security guard to protect some humans while they do their research on a planet.Thing is, Murderbot doesn't really like humans and would rather watch entertainment videos all day.Fun novella, I just want moooore!

"I could have become a mass murderer after I hacked my governor module, but then I realized I could access the combined feed of entertainment channels carried on the company satellites. It was well over 35,000 hour or so since then, with still not much murdering, but probably, I don't know, a little under 35,000 hours of movies, serials, books, plays, and music consumed. As a heartless killing machine, I was a terrible failure." He is an an...

When I heard the premise I expected a light robot killer story from the PoV from the robot. Probably a PI mystery kind of thing because that seems to be pretty hot right now. I can rattle off a handful of titles like this right now.So. What did I get? A fun and light robot murderer who hacks herself to have free will and she stops murdering to watch SF sitcoms instead. :)Honestly, that's pretty cool. Yeah, her official bruiser job is still there ...

Review first posted on Fantasy Literature:The narrator of All Systems Red, a 2017 Nebula award-nominated novella by Martha Wells, is a once-nameless cyborg security unit or SecUnit that has given itself the name Murderbot (for reasons disclosed midway through the story). Using its own unprecedented and highly unauthorized initiative, Murderbot has hacked the governor module software that controls its actions and obligates it to be obedient. But i...

Entry #1I will be starting to read this book in a few hours. I just found out that Ms. Wells has sold a total of four (count em (4)) novellas in the Murderbot series with the second titled "Artificial Condition" (16.99 for a hardcover and 9.99 for the kindle) to appear somewhere near the beginning of 2018 and upon a bit of research found the the book here at GR -> https://www.goodreads.com/book/show/3...?Book 3 is scheduled to be a hardcover titl...

"I could have become a mass murderer after I hacked my governor module, but then I realized I could access the combined feed of entertainment channels carried on the company satellites. It had been well over 35,000 hours or so since then, with still not much murdering, but probably, I don't know, a little under 35,00 hours of movies, serials, books, plays, and music consumed. As a heartless killing machine, I was a terrible failure." These n...

3ish stars.Some heavy themes wrapped up in what is otherwise a relatively fluffy novella. The plot's straight-forward, the prose is decent, but it's charming and witty. Murderbot, who repeatedly says that she'd rather be netflixing, is surprisingly relatable. One of my favorite parts is when Murderbot is faced with the prospect of spending time with people and is (understandably) horrified. She can't control her facial reaction which in turn make...

*Edited to add*I met Martha Wells today!!I'm on the left. Yes, my hair is lavender. I am finally starting a blog. It is about time, yeah? Only a thousand reviews to add onto that site. www.jillyshmilly.blogspot.comThis book takes several pages to get acclimated, and also to get some understanding of our narrator. He (I'm using "he" although Murderbot doesn't have a gender) is part human/part robot and is really very much like April Ludgate on Par...

The Murderbot novella series had crossed my path a time or two before I finally picked it up, but it was the glowing recommendation from my book buddy TS & the convenient timing of an Audible Daily Deal that pushed my curiosity over the edge! This was such an adorable story, which is ironic since the name of the series is Murderbot. But despite Murderbot's name for itself, it's actually a rather hilarious & relatable individual. Being deeply inve...

Charming, I think, is the right word to describe Martha Wells' All Systems Red. It wasn't what I'd expected. I had seen that it was the first installment in something called The Murderbot Diaries and that it focused on a self-aware AI. This AI is known as a Security Unit (Murderbot is the name it gives itself). However, even as it becomes more aware of who it is, it sees itself as something of a failure. Rather than following protocols, it ...

I had so much fun reading this short little novella. I needed something quick and easy to read after Leviathan Wakes, and this just fit the bill. It is snarky and witty and surprisingly well-rounded.Our main character and point of view is Murderbot, as it likes to call itself. It is working security for a group of explorers when things start to go sideways. Murderbot is the clear focus of this book and rightfully so: it is hilarious in its pessim...

This is a novella nominated for several awards and I know why. In this story, a security robot breaks its own company protocol, freeing itself from any restraints, thus allowing its personality to unfold. Through the eyes of "Murderbot" (she's named herself that way), we experience what it is like to work with and for humans, that humans come in all forms (good and bad and everything in between), what the company creating these robots programs th...

As a heartless killing machine, I was a terrible failure.That was the hook that drew me to Martha Wells's fantastic sci-fi novella All Systems Red. It was everything an AI sci-fi story should be and then some! It was thought provoking but also entertaining and engaging.In a future dominated by big corporations any new planetary exploratory teams need to be accompanied by a Company owned SecUnit android. Ostensibly this is to keep them safe but it...

Murderbot doesn't want to murder anyone.Murderbot just wants to be free.Free to binge-watch soap operas.Is that too much to ask?

Featured in my rundown of the best short SFF for Spring 2017: https://1000yearplan.com/2017/12/13/l...The difficulty of reconciling one's private self with one's public façade produces a multitude of anxieties that manifest in different ways. For the self-styled Murderbot of Martha Wells "All Systems Red", a SecUnit (security robot) who lacks the full autonomy the privileged class (in this case, humans) enjoy, the coveting of its private sel...

This is at least as good as most of the reviews are saying, and it's an excellent example of what can be done with a simple plot and fantastic characters at the novella length. The story is told from the point of view of a rogue biomechanical security construct that calls itself murderbot. With its governor not working there's nothing stopping it from killing everyone in the planetary survey crew it works for. Well, other than it quite likes them...

I had heard all sorts of wonderful things about All Systems Red before I picked it up (I have a lot of Goodreads friends who know their stuff when it comes to sci-fi! Yes, I'm looking at you, Caro M.) Now I trust their recommendations even more, because this book is easily my best February read. You can read the post with better formatting here on my blog. 5 Reasons To Read All Systems Red "Murderbot" is a jailbroken security android (cyborg? Wel...

If you're into stuff like this, you can read the full review."I remember every word ever said to me." That was a lie. Who would want that? Most of it I delete from permanent memory."In "All Systems Red" by Martha WellsThe question is always the same: How is it possible to have an absolutely distinctive voice from the first page onwards? How can I build a story around the other characters by using "the eyes" of the first-person narrator? Could...

"You may have noticed that when I do manage to care, I'm a pessimist."What a fantastic novella! I've had Martha Wells on my tbr list for a long time and even downloaded one of her fantasy novels but have never felt like reading it. The other day this came to my attention and thought maybe it would serve as an access story. Murderbot is a Secbot, designed to guard and protect clients on missions. Murderbot has a great personality and loves...

Maybe 4.5* but I had to bump it to 5* because I was just so happy while reading it.2nd read: Loved it just as much the second time round!

Murderbot is a part robot, part human construct designed to function as Security for humans. They are a bit different from most of the Company SepcUnits becuase they have modified themselves to take out the control that the Company and the humans have over them, but they know that this is incredibly dangerous for them and so they have to keep this hidden and just pretend to still be functioning as they should.I really liked the character of Murde...

Snarky robots are like catnip to me. Turns out Martha Wells is pretty funny.

The audio read by Kevin R. Free is superbly read and a lot of fun. He captured Murderbot's personality almost exactly how I had imagined it.* * * * *Rereading via audio to prepare for Artificial Condition.It's been just a year, but I'm already having trouble recalling the details of this story. Since the next one in the series is about Murderbot's origin, it's best to refresh with a reread rather than depend on faulty data storage. * * * * *Relea...

First review of 2018!! Happy New Year!So this little story, what a WINNER!! I fell in love with the Murderbot SecUnit the 2nd time I sat down to read the tale. I finished it in just 3 short bursts. He comes across as so wonderfully detached and such a perfect misanthrope, that he felt wonderfully human to me. Yet with that brilliant edge, one that made this whole story so much fun to read. Cannot wait for the next installments from Wells! Hope yo...

3.5/5 stars!The world-building in this novella was good and I liked the murderbot's conflicted feelings about himself and "his humans." At times, though, I felt that the book was trying too hard with the quips and it felt a little forced. I will most likely continue with this series. *Thanks to Tor's e-book club for the free download of this story.*

I must say, for a story subtitled The Murderbot Diaries, there was an appalling lack of murder and mayhem contained within these pages—well, at least by the hand of the so-called Murderbot. And that's a shame because what reason other than to bathe in the glorious carnage would a reader select a title like this . . . ? Murderbot, as it dubs itself, is assigned to the security detail of a scientific expedition on an alien world. Its main roles...

Murderbot might be my spirit animal.I loved this novella. It had a fun plot and, more importantly, it had a killer main character (pun intended) who will speak to your inner introvert like no other. And it was funny. I wasn't expecting to laugh so much at a SecUnit POV, but the situational humor and dialogue delighted me at every turn. Good humor will spark a higher rating in me every time, and it almost feels like a bonus that everything else ...

The introduction to The Murderbot Diaries is simply great fun! A refreshing and diverting sci-fi novella with wide appeal, it is a marvellous package of wry humour, suspense and a healthy dose of compassion.As much as I love science fiction, I don't consider myself as a hardcore reader of the genre, and there are a lot of popular series or "required reading" which I have yet to catch-up on. In this respect, I find this book to be original; it is ...