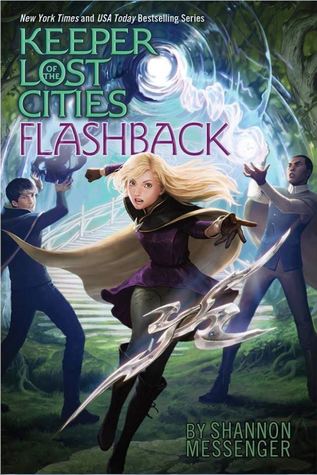 In this unforgettable seventh book, Sophie must let the past and present blur together, because the deadliest secrets are always the ones that get erased.Sophie Foster doesn't know what—or whom—to believe. And in a game with this many players, the worst mistake can be focusing on the wrong threat.But when the Neverseen prove that Sophie's far more vulnerable than she ever imagined, she realizes it's time to change the rules. Her powerfu...
---
Details Flashback (Keeper of the Lost Cities #7)
Title
Flashback (Keeper of the Lost Cities #7)
ISBN

9781481497459

Author

Shannon Messenger

Release Date
Nov 6th, 2018
Publisher

Aladdin

Language

English

Genre

Fantasy

,

Childrens

,

Middle Grade

Rating
Reviews Flashback (Keeper of the Lost Cities #7)
DD 13 June 2018. I want it now! Gimme my KLT fix! I don't know how this series managed to have been published under my nose without me knowing about it. I know even less how I managed to stumble upon it, ungracefully, and hardly fall in love with this world. Moarrr!💝 18 June 2018: I'm SO ready to get my hands on this one! This had better be goooood!July 2018: 5-star-prerating it: I'm invoking my right of the reader expecting the n-th sequel to...

First to write a review! Even though none of us have read it and my page may have not of refreshed.Who else is dying of excitement????!!!!

ahhhhhhh another bookthe feels!my heart!fitz!sophie!keefe!biana!dex!tam!linh!and of course another two years of suffering

❋❋❋❋❋❋❋ Spoilers for books 1-6 (all of the books before this one) below the cut ❋❋❋❋❋❋❋(view spoiler)[Update ➜ March 25, 2018We now have a cover!!!So obviously, we have Tam, Sophie, and Wylie. Or maybe Prentence? I'm feeling it's probably Wylie, though. He really looks similar to his picture in the official art. They are all wearing cloaks that are white underneath and black on top. Sophie's cloak has a pin with what...

QUESTIONS I *NEED* TO HAVE ANSWERED IN FLASHBACK:1. SHIPS. Who will Sophie end up with? Obviously Dex is out, but Keefe? Fitz? I don't think Tam is really in the running. Personally, I'm hoping for: Sophie x Keefe for sure, and Fitz x Linh. I'm still undecided about the rest of them. Part of me really really REALLY wants Dex x Biana to be a thing, but the rest of me thinks she'd be better with Tam, and plus, Tam seems like he likes her, and, um, ...

AHHHHHH WE HAVE A TITLE REPEAT WE HAVE A TITLE!!!!!!!Update: OMG THERE IS A COVER IT IS BEAUTIFUL TAM AND SOPHIE AND WYLIE AND THE GOBLIN THROWING STAR YES I LIKE I MUCH LIKE

AHHHH WE HAVE A DESCRIPTION! FINALLY! Now we just need the cover... D:These are my predictions for what'll happen in this book. There may be spoilers of the other books in here.(view spoiler)[1. I really think that in this book they'll finally open the caches. Just because of the title, and the description, it seems like it's going to happen.2. I think maybe the Neverseen will find out about Sophie's enhancing ability. In the description, it soun...

I am aware that this definitely won't be a popular opinion and that a lot of people are gonna disagree with me but...PLEASE GIVE DEX AND BIANA MORE LOVE.I loved the book and have been in the fandom since Exile came out and I gotta say, I really loved the Keefe Sencen back in KOTLC and Exile better. From Neverseen, we can clearly see how much development Shannon has given Keefe. And I get that he has been flirting with Sophie since KOTLC and I hon...

i cannot WAIT for this book to come out. i've patiently waited every year for the next book & here i am again, waiting. but tbh idk if i'm ready for another book... the last one was pretty brutal to my heart (view spoiler)[[dex & sophie kiss. WHAT THE HECK?] (hide spoiler)]ahaha JK IM DYING FOR FLASHBACK TO FINALLY COME OUT!!!!i hope this one is the best yet (we all know it will be)

Eeeeeeeeeeeeeeee!!!!!!!!!!Love this series, can't wait for this to come outDon't care if I haven't read it, I'm giving five stars anyway because I'M A NERD

I haven't read this book yet....but I know it's going to be good! That cover just makes me 😍😍😍 love it more! I'm going to write a real review when it comes out, but I can assure you it will still be 5 Stars! ⭐ ⭐ ⭐ ⭐ ⭐ I haven't read this book yet....but I know it's going to be good! That cover just makes me 😍😍😍 love it more! I'm going to write a real review when it comes out, but I can assure you it will...

November?I can't survive until November.That's like, 20 times rereading the series.20 times rereading that cliffhanger.More than 20.Why did this have to be such a good series? Now I can't wait for the next book.Keefe, this is all your fault.I have to wait until November to see Team Foster-Keefe win? (Because it's totally going to, right?) And even then, maybe (hopefully, because this series should never end) another year?I just can't do it.Did I ...

I have not read this yet, it has not come out yet, but Shannon messenger is a great author, and I have the utmost confidence that this book will be awesome. I cant wait to read it!!!!!!!!!!!!!!!!!!!!!!!!!!!!!!!!!!!!!!!!!!!!!!!!!!!!!!!!!!!

*crying* Why's the release date so far? I neeeeeeeed it, and pleASE JUST LET ONE SHIP BECOME CANON JUST ONE I BEG OF THEE

All I can say is - SOPHITZ BETTER HAPPEN - they left us off on a sophotiz moment so that has to mean something.