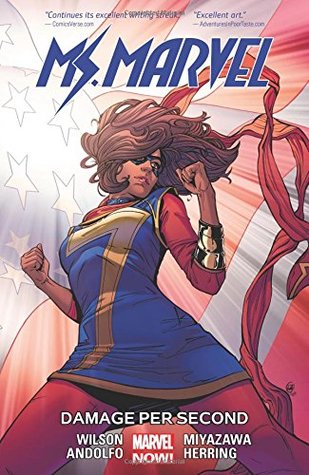 Civil War II is behind her, and a brand new chapter for Kamala Khan is about to begin! But it's lonely out there for a super hero when her loved ones no longer have her back. It's time for Kamala to find out exactly who she is when she is on her own. Plus: it's election time! Kamala gets out the vote!COLLECTING: MS. MARVEL 13-18
---
Details Ms. Marvel, Vol. 7
Reviews Ms. Marvel, Vol. 7
This one was good just not as awesome! Bruno is still where he's at but did put in an appearance 😊There is some but that too easily tracks Kamala to her home through her computer while she was playing with her guild. So there was some crazy with that punk. I enjoyed how a group of kids at school stuck together when there was some cyber bullying with said punk. They all went on for a group hug and I think it was Gabe that said, Okay, I've used ...

It inevitably happens to every long-running series and Volume 7: Damage Per Second is unfortunately where Ms Marvel's quality falls down. And it falls HARD - this is the lamest thing I've read in a long time! The first issue is literally Ms Marvel lecturing the reader on how and why they should vote. I couldn't believe how tedious and preachy it was. You know what I look for when I pick up a superhero comic? To be talked down to like an idi...

Another really enjoyable volume of Ms. Marvel, even if some of the video game terminology went completely over my head. I even enjoyed the issue Ms. Marvel didn't even appear in.

Aw, man. It pains me to say this, but that was a pretty weak volume of Ms. Marvel. There are three stories here, and none of them are particularly good. I will get into some spoilers here, so beware.The opening issue (#13) is basically a voting pamphlet. The story is minimal, and Kamala literally speaks with quotes from the official election website with instructions on how to register for voting. The worst part is that this issue was released AF...

I like how this comic tackles social issues without making it feel like an after school special. The first issue deals with the importance of voting, particularly in local elections. The story discusses issues of gerrymandering and "packing and cracking". Some people would say it's a little overdone, but when our democracy is being subverted by these underhanded techniques, it's important for everyone to be informed and aware on how you can make ...

Okay, it might just be me, and the whole series might be wearing on me just a little bit, but I was not wowed by this particular volume of the otherwise amazing, groundbreaking series about a Pakistani Muslim girl who wakes one morning to find she has morphed into her favorite comic book hero, Ms. Marvel. Sweet, cute, funny, all of it, from Willow Wilson and some new artists. The first story is a "get out the vote" comic, mainly an advertisem...

The emotional good bits are here but not as strong in the previous to last volume. Still, there was a REALLY big fantasy going on in the SF intelligent virus bit. :) To teach the internet to be NICE? That is some of the FREAKIEST fantasy I've ever heard.:)Okay! Not too shabby. Not too shabby.

GR Ultimate Summer Reading Challenge One and Done.

An entire self-contained volume! It's great to not have to deal with crossovers in a Marvel book. The first issue is... it's not great. It's basically a "get out and vote!" pamphlet. Well-meaning, but a bit preachy and tonally off. The main story focuses on internet toxicity with a healthy dose of comic book science fiction. No, the way the virus works doesn't really make sense, but I don't expect scientific accuracy from Ms. Marvel. It's an earn...

Given how much I have championed G. Willow Wilson's run of Ms. Marvel, I thought the last volume was a bit of a step-down as the series was coinciding with Marvel's big event of 2016, Civil War II, which caused repercussions for beloved characters. Fortunately, things have improved for the book, which during this volume hasn't changed the status quo, but continue to showcase Kamala Khan going through everyday problems with friends and family, w...

Still the best Marvel series.World: I love the art, this series' art is just so fitting to Kamala and her little slice of the MU. The world building is also solid with a lot of different pieces that are metatextual making this a fun read that also is a commentary to our world. Good stuff.Story: A very topical story and that's one of the things that Wilson is really good at. Not the most complex, it's simple and self contained but the message is e...

It actually hurts me to give this such a low rating. I love the premise of this graphic novel series, and I really admire the diversity of the characters and the issues discussed, but this installment felt like reading a PSA (public service announcement). There are essentially three story lines. The first is a straight forward get out the vote pamphlet, and since it was released after the US elections I'm not sure why they bothered with it. The s...

"It's gonna be okay, because we're gonna make it okay." -- Ms. MarvelI think nothing will match the opening salvo of volumes 1 through 5 of Ms. Marvel. That said, Volume 7 almost (but not quite) reaches the consistent quality reached in those books. This time around Kamala Khan provides 'education through entertainment' with a rock the vote-style opener, tying into a plot about Jersey City's mayoral race. The Khan-less finale features her transpl...

4 🌟So, Kamala's not-brother-in-law has joined the crew! And he's amazing! This volume is all about secrets and owning up to bullies by standing together. You have my hug as well! Also, we get a quick look at Wakanda!

Wow, in the first five pages, not only do you get redistricting, gerrymandering, and getting out to vote (yay, voter education through comics) but also this gem from Kamala: "So I've gotta convince people to choose between an incumbent nobody likes and a fringe candidate working for a secret society of evildoers?"Mike: "Welcome to democracy." Truth, ladies. Ms. Marvel and crew go canvassing. Been there, totally done that before. It does absolutel...

As I said in my 2016 on Goodreads review, it has been a reversal of fortunes for Marvel and DC Comics. While DC Comics is on the uptrend for me Marvel Comics is slippin'. Too many event-comics and too expensive compared to the rest of the market. Is doesn't help that its leadership has gotten cold-feat at the prospect of making an attempt at diversifying itself. One of the few bright-spots at this time for Marvel Comics is Ms. Marvel. Even at its...

Still one of the best-written, most entertaining Marvel titles. I've been reading since the start, but this seems like a good jumping on point for new readers, as well.

Yaaaaaaas King T'Challa!!!! You are a sight for sore eyes!!The Doc.X storyline was resolved a little too quickly, in my humble opinion, but the premise was great. And, of course, that last chapter (??) with Bruno and the Black Panther was incredible! Ms. Marvel for the win, as usual!

This was a return to form. Really enjoyed this again. Loved the main story arc, the development of relationships but also loved the last issue with Bruno in Wakanda.

Story This is easily my least favorite volume thus far. If I wasn't such a big World of Warcraft fan, I doubt I'd have liked it as much as I did.I'm obviously pretty far out of the target demographic for this series, but that's never felt as blatantly apparent as while reading this volume.The first issue was a side story encouraging people to register and vote. I get that, and voting is important, but it made for a pretty dull story. Most of the ...

WARNING *MAJOR SPOILERS*This one was weak. The main plot- a computer virus becomes sentient and intent on bringing down chaos- wouldn't be so bad if not for huge incoherences and holes. I easily overcome the sentient virus part- hey, I've been reading comic books like others breathe for the last 3 decades or so- but the total absence of any explanation as to how it can take control of people and mimic Ms Marvel's powers was astounding. I can't go...

Volume seven and still going strong.I almost feel like I should knock on wood, because surely G. Willow Wilson can't keep this up? Writing an emotionally affecting, funny, superhero comic that manages to transcend the limitations of its genre (mostly neverending mashups with other series, forced crossover storylines, etc.) The only "flaw" I can consistently identify in this series is that it sometimes betrays its other genre (young adult) by lean...

Wilson writes amazing character moments and well-intentioned but absolutely ludicrous and heavy-handed moralizing plots. Here Ms. Marvel takes on voter registration and internet trolls, but that's just the price we pay to see the good stuff, like the dramatic developments in the lives of some of the supporting cast in this volume.

Oh mannnn. G. Willow Wilson and Ms. Marvel continue hitting it out of the ballpark. Every single issue of this volume just nailed it with super on-point themes & issues: from teaching readers about gerrymandering and voter registration; to coming out as gay, and the allyship that friends can show; to online bullying and breaking the back of the toxic internet environment; to physical disability and learning how to cope with it. (Bruno continues t...

The tragedy of collecting comics in paperback volumes instead of single issues is I fall perpetually behind. The comedy side is when volumes do come out, I emit noises similar to kids' on a Christmas morning. I was delighted to find DAMAGE PER SECOND on my local bookstore's shelves and bought it outright. While Civil War II and other Marvel Universe-wide apocalypses took stage in the last volumes, DAMAGE PER SECOND's collection focuses back on Je...

This was a great installment to the series! I loved loved the incorporation of technology. It was interesting to see that and then the commentary on bullying and judging people when we all have issues of our own. Secret lives that we don't want anyone to know about. I appreciated that. Honestly this volume was very social conscious and it threw me off at first but for the most part I loved it. And the ending! If you've read this volume you could ...

Kamala Khan, aka Ms. Marvel, is one of my favorite newer Marvel characters. This installment isn't quite up to its usual standard of excellence, but it's still pretty great. The first part while inspiring sounds like PSA and, you know, I miss Bruno. I'm glad at the end of the volume we get to see what he's been up to in Wakanda (even cooler and makes more sense since I've seen Black Panther).

The optimism in this volume of Ms Marvel was both inspiring and depressing. Depressing because the first issue in this collection was pre-election, and was urging people to vote and implying that if people are engaged in politics the outcome will be good. SO there's that. But even as the story moved on to a three-parter about an evil sentient video game avatar and a final issue featuring Bruno in Wakanda, Ms Marvel the person and the series retai...

These honestly just keep getting better!