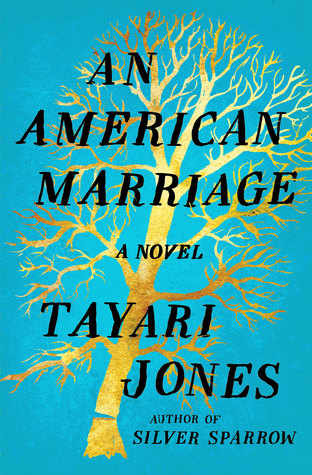 Named an Oprah's Book Club Selection.Newlyweds Celestial and Roy are the embodiment of both the American Dream and the New South. He is a young executive, and she is an artist on the brink of an exciting career. But as they settle into the routine of their life together, they are ripped apart by circumstances neither could have imagined. Roy is arrested and sentenced to twelve years for a crime Celestial knows he didn't commit. Though fiercel...
---
Details An American Marriage
Title
An American Marriage
ISBN

9781616201340

Author

Tayari Jones

Release Date
Feb 6th, 2018
Publisher

Algonquin Books

Language

English

Genre

Fiction

,

Contemporary

Rating
Reviews An American Marriage
Much of life is timing and circumstance, I see that now. I know it's still early, but I've got a feeling this is going to be one of my favourite reads of 2018. It is a powerful, subtle, sad tale about the criminal justice system in America, and the personal, long-term consequences of its injustices.There's a lot of discussion, articles and fiction looking at race-based injustice in the prison system of the United States. Most of these focus on ra...

I can't say that I loved An American Marriage. What I can say, is that it made me think deeply about human nature, love, and, of course, marriage. This is a thought-provoking, well-written, depth-filled character study about a marriage on the brink. Celestial and Roy, a young couple from Atlanta, have been married for just over a year when Roy is arrested and sentenced to 12 years in jail. Will their marriage survive their separation or will t...

4.5 stars, rounded up. For the latest resurrection of her book club, Oprah chose Tayari Jones' latest novel, An American Marriage. Raw, powerful, full of searing emotion, this is a book which speaks not only to the relationship between man and woman, husband and wife, but it touches on the bond between parents and their children, even in adulthood, and the mercurial nature of life."Love makes a place in your life, it makes a place for itself in y...

An American Marriage by Tayari Jones is a 2018 Algonquin Books publication. Well drawn characterizations and a thought provoking and timely topic combines to make a potent blend, which kept me riveted to the pages of this book. Roy had done everything right, is successful, married to a beautiful woman, living the American dream- until he is falsely accused of rape and sent to prison.Celestial finds her comfortable life turned on its axis after Ro...

SMALL UPDATE: I said I would come back and write a more complete review... but a few comments in here have inspired and encouraged me ... to perhaps leave this review alone. So.., I'll only add a couple of things. Sharing First: it's funny - what happens to our minds when we move on right away to reading other books after a deep thought- provoking read...It's like ADDING more children to the family - expanding our heart to love and think ab...

2.5 starsI know this book is getting a lot of buzz and it was Oprah's Book Club pick so I had really high hopes but it didn't really work for me. I started to give it 3 stars but after thinking more on it I just couldn't. For me, a 3-star rating means that overall I enjoyed the book. However, this book just didn't rise to that level. I'll start with what I did like. I liked how the author weaved in the complexities of being a successful black Ame...

Roy has done the best he could with the life he was given. Now married to Celestial, a young woman with dreams of her own, are traveling to meet his parents for the first time. The visit will prove less than successful, and a terrible miscarriage of Justice will occur that will detail their young lives and marriage.These are characters to that one wants to root for, wants things to turn out well for them. Of course, life seldom works that way, th...

One sock officially knocked off!!! (equals 4.5 rounded up up up!)I look a little funny on my pogo stick (yes, this is a pogo stick kind of book) since I have just one sock on, but I have my reasons, really I do. The reason is that there was a slump for me in the middle of the story, so that one sock just held onto my foot like nobody's business. But it was a short-lived slump, and the beginning and the end of the book are so insanely powerful, ...

Is it possible that in mid-February I've already read my favorite book of 2018? An American Marriage was outstanding. Not only did I immediately become hooked and stay invested in the story, the quality of the writing was pure excellence. A newlywed couple, Roy and Celestial, are early on in their marriage when Roy is sentenced to 12 years in jail for a crime he did not commit. This changes the course of their lives and feelings, and the story ...

One of the things I liked the most about this novel is that a portion of the book is comprised of letters, mostly between Roy while in prison for a crime he didn't commit and his wife Celestial. Letter writing seems like it's from a bygone time and I never feel as if e-mail and certainly not texts adequately reflect the intimate picture of ourselves that a hand written letter does. This is not just about the intimate look at this one relation...

4 stars! This was a beautifully written, thought-provoking, slow burn novel that crept its way into my heart, settling deep within my bones. I will be thinking of these characters long after finishing this book.This story follows Roy and Celestial, a young newlywed couple who have a passionate and impetuous relationship – loving deeply and arguing stubbornly. They are from different "worlds", but have found an explosive love and connection ...

Nothing is ever over.This was beautiful. This was a slow roil. A story told with realistic dialogue. A story littered with metaphors. A story sprinkled with wisdom.I listened to the audio and it was sublime...so gorgeous were the cadence and rhythm that I was often mesmerized, wrapped up in the story and swept away by what felt like a foreign language and a different culture. Highly recommend. 4.75 stars

"I feel like I need and need and need and it's wearing a hole in the fabric."Celestial and Roy's marriage is just breaking ground as a young seedling when the earth ravages the soil and the fissures play havoc with such gentle growth. Roy has been accused of a rape that he did not commit. His kindness to a down-and-out woman has spun around on him. No matter how many times that Celestial recants the story that Roy was with her all night, the cour...

Edited 9/20 to add: My book club discussed this last night and while not everyone loved the book (but no one disliked it), it made for a lively and interesting discussion. I'd highly recommend for book clubs.I'm afraid I'm in the outlier club with this one. What I liked:- The writing is gorgeous. 4-5 stars for the beauty of the prose. Plus the author writes in a way that sounds like the way real people think and talk- The letters Celestial an...

Rating 4.5At the heart of this one is the story of Celestial and Roy. They are a young married couple with so much ahead of them. I would not say they had the perfect marriage or knew what marriage is really about in the beginning. They had money, good jobs, a promising life together, and then it was all shattered.This is a in-depth story told from the point of view of both Celestrial and Roy and their friend, Andre. It also includes letters betw...

4 Compelling Stars.Marriage, on its own is a complicated venture. Throw in anything else and Kapow! Everyone always says that first year of marriage is the hardest. For Celestial and Roy, nothing will prepare them for what is to come. Madly in love, they think they can conquer the world. Such wishful thinking. After being married for a year, Roy gets arrested for a crime he didn't commit and is sentenced to twelve years in Prison. Twelve years....

Celestial and Roy have only been married a bit over a year when he's found guilty of a crime. Roy isn't a saint. Celestial discovers he's already cheated on her on their first anniversary. But he is innocent of the crime. In the blink of an eye, they go from living "that Huxtable life" to Roy being in prison. The author gets certain things exactly right, like being caught between a parent and a spouse. And how little we really know abou...

"When I look into your eyesIt's like watching the night skyOr a beautiful sunriseThere's so much they hold"And just like them old starsI see that you've come so farTo be right where you areHow old is your soul?"I won't give up on usEven if the skies get roughI'm giving you all my loveI'm still looking up" --"I Won't Give Up," Jason Mraz, Songwriters: Jason Mraz, Michael NatterRoy is a young man living in Atlanta, born and raised in...

Audiobook performed by Sean Crisden & Eisa Davis 9h I really enjoyed the performance of these narrators as they breathe life into Tayari Jones' story. They definitely kept me riveted to my seat as the triple narrative between Celestial, Roy, and Andre unfolded. Given the title, the central story really is about this couple's marriage-their courtship and all that comes after. It was all the family relationships that convinced me this book was a s...

I cannot, for the life of me, understand why people like this book. If it weren't for Oprah loving it, I honestly do not think people would buy it. There was no plot and it is the most boring book I've ever read. Basically if you read the synopsis, you've read all the "exciting" parts and know the entire plot. It's technically an easy read but boring overall. I powered through to finish it since it has so many positive reviews, with t...

If you can, read this without knowing anything about it. It won't be destroyed if you know the hook, but the first section will lose a bit of its grip and its grip is fantastic. (Yes, this includes the summary at the top of the Goodreads page. Sorry.)This is a book about marriage and the very specific kind of loyalty it asks us to give. Is that loyalty a fair thing to ask? Is it right? What circumstances excuse breaking this bond? Celestial and R...

4 sad beautiful written starsSome say the hardest job in the world is being a parent, while others say the hardest job is being married. Working together for a lifetime can bring a couple much happiness or it can be a wedge that grows deeper each day and festers until that marriage is over. However, in the case of Roy and Celestrial, newly married, their life takes a most unhappy turn when Roy is accused of rape. Roy is innocent, but Roy is black...

4.5 for this novel, an Oprah book selection! Oprah has never let me down with her book choices!A terrible racial injustice has occurred that rips apart the marriage of a black couple, Roy and Celestial after only a year of marriage. The storytelling is stellar and the characters are just so real. Very moving! Recommended!

3+ Stars. AN AMERICAN MARRIAGE (An Oprah pick) is the story of a well-educated, falsely accused black man who endures incarceration....with a kicker....while his newlywed, wishy-washy wife works hard, but makes some poor decisions living life on the outside.Of Roy and Celestial, I can say I never felt a strong bond between them....least of all true love....not from the very beginning....not like Olive and big Roy.Of the story itself, (for me) it ...

An American Marriage is one of those novels where everything just works. Vivid and well-developed characters, a good use of setting, interesting story, enough plot twists to keep things moving, timely and well-placed commentary on several aspects of life in the United States. I went back and forth on how I wanted this to turn out; it seemed like everyone had a good point! I appreciated that the author herself refused to take sides and refused to ...

That ending...Writing- 4 starsCharacters- 3 starsLanguage- 3 starsPlot/Concept- 2 starsUgh! Those people exhaust me. Only the parents and Davina were likable. Can't forget about the Uncle who helped Roy. I didn't like Celestial's mother either.

How do you move on in your marriage after it has been put to a full stop? How do you draw from everything it encapsulated till now without going insane when that is all you have left?American Marriage is an intimate portrait of love in a newly formed marriage that is soon faced with a tragic event. Against all odds and time, this is a very difficult thing to endure, not to mention move on with and overcome as a married couple. Marriage might be a...

An American Marriage is my first Tayari Jones novel but it won't be my last. I had my doubts going in because Oprah tends to choose sad and depressing books for her bookclub and given the subject matter I feared An American Marriage would be sad, depressing and anger inducing. I'm happy to report that An American Marriage beautifully written, honest, heartbreaking but ultimately its a story of hope. Ms. Jones has created not fictional characters ...

I decided to pick up An American Marriage because Tayari Jones has a fun instagram. Also in her By The Book in the New York Times she recounts that she once accepted a gig in Dubai just because the flight gave her nineteen uninterrupted hours of reading time. I love that. She seems like such a fun and likeable person. Therefore it really does hurt to write that An American Marriage savagely disappointed me.The novel concerns a married couple, Roy...

I liked but didn't love this story of a marriage in the newly crowned Oprah Book Club pick (I had started it the day before it was announced!)Liked - the setting (Atlanta for the most part) and how the characters are products of the complex class system of Atlanta neighborhoods, ideas of the "people you come from" and what that means or doesn't mean, the realistic portrayal of a marriage and what happens when a major challenge comes along, the lo...