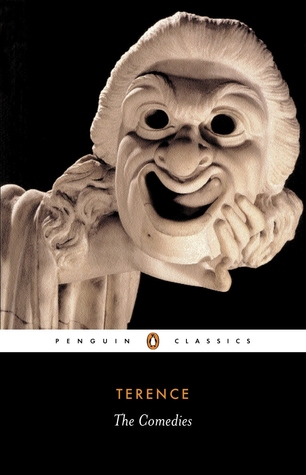 In English translations that achieve a lively readability without sacrificing the dramatic and comic impact of the original Latin, this volume presents all six comedies: The Girl from Andros (Andria), The Self-Tormentor (Heautontimorumenos), The Eunuch (Eunouchus), Phormios, The Brothers (Adelphoe), and Her Husband's Mother (Hecyra).
---
Details The Comedies
Title
The Comedies
ISBN

9780140443240

Author

Terence

Release Date
Nov 25th, 1976
Publisher

Penguin Classics

Language

English

Genre

Classics

,

Plays

,

Drama

,

Fiction

,

Literature

,

Theatre

,

Humor

,

Comedy

,

Humanities

,

Classical Studies

,

Roman

Rating
Reviews The Comedies
Although I wouldn't actually call any of Terence's plays funny by my modern standards, they are much more elegantly crafted than those of Plautus and I find that his characteristic double plots lend themselves to a more interesting kind of comedy of errors. On the downside, the treatment of female characters is a little hard to accept, although in keeping with contemporary values. Despite a few typographical errors, this is a good edition of Tere...

*Leí: El atormentador de sí mismo y sólo puedo decir: WTF con el final!

Oxford edition has all of the Terentian plays (6) along with introductory notes at the beginning of each one. When it comes to Roman Comedy I tend to see Plautus's work like a gently flowing clear stream, while his later successor Terence seems to resemble more of a loose faucet that can only be repaired through severe attention to the leaking details. Terence stuffs so much into his plays, if you aren't paying undivided attention it's genuinely ...

READING THEM ALL = SUCH TEDIUM DEAR GODbut if you evaluate them one by one, they're relatively good. better than menander? plautus is much more fun. i suppose terrence is much more intelligent and has a better perspective on women...

The plays of Terence have been highly evaluated not only for their technical innovation (the "double plot"), but also for the smoothness of their writing, which is evident even in translation, and for the human element that they bring to stock characters. They are also entertaining to read on the page - with the exception of The Self-Tormentor (Heauton Timorumenos), which I found to be convoluted almost past the limit of comprehensibility - and w...

If I went into The Eunuchs kicking – its plot turns on a rape that cannot translate in modern comedy – I read it happily, another book I would never know without book clubbe. For one, Judd Apatow's awful Knocked Up, where hating women is central to the laugh, had to have precedent. Here it is, direct from 161 BC. But we mostly talked about the Elizabethan rewrite this play could have earned – how Thais and her second, Pythias, would have ...

Honestly, I enjoy Plautus much more. I don't know if it was Frank O. Copley's translation or what, but I found Terence's stock characters like, well, cardstock characters. Plautus' stock characters were more interesting to me. I also found the plots to be excessively predictable and sometimes difficult to swallow. I don't remember the treatment of women being quite so horrible in Plautus. "The Eunuch" was rather horrifying. I will say I absolutel...

Le commedie di Terenzio sono qualcosa che avevo studiato a scuola e di alcune ricordavo anche la trama, leggerle comunque fa tutto un altro effetto, in qualche modo attenua il bello delle parole perché le trame mi sembravano roba vecchia, tutta giá vista. Peccato che molte di queste trame le aveva elaborate lui per primo o aveva modificato dei canovacci che venivano direttamente dagli autori greci. Purtroppo resta comunque il fatto che queste c...

Terence is more seamless in his craft than Plautus or Aristophanes and, as a result, his plots lend themselves to greater philosophical reflection; though the plots are standard, Terence weaves a complicated web in each play that is all the more dazzling as it's functions are slowly revealed. The humor, too, is subtle, except perhaps in The Eunuch, and the inspiring element throughout is more humanistic than comedic, as with Menander. An eminentl...

Her Husband's Mother – * I grimly read this knowing what might happen, and my worse suspicions were proven correct. I'd read Terence years ago and I remember thinking, "Does he have no plays that don't revolve around rape and sexual assault?" Apparently not. The happy end of the play runs like this: "Oh happy day, he's the man that raped his wife before they were married, so he's actually the father of the baby. Now all is right...

Bien que certaines pièces peuvent être drôle à la représentation, une en particulier est difficile à comprendre, certains détails ne sont pas dit. Bref, une bonne lecture mais sans plus.

While not everyone's cup of tea, I found 'The Comedies' tobe entertaining, along with having some history in them.

Roman fun but not as fun as Petronius.

Offensive Comedy reminds us that the world stands on absurdities

Witty, urbane, etc. For a person who prefers slapstick, it was okay.