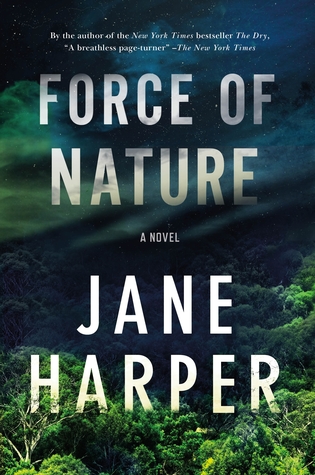 Five women go on a hike. Only four return. Jane Harper, the New York Times bestselling author of The Dry, asks: How well do you really know the people you work with?When five colleagues are forced to go on a corporate retreat in the wilderness, they reluctantly pick up their backpacks and start walking down the muddy path.But one of the women doesn't come out of the woods. And each of her companions tells a slightly different story about what h...
---
Details Force of Nature (Aaron Falk, #2)
Reviews Force of Nature (Aaron Falk, #2)
But now, as he stood in front of that forlorn cabin, he could almost hear an insistent whisper in his own mind. Get away. Run. 4 1/2 stars. Oh, I liked this book a lot. I ended up enjoying it even more than Harper's The Dry because, though both were compelling, this one felt less formulaic. And way more creepy.Harper is fantastic at creating a strong sense of place and an atmosphere that creeps under your skin. The settings in her two novels are ...

4.5 STARS"Later, the four remaining women could fully agree on only two things. One: No-one saw the bushland swallow up Alice Russell. And two: Alice had a mean streak so sharp it could cut you."It's no secret that I adored Jane Harper's 2017 (US) debut The Dry, but that didn't ensure I would love her sophomore novel (and follow up in the Aaron Falk series) Force Of Nature. So many times I've read a solid entry from a debut author, only to be l...

Jane Harper shifts her setting from the devastating drought in The Dry to the equally hostile atmospheric environment of the Giralong Ranges, tough to negotiate, with its menacing history of Martin Kovac, a serial killer that still haunts the area, vivid in peoples memories and nightmares. Five women are on a corporate team building hike run by Executive Adventures, only four return. Federal Agent Aaron Falk of the Melbourne Financial Investigati...

I loved her thriller, The Dry, for a first novel it was fantastic. Actually would have been fantastic even if it wasn't her first, but even more so since it was. Excited to read this, her second, and I'll just say that the infamous sophomore slump is not in evidence. This time Aaron Falk and his partner Carmen are called to the Giralang Range, where a woman is missing. A team building trip, men go one way, five men go another, all to meet up at t...

Force of Nature by Jane Harper is a 2018 Flatiron Books publication. A solid, gripping, edgy thriller-When five women go on a team building expedition out in the unforgiving and dangerous Australian Giralang Ranges, which was also once upon a time, the stomping grounds of a serial killer, whose son may be following in his father's footsteps, things immediately go awry. Among the group, is whistleblower Alice Russell, who is attempting to divulg...

Jane Harper's first novel "The Dry" was one of the best debuts I've read in a long time. And her new novel "Force of Nature" is equally as good. Five women depart on a corporate team building exercise in the Australian wilderness and become lost without food, water, or adequate shelter. Eventually four of the women are found, but there is no trace of the fifth. As the story switches between the disastrous team adventure and the backgr...

I love the subtle elegance of Harper's writing. Force of Nature didn't have the magic of The Dry (at least for my reading experience), and I wish there had been more of Aaron Falk. However, this is still a worthy read! Five women take part in a corporate retreat in the Gralong Ranges. They are supposed to spend three days navigating a trail, camping, and teambuilding. However, only four of them return. How is this connected to Aaron Falk? The one...

4.5 starsFive women go on a hike. Only four return.....Another great one by Jane Harper! Five people go on a corporate retreat - they are going to hike and camp in the wilderness. They are to leave their cell phones behind and rely on themselves and each other. This is going to be team work at its best! Except, It's NOT!. The women argue, quibble and are not very pleasant to each other. When they fail to return on time to the agreed upon rendezvo...

I've returned back under for this one. But, instead being in the outback, we are now in the wilderness of Australia for the sequel to The Dry. Our favourite agent Falk, who has recovered from his harrowing ordeal in The Dry, is back in the search for a woman who has been lost on a corporate excursion into the bush lands in the Giralang ranges.It's a mystery of magnitude as Falk has been working with the missing woman in order to prosecute her bos...

I'm between 4 and 4.5 stars."Later, the four remaining women could fully agree on only two things. One: No one saw the bushland swallow up Alice Russell. And two: Alice had a mean streak so sharp it could cut you."Nobody likes corporate teambuilding retreats. But employees from the boutique accountancy firm BaileyTennants are off for a three-day hike and camping adventure in Australia's Giralang Ranges. Even the firm's chairwoman and chief execut...

We call them Mud Daubers here in Texas.Solitary wasps not living in colonies. They don't play well with others.Jane Harper switches things up from her first book, The Dry. (Simply, a masterpiece) Harper brings back her Federal Agent Aaron Falk with sidekick, Carmen, into a new and challenging investigation.Five professional women of varying degrees on the corporate ladder find themselves on a Titanic of a wilderness retreat. (Being an avid hiker,...

FIVE STARSSHE'S DONE IT AGAIN! Jane Harper wrote THE best book I read in 2017. THE DRY deservedly won many prestigious awards and Federal Police Agent Aaron Falk won the hearts of readers around the world. When a debut work of fiction is nothing less than magnificent, the highly anticipated second novel looms large. Will it live up to the first? Is Harper a one trick pony? Do not fear, Dry fans!!! FORCE OF NATURE does not disappoint and will ce...

I think I liked this book even more than "The Dry". Loved the story itself!!! .....*Women* hiking in the wilderness grabbed me from the start. Five women - One goes missing......Many side stories - added tenderness, and compelling issues to explore:bullying, money laundering, an eating disorder, drug abuse, troubled father/son relationship......The journey was completely engrossing! .....Inspectors Faulk and Carmen were a great team with thei...

Thank you Goodreads! I won this book in a giveaway!I loved The Dry, this author's first novel! Couldn't wait to meet Aaron Falk again. This book is good, Falk and his partner have been working with a whistleblower(Alice) for a company that has been laundering money for a long time.So Alice and four other women and a group of five men are sent separate ways on a team building company retreat in the Giralang Ranges...very dense forest land...ve...

Copy furnished by Net Galley for the price of a review.A corporate retreat meant to exercise team-building skills and personal development goes sideways in a hurry.  Five ladies strap on their backpacks and trudge into the cold and muddy terrain of the Australian outback.  They are a motley crew made up of senior staff members, a data clerk, an office assistant administrative coordinator (Ahem!  Office-speak, gotta get it right!), etc.  Ongoi...

First and foremost, a large thank you to NetGalley, Jane Harper, and Flatiron Books for providing me with a copy of this publication, which allows me to provide you with an unbiased review.After devouring Jane Harper's debut novel, I could not wait to get my hands on this sequel, which pulls Aaron Falk back into the mix. A member of the Australian Federal Police's Finance Division, Aaron Falk is knee-deep in a case that could have many import...

4 stars! Another gripping and suspenseful page-turner from Jane Harper!Last year, I read and loved Harper's debut novel "The Dry" and was really looking forward to Book #2. This second book in the series was impressive - a very entertaining and addictive read. Both novels are very intriguing and well-written atmospheric thrillers, however, I did feel that "The Dry" was slightly more captivating and intense.Harper has an amazing knack fo...

Five women go out on a corporate retreat, but only four come back. This story, told in a back and forth manner and from a variety of different viewpoints, tells the tale of how it all went wrong. Of course, the question for both the reader and Aaron Falk, is whom to believe. Alice, the missing woman, wasn't well liked by the other four women. And she was also involved in some corporate espionage that could have led to her going missing. In fact...

2.5I knew it. I knew it! It was too good to be true. It was too much to ask from the writer who wrote one of the best, gripping mystery thrillers of 2017 without compromising on literary quality to repeat the same magic with her second book. I KNEW IT. Oh well for what's it worth, Jane Harper is a very good story-teller, and while her debut novel The Dry was a book that helped restored my dying faith on the genre of mystery/thriller, this one was...

Five women are forced to go into a wilderness corporate retreat to improve performance and morale among employees. What could possibly go wrong? Well, as we later find out: a LOT!First of all, to force people to go on a company function for an entire weekend with coworkers they do not get along with is just cruel. And yet it happens... this is the setup for this charged and interesting novel. The novel takes place in the Australian wilderness an...

Hello again, Aaron Falk! This is a pretty good follow-up to "The Dry," Harper's electrifying debut thriller featuring Australian Federal Agent Aaron Falk. I agree with reviewers that "Force of Nature" is not quite as gripping as "The Dry," but I still thoroughly enjoyed it.Harper has a gift for making the natural world come alive. In "The Dry," it was a drought-stricken and scorched rural town on the brink of explosion. In "Force of Nature," it's...

Five women go into the wilderness of the Giralang Ranges and only four return. I had some difficulty keeping them straight in my mind, but eventually found all five of them insufferable to some degree.The book is about what happened to Alice, but also about family relationships. There is quite often mention of Aaron's father, twins Bree and Beth, Lauren's and Alice's daughters, Jill and her family. The problem is if you don't care about the...

"It seemed very far away and long ago now. Like it had happened to someone else."― Jane Harper, Force of NatureIt is always a challenge, I think, for an author of a huge debut success to write a follow-up. The pressure to please must be intense, and I certainly sympathize and wanted to try not to compare this book to Harper's previous novel, The Dry, which I very much enjoyed. However, it is a difficult task not to compare, especially since...

" We are gathered togetherWe are hidden from view—In a tangle of laurel, we tear at our sorrowLike bread and we start up anew;Where a circus stands blazingAnd steam engines brake and whineIn a razed hobo jungle your lost and found wonderHas risen and mixes with mine"Then, foolish we are, in the presence of GodAnd what all his grave angels have done—In love's growling weather, if we're dreaming togetherOf a heaven apart from this one…Apa...

A corporate team-building trip that goes bad. Who would have expected it? I mean, come on, most corporate environments are already like a caged death-match in the office. What the hell were they thinking - taking it out into the wild?"Oh, I know. Let's take all of these people who gossip about each other, back-bite each other, and daydream about their co-worker's deaths whenever they see the biohazard that is the breakroom microwave and throw the...

My first thought upon opening this book and reading a few pages was how well this author writes. Her descriptions of the Australian bush are real, her characters are believable and multi faceted and speak to each other like real human beings. I knew at once I was in for an enjoyable read.I am very glad I have never worked in an office culture where employees who have barely any experience of hiking and camping are expected to go bush for three da...

I'd really enjoyed Harper's debut novel The Dry which introduced us to Federal Agent Aaron Falk and explored a mystery from his past, amid the worst drought in a century in a small Australian town. It was tense and atmospheric and I loved the Aussie setting and the brash characters – a refreshing change from my normal diet of American crime fiction. So I was delighted to get my hands on this follow-up book, but would it suffer the curse of ...

Force of Nature is an outstanding sophomore outing for Jane Harper following her equally outstanding debut novel The Dry. While The Dry took place in a flat, drought-filled area of Australia, Force of Nature shifts to the rugged Giralang Ranges with Aaron Falk arriving there to investigate the disappearance of a whistle-blower (Alice Russell) partaking in a wilderness corporate retreat (which I will never, ever agree to do after reading this book...

This is a plot that has been written and written and written again. Nice follow up to The Dry but not noteworthy.

3.5★ (rounded up to 4 because I like her writing too much to round down to 3)"The Melbourne hiker was still missing. The road gently swung to the north and suddenly Falk could see the hills of the Giralang Ranges on the horizon . . . he had grown up in a place not unlike it. Isolated terrain, where trees grew thick and dense on land that was reluctant to let anything escape."Aaron Falk and his new off-sider are off to the bush to follow the...