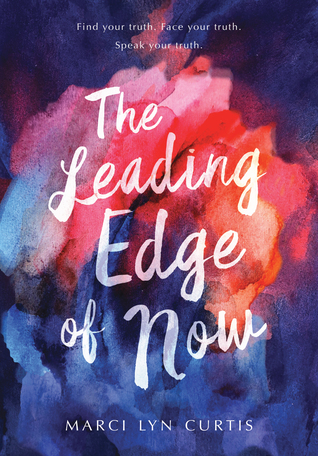 Just when Grace is beginning to get used to being an orphan, her estranged uncle suddenly comes forward to claim her. That might have been okay if he'd spoken to her even once since her father died. Or if moving in with Uncle Rusty didn't mean returning to New Harbor. Grace once spent the best summers of her life in New Harbor. Now the place just reminds her of all she's lost: her best friend, her boyfriend and any memory of the night that change...
---
Details The Leading Edge of Now
Title
The Leading Edge of Now
ISBN

9781771389990

Author

Marci Lyn Curtis

Release Date
Sep 4th, 2018
Publisher

Kids Can Press

Language

English

Genre

Young Adult

,

Contemporary

,

Mystery

Rating
Reviews The Leading Edge of Now
TRIGGER WARNING – Rape.You know, I used to think trigger warnings were unimportant, until someone commented on one of my reviews thanking me for putting up a trigger warning because they didn't want to experience this kind of trauma again. That sure changed my perspective. I'm not surprised this author managed to write another emotional roller coaster after reading her debut – The One Thing – and loving it so much. Even though her main ...

Now published!Trigger Warning: rapeThe Leading Edge of Now is a compelling and moving read about a young teenage girl named Grace. Not only is Grace dealing with the death of her beloved father, she is also trying to figure out what exactly happened one night two years ago when she was passed out on Ambien. She thinks she knows. But her doubts plague her. The unknown violation plagues her. And most importantly the guilt she feels eats get aliveTh...

One of my favourite Netgalleys of all time!! So beautiful, heart-breaking, lovely and moving, definitely go read it as soon as it comes out!! This book hit me right in the feels!!I loved that Owen & Grace had a backstory and it wasn't insta-love at all! They were so cute together and I ship them so much. They were always rooting for each other even when everything was terrible and ASDFGDSSAASFAHFHASA they are so cute!!!But just the development of...

4 Sep '18 update: RELEASE DAY TODAY!This book really surprised me, I did not expect it to be this good! Having not read any other books by the author and the title giving little away, I went into this one a bit blind. Also, having just read Courtney Summer's Sadie, which I loved, I thought it would be hard for my next YA read to make a mark. Well, I can tell you that The Leading Edge of Now has definitely made one. The tale of the main protagonis...

*5 OUTSTANDING STARS*Before I start, my review will not do justice to this book, so can anyone who doesn't have this book on their tbr yet, go add this right now?!? This was my first approved Netgalley book and I did not expect it to be this good.This emotional rollercoaster is about Grace, who lost both her innocence and her father in a matter of weeks and ends up in foster care for two years. She then finally gets claimed by her only living r...

The ARC of this book was provided by the publisher via NetGalley in exchange for an honest review. Trigger warning: rape.Let's start this review by saying that this book is simply outstanding. The story this book tells is not an easy one, but it manages to do so in a very admirable way. All the characters are very well crafted, Grace especially. Her story and her bravery truly moved me. The emotions the author describes are raw and real, someth...

Content warnings for sexual assault, alcoholism, drug abuse, foster care, and grief.I don't think I've ever agonised about a book review as much or for as long as I have for this book. See, I'm conflicted. I absolutely loved the style of writing and most of the pieces that made up the main character. I also highlighted so many sentences that I want to read to you so you can sigh with me about how perfectly they capture the feel of the story...

TW: rape/sexual assault (including flashbacks)I was immensely moved by this book. This is a story about a teenager named Grace who is attempting to cope with the loss of a family member while, at the same time, experiencing intense anxiety and guilt over being raped in her past. This was a heartbreaking and critically important story that I was thankful to have read.One aspect I found particularly significant in this book was exploring the feelin...

I knew that coming here would unearth all sorts of nasty memories. And just standing here, I'm hit with a multilayered emotion that's heartache and shame and panic, my past so close I can sense it brushing against the fine hairs on the back of my neck. I think I originally requested this title to read and review because of a few things: a) that gorgeous cover, b) I want to stretch myself out of my reading comfort zone a bit and read more con...

***Thanks to NetGalley for providing me a complimentary copy of THE LEADING EDGE OF NOW by Marci Lyn Curtis in exchange for my honest review.***Holy unexpected awesomeness, Batman.What if your father died and you spent two years languishing in foster care right after you were sexually assaulted by your boyfriend Owen while you were passed out on Ambien? What if you spent those last two years blaming yourself, unable to talk to your best friend, b...

TW: rape (not graphic but frequently mentioned)It took me almost the entirety of this book to figure out how I felt about it.That might not seem significant, but I'm the type of reader who can usually get a sense of whether a book is working for me within a few chapters. Not with The Leading Edge of Now.I had a lot of high expectations for this novel going in, being that I have long considered Curtis's The One Thing to be one of my favorite Y...

3 starsTW: rapeAfter reading all the stellar reviews of this book, I was kind of sad that I didn't love it as much as everyone else did.I thought the message was pretty great--about grief and moving on and surviving no matter what life throws at you. And Grace was a really strong character and seeing how she moved on and dealt with this was really heartwarming (also heartbreaking at how many terrible things life has thrown at her).But I felt like...

"I've cracked a little the last couple of years. From the stress, I'm guessing."I'm at a loss of words. I don't know how to phrase it so you understand how good this book is. I can just try.The Leading Edge of Now might be the most compelling book I've read in a long while, maybe over a year. The writing is amazing, Mrs. Curtis nailed both the pacing and the tone of the narrator, which is why this book, despite the heavy subject, was so easy to r...

Thank you to NetGalley & KCP Loft/Kids Can Press for providing me with a DRC of The Leading Edge of Now by Marci Lyn Curtis in exchange fo an honest review.Trigger warning: rape.I wanted to like this book a lot more than I did, I just couldn't. I know it was a strong book; I know it was nicely written. I simply didn't find myself falling in love. (If you asked me, I couldn't even tell you what Owen looks like. All I could say is that he lived in ...

3,5 Sterne – ich bin förmlich durch das Buch geflogen. Ich weiß nicht, ob ich noch eine ausführliche Rezension schreiben werde, aber ich will unbedingt eine Trigger Warnung für Vergewaltigung aussprechen. Der Klappentext erwähnt es nicht, in den Rezensionen wird es, wenn überhaupt, am Rande erwähnt, was mir unverständlich ist. Ich kenne mich nicht ausreichend aus, um zu beurteilen, ob es gut behandelt wurde, hatte aber den Eindruck, das...

4.5ARC provided by the publisher and Netgalley in exchange for an honest reviewRecensione: http://wefoundwonderlandinbooks.blogs...

Auch hier vergebe ich 4,5*. Das Buch hat mich wahnsinnig begeistert, hat eine so wichtige Message und es hat wahrhaftig mein Herz berührt.

Trigger Warnings: rape, death, and griefI cannot remember the last time a book made me cry, but this was emotional and beautiful and fantastically written. I'm so grateful to have read this. The beginning hooked me immediately, and I kept reading for the amazing story that unfolded. Primarily, I loved the way Curtis wrote the book. Her words, pacing, and ability to create such dynamic characters all added to the quality way in which she formed ...

"OH, MY SWEET HOLY LORD." I loved Marci's first novel (THE ONE THING) so freaking much, I pestered her to let me read an early draft of her new novel and... GUYS... WOW. It's so amazing. I was blown away. THE LEADING EDGE OF NOW is sooo incredibly good. I stayed in my pajamas all day to read it because I seriously couldn't put it down long enough to shower and get dressed. Add it to your TBR list now and then you can start pining away for its rel...

I was fortunate enough to read an early draft of this book and all I can say is WOW. This book . . . it's AMAZING. THE LEADING EDGE OF NOW is emotion, bravery, and brilliance all rolled into one. Marci Lyn Curtis is a force in the young adult arena and this newest book is one of the best contemporaries I've ever read.

This book is everything you'd expect and want from a Marci book: snark that is laugh out loud funny, swoony romance, and emotional moments that make you cry and break your heart, but then puts your heart back together again better than it was before. This book is an unforgettable contemporary YA. 1000% rec.

Wie man es von Königskinder Verlag gewohnt ist, überzeugt er auch bei diesem Buch mit einer außergewöhnlichen, wunderschönen Aufmachung. Ich würde mir so eine Umschlaggestaltung, auch unter dem Schutzumschlag, wirklich für jedes meiner Bücher wünschen. Einfach zum Anbeten! Unter anderem sieht dieser nämlich nicht nur sehr hübsch aus, nein, die Sonnenblumen haben auch eine ganz eigene Bedeutung, die einen nach dem Lesen des Buches ganz ...

Grace is back at her hometown and while she's dealing with the death of her father 2 years after, she also still doesn't have a clue who sexually assaulted her. You could see great characters and a beautifully written story in this book. An important, heartbreaking, and poignant read. Thanks to NetGalley and Kids Can Press for providing me a copy of this in exchange for an honest review."Grief isn't something you can't hurdle. It's something you ...

I knew the first time I read THE ONE THING that Marci Lyn Curtis was going to be an author worth stalking following. I was right. And when I learned she had another book coming soon, I begged her to let me read an early draft because I simply couldn't wait. THE LEADING EDGE OF NOW did not disappoint in a single way. Marci has a way with words that is so beautiful and endearing. Her characters are fun and fresh, yet they always take me on a deep...

Oh hello, beautiful book! Welcome to Goodreads! I was fortunate enough to read this one early and, well, I'm obsessed with it. It's exactly the kind of YA contemporary that I gravitate toward because it feels achingly real and so authentic. I know it's cliché to say "I couldn't put that book down!" but... I really couldn't put this one down. THE LEADING EDGE OF NOW is raw, honest, gripping, and continually surprising. It's a book everyone should...

"When you're a virgin for fifteen years of your life, it's pretty easy to tell when you suddenly aren't."I received an ARC from the publisher via NetGalley in exchange for an honest review. My thoughts and opinions are my own. Any quotes I use are from an unpublished copy and may not reflect the finished product.The Leading Edge of Now made my skin crawl. You know that feeling you get when you think you're being watched? That's pretty much ...

The Leading Edge of Now, Marci Lyn CurtisRating: 3.5/5Note: Special thanks to Kids Can Press for providing an ARC for review.I liked this book at its core. There wasn't a whole lot I did not like and I felt like it handled the topic of sexual assault appropriately; however, there were a few things about the plot that I did not particularly enjoy or felt like it could have been expanded upon.There are multiple elements in this book that make you f...

There is a lot going on in this story, but first let me get one thing out of the way. There is a rape. It is not graphic, but it is felt by the main character, Grace, and it colors most everything else that goes on in her life, including having to move in with her uncle, where the rape took place, after her father dies of a heart attack.There is also a bit of light flirting, but because of the rape hanging over everything, it doesn't go very fa...

I loved Marci Lyn Curtis's debut, THE ONE THING. Completely adored it - easily one of my favorite YA reads ever. So I've been rather impatiently waiting for this one, and it did not disappoint. THE LEADING EDGE OF NOW is a beautiful book - all at once funny and heartbreaking and sad and hopeful and it has all these little moments of absolute loveliness. The setting - so vivid and rich. Curtis's writing transported me to that small beach town in F...

OUUUUU! This is so good 🙌🏼🙌🏼I was hooked from the first page and it almost made me shed a tear IN PUBLIC 😢🛑Trigger warning: rapeTrigger warning, this book focuses on the topic of rape. There's nothing too graphic but it is one of the topics and the main character, Grace, is coming to terms with what happened to her, how to move forward, and how it affects her life and the relationships in her life.This is such a beautiful story!...