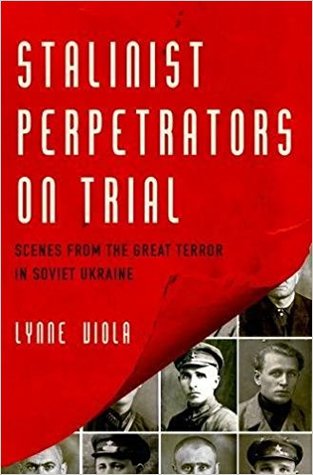 Between the summer of 1937 and November 1938, the Stalinist regime arrested over 1.5 million people for "counterrevolutionary" and "anti-Soviet" activity and either summarily executed or exiled them to the Gulag. While we now know a great deal about the experience of victims of the Great Terror, we know almost nothing about the lower- and middle-level Narodnyi Komissariat Vnutrennikh Del (NKVD), or secret police, cadres who carried out Stalin's m...
---
Details Stalinist Perpetrators on Trial
Reviews Stalinist Perpetrators on Trial
A fantastic historical investigation, however, a bit tough to get into. The level of concentration needed to process the information is more than I would've expected from such a small volume.

A fantastic product of research. It is a little dry to read just for pleasure, however, includes a wealth of information for those interested in the banality of evil. I am very concerned with the ways in which citizens become perpetrators under totalitarian regimes, and reading this book has been fascinating and enlightening. An account of the trials of some of NKVD's scapegoats (guilty but singled out for the wrong reason) provides a window into...

This book had amazing depth, with solid research backing it and at the same time very well written and engaging. I deeply enjoyed it. I won a copy of this book in a goodreads giveaway.