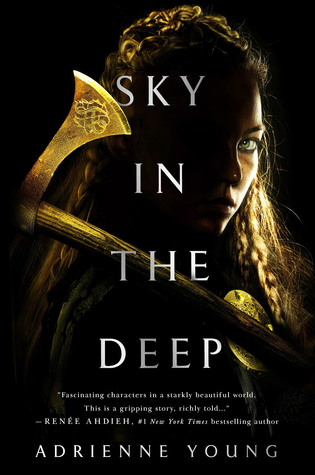 Part Wonder Woman, part Vikings—and all heart.Raised to be a warrior, seventeen-year-old Eelyn fights alongside her Aska clansmen in an ancient rivalry against the Riki clan. Her life is brutal but simple: fight and survive. Until the day she sees the impossible on the battlefield—her brother, fighting with the enemy—the brother she watched die five years ago.Faced with her brother's betrayal, she must survive the winter in the mountains wi...
---
Reviews Sky in the Deep
1 1/2 stars. Okay, I think I might need to step away from YA fantasy for a while. I'm going to read Ash Princess and a couple of other ARCs I've committed to, but after that I'm going to start being much more selective and stop being seduced by pretty covers and exciting blurbs. I might be lying about this, but here's hoping I can restrain myself.The thing is, Sky in the Deep feels like one more in a long line of shallow and emotionless fantasies...

100% pure Viking awesomeness and a crapload of feels. SO GOOD. I'll be honest. I was a little worried about connecting to the heroine. I LOVE badass girls, don't get me wrong, but it seems every book is throwing us a hard heroine who wants to cut down a bunch of people and not apologize for it, and they often have no heart or redeeming qualities. (And a lot of the times, they are written by men.) I find myself having a hard time rooting for them ...

More often than not, when I pick a YA fantasy up, I am not expecting to be surprised. Entertained, maybe, and possibly charmed, but not surprised. Never surprised. I feel like if I do, I am setting myself up for disappointment on purpose. Because rare are the YA fantasy books that are so original they don't immediately remind you of previous fantasy books you've read. This is why it's extremely easy for readers and professionals to market t...

May Owlcrate Box. Click under picture to see the unboxing. ♥THE GOODSFreaking loved it!!I loved Eelyn and Fiske! There were others too. This definitely wasn't what I thought the book was going to be but I loved it all the same. A few bloody fights and some strong women. But the thing is, you need to read this book for yourself! Don't listen to the know it all people. Read YOUR own damn books!! I hate if someone decides not to read something I d...

ARC provided by St. Martin's Press in exchange for an honest review. "…the last time I saw my brother was five years ago. Lying dead in the snow." Sky in the Deep is a debut, standalone, young adult fantasy novel that stars two different Viking clans. But this is a story about betrayal, then survival, then a choice. You all, I really enjoyed this one. I thought it was unique, well written, and has some amazing characters. Our main prota...

I did not expect to like this book so much at all. The concept is simple and the plot is also very straight forward but the emotional aspect of this book was far deeper than I anticipated. I love the whole Viking concept going on and the characters are all amazing. What blew me away the most is the writing. Adrienne Young's writing is the one of the most spectacular use of words I have seen in my life. I went into the book without reading the b...

No words can explain how much I loved this book.But I will give it a try. "Ond Eldr.Breathe Fire." Sky in the Deep is a Viking-inspired tale, following the steps of Eelyn, a fierce and devoted warrior. Her clan, the Aska, worship the god Sigr and, according to his will, they fight their enemies, the Riki, the ones who worship the goddess Thora, every five years. This ancient blood feud has filled the hearts of the Riki and the Aska with ing...

Wow, this story gets going right from the start. Nothing is ever dull and you pick up a ton about Eelyn's main character right away. She's pretty tough - you can totally feel her conviction and drive through her POV! But I reallllly appreciate that her character and personality are SO much more than simply "fierce."I'll admit I put this one off for a bit and didn't get to it until around Christmas because I kind of maybe judged it by the cover. I...

Well, in the words of someone who knew exactly what they were talking about... I've just been had. So utterly and completely.This was a letdown; plain and simple. I don't know how else to express my shattered expectations. This was not the "Viking" book I was eagerly awaiting to read and in fact, the only thing Viking about this was pretty much the setting and that's where it stops. Nothing more. Nothing less. Put every cliched ya plot ...

Wow, this review is so overdue, and I'm so sorry for that—I think I honestly completely forgot that I hadn't reviewed it yet, but it's been a full two months since I read this book! That said, it was enjoyable enough that it stuck with me pretty well, so… let's do the thing! "Vegr yfir fjor. Honor above life." First of all, let me say that I went into this book feeling cautiously optimistic; the synopsis didn't completely sell...

4.5 Full Review This was so good!! Now I need more enemies-to-lovers books 💕😍😍 I can't believe this is the first book by the author because it did not feel like a first book at all. I found it well written and engaging. What I liked - The first chapter is a battle one. I love books that start off being action-y instead of having to wait until the middle of the book. So I was immediately invested in the story. - I love books that have...

RUTHLESS VIKINGS, ancient rivalries, falling for the enemy and strong has hell female and male characters. WHAT ELSE DO YOU NEED?💘 "We find things, just as we lose things. If you've lost your honor, you'll find it again." I'm surprised with this book, I expected to enjoy it but not as much as I did.The story is original and intriguing.This book was an action-packed gift. SO MANY FIGHTS, there was never a dull moment in this, and ther...

'Vegr yfir fjor. Honour above life.' On paper, Sky in the Deep sounds like everything I would want in a book: historical fiction, vikings, and an enemies-to-lovers relationship (I'm such a sucker for this trope, not gonna lie). However, I felt that the execution ultimately failed. The writing was mediocre, the phrasing sometimes awkward and clunky, and the worldbuilding was barely present. Although Sky in the Deep never lacked for action, t...

RELEASE DAY!Review also found at:https://dustoffyourmachalo.wordpress....Thank you Netgalley and publisher for the eARC to read and review!Sky in the Deep is not released until April 24, 2018, so this will definitely be a spoiler-free review. The setting is a re-imagined historical fiction/fantasy about Vikings. Eelyn is seventeen and a warrior in the Aska clan. During a battle against an enemy Riki clan, Eelyn discovers her brother, Iri, thought...

WrensReads Review:Thank you to the publisher St. Martin's Press: Wednesday Books and NetGallery for providing me with a ebook copy of this beautiful book! Quotes taken from the book are subjected to change with the official release. All opinions on are mine and mine alone.Release Date: April 24th 2018Call the coast guard, I am drowning my need to become a viking. Who can I call to train me in how to use an ax and where can I get about fifty of th...

I loved this. Now I want to read/watch all the viking things

"They hated me like I hated them. But they'd won. And they knew it."3 1/2 starsInitially, I hadn't even really planned on reading Sky in the Deep, but, and this happens quite often and is very detrimental to my financial responsibilities, I randomly was really in the mood for it and none of the other books I already own. I don't question that anymore. So I just went ahead, got it and dove right in. The first chapter opens with this massive action...

5/28/2018: Here is my reminder that this book is amazing. <3 I hope all of you are able to read it at some point. Happy reading!5/7/2018: I'm not the type of person who easily gets crushes on fictional characters. I just don't. I know some people who fall in love with a person in each book, and that isn't how I roll. It takes a lot of mental and emotional connection for me to dub a character my book boyfriend--just like the word love, I don't use...

Is this really a stand alone? Because I'm so thrilled after the ending! Also, can the whole ax thing was freaking awesome, and there was some awesomely brutal scenes. There was family love, friendship, and romance mixed in. And I really want viking hair as of now!!Review on my blog https://literarydust.wordpress.com/20...

Just finished my reread of this beauty in preparation for the OwlCrate Book Club (come find us on Facebook if you're an OwlCrate subscriber!). I didn't think it was possible to love this book more than I already did, but I LOVED this reread. I took my time with it and really savoured every chapter. I adore these characters and this story. I can't wait to discuss it in the book club.

" 'Vegr yfir fjor.' Honor above life." I don't think I can fully express how much I loved this book. When I first started it, I was very, very, very hesitant. I love Vikings, I love anything related to Vikings and Scandinavian history. So, I had extremely highly expectations that made me feel like I was going to be disappointed when I finished it. But boy was I wrong. I figured that out within the first 10 pages. That first fighting scene had me...

4.5 stars I haven't been big on writing proper reviews lately but for this one I'm going to sit my ass down and try (at least a little bit, hah).This was the kind of book that captivated me from page one. I really enjoyed the Vikings setting since I hadn't read anything like it before. The fact that the book started out with a cool battle scene also made things interesting right from the start. But the real selling point here was the main c...

WOW.GUYS THIS WAS AMAZING.A million stars to all the feels, tension, love, hate, and Viking badassery that this story was. I AM BLOWN AWAY. I'm so sad this is over now because I never wanted it to end. I was sold on this book when I saw the cover and read the synopsis, but then I started this and knew I had just come across one of my favorite reads of 2018. This book will suck you in right from the start. I'm talking HEART POUNDING, page turnin...

It's time to be a big girl now. And big girls don't cry. —FergieOn page 12, Eelyn says internally, "There were very few times I'd cried in front of my clansmen. It made me feel small. Weak, like the early winter grass beneath our boots."BUT THEN, ON PAGE...45: The heat of a tear slowly trailed down the side of my face.50: The tears stung in the cold.102: I brushed a tear from my cheek.110: tears fell down my cheeks.120: I stopped trying to hol...

3 KINDS OF PEOPLE WHO WILL LOVE THIS BOOK AS MUCH AS I DID 1. People who love action-packed booksHeck, this novel begins with an intense fight scene between Eelyn and her people, and their sworn enemies, the Riki. Obviously, being a viking book, war is always just around the corner. There are tons of those training montages we say we hate but secretly love, which are just as fun to read as the actual fights, which we don't get a lack of, either.T...

Loved. OMG. My second five-star rating in a row. Which book is gonna ruin this streak, let's find out shall we? :p In all seriousness, this book was AMAZING. Reread worthy. Preorder worthy. Must-have-on-my-shelf-because-it's-a-new-favorite worthy. Ugh. THIS WAS SO GREAT. AHHH.***Review posted on The Eater of Books! blog***Sky in the Deep by Adrienne YoungPublisher: Wednesday BooksPublication Date: April 24, 2018Rating: 5 starsSource: eARC from Ne...

I loved this book! Crazy battle scenes that come off so vivid. The characters are incredible to read about and are written so well. This is a character driven book and they are some great characters! Eelyn is a great leading lady character: strong and stubborn though I admit at first her thickheadedness was annoying. BUT she grew on me as I read. Fiske was my favorite character in the book though! Lots on layers to that onion. The story was good ...

4 stars! "Honor above life." Sky in the Deep is about Eelyn, a young Aska girl who while in battle sees her dead brother. Taking off after him, she discovers he's been alive all this time and has joined the Riki people, her enemy. For her protection, she's taken by her brother and hidden as a slave so no one will suspect they are related. But new danger is near and the two tribes need to see if they can work together to face the oncomi...

Sky in the Deep by Adrienne Young unfortunately fell victim to the hype for me. I have had this book on my radar since last year and was anticipating it SOOOO much. I was disappointed. I can't quite put my finger on what but it just didn't click with me. It was good. I mean, it wasn't bad. The writing was fine, the characters were fine, there is nothing glaringly bad about it but, I don't know, for me, it just fell FLAT. As far as the plot goes, ...

To set the stage of how AMAZING this book is let me start by saying, I'm DEEP in the SJTR book three drafting cave, and I DEVOURED this masterpiece basically in one night. THE SKY IN THE DEEP is INCREDIBLE and I cannot recommend that you add it to your TBRs enough. DEFINITELY going to add a more official blurb soon.