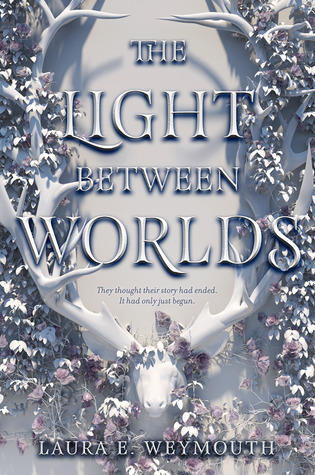 Five years ago, Evelyn and Philippa Hapwell cowered from air strikes in a London bomb shelter. But that night took a turn when the sisters were transported to another realm called the Woodlands. In a forest kingdom populated by creatures out of myth and legend, they found temporary refuge. When they finally returned to London, nothing had changed at all—nothing, except themselves. Now, Ev spends her days sneaking into the woods outside her boar...
---
Details The Light Between Worlds
Reviews The Light Between Worlds
A picked this book up on a total whim and absolutely loved it. The writing was fantastic, and the story made my heart ache in the best way.

This review and other non-spoilery reviews can be found @The Book PrescriptionActual rating: 3.5 stars"A Woodlands heart always find its way home"🌟 The moment I set my eyes on this cover I knew I was going to read this book. It has one of the best covers ever. I wanted the inside to match the outside, well it happened but to a certain degree.🌟 Let's just say that the first thing that caught my attention was the writing style, Laura is...

Boring and a complete rip off of Narnia.bleh

A yearning, achingly lovely take on what happens when you find your way free of your own world and into one that suits you better--then are forced back home again. This is a book for anyone who dreamed of being Lucy Pevensie or broke their heart over poor Susan, with the mystical, lonesome feeling of a clearing happened upon in the woods.

If you have loved Narnia, you MUST look this book up next fall. I don't even have words to describe how much I adored it; the lyrical, literary prose, the deeply flawed but eminently relatable characters, the utterly phenomenal premise. This book is like nostalgia incarnate, and not quite like anything I've ever read. ❤❤❤ DEFINITELY read it. If you have loved Narnia, you MUST look this book up next fall. I don't even have words to describ...

✧ ARC PROVIDED BY THE PUBLISHER VIA EDELWEISS IN EXCHANGE FOR AN HONEST REVIEW ✧Have you read The Chronicles of Narnia or watched The Lion, the Witch and the Wardrobe? If yes, don't come anywhere near this book. Reread or rewatch Narnia instead. You'll be getting the better execution of the exact same premise.There isn't an ounce of originality in The Light Between Worlds. It's practically a recycled version of Narnia, minus Edmund:✔ four t...

You don't even know how much you're going to love this book... Oh my goodness, it is haunting in the most beautiful ways. Prepare to meet one of the most unforgettable MC's you've ever read about––I can't believe how much I connected with Ev!!! I still think about her, and that's something when you consider I read an early draft of this story. I cannot wait to read the final version. So utterly beautifully written, a heartbreaking premise, an...

Initial Impressions 8/19/18: 4.5 starsWhat a beautiful book this was! THE LIGHT BETWEEN WORLDS wasn't quite what I was expecting but it turned out to be even better. The focus was much more on the time after the fantasy world and how the three siblings had to deal with being back in the real world and it made for such an emotional story. I loved the characters and how real everything felt. The emotions really struck me and I connected with these ...

Wow, this book was quite a trip. It started out with a Chronicles of Narnia vibe but then turned into all of the darkness and poetic beauty of Wintersong. This book gives insight to what might happen after Narnia. They've lived in a different world, are years older, different people – and then get thrown back into their younger bodies in this old world. It is a story about the bond/relationship between sisters, and dealing with loss, grief, a...

4.5 stars.I'm an Indigo Employee, and I received an advanced reading copy of this book, in exchange for my honest feedback.The alternate ending to Narnia that you never knew you needed. This book was devastating (in the best of ways). Covering incredibly heavy topics like grief, loss, trauma, and mental illness – this book was truly genre-defying. Almost split into two stories – this read half like the story of a young, troubled girl – torn...

Thanks, Edelweiss and HaperTeen for providing me with a copy of the book in exchange for an honest review. "The heart of a woman falls back with the night,And enters some alien cage in its plight,And tries to forget it has dreamed of the starsWhile it breaks, breaks, breaks on the sheltering bars."Oh boy, had I expected this book to be completely opposite of what I got? Yes. A thousand times.Weymouth has a way with words. Each sentence contained ...

Rating: 5 stars When I picked this book up on a whim, I definitely never expected to find one of my top favorite reads of 2018 and possibly of all time. The Light Between Worlds is one of those books that I felt in my bones, in every facet of my heart as I turned each page. It's a story of belonging, sisterhood, love, and most of all, home.I'm going to start my review off with a very important note, however, which I think everybody needs to unde...

(I rated this book 5 stars!)Holy shit. I can't believe how lucky I am to have stumbled across an ARC of this in the staff room at work, because I think if I hadn't it would have gotten buried under the rest of the new releases in October when it's slated to be released and I never would have picked it up.As someone who vastly prefers fictional worlds to real ones, sometimes to a very unhealthy degree, to cope with mental health problems... This b...

Disclaimer: I received a free copy via Edelweiss for review purposes.I wasn't too sure of this at first, but it turned out to be a beautiful exploration of sisterhood, grief, and finding your place in the world. (I'd like to give trigger warnings for depression and self-harm)

THE LIGHT BETWEEN WORLDS is a feast, full of magic and reverence. Its pages are laced with poetry and art that lend a rare and beautiful texture to a book already rich with the bittersweetness of longing to understand those you love.Sisters Philippa and Evelyn's narratives are the story of what happens after an adventure. During the bombing of London, Evelyn wishes herself, her sister, and their brother, Jamie, far away, and by magic, they land i...

The Light Between Worlds is a staggering work of sorrow and joy that explores the meanings of home, family, and loss. Set in a richly detailed post-WW2 England and a lush forest fantasy land, Laura Weymouth expertly weaves together the lives of two sisters, their love, their pain, and the unbreakable bond they share. Heartbreaking and beautiful, The Vanishing Kingdom is sure to enchant its readers.

Not quite sure how I feel... nothing really happened, lots of potentially interesting scenes were skipped or just kind of went nowhere, and I generally felt like I was being kept at arm's length from the characters as a result.RTC.

If you've ever wondered what happened to the Pevensie siblings after they left Narnia, this is the book for you! While it's not a direct sequel, after hearing the author speak, that was partially her inspiration. And boy, oh boy, does it hold up. This book is thrilling and exciting and has funny moments and sad ones. It's a fantastic debut novel, and I can't wait to see what Laura writes next!

THE LIGHT BETWEEN WORLDS is a hauntingly beautiful and surprisingly literary tale set in London, rural England, and a strange and wonderful world called the Woodlands. Evelyn and Philippa Hapwell and their brother Jamie, are struggling to adjust to life in post-war England after an unexpected trip to the Great Wood where they acted as decoys to stave off an imminent war. The book begins by introducing us to Ev who, of the three siblings, has the ...

I received an ARC of this title from the publisher for an honest review.During a middle of the night air strike in London, the siblings Jaime, Philippa, and Evelyn are transported to another realm. They are returned back to their world, with no time lost, after 5 years in the forest realm of the Woodlands. Philippa and Jaime adjust and move on but Evelyn mourns her home in the Woodlands and longs to go back. Filled with magic and poetry, this boo...

Beautiful, thoughtful, and so much more than it's one-liner pitch: What happens after you come back from Narnia?It IS that, and it's such a fantastic premise, but it's also so much more. It's sisterhood, and the love, responsibilities, and sorrows therein; it's self-discovery and finding your place in the world (and that hideous specter: what if you can't?); it's loss and grief and hope and the depth of true emotion, all in one moving, captivatin...

I was thrilled to receive an ARC of this book, especially since ever since the book deal was announced, I started counting down the days until it's release.To sum it up briefly: it's beautiful and heart-wrenching.But there's a warning I need to give to any future readers before picking this book up. If you're going through a rough spot in your life or struggling personally with something, hesitate to pick it up. Laura is a FANTASTIC author, which...

As someone who loved Narnia as a child but found the idea of the Pevensies being pushed out of their second home more and more dissatisfying as I grew older (not to mention the ultimate fate of Susan), THE LIGHT BETWEEN WORLDS was the book I have always wanted. A lyrical exploration of exile, sisterhood, and what it's like to find your way home.

This mesmerizing novel breaks my heart, but in a good way. 💚💚💚💚

THIS REVIEW & MORE → Paws and PaperbacksARC received through #booksfortrade on Twitter. "Inside me something aches and aches, and I wonder if it will ever stop. I reach out and hold tight to my sister's hand because I can't fathom going home without her, but can't imagine her anywhere but here." Based on how this is being described, I believe a lot of readers are going to go into this with certain expectations, and may be severely dis...

Trigger warnings for self harm, depression and/or seasonal affective disorder (though neither are specifically named on the page), suicidal ideation, and grief as well as grief affecting eating habits.OK with those out of the way, this was GORGEOUS. Lyrically stunningly gorgeously written. Y'all, this may be my fave book I've read this year, I'm not even joking. Talk about Pevensie children feels hitting you right where it hurts. Seriously though...

Thank you to Edelweiss and the publisher for the chance to review this title.WOW. Just WOW. This book was mind-blowingly beautiful and tragic. If you imagine Lucy coming back from Narnia and dealing with being a child again and feeling out of place in the real world, this is the book you're looking for.During an air raid in London, siblings, Jamie, Phillippa, and Evelyn are suddenly spirited away to another world. There the meet Cervus, the guard...