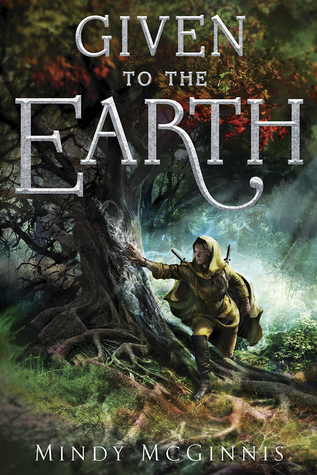 Duty, fate, desire, and destiny collide in this intricately wrought tale, perfect for fans of Sarah J. Maas.Although she was born to save the kingdom by sacrificing herself to the rising sea, Khosa's marriage to King Vincent has redeemed her. As the Queen of Stille, she's untouchable. But being Queen hasn't stopped her heart from longing for the King's stepbrother, Donil. And it hasn't stopped her body from longing for the sea itself, which still...
---
Details Given to the Earth (Given Duet, #2)
Title
Given to the Earth (Given Duet, #2)
ISBN

9780399544644

Author

Mindy McGinnis

Release Date
Apr 10th, 2018
Publisher

Putnam's Childrens

Language

English

Genre

Fantasy

,

Young Adult

Rating
Reviews Given to the Earth (Given Duet, #2)
Good and brutal ending. Some things I didn't enjoy in book 1 were either absent or much less in this book. I really like Mindy's worldbuilding, especially the language. The curse words the characters use all reflect their world - it's a world where the ocean is threatening to swallow their land so their curses are like 'filthy fathoms!' or 'tides!' There are other phrases that are unique to this world and such a small detail as the language reall...

The slow decay of magic in the book was pivotal in the book, Khosa is still having fits and being called to the sea, the earth is growing quieter and quieter. Khosa finds a possible way to save the people of Stille, but would they agree knowing that what is proposed has never been done before?This book did not suffer from the "Sophomore Syndrome" when it comes to books in a series, I found this book to be better than the first one to be hones...

Ah Mindy. How you screw with my head and heart! Seriously, this woman is a beast at writing. I have nothing but respect for her and her talent (I'm also a little bit scared of her). Oh Dara and Donil. Sweet Vincent…and Witt. Even Ank and Khosa. Every time anything Dara came up I would immediately think of that line in Pride and Prejudice: "I never saw such a woman. She would certainly be a fearsome thing to behold." I mean really, when yo...

In Given to the Sea, readers were introduced to five tragic characters. Vincent, the reluctant heir to the throne of Stille. Khosa, a young woman raised to be sacrificed. Indiri twins Donil and Dara, the last of their race. And Witt, the leader of the Pietra, a young man who must pretend to be heartless to keep his people safe. Given to the Earth follows them to the end of their journeys. As the earth beneath them crumbles, so do their loyalties,...

I hated how this ended. I hated how the stupid romance came together.. if you can even call it that. I finished this early this morning and I have had time to calm down but still hate it. Im just not upset enough to rant out a review.

This book had such a sad ending, which I won't talk about too much to avoid spoilers. What I liked: The great and varying cast of characters, with many people on different sides of a conflict where neither party is right or wrong. There were two characters I absolutely didn't expect to even like each other who got together, and I liked that development. It didn't come out of nothing, in a way they made sense together. What I didn't like: In the b...

Title: Given to the EarthAuthor: Mindy McGinnisAge Group: Teen/Young AdultGenre: FantasySeries: Given to the Sea, book twoStar Rating: 5 out of 5 StarsThe author gave me an advance reader copy of this book at a library visit in August—she even signed it for me—thank you so much, Mindy, it means so much to me!When I heard that Mindy McGinnis, one of my favorite Ohio-based authors, was coming to my local library to discuss the book club book, N...

Although this book took me a while to get into at first, I was not disappointed! About halfway through I didn't want to put it down! I hope she makes a third book to this series but the ending was sufficient.

True rating; an incalculable amount of negative stars, whose collapse would cause enough supermassive black holes that the universe would cease to existAt some points this book is actually offensive - there are a colony of rejects who are completely stigmatized and ostracized, but surprising are more accepted than the indigenous population. Go figure.At other points it is ridiculously stupid - I could not tell you why some character perspectives ...

Given to the Earth follows a few months after the captivating ending of Given to the Sea. Also, told in multiple points-of-view like its fantasy duo, this book focuses on how Khosa's thought-to-be tragic sacrifice to the sea has now turned into a chance to live and be queen. But with these new changes in motion, the Earth begins to literally crumble beneath them and the loyalties among the characters are challenged. Love becomes a triangle of c...

For me? The way i know i loved a series is when i want more. So even though im unhappy and gosh darn pissed 😠 about more then a few events in this last book. Ultimately... i confess im head over feet in love. 😍i think what it really is. Is the writing? Nothings repetitive. Everythings described in a way where it's detailed without.... details? Hmm🤔yup that sounds weird. I dont rally know what im trying to say. Except this book got me. Th...

Wow! Excellent sequel to the amazing Given to the Sea. McGinnis writes books that you have to slow down and savor; these are the most literary fantasy books I've ever read, very different and memorable. The stories of Khosa, the Given who is now The Redeemed, King Vincent, the Lithos Witt, and Dara and Donil the Indiri, continue in this volume to be as intertwined and interdependent on each other as the land and sea of the kingdoms of Stille and...

Well, I wasn't expecting to like this more than its predecessor, but it took away the dislike for that god awful love triangle! I am pleasantly surprised by whom is "given to the earth". It does make sense in the end. And I found myself liking Khosa more in this sequel. Together, these two books are good fantasy for your fodder. Okay, that sounds totally dirty. LOL! Seriously, if Given To The Earth was just a standalone, I'd have probably given i...

This actually a high 3.5 for me. So... 3.6, I guess?The story started out slow and I was a little bored at first. I kind of felt the same way about the first book, though. However, the ending really picked up and tore my heart out.Also- I'm going to need more information in this epilogue. I have questions! Lots and lots of questions that remain unanswered!!! (Ok, it's really just 3 questions, but they're big questions!)Anyway, this book is beauti...

Given to the Earth is a continuation of the events in Given to the Earth. I'll refrain from describing the plot in this review because I'm not sure I can do so without spoilers or copying too much for the blurb. On the sentence level, the writing was lovely. I never had trouble picturing anything, and felt every time the writer stopped to describe something in detail, it was relevant and layered with meaning. However, that wasn't enough for...

The second in the Given Duet is miles better than the first, Given to the Sea, but that's not saying much. It seems Given to the Earth is the book McGinnis was aiming for. It was her end goal for her characters, and the story she really wanted to tell. Unfortunately, I don't think many will read it due to the fact that the first is so difficult to get through. It feels as though there's so much character growth in this book that there really shou...

4.5This was an incredible, heartbreaking and ultimately uplifting story. I just couldn't put it down. It felt like an epic conclusion. All the lore, the history, the fears and longing of these characters...each decision ever made bringing them to a final moment. The author made a great job intertwining personal stories with the collective history of a people weighed down by fear, prejudice and duty. There are so many interesting, important themes...

Bored to death reading this book and skipped 60% just so i can finish and be done with it.The only thing I liked in this book was Vincent, who is a good friend, loyal brother, martyr husband and responsible king.(view spoiler)[ Khosa is a spineless woman who is resigned to be a sacrifice for the people, then marry the king whose touch repulse her but cherish as a friend to save her life and reputation; and then give herself to to her husband's be...

Amazing conclusion to wonderful story. Since reading Given to the Sea, I anxiously awaited this story. I was pulled in from the beginning and did not want to stop reading but I needed sleep. The cast was large. Khosa & Vincent's story was beautifully told. As were the intertwining stories of others, Dara, Donil, Witt & Ank.This tale of a kingdom facing disasters from so many turns draws you in and doesn't let you go until you are immersed. You ar...

OK BUT THIS IS HANDS DOWN MY FAVORITE BOOK AND I READ A LOT OF BOOKS EVERYTHING WITH DARA AND DONIL DYING TOGETHER AND KHOSA HAVING DONILS KID AND THE LAST INDIRI DYING WITH HER TANGATA CAT BESIDE HER AND VINCENT KILLING HIS MOTHER AND NOT KNOWING ABOUT IT AND DARA AND WITT GETTING MARRIED AND KHOSA WEARING A CROWN TO REMIND HER OD HER MISERY HAD ME IN TEARS. THIS BOOK DUO AND A MADNESS SO DISCREET ARE THE ONLY THINGS I CARE ABOUT THANKS AND I WI...

This series is so thoughtful and beautiful and also thoroughly fucked me up. Thank you, Mindy, for these wonderful characters, but also for destroying me? I will never be able to forget them. They mean too much.Cool. I'm gonna go cry some more now!

I think the author did a great job regarding all the lose ends and keeping track with everyone. I'm a sucker for " everyone gets to be happy in the end" aaand this book aint like that. Entertaining read though.

It was really good, but in a weird sort of way. There was some really unexpected stuff that did some awesome stuff to the plot (to be really vague about it). I listened to an audio version of it, and I think it sucked me into the story even more.

I preferred this book so much more over the first one. Dara's storyline was way more interesting than Khosa's this time around. I was actually shocked at one point, while a LOT of the book was super predictable, one point actually made me gasp out loud.

Too many major improbabilities in one character's storyline. Otherwise 4 stars.

I may have liked this book more than the first in the series. It definitely surprised me more. I did not like how infidelity was described as something that just happens, not as something deliberate.

2.5 stars. The last 50 or so made me up the rating with half a star. The rest of the book I just didn't really care much for, unfortunately.

This series is absolutely wonderful.