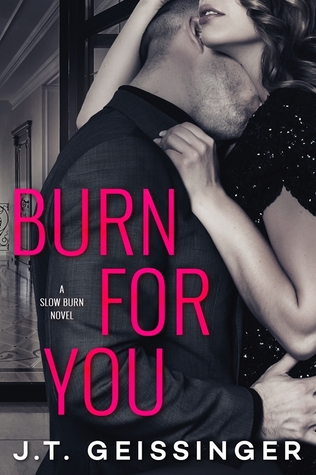 The marriage is fake. But for a sassy chef and an arrogant billionaire, the sparks are real…Jackson "The Beast" Boudreaux is rich, gorgeous, and unbelievably rude to the staff at Chef Bianca Hardwick's New Orleans restaurant. Bianca would sooner douse herself in hot sauce than cook for Jackson again, but when he asks her to cater his fund-raiser, Bianca can't refuse, knowing the cash will help pay her mother's medical bills. Then Jack...
---
Details Burn for You (Slow Burn, #1)
Reviews Burn for You (Slow Burn, #1)
Burn For You is book one in the Slow Burn series by J.T. Geissinger. J.T. is a new to me author. I won this book in a give-a-way. This is one of those times when I am smacking myself in the forehead and asking myself why in the world I haven't read anything by this author before! This book gets all the stars! I was attracted by the blurb and the cover but was barely a couple of chapters in when I was completely in love with both Jackson Boudrea...

4.25 StarsAwesome. I had so much fun.A perfect example how an overused plot can still be enjoyable and original when it's done right. NOT ONE mistake according to my own personal romance rule book.- Enemies-to-lovers romance - Marriage of convenience trope - A beauty and the beast theme - A strong, sassy and intelligent heroine. No annoying traits, habits, actions or uttered words. Everything that comes out her mouth is hilarious. - A grumpy, re...

*3.5 stars rounded up*JTG is an auto-buy favourite, as she's one of only a few authors who can write smart and intelligent prose across all genres. Without a doubt Burn for You wasn't mediocre, though it lacked the intensity that I attribute to her books. Still, it was a fun way to pass three lazy hours on a Saturday.

4 stars!Review and Book Buddy Giveaway at Of Pens and Pages.Wow. I can't believe I didn't read this until today! This Beauty and the Beast-inspired romance had everything I want in a book—Enemies to Lovers, Marriage of Convenience, Slow burn, a reclusive, arrogant billionaire hero and a sweet and sassy heroine chef. Plus, it's set in New Orleans and features recipes of food in between chapters. Yum.It wasn't love at first sight for chef Bianca ...

4 STARS She was my religion. My north and south, my heaven and earth, the axis of rightness around which everything had suddenly aligned. For the first time in my life, all my polarized parts worked as one, humming happily along in harmony with the universe, finally understanding their place. Looking for a perfectly paced slow burn romance? Well, I've got your fix right here! This series is so appropriately titled, and for this slow burn lover...

Really liked this fake engagement romance! The beginning was a bit slow but I didn't mind it. I loved it while I was reading it but it's been a couple of weeks since I've finished it and I'm really hazy on the details. :S

4 Beastly Stars"This is a business deal, Bianca. A good one for both of us. We're not doing favors for each other. No one is getting taken advantage of here. We're going into it with our eyes open, fully informed and consenting, with an exit strategy that's painless and precise. Which is a hell of a lot more than most people can say about their marriages."To say that the first meeting between Bianca Hardwick and Jackson Boudreaux was a ...

For whatever reason I shelved this book as no-thanks-but-no. ???As my buddy Sigmund Freud said:"The great question that has never been answered and which I have not yet been able to answer, despite my 30 years of research into the feminine soul, is: 'What does a woman want?'"Well, I made a mistake, see, I'm that honest and self-critical.It's the second mistake I acknowledged making last year: not reading this book and singing 'U + Ur Hand' by...

The man gave the term resting bitch face a whole new meaning. He looked like his face had caught on fire and someone had tried to put it out with a fork.Do you love BEAUTY AND THE BEAST retellings? Need I even say more at this point? Probably not. But I will. This isn't your standard homage but there's enough similarities to tickle your fancy and enough differences to delight you. In addition we have a hate-to-love slowburn and a fake-marriage tr...

As usual my reviews will contain spoilers so if that bothers you stop reading here.Okay, I am incredibly new to the romance genre so I am rating these differently than I rate other books. A four star here means I was thoroughly entertained by the book, but I'm no entirely sure about what my baseline 3 star in this genre is. As for the book itself it did a good job engaging my imagination. I plan on finishing the series. I just downloaded the seco...

⭐⭐⭐⭐3.5 STARS⭐⭐⭐⭐Amazingly entertaining, packing heat, passion and banter! If you like your heroes on the growly side, your heroines fiery with a smart mouth, a push and pull potent with animosity and a healthy dose of steam, you don't want to miss Burn For You! This is your next afternoon escape!I discovered J.T. Geissinger recently over the past summer and fell in love with her sexy and suspenseful stories propelled combustibl...

✪✪✪1/2 "I always thought love was a pair of shackles, but I was wrong. Love was the opened door of a cage." ➽ FULL REVIEW NOW POSTED You can also find it on my blog, Ink Is My Sword🌼 All images were found in pinterest, I do not own any of them. Has the addicting quality that makes you invested in the story and the romance even if isn't perfect.💬When I picked burn for you I was expecting a fake marriage storyline, where the ma...

4,5 stars, actually***********************************************How can you create wonders with the common trope of "enemies-to-lovers" and "fake relationship"?This book has a popular romance trope: Enemies to lovers! And as main characters, we have a grumpy and arrogant billionaire and a sweet and sassy Southern belle. Then, a fake engagement!Everything sounds cliché, right? It sounds like this book is no different from the many other...

I loved, loved, loved the heroine. Omg wow this woman was amazing!!! She was a strong sassy woman who didn't take crap from the hero. I liked the hero although I have a tiny complain about him. I like my heroes to work for their money and this one didn't but that didn't stop me from liking him and I don't mind a hero who's an asshole and this one may have been one but he sure redeemed himself.She was my religion. My north and south, my heaven and...

4.5 stars1/2 cup of Slap,Slap,Kiss,1/3 cup of marriage of convenience,a dash of cliches,add a pinch of dirty talk and voila the perfect book for me!!P.S. Jackson Boudreaux is mine!!!

3 StarsOverall Opinion: This is a rough one for me to rate, tbh. This had me engaged, but I wasn't really wowed by it. I never fully felt the connection between the h and H, but I did feel connected with the characters individually (which is kind of weird as it's usually no connection to any of it for me). I liked their back stories, but I feel like their futures were left hanging in a way that it didn't help me feel that connection. I also felt ...

It's like Beauty and the Beast meets Princess Tiana. Jackson and Bianca are so much fun to read. He's overbearing, high-handed, and demanding....beastly.She's hard-working, feisty, and doesn't take any crap. The two of them generate sparks that ignite all of New Orleans!What I loved: Mainly the characters. It's a super cute take on the Beauty and Beast story. Jackson is misunderstood, but also doesn't help the situation by barking orders and dema...

4.5 starsI've heard of JT Geissenger in my book feeds but now I realise what I've been missing out by not reading her work. BURN FOR YOU delighted my literary senses from start to finish. The two main characters were both hugely likeable in their reality, completely lacking perfection, both stubborn and fun to observe clashing. This book is a piece of wonderful hate to love with great story substance.Jackson is like a grisly bear, a pathetic ...

Oh my! Jackson Boudreaux! I could leave my review right there because really, who doesn't love a big, burly, scowling hero? Dig a little deeper and you'll find that Bianca's mama was right. Crème brulee. "Hard as nails on the outside, but inside all soft and gooey sweet."So yeah, I'm absolutely heart over heels in love with Ms. Geissinger's latest hero. I have to say he's one of the most interesting male characters I've ever re...

The old romance trope where two total opposites fight like cats and dogs until they suddenly realize they're crazy about each other well, that's how the first encounter starts between a grumpy, broody, rude billionaire Jackson Boudreaux and Bianca Hardwick, Chef/owner of a New Orleans' restaurant.It's not even pretty but each of them hold their own, yet the sparks fly, even though they fight it, through out the relentless pent up bickering... W...

I laughed out loud so many times while reading this, it was too funny not to."You just told me I wasn't nice to you. Why would you like me?"His eyes started to burn. "You're honest. And real. And you don't care about my money—""Ha! So you offer me a million dollars of it?"I loved Bianca's sassiness and spunk and the fact that she doesn't take crap from anyone.Jackson was too cute not to like him either. Even though he come...

4.5 Slap Slap kiss Stars!Heir to the Boudreaux Bourbon empire, Jackson Boudreaux was a beast of a man that had a perpetual scowl on his face and would just as soon growl at you than not.Bianca is a beautiful Creole woman who has just opened a restaurant and based her menu off her recipes paired with Boudreaux Bourbon. When Jackson shows up at her restaurant demanding a table, the sparks flew.Oh man, Jackson is one of my favorite types of Hero's...

I really enjoyed this one! I wish it had an epilogue!

ARC received for review4.25 stars ...It (and I) needs an epilogue!!!!!!!!!!!Great story..tale as old time..This book hit so many emotions. I laughed and I cried. Jackson aka the "Beast" has a library. He was so damaged yet he was able to open up to loving and being loved. Bianca gives better than she gets. I can't wait to try some of the recipes Ms. Geissinger graciously included at the end of each chapter.One more thing...cover art people...plea...

I adore a classic B&B retelling, and this one definitely delivered! ❤ Bianca was sassy and a lot of fun, and I loved Jackson's surly attitude! It was easy to forgive him because we got his POV and it was obvious how sweet he was on Bianca, he just had major hang-ups. I love the "first sour, then sweet" heroes 😉 I'm really looking forward to more from this author! Especially the next in this series!! *gimme* 😍 I adore a classic B&B retel...

4 3/4 "Creme Brulee" Stars!I absolutely loved this one. A dark and brooding H. A sassy sweet h- southern woman done right. I loved them both. No tstl moments, and some very engaging side characters that added to the story. It was funny, full of heart, and though a bit of a slow burn, it was still very steamy. I enjoyed this one a lot! Happy reading!

My Reaction To This BookThe Cover Does Not Fit The Couple (WHY?????)Interacial Couple Deserves A Interacial Cover At 40% The Heroine Slaps The Hero IMO Not For A Good ReasonIt Went Downhill From The SlapThe Heroine Uses The Phrase "Sweet Baby Jesus" Not Once Not Twice But A Total Of 15 Times And Then Once During SexAll I Could Think About Is Will Ferrell In Talladega NightsMISCOMMUNICATION (Which I Hate)Love This Author Her Book Is One Of My Fa...

Is it HOT in here?Just finished the audio for Burn for You and I enjoyed it. Holy shamoly that slow burn was definitely worth waiting for. I admit to being very hot under the collar as I was listening to this one. Luckily I didn't have to struggle with squirming in public and avoiding eye-contact with my fellow passengers on the train (for a change). I was a little uncomfortable though. Straight after the remarkably hot sexy scene, an extremely s...

***FOUR STARS***I absolutely adored everything about this story (Thank you for another amazing recommend, Sweet Anna!). Jackson was such a raging dick when he first met Bianca, and you all know me, I love my asshole heroes, so I was a gonner for him! Bianca was a spitfire too, and never took his shit. She was funny as hell too, and these two had amazing chemistry. Such a slow burn until the finally came together, I thought I was going to die, but...

OMG OMG OMGMy ship heart has been so blessed this past days! Okay, this book is SO GOOD.I didn't expect to love this as much as I did, and I'm so happy it lived up to my expectations.I can't believe I never heard anything about it before. I thought this book would have a lot of drama like most contemporary romances do, but NO, is was a fast, funny, entertaining, adorable read. I absolutely adore all of the characters!! They are so good.Thi...