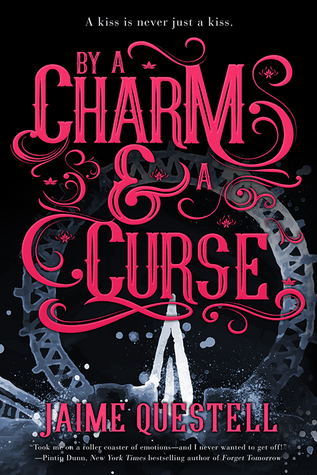 Le Grand's Carnival Fantastic isn't like other traveling circuses. It's bound by a charm, held together by a centuries-old curse, that protects its members from ever growing older or getting hurt. Emmaline King is drawn to the circus like a moth to a flame…and unwittingly recruited into its folds by a mysterious teen boy whose kiss is as cold as ice.Forced to travel through Texas as the new Girl in the Box, Emmaline is completely trapped....
---
Details By a Charm and a Curse
Title
By a Charm and a Curse
ISBN

9781633759008

Author

Jaime Questell

Release Date
Feb 6th, 2018
Publisher

Entangled: Teen

Genre

Fantasy

,

Young Adult

,

Romance

,

Fiction

Rating
Reviews By a Charm and a Curse
I totally love magical circus settings so this just scored AAAAALL the points for me right there! Plus this centres around a kiss and a curse and magic. Oh yes please and thank you. I also have no idea why I like circus books so much considering (a) I've never been to one, and (b) my mother told me a story of when she was a little girl going to one and someone fell and nearly died, soooooooo. Cait, why fore art thou so interested. But it is what ...

Sorry, but if you don't like stories about carnivals or the traveling circus, we can't be friends. Just kidding, but I do have an affinity for all things weird, strange, and entertaining. In 2016/2017 I highly enjoyed both Caraval and Daughter Of The Burning City, and this book felt like a nice blend of the two while doing it's own thing. I can dig that. I enjoyed this one so much that I finished it in a span of 36 hours; it was that type of ...

To the casual observer Le Grand's Carnival Fantastic seems just like any other traveling circus with it's flashing lights, death defying shows and plenty of rides and games to entertain all who visit. But this traveling circus has existed for centuries benefiting from a curse upon one of it's own while the others enjoy a charm that protects them. All those who perform and work for the circus stop aging at adulthood and accidents never happen to...

By a Charm and a Curse – Review & Blog Tour About: By a Charm and a Curse is a young adult fantasy written by Jaime Questell. It was recently published on 2/6/18 by Entangled Teen, an imprint of Entangled Publishing and distributed by Macmillan, hardcover, 291 pages. The genres are fantasy, young adult, romance, magic, and fiction. This book is intended for readers ages 14 and up. This book is the author's debut. My Experience: I started read...

Story ⭐⭐⭐⭐So, i really had different expectations from this book. I thought it was something like Caraval or the Night Circus (even though i haven't read the last one yet). It had less magic in it, so it wasn't a book full of magic. Just a bit to sparkle things up. In the story after a really exciting night Emma gets magically trapped inside of a circus. There she meets a lot of interesting people working in the circus and Ben who's...

DNF at 30% (31% actually) I wasn't expecting this from me . My first dnf book . Which has received rave reviews from many of my fellow reviewers . But this is not my cup of tea . It is just sooooo boooooring . What is a charm and a curse after all . Aren't they just like pros and cons ? The only pro of By a Charm and a Curse is that it is a standalone novel (I couldn't even complete it) . And the cons . They are many . I mainly disliked this ...

Confused by all of the low ratings. Y'all over here complaining about "love" being thrown around so quickly, when in fact that word was not thrown around until the 75% ish mark... like TWO MONTHS into the story. Fam. Two months is definitely enough time to fall for someone. Or did y'all not realize that two months passed? Didn't pay attention? *headdesk* This book was pretty good. It has a lot of potential and could have used some improvement in ...

2.5-ish stars ✨ This book has me extremely conflicted. I'll give you a wrap up of the pros & cons. + Pros + -carnival setting, world building-writing style (very descriptive and realistic) -ALL THE SECONDARY CHARACTERS. so much love for all of them - Cons - -main characters (Emma & Benjamin) -instalove-cringe ass romance-unbelievable (not in a good way) -THE DAMN INSTANT LOVE let's elaborate, shall we? the story goes as so;-Emma's sa...

Initial reaction (4 March 2018) I don't knowwwwwwwActual Review (5 March 2018)2.5-ish?Here's the deal: This isn't a bad book. It has a cool premise and kind of a unique setting. Unfortunately, I was rather underwhelmed by the execution of it all. There was nothing new, original, or even engrossing about the story. Side note:I have read both The Night Circus and Caraval, both of which I have heard this book be compared to. Apart from the simil...

Rating 2-2.5? This book is somewhat hard to rate for me. Did I enjoy it? Sure, I guess. But I enjoyed it the same way I might enjoy a Wendy's cheeseburger. It is generic, standard and I know exactly what to expect. Let me try summarize it for you guys, avoid this section if you hate any sort of spoilers, but I will do my best to be generic and vague. 1. Girl is in the new town/not her hometown 2. Girl feels lonely and misunderstood 3. Girl ditche...

I received a copy of this book in exchange for an honest review. A cursed kiss and a magical carnival told in a more modern day setting than other circus type novels, this may have been better if I hadn't read a lot of YA before. Unfortunately it all feels very familiar and the characters are a bit flat and stereotypical. The carnival itself is developed well, and the story itself is reasonably well written. It's colourful and full of a chara...

3.5 stars I received this copy from the publisher in exchange for an honest review.The main reason that I requested the book was because of the attractive cover. But, I didn't enjoy it as I have expected it to be. The story is being told by the two main characters point of view, so it's not difficult to understand the story. I quite enjoyed the relationship between Emma and Benjamin. The writer was able to convey their lives in a very interes...

Let me preface by saying: this book is not perfect. The dialogue can be a bit flat, and the switching POVs don't feature narrators with well-distinguished voices. HOWEVERYou guys, this was a really satisfying witchy/magical read for me!! After so many duds, this was a treat.The location reminded me of the show Carnival, which was dark and creepy and awesome; and let's face it, it's an intriguing location, no matter whether it's been done ...

I always love it when a book has a circus setting - there's such a specific atmosphere around it, that hint of whimsy that leaves you filled with a sense of amazement and wonder. The circus in By A Charm and a Curse has real magic, the kind that comes with (you guessed it) a charm and a curse. The charm: none of the circus performers ever get hurt. The curse: the circus has to have a Boy or Girl in the Box as its anchor, one person doomed to live...

This book had potential! With an interesting backdrop and an intriguing curse, there was a lot that could have been done with By a Charm and a Curse. But things moved waaaaay too fast. It didn't feel fast paced and full of high stakes; it felt rushed, and that's partly the reason the execution failed. Considering that this is a pretty short book, there's not nearly enough time to fully immerse yourself with the characters and the world. Had this ...

I received this YA Fantasy for free from Entangled Teen for an honest review.I have hit another jack pot with Entangled Teen books. I recently saw this book on a YA upcoming releases list and thought it sounded very much like The Night Circus, which is one of my favorite books. I immediately requested the book from the publishing house and was included on the book tour. I must say this can definitely be considered a little sister to The Night Cir...

This book surprised me. I didn't think that I would like it as much as I did. There were many elements to it, romance, magic, family dynamics, friendship, carnival to name a few. Now that I have let it soak in I find that days later I am still thinking about the story. I still keep thinking about the unique setting of the carnival and the vibe that the book had. Now, in saying that there are definitely problems with the story. The main issue that...

"Things that are linked cannot be unbound. Things set in motion cannot be stopped…" I have some mixed feeling about this - I loved the humor that the story started out with, and the carnival setting, but the humor almost immediately disappeared and the characters fell flat. By a Charm and a Curse follows Emma King as she's captipulted into Le Grand's Carnival Fantastic, trapped as the holder of a charm that helps the Carnival thrive. B...

Nope. Sorry. No!The story is about Emmaline (Emma, Em) who catches a curse and has to get it out to get her life back.Emma's life is SO DEPRESSING... her mom left her with her dad because she went to another county and now Emma has 'no home' she feels that she doesn't fit anywhere. So, there she is in this carnival with her friend, trying to be social. In the first place I don't understand what is she doing there, I got the sense that she didn't ...

I was so excited for this book. I think that needs to be said immediately, because my expectations were quiiiite high. I think that's always a dangerous thing for any book, but I have a particular love of circus/carnival books that will not listen to rhyme nor reason. It's also very very hard to live up to, and I knooow I'm picky. So, you know, several grains of salt. Luckily, it absolutely had the circus vibes that I've been craving. I mean, it...

Meh... the premise was cool but it didn't live up to much.

I picked up A Charm & A Curse because the plot seemed interesting and I loved the cover. Plus I absolutely love books that take place in a carnival/circus. Overall the book was good, but nothing stuck out to me that made me fall in love with the characters or plot. Plot I don't feel that much happened during the novel. Everything except for the curse was brushed over. I would have liked to see more of the daily inner workings of the carnival and ...

Come one, come all!Ok, so Carnival's creep me out. They don't seem safe and there's clowns running around everywhere and no...I just can't deal with that. But I find that I do enjoy stories with a carnival setting. This one was no different. While I had minor issues with the book as a whole, this was a solid debut from Questell.Le Grand's Carnival Fantastic is a special carnival. It has both a charm and a curse placed upon it (hence the name). ...

3 stars!!!I'm usually a huge fan of circus novels but unfortunately, this one just didn't do it for me. I guess I was expecting a whole lot of fantasy with exceptional worldbuilding but I just didn't get any of those things. Let me elaborate further.Firstly, the book doesn't have much worldbuilding. Yes, the author describes the acts and the atmosphere which was pretty nice but it wasn't immersive enough for me. When I hear fantasy, I expect all ...

Down you go little Emma into the rabbit hole. Que Cheshire Cat grin.Roll up, roll up, come and visit the Le Grand's carnival. Daredevil stunts, performing dog, Ferris wheel, fortune tellers and all the cotton candy you can eat.The carnival is full of mystery and magical experiences, but the Le Grand carnival has more to offer than most. Emma's time has just begun. She has just returned to town and is struggling to fit back in where she left off. ...

Well well well. In one sentence : it was good but I didn't feel very involved with the characters and their issues. Another carnival-circus book that I liked but didn't love, which is starting to become annoying as it may be my favourite setting ever...I loved loved loved the idea of the curse and its...mechanism. It was handled really well and kept me at the edge of my seat for many pages.Emmaline, the female MC, is a good character. She's not s...